Email designing is not just about having an artistic and creative mind. It is also about understanding consumer psychology and strategising the layout of your emails accordingly. 
It is no secret that your subscriber's inbox is flooded with too many emails. Also, there is a lot of noise across the digital world that creates too many distractions for an average user. 
ADVERTISMENT:
The Best Deals For Digital Design Assets - InkyDeals.com. Learn More>>
As a result, the attention span of your subscribers is constantly dwindling.

To make sure that your subscribers stay engaged with your emails, you must follow all the email design best practices.
A good email design will not only guide the reading flow but also prompt the readers to take the next action. 
That being said, let's discuss the 10 most important tips and tricks that will help you ensure a flawless email design. 
Have an identifiable sender name and email address
Your sender name must be instantly recognizable for the subscribers. Never use a noreply email address or a free webmail address. It must reflect your brand so that the users can connect with it. 
Craft a short yet interesting subject line
Subject lines must be crisp but intriguing enough to make the subscribers open your email. Bear in mind that you must not draft misleading subject lines just for the sake of getting a higher open rate. Personalize the subject lines with the subscriber's first name. You can even use emojis to add a personal touch to your emails. 
Elaborate the subject line with a preheader
The length of your subject line must not exceed 65 characters. That's where the preheader text will come into the picture. It will help you to elaborate the subject line and let the subscriber know what the email is all about. 
Organize the email template properly
The ideal email template dimensions look something like this:
Template width: 600-800 px
Template height: Up to 3500 px 
Headline height: Up to 300 px
Vertical layout type is the most popular in email designs. It is advisable to include all the essential details within the top 350 px. 
Follow the rules of visual hierarchy
Take a look at this email.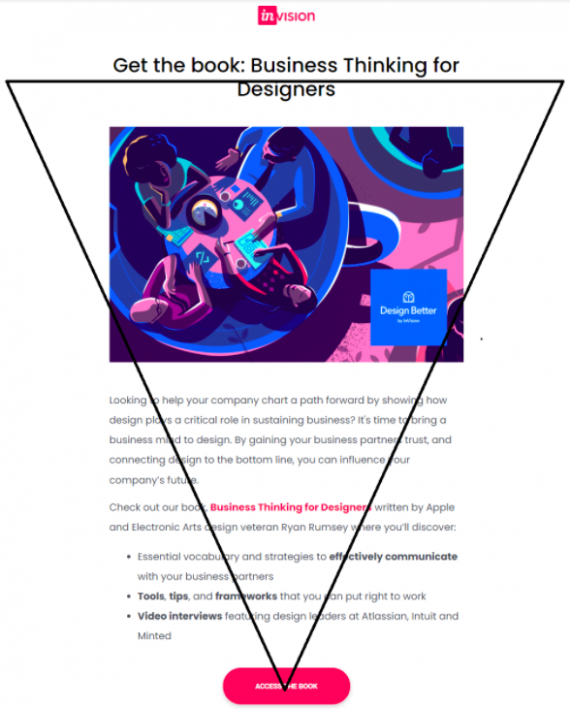 They have followed an inverted pyramid design pattern with the most important information presented at the top, followed by an engaging copy and the CTA. That's exactly what visual hierarchy is all about. 
Design an accessible email
Email accessibility is of utmost importance if you want your message to reach every subscriber, regardless of any disability. 
To design an accessible email, you must consider the checklist given below:
Use ample white space to give breathing space to the readers.

Align the copy toward the left side. 

Arrange the email copy from top to bottom and left to right. 

Code the email with semantic tags like <p>, <h>, and <table> so that screen readers can easily understand the flow of the email. 

Select the color scheme wisely, keeping in mind colorblind subscribers. 

Have enough contrast between the copy and background color.


 

Include relevant visuals to support the copy
Your email design is incomplete without adding suitable visuals to complement the copy. Experiment with different rich media elements like GIFs, cinemagraphs, and embedded videos to make the emails more appealing for the readers. 
eCommerce business owners must always include visuals in all their promotional emails as well as triggered email campaigns. For instance: If you are sending out a cart abandonment email, add the image of the product abandoned. 
SaaS business owners can take the help of explainer videos and GIFs to demonstrate the usage of their products and services. They can also be used to convey more information in the limited space of the emails. 
Besides rich media, there are some interactive elements like hamburger menu, accordion, and slider that can enhance the subscriber engagement even further. Just make sure that you provide proper fallback while using these features as they might not be compatible with every email client. 
Abide by the visual email marketing guidelines
Using visuals can get a bit tricky and lead to rendering issues if you do not follow the best practices. 
Here are some visual email marketing tips to help you out:
Maintain the text to image ratio at 80:20 so that you do not trigger the spam filters. 

Add relevant Alt-text to every visual element for subscribers who are accessing your emails with images turned off. 

Create a Dark Mode compatible email and choose the visuals in such a way that they look good even in the dark background. 

GIFs must not have a flashing rate between 2 to 55 Hz as it can worsen the condition of photosensitive epilepsy. 

Before hitting the 'Send' button, always check the emails for proper rendering. 
Test the emails for mobile responsiveness
Single column layout works the best to create a responsive email. Pay special attention to the font size you are using. 
The title font size should be around 22 px or more. 

The copy line width must be up to 6 words of 12-14px font size.

The line spacing should be around 1.5 times the font size.
These sizes go well with desktops and mobile devices both. 
Take the help of tools like Litmus and Email on Acid to test the emails and see whether they render properly across different email clients and screen sizes. 
Do not neglect the footer design
Email footers are not just used for the fine print and legally important information. You must consider it an important element of your email. Your footer must have a clean layout with headers and colors separating each section. Have enough space around every cluster of information so that it is easily readable. 
Besides vital contact information, include social sharing links to boost your visibility across these platforms. Adhere to the anti-spam laws and include an unsubscribe link in your email footer without fail. 
It is also a great idea to inform the subscribers why they are receiving the email from you. It will not only enhance your brand reputation but also reduce the spam complaints. 
It is advisable to have a reusable content block for the email footer so that the readers get a consistent experience throughout your emails. 
Wrapping Up
These email design recommendations will surely go a long way in giving a leg up to your marketing strategy and take the subscriber experience to the next level. Need help to design the email copy? Here are some essay writing services that might help.
Just follow them and you will be able to generate the ROI you have been eyeing at, since long. 

Kevin George is Head of Marketing at Email Uplers, one of the fastest growing custom email design and coding companies, and specializes in crafting professional email templates, PSD to HTML email conversion and free responsive HTML email templates in addition to providing email automation, campaign management, and data integration & migration services. He loves gadgets, bikes, jazz and eats and breathes email marketing. He enjoys sharing his insights and thoughts on email marketing best practices on his blog.
(Visited 398 time, 1 visit today)