Do you know 87% of marketers who are using AI are incorporating it to improve their email marketing campaign? In fact, the biggest companies across the globe are putting their faith in artificial intelligence to spruce up their marketing campaign. That's the reason 28% of the top-rated companies are leveraging artificial intelligence to the core. So, it wouldn't be wrong to say that artificial intelligence has revolutionized the way email marketing functions.
From higher conversion rates and hyper-personalization to automation and data analysis, artificial intelligence helps you do it all and ace your email marketing strategy. Therefore, if you wish to upgrade your email marketing tactics, it is high time you make use of artificial intelligence. Here's how it can take your email marketing strategy to the next level.
ADVERTISMENT:
The Best Deals For Digital Design Assets - InkyDeals.com. Learn More>>
Benefits of using artificial intelligence in email marketing
Generates content that resonates with the customers
As a marketer, you must have struggled to decipher what kind of content will drive the best results. However, with the emergence of AI, you don't need to struggle anymore. Tools such as Phrasee and Persado take help of AI to determine what kind email copy, subject line, and CTAs will entice your subscriber base to respond more.
In this context, machine learning makes use of a variety of data points and variables. This, in turn, helps marketers in understanding what resonates best with their customer base. These AI-powered platforms also use these insights to create subject lines, body copy, and CTAs with the help of Natural Language Processing (NLP). They not only follow a consistent brand tone and language but also appear like the one written by a human.
So, you see, it saves a lot of time and cost. And not to forget the overall improvement in email results, thereby making your email campaign smarter.
Optimizes the send time of the emails
The sending time of the email plays a great role in impacting the open and click-through rates. Earlier, email marketers optimized their send time by segmenting their customers based on time zones. However, AI with its machine learning algorithms assists email marketers in sending emails at a time when the probability of users opening it is more. Apart from time zones, it takes into account the past behavior of the user along with real-time triggers. Simply put, AI makes sure that each of your subscribers receives the email at a time that best suits their preferences.
Facilitates personalization in a smarter way
Do you know 74% of marketers believe that targeted personalization enhances customer engagement? This makes the importance of personalization in an email quite clear. Moreover, with the emergence of AI, personalization has gone a step ahead and hyper-personalized everything. AI algorithms keep a check on the customer's browsing behavior, purchase history, and on-site activity. The data extracted through this analysis is further used to create a tailormade recommendation for each and every customer. See how Honey makes great use of AI by sending a personalized email for an item in a customer's wish list whose price dropped.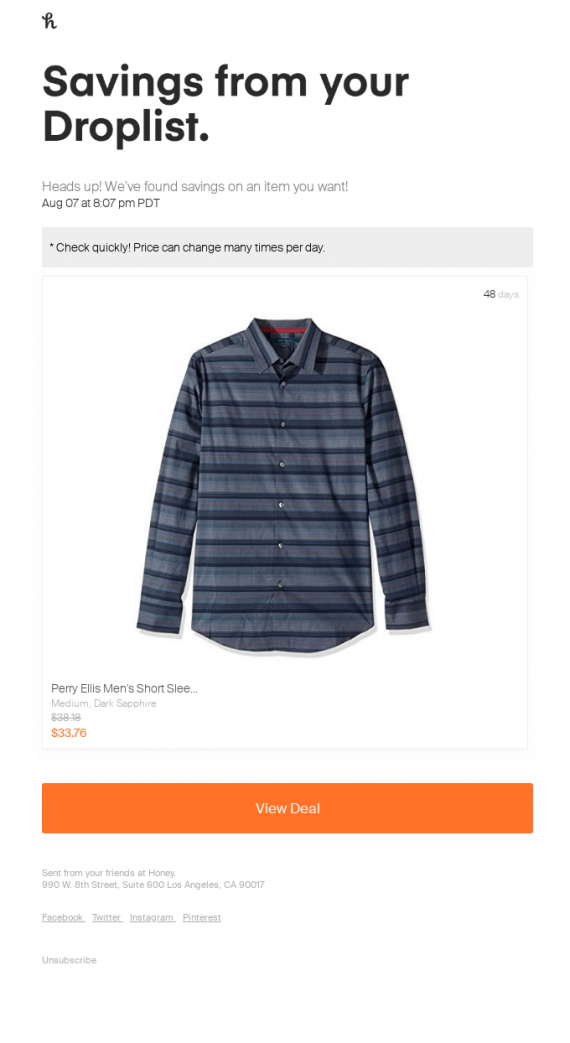 In addition, AI also has the ability to personalize the call to actions, images, and the placement of various elements within the email.
Works towards segmentation with intelligence
The interest and preferences differ from customers to customers. Therefore, it is critical to segment your customer base and send them emails accordingly. Apart from segmenting them the old school way that includes factors such as demographics, geographical location, purchase history, position in the sales funnel etc, you should make extensive use of AI for intelligent segmentation. With AI and machine learning, you can get deep insights and precise details about your customer base along with their specific behavioral signals. This, in turn, can help you segment them into clear and precise groups, thereby taking your email campaign to the next level. See how Fitbit does a good job by using segmentation to analyze the behaviour of the customer while sending them a personalized weekly report.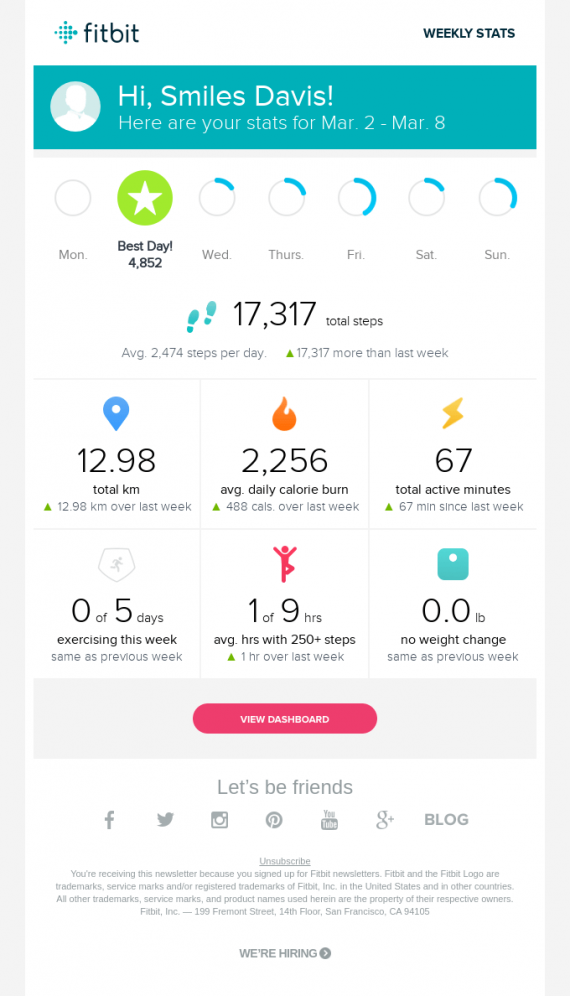 Monitors the data while predicting and acting on churns
As mentioned already, AI has the ability to analyze the behavioural pattern of the subscribers. Such data can also be used to predict the potential churn while improving the overall value with upselling and cross-selling offers. To put it in other words, AI, with the help of predictive analytics, identifies customers abandoning carts and accelerating churn, and works proactively on them by offering customized retention programs. See how Sunglass Hut does it like a pro through its cart abandonment email.
Makes A/B testing faster and better
Email marketers have been using A/B testing to analyze which variant of a particular campaign will work better and resonate with customers. Earlier, A/B testing worked on a two-dimensional basis where there were two creatives and two groups. The testing was done by changing the few variants each time. However, the world today is all about hyper-targeting. So, the permutations and combinations can range to millions, thereby making it difficult to derive a conclusion. This is where AI can come in handy. AI makes extensive use of customer data and enhances the power of testing. As a result, it helps marketers to select a campaign that has a better probability of good performance.
Wrap up
AI, when used with email marketing, has the ability to drive great results. That's the reason 61% of marketers consider AI as the most critical aspect of their data strategy. All in all, AI has empowered businesses across the globe to give a seamless user experience to their customer base through clear, precise and relevant data-driven insights.
So, if you haven't already jumped in the AI bandwagon, you should do it right now. Hope the above-mentioned benefits will help you make up your mind regarding AI.
Remember, 49% of customers shop more frequently and 34% of them spend more money when target with the help of AI. You don't want to miss this opportunity, do you? Hence, get going the AI way and make the most out of your email marketing campaign.
To learn more on the AI revolution in email marketing, Email Uplers has put together an insightful infographic. Take a look.

Kevin George is Head of Marketing at Email Uplers, one of the fastest-growing custom email design and coding companies, and specializes in crafting professional email templates, PSD to HTML email conversion and free responsive HTML email templates in addition to providing email automation, campaign management, and data integration & migration services. He loves gadgets, bikes, jazz and eats and breathes email marketing. He enjoys sharing his insights and thoughts on email marketing best practices on his blog.
(Visited 57 time, 1 visit today)