"We're not done yet, but two things WordPress has been able to exemplify is that open source can create great user experiences and that it's possible to have a successful commercial entity and a wider free software community living and working in harmony."
– Matt Mullenweg
ADVERTISMENT:
The Best Deals For Digital Design Assets - InkyDeals.com. Learn More>>
WordPress is the biggest open source blogging tool in the world, being used by more than 22% of the top 10 million, as of August 2013, and a total of 60 million websites world-wide; an achievement it has reached in just over a decade of existence.
The platform is a successor of b2/cafelog, a platform written in PHP for use MySQL by Michael Valdrighi, now a contributing developer at WordPress.
Like we mentioned earlier, WordPress was first released in 2003 as a joint effort between Matt Mullenweg and Mike Little to build a new platform based on b2/cafelog. The name was suggested by a friend of Mullenweg, Christine Selleck Tremoulet.
An integral part of Matt and Mike's platform success is its plugin architecture, which allows users to extend its features. Because of this, WordPress boasts an impressive database, containing more than 30,000 plugins, ranging from search engine optimizations and client portals, all the way to content display features.
With so many plugins to chose from, we know how time consuming it must be to look for the perfect one to suit your needs, and that's why we often take a look ourselves, and showcase the coolest finds in our articles.
Today, we will be running down a few trusted and free contact form plugins for WordPress.
1. Fast Secure Contact Form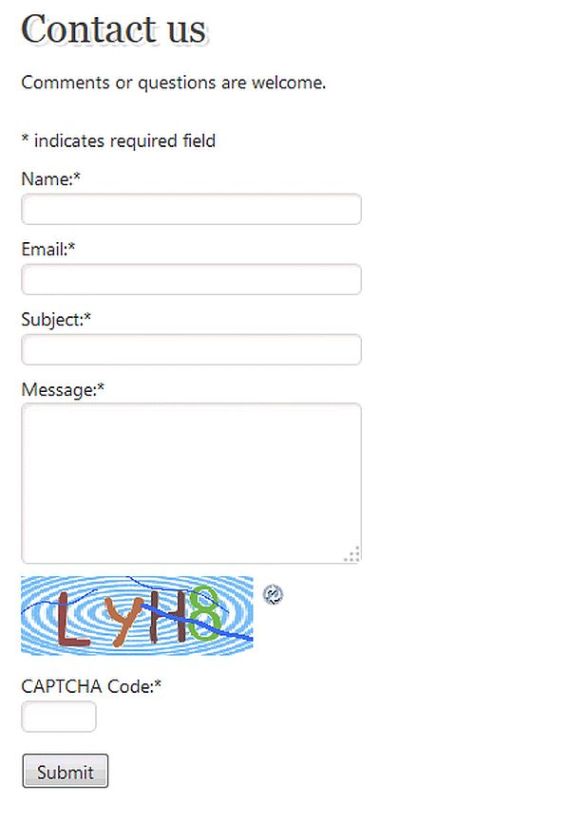 "Easily create and add forms to WordPress. Fields are easy to add, remove, and re-order. The contact form will let the user send emails to a site's admin, and also send a meeting request to talk over phone or video."
This program also benefits from an impressive range of features, including: easy form edit, confirmation emails, and an option to redirect users to any URL after the message is sent, as well as CAPTCHA and Akismet support to block spammers.
2. Contact Form 7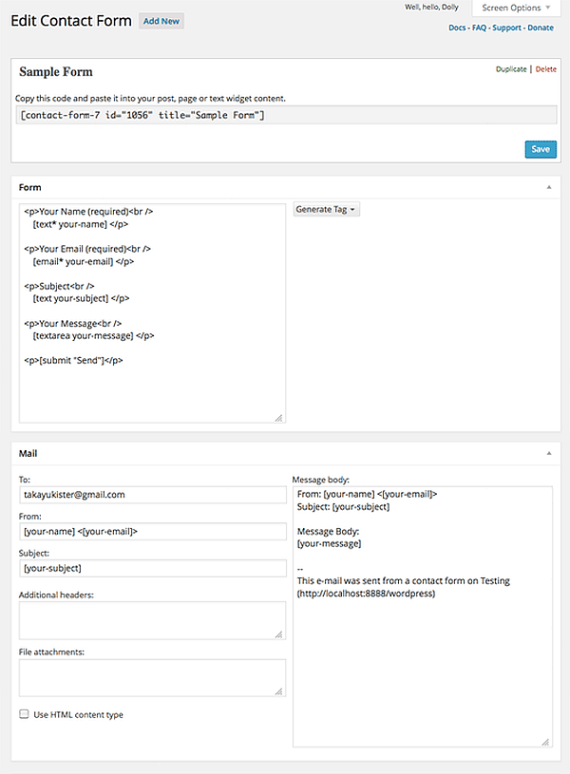 "Contact Form 7 can manage multiple contact forms, plus you can customize the form and the mail contents flexibly with simple markup. The form supports Ajax-powered submitting, CAPTCHA, Akismet spam filtering and so on."
3. Visual Form Builder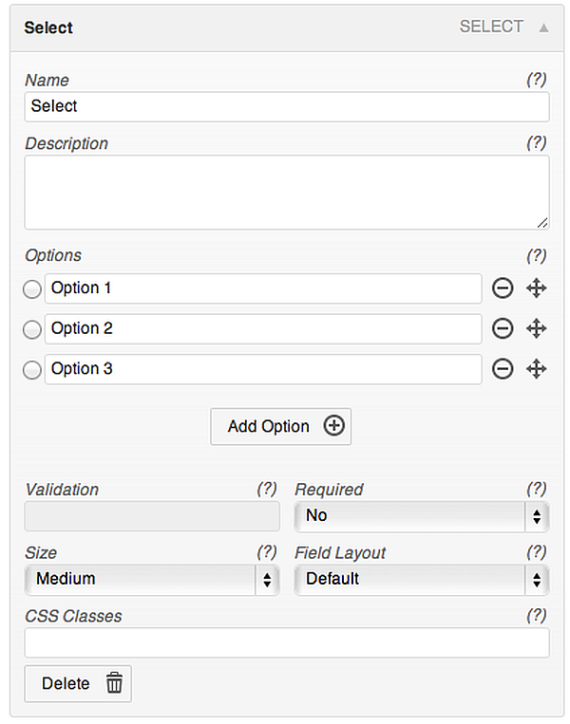 "Visual Form Builder is a plugin that allows you to build and manage all kinds of forms for your website in a single place. Building a fully functional contact form takes only a few minutes and you don't have to write one bit of PHP, CSS, or HTML!"
4. Jetpack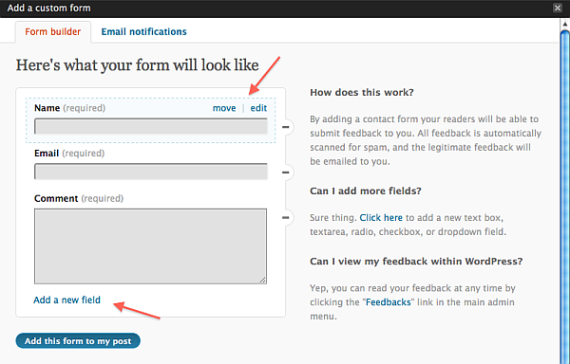 "Jetpack is a single plugin that gives you the most powerful WordPress.com features, hooking your self-hosted WordPress site to WordPress.com's infrastructure to take advantage of robust stats, easy social sharing, and a whole lot more."
Jetpack is famous for how versatile it is, so of course it would also have a excellent contact form plugin included.
5. Contact Form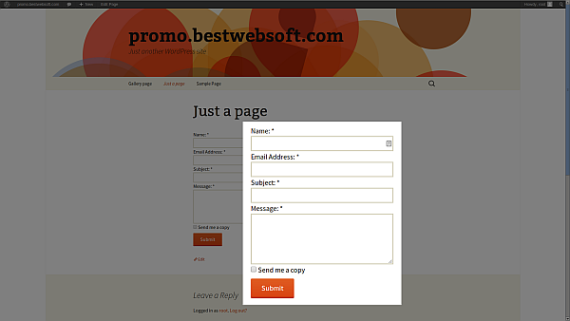 "The Contact Form plugin allows you to implement a feedback form to a web-page or a post in no time. It is an extremely easy form, that doesn't require any additional settings, though there are some available options. All you need is just to activate the plugin and insert the shortcode [bestwebsoft_contact_form] into the text. There is also a premium version of the plugin with more useful features available."
Contact Form features of three actions: choose where to send messages (any user and any email address), add field or file attachment, add a field for sending a copy of the message to the user who fills out the contact form. It also allows you to change a label when the fields are displayed.
6. Custom Contact Forms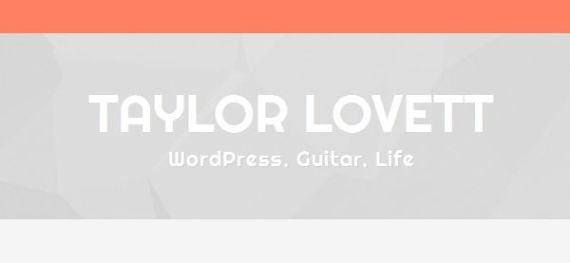 "Customize every aspect of your forms without any knowledge of CSS: borders, padding, sizes, colors. Ton's of great features. Required fields, captchas, tooltip popovers, unlimited fields/forms/form styles, use a custom thank you page or built-in popover with a custom success message set for each form."
The latest version of this plugin lets you rearrange fields with a drag-and-drop interface, export form submissions to .CSV, and boasts file upload fields and a redesigned admin panel.
7. Slick Contact Forms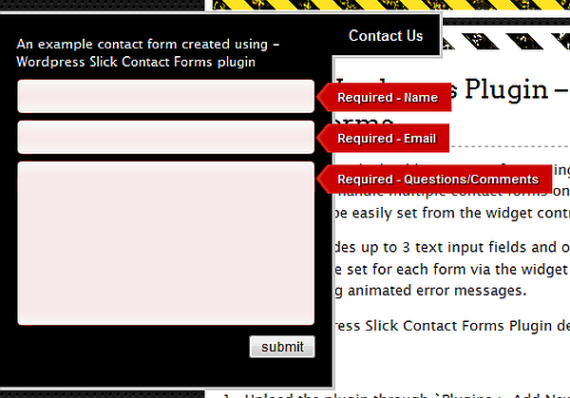 "Creates a widget, which adds a contact form using either a floating, drop down button or a sticky, sliding tab. Can handle multiple forms on each page and the location of the floating button or sliding tab can be easily set from the widget control panel. Each form includes up to 3 text input fields and one text area. The input labels and type of validation can be set via the widget control panel. The plugin includes validation for the form fields using animated error messages."
8. Easy Contact Forms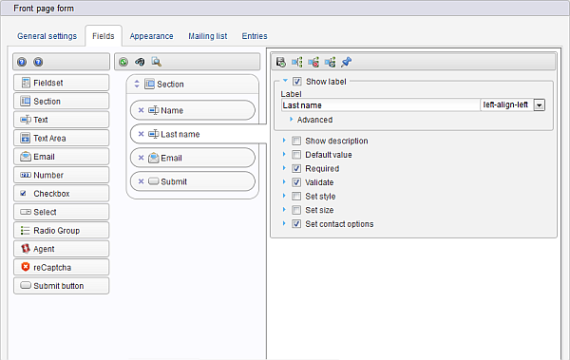 "Easy Contact Forms is a tool helping to change a site's front door (Aka a contact form). A minute will be enough to change the contact form layout. A few minutes will be enough to add several fields. Testing the results of the improvements on every 100 or so of visitors, you will eventually make your contact form friendly and comfortable for your site visitors. Easy Contact Forms will help you."
The makers of Easy Contact Forms consider there top 7 features to be: visitor friendly contact forms, easy to use contact form builder, various contact form field types and field customization tools, reasonable anti-spam protection and multiple data validation layers, multiple contact form management, advanced contact form entry management tool, easy to use GUI.
That wraps up our roundup of 8 trusted and free contact forms. Most of them also have a premium version, which offer lots more features, so, as the saying goes: if you like it, buy it. That's also available for the developers looking for support.
Also, we feed of feedback, so be sure to leave us some in the comment section below.
(Visited 733 time, 1 visit today)