5 Awesome Social Media Plugins for WordPress
While Google search is still the number one driver of online traffic, social media is the clear number two. For some sites, social media is an even bigger source of traffic than the almighty Google.  Whether you prefer Facebook, Twitter, Google+, Reddit, StumbleUpon, LinkedIn, or Pinterest – social media should be a key part of any blogger/webmaster's traffic generation strategy.
The great thing about social media traffic is that if you're already creating great content, your content will be shared without further effort on your part. While you can certainly take additional steps to ensure that your content is widely shared, all you really have to do is make it easy for readers to share your content by incorporating social media widgets.
But what if you don't want to deal with the hassle of finding and implementing individual code snippets from different social media platforms? If you're using the ever popular WordPress platform, all you have to do is download a social media plugin, activate it and you're off to the races.
Of course, there are so many social media plugins to choose from it can be hard to know where to start. To help you get going, we've listed 5 of the best social media plugins for WordPress below: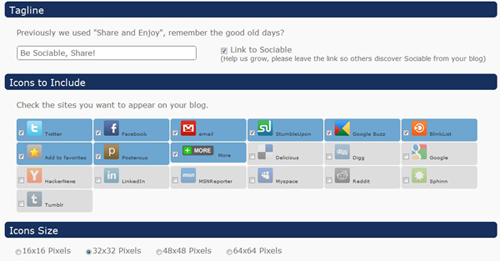 Sociable is a simple, but effective social media plug-in with support for all of the most popular social media platforms. With over 2 million downloads from the WordPress repository, it's also one of the most widely used social plug-ins available. You can use Sociable to quickly and easily incorporate social sharing features into your posts, pages and RSS feed.
With the Sociable Slider, it's also easy to modify your call to action text. Social icons are available in multiple sizes and you can even implement your own custom icons.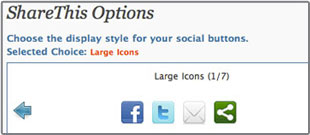 ShareThis is not only one of the most feature rich social media plugins for WordPress, it's also one of the most widely used, with over 1.2 million downloads from the WordPress repository. ShareThis supports a number of different icon types and display styles, and also has a convenient multi-post option which allows users to quickly share your content through multiple platforms without ever leaving your site.
ShareThis supports an incredible 120 Social Media platforms, giving your visitors an unprecedented number of options. ShareThis also offers a reporting platform that easily integrates with Google Analytics, for those bloggers who want more information about their readership and social sharing reach.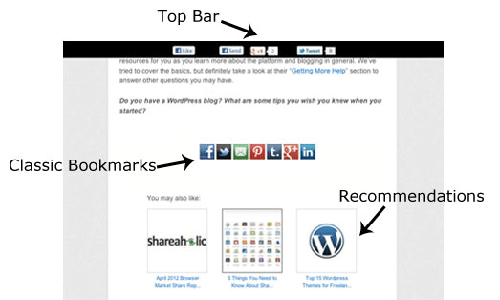 The developers' stated goal was to create a social sharing plug-in that entices readers to share by offering a little extra flair. Indeed, Shareaholic is known for its eye catching social icons and "sexy" call to actions. To give your social sharing icons a unique look, each icon is partially hidden by the share bar, but pops out to show the full icon when a reader hovers over the icon. Users who want a more traditional social media buttons have the option of switching to classic bookmarks.
You can easily customize the catchy call to action with a number of presets, including:
Sharing is sexy!
Sharing is caring!
Share the love!
Share the wealth!
Share and enjoy!
Share the knowledge!
You can also create your own catchy message to encourage your readers to share. Recent updates to the plug-in also include social analytics features and a content recommendation engine.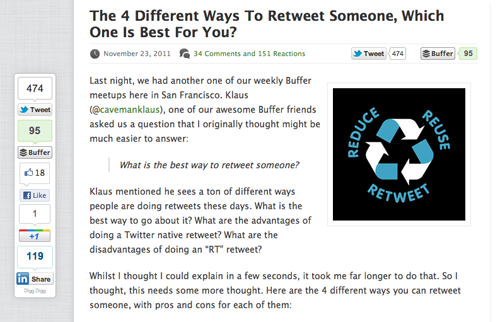 Digg Digg is a simple all in one social plugin for WordPress. It offers asynchronous loading options for nearly all of the icons, and lets you easily control where you want your social icons to appear – at the top of your posts, floating on the side, at the bottom, or all of the above. The biggest downside to Digg Digg is that you lack the ability to re-order your social icons, but the plug-in is still extremely easy to implement and has a nice, clean interface.

As the name suggests, the Social Toolbar plug-in will add a customizable social toolbar to your WordPress blog. This toolbar will not only include the standard social sharing icons, it also will display recent tweets and make it easy for users to Follow/Like your social media profiles. The toolbar is highly customizable, with an admin toolbar that makes it easy for the blogger to customize the look and feel of the toolbar to match their blog.