"Design [is] the emerging ethos formulating and then answering a very new question: What shall we do now, in the face of the chaos that we have created?"
–  John Hockenberry
ADVERTISMENT:
The Best Deals For Digital Design Assets - InkyDeals.com. Learn More>>
For all of you adrenaline junkies out there, and for all of you scared of heights, this article will take you on a rollercoaster. Just when you thought it was over and it couldn't get better, it does so in a remarkable way. You just have to stare with admiration at these photographs and at the men and women behind them – because they are not your average Joe.
No, they are completely crazy. Crazy in love with taking the best adrenaline pumping pictures out there. Did I get you all stirred up? Well, let's scroll down and go on this wonderful trip.
1. The Cliffs of Moher, Ireland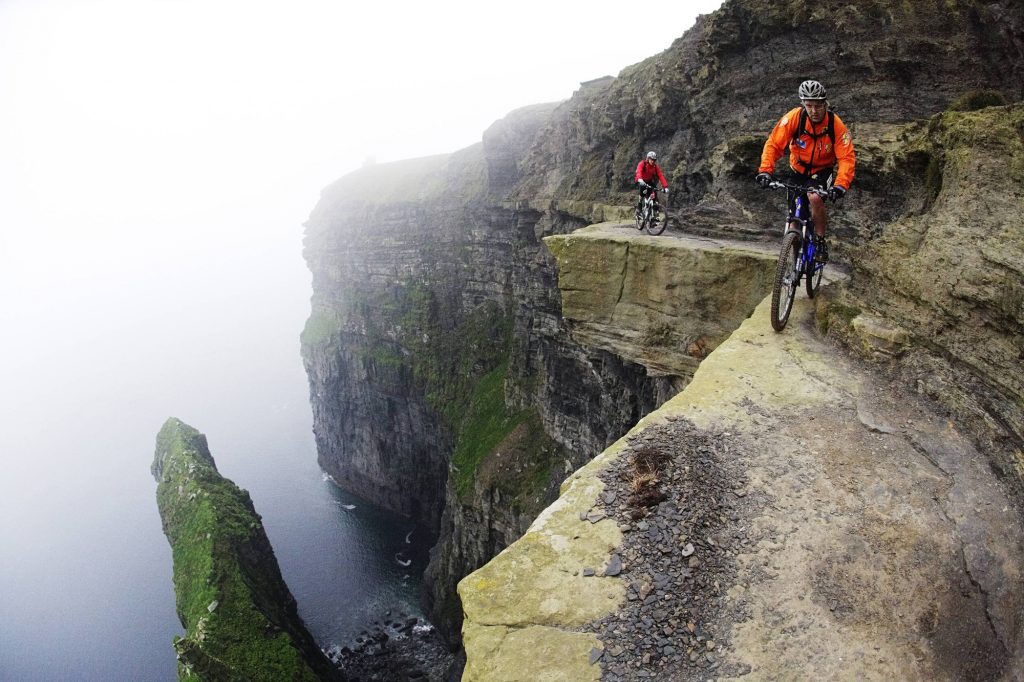 The Cliffs of Moher are located in the southwestern edge of the Burren region in County Clare, Ireland. These wonderful cliffs are ones of the most popular tourist destinations in Ireland, and not just because of their beauty, but thrill seekers can go nuts over them.
They have one of the most horrifying pathways for biking, and we can clearly see why. No sir, no thank you, I will prefer to go on a stroll around the park, on flat ground with mild bumps, where I can enjoy sightseeing without being afraid for my life. I would pretty much like to live another day.
2. Baffin Island, Nunavut, Canada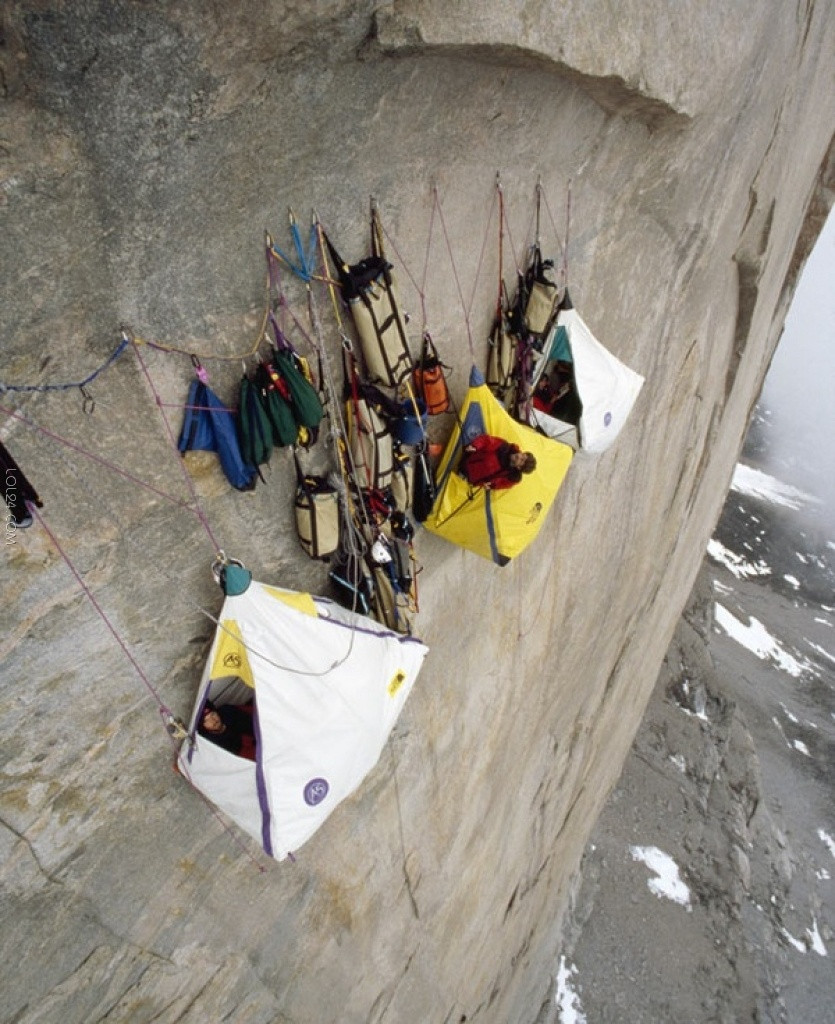 This incredible picture has been taken by thrill seeker Gordon Wiltsie in Baffin Island, Nunavut, Canada  at 3,000 feet –  being the fifth largest island in the world. They rest in a porta ledge camp, overhanging north face of great sail peak. Seriously, you got to have a death wish of some sort if you want to do this.
I mean, I can't even go camping in the mountains without getting terrified of the wilderness, and bear attacks. But to go camping on the side of the mountain, at that inclination, well, mad respect to those who dare. I'll just stay in front of my laptop and check out YouTube videos. Besides being a hotspot for camping activities, it is also a spot for BASE jumping, due to a wide array of 900 to 1,200 m (3,000 to 3,900 feet) tall cliffs scattered around the island.
3. Ukrainian Daredevil
This 26-year-old Ukrainian daredevil calls himself Mustang Wanted, and he truly deserves the name. He hops on buildings, bridges, construction sites, poles on buildings – he is one resilient adrenaline junkie. He has his website if you want to take a better look at where he plans his recreation time.
I mean, balancing on a pole, that is located roughly at the top of a 15-floor building is not what I would call a fun time, but hey, I'm a couch potato. Give him a message on his Facebook page and ask him how he can keep on going, follow him on Instagram to see more thrill seeking photos, or just check his YouTube channel to clearly see how crazy he is. If you just want to check if he is a normal human being, you can check out his Twitter feed; it isn't all about climbing the highest peak.
4. The Swing at the Edge of the World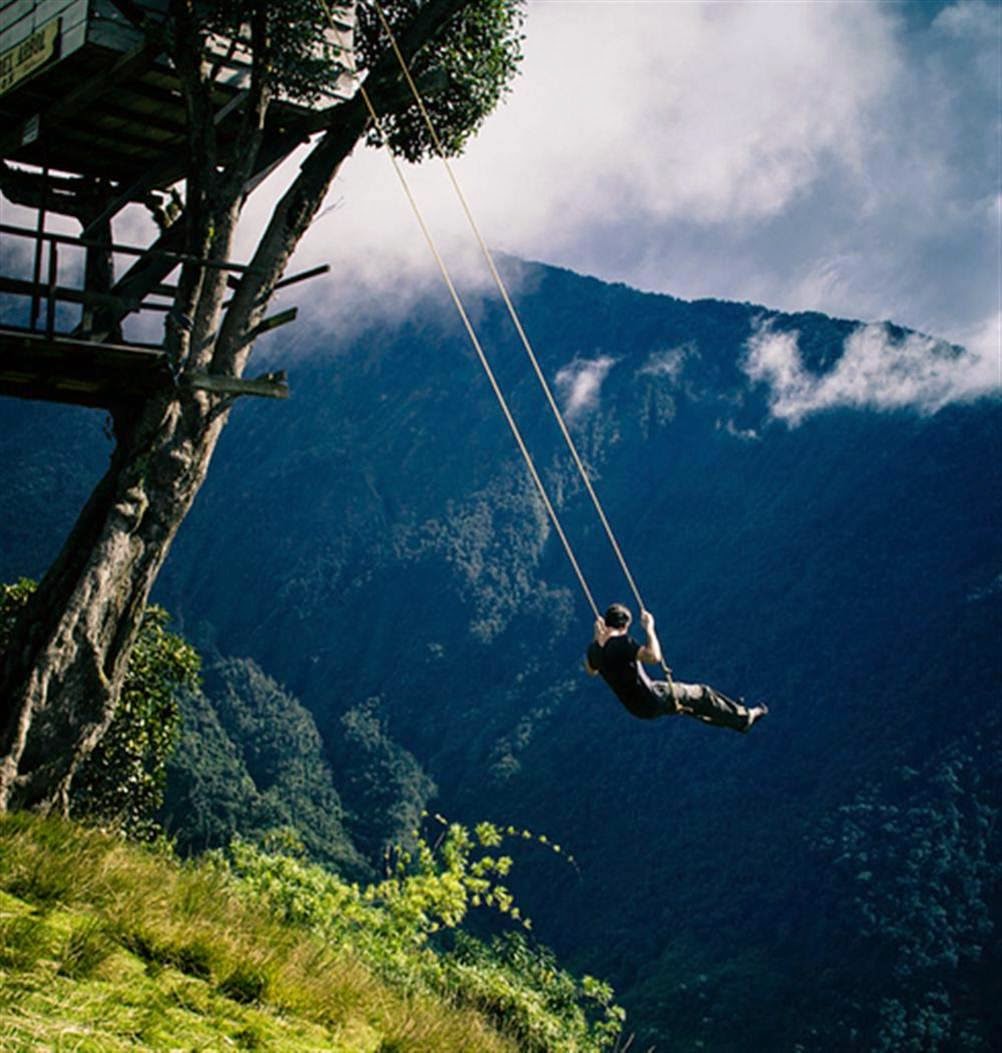 Located in the deep wilderness of Ecuador, at La Casa Del Arbol, this swing amazes tourists that have the courage to stare nature right in its face. " The Treehouse" is exactly what the name entails ( not so safe I presume), and it is normally used to observe the active volcano in the distance – Mt. Tungurahua. You don't have any safety related ropes, harnesses or whatever you may think of. Just a skinny wooden plank, attached to a rope around skinny tree branches.
Yup, I think I will pass on this. I mean, come on, you can go flying into the void in a matter of seconds if you don't time your swing just perfectly. But, I can give it this, it is one incredible ride if you have the guts of going on it. Are you like me, and want to experience this in the comfort of your own home? These guys filmed a couple of tourists risking their lives.
5. Ice Mountains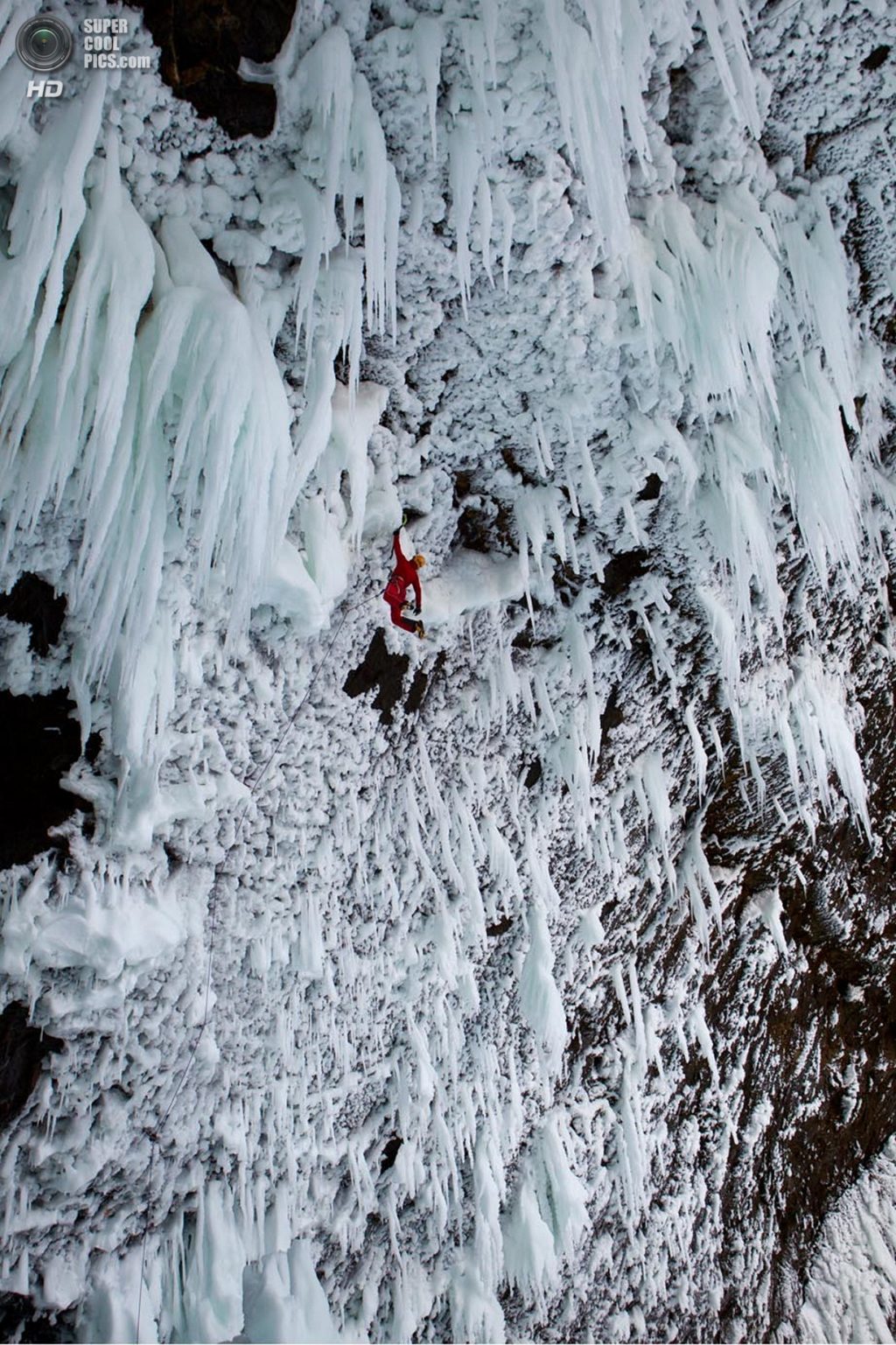 Christian Pondella took this jaw-dropping photograph. I just let out an " Oh my Lord!" without even realizing what I was doing. It is one thing to go hiking, climbing a mountain, and it is a completely different thing to climb an ice mountain. Kudos to Chris the climber for having the courage to take the challenge and defeat nature at its own game.
Christian Pondella is a photographer from Mammoth Lakes, Canada, and he has been taking incredible heart stopping photos, like this one, for about 11 years. He is currently working for Red Bull USA as their head photographer at their alternative sporting events.  He has also been published in magazines like ESPN Magazine, Maxim, FHM, GQ Magazine and many others.
6. Staring into the Cascade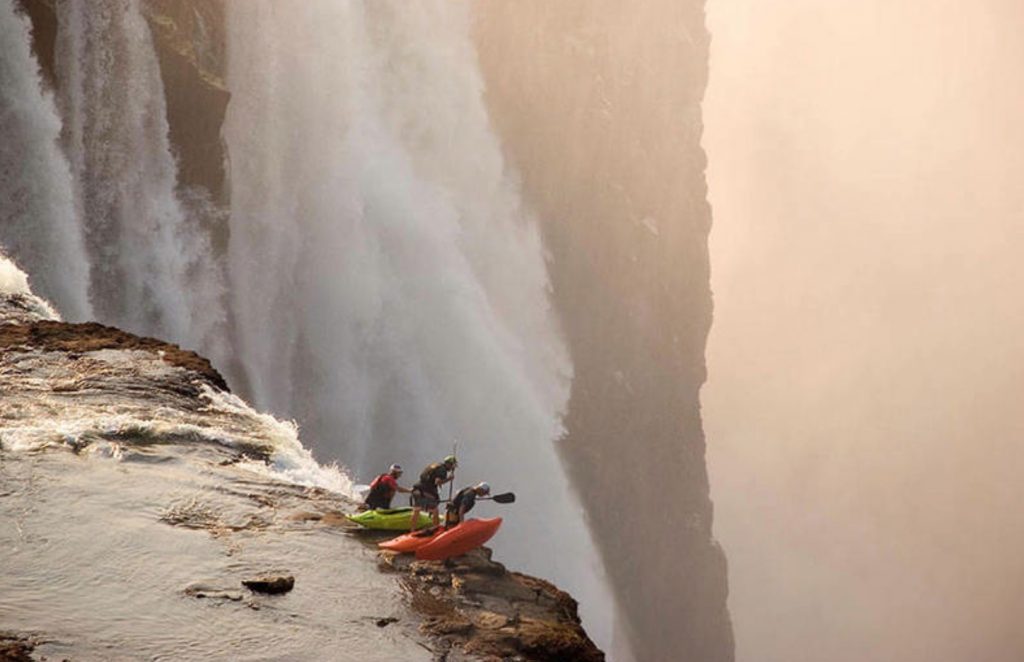 This picture has been taken by award winning photographer Desre Pickers. She was born in 1977 in Durban, South Africa, and she has been traveling the world since 2000, taking pictures, and bringing us joy. Kayaking is one tough sport, and I wouldn't recommend it to those without a strong physic, and without getting mentally prepared.
I tried it once, but it was on a river, with no currents at all, and by no means was I near a waterfall. This picture won the 2007 award in the "Lifestyle" category. Lifestyle? Well, yeah, it is a lifestyle, and it is not for everyone. I sure bet it was such a beautiful scenery from that position – just seeing how the water smashes on the rocks and creates that foam, ah, it must be exhilarating being an adrenaline junkie.
Don't forget to share your thoughts in the comment section below.
Editors' note: "This article was originally published in October 2014, and has since been updated and revamped to ensure complete accuracy"
(Visited 1,403 time, 1 visit today)