"The new dynamics between brands and consumers, driven by social media, are proving to be a powerful impetus for change." –  Simon Mainwaring
Social Media marketing is a fairly new branch of marketing. Social Media has led to an unprecedented spread of information, and today's consumer is much more informed. This should not be seen as a problem, as much as an opportunity. A good marketer can use social media to maximize his client's product exposure, giving him a competitive edge in this new era of information.
ADVERTISMENT:
The Best Deals For Digital Design Assets - InkyDeals.com. Learn More>>
Social Media marketing mean creating "electronic word of mouth", or "eWoW", by generating content that then gets posted on social media sites by third party member, meaning not the company or brand itself. This results in "earned media", rather than "paid media" and a higher rate of client growth.
Now, those all seem like really fancy words, so we've made a list of 15 social media marketing blogs that should clarify the issue a bit.
1. Mashable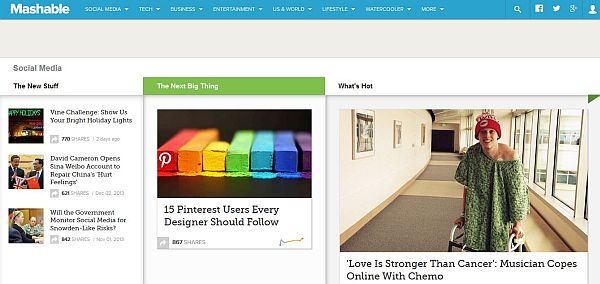 This couldn't be a serious list with out the behemoth that is Mashable. Although not exclusively a social media marketing blog, it's "Social Media" channel is a valuable resource for anybody looking to find out what's going on the in world of social media marketing. It boasts over 22 million unique monthly users and over 13 million social media followers, so it's essential you follow this blog to stay in the loop.
2. Copyblogger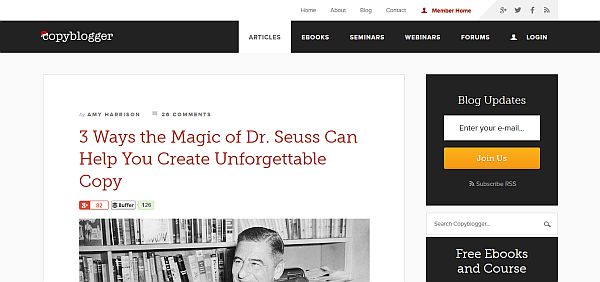 Founded in 2006 by Brian Clark. Copyblogger posts 5 to 6 articles a week about trends in the world of content marketing. It isn't to humble to say that it is "the most popular content marketing and writing blog on the planet", and they just might be right.
To tell you a little more about about Copyblogger's founder, Brian Clark: he has been named the most influential blogger of 2007 by Performancing, the third most influential online marketer of 2009 and the most influential person to follow on Twitter. If you need further convincing, Copyblogger Media is a software and training organization, with over 115,000 unique customers, so this blog definitely practices what it preaches.
3. Chris Brogan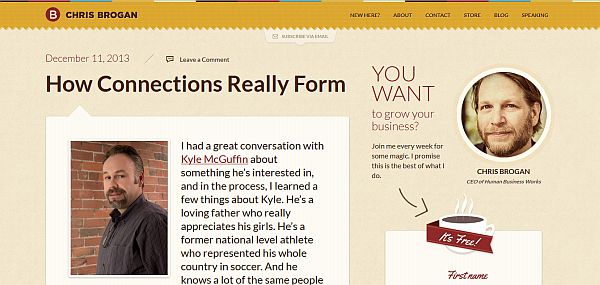 Social Media powerhouse, Chris Brogan is the CEO and President of Human Business Works and is so successful it's hard to know from where to start. Aside from being the head of a leading publishing and media company, he is also Publisher of Owner Magazine, a business magazine whose goal is helping you improve your worth by growing your capabilities and connections, and a much sought after public speaker, having spoke to crowds of thousands of people.
Oh, and before we forget, he is also a New York Times Bestselling author for books such as "Google Plus for Business", "The Impact Equation" and "Social Media 101".
4. Social Media Explorer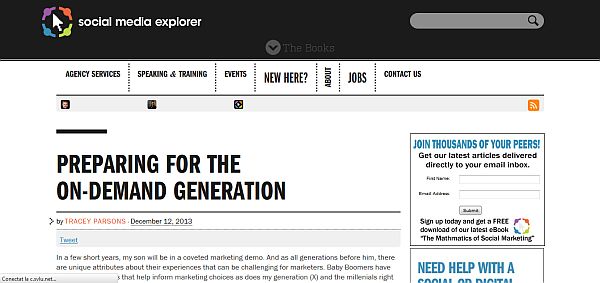 Social Media Explorer is blog that offers you precious insights into the world of social media and digital marketing, topping it all off with informations from online communications, public relations and advertising. It's founders are Nichole Kelly and Jason Falls, but there are lots of other contributing authors, all of which are really rather good at what they do.
Not just a blog, Social Media Explorer is also a strategic services agency and an information products company, offering business-oriented social and digital marketing strategy and management, as well as educational events and industry and custom research products.
5. Social Media Today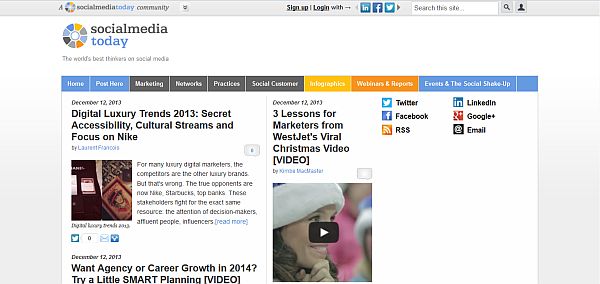 Social Media Today saw the rising importance of social media back in 2007. Social media has facilitated direct interaction between customers, employees and experts in academia, corporations and government, and Social Media Today has, for six years, been right there in the front lines, providing blog coverage and bringing reporting on all the latest happenings.
Robin Carey is the founder and CEO of Social Media Today, LLC. She's a veteran of print media, having worked for big names like Newsweek and Fortune, and has a reputation for designing strategies to connect companies with their customers.
6. Jeff Bullas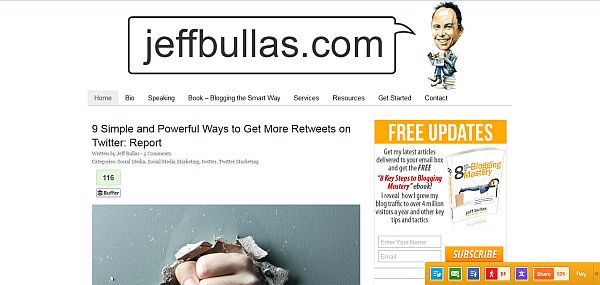 This blog aims to teach businesses and individuals how to market themselves without being intrusive. It aims to show you how to market by engaging, not interrupting.
Covering everything that has to do with social media and online marketing, from Facebook to LinkedIn to search engine optimisation, Jeff Bullas' blog is beneficial for anyone wants to understand social media marketing better.
7. Ask Aaron Lee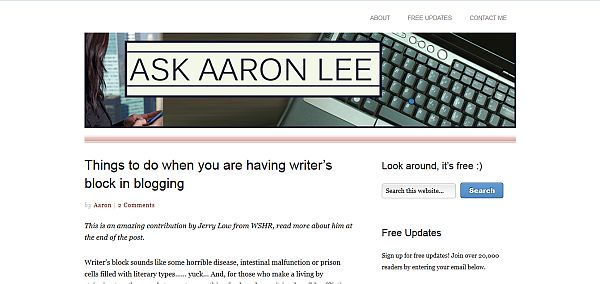 Tips, guidelines, and everything you need to know to make social media a powerful tool in helping a company to grow. That's what Ask Aaron Lee promises to provide.
The eponymous Aaron Lee is a rising star of social media marketing, reaching some 500,000 people globally through his blog and other social media outlets. His success in social media has gained him some attention from well-known publications, such as The Huntington Post, and also from newspapers from his native Malaysia.
8. Mari Smith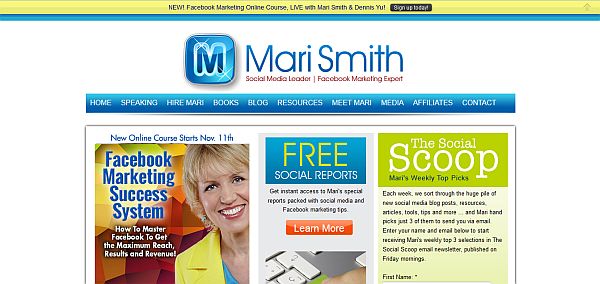 When it comes to social media, you can't get any bigger than Facebook. It's what anyone thinks about when you say the words "social marketing", and it's vital you know your Facebook if want to do social media marketing.
Mari Smith is widely regarded as the top Facebook marketing expert in the world, and her blog graciously shares some of her know-how with anyone interested. Tips, rules and any other advice you might need on social media marketing, you can definitely find them on this blog.
9. Maximize Your Social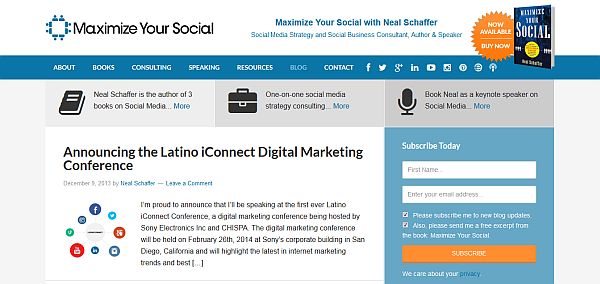 Neil Schaffer social media marketing expert, who specializes in LinkedIn. Like most of the people on this list, he is a coach and trainer, but he is also a college professor. He teaches as part of Rutgers University Mini Social Media MBA Program, and you can get a taste of his courses on Maximize Your Social.
Maximize Your Social shares it's name with Neil Schaffer's newest book, for which he is best known, but he is also the author of two other award-winning books about social media marketing on LinkedIn, namely "Windmill Networking: Maximizing LinkedIn", and "Maximizing LinkedIn for Sales and Social Media Marketing".
10. Kikolani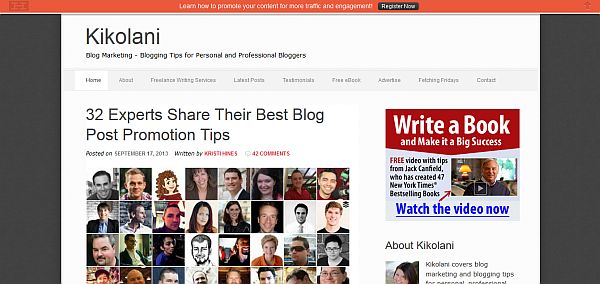 Kikolani is the tips blog of Kristi Hines, a professional blogger, freelance writer and ghostwriter. As such, she has contributed to a number of other really great social media marketing sources, like Social Media Examiner and Unbounce, both of which you'll be seeing shortly on our list.
This blog is aimed at personal, professional and business bloggers, having sound advice that covers all aspects of blog marketing, and, as an added bonus, you'll also find Kristi's course on Blog Post Promotion.
11. Scott Monty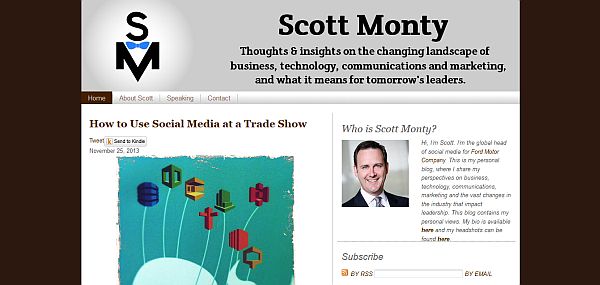 This blog is what you might call "an opportunity". It's the blog of Scott Monty, the Global Digital and Multimedia Communications Manager for car manufactures Ford, lending strategic advisory on all aspects of social media, blogger relations to customer service.
Although a very busy man, he finds time to update his blog with essential information about the intersection of advertising, marketing, and PR, and keep himself up to date with all things Sherlock Holmes.
12. Maximize Social Business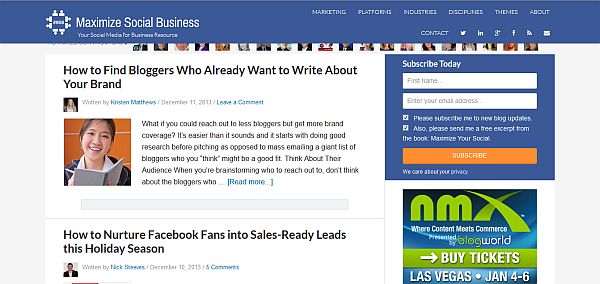 Sound familiar? In case you haven't figured it out, this is also a blog by Neil Schaffer, but this time it's not a solo effort. This time, Neil brings along some of his friends, including Kikolani's own Kristi Hines, to share tips and advice from well-known names in the industry, and help you get a firm grip on social media marketing.
13. Social Media Examiner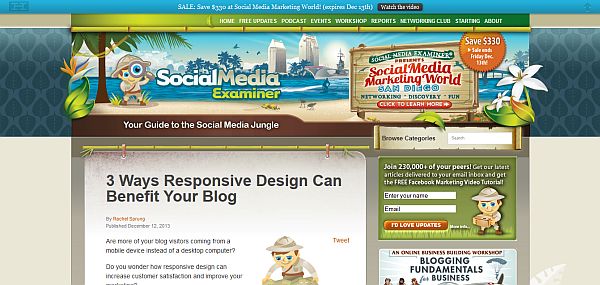 Social Media Examiner's claim to fame is being the world's largest online social media magazine. They have gathered some of the biggest names in social media marketing to make articles, case studies, reviews and much more, all for the benefit of eager minds, wanting to learn how to market in the brave new world of social media.
14. Unbounce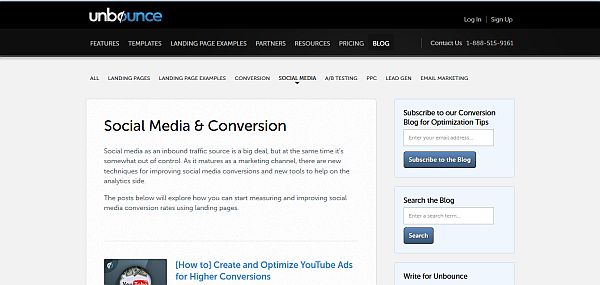 Unbounce are a company that specialize in landing page templates. They specialize in this because they know how awful it is waiting for the I.T department to get it done. They are marketers who wanted to run marketing campaigns the way they saw fit.
Since it's nice to give back to the community, they've also set up a blog where you can read up on the latest news in social media marketing, and, aside from the blog, they also have a nice little vector pack, containing their logo and icon.
15. Dan Zarella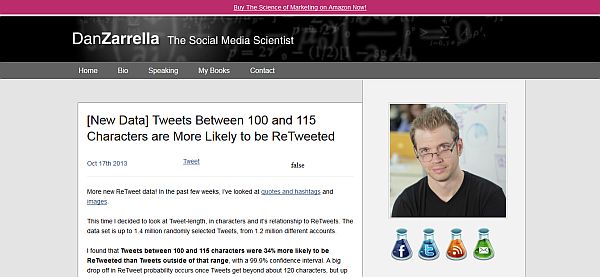 Dan Zarella is "The Social Media Scientist", a name he's earned through his collaboration with HubSpot, where he gives scientifically grounded advice, using his background in web development and his passion for social marketing, to help you better understand how to use social networks for marketing.
His graphs are eye catching, and they make the overall learning experience tones easier and a fair amount more entertaining. Also, he is the author of four books, and has received the Semmy and Shorty awards for Social Media Marketing in 2009.
That's our list of 15 social marketing blogs you should follow. We hope you find it educational and entertaining. If you know any other good social marketing blogs you think we, or the readers should check out, make sure to let us know in the comment section bellow!
(Visited 543 time, 1 visit today)