In his 2012 Commencement Address to the University of Arts in Philadelphia, British author Neil Gaiman famously said that "a freelance life, a life in the arts, is sometimes like putting messages in bottles, on a desert island, and hoping that someone will find one of your bottles and open it and read it, and put something in a bottle that will wash its way back to you: appreciation, or a commission, or money, or love. And you have to accept that you may put out a hundred things for every bottle that winds up coming back."
This is true of the world of freelance design as well. It can be very difficult for a freelancer that's just starting out to get noticed and get work. How do you do that? It can all be terribly confusing at first, until you've developed a routine and have a stable influx of work.
ADVERTISMENT:
The Best Deals For Digital Design Assets - InkyDeals.com. Learn More>>
At first, contracts and projects will not be coming to you. You can't just expect to set up a website and sit back, expecting the jobs to roll in on their own. You need to be prepared to seek out jobs and projects on your own until you build a sufficiently good portfolio and a few contacts. But where can one go out and seek out projects?
Basically, there are two aspects you have to look out for when starting out in the freelance world in order to get jobs. One of them is the one we've mentioned above, going out and finding projects and the other is raising your online profile, thus increasing your visibility and chances to get projects that seek you out instead of you having to seek them out. The following tips address both of these aspects, so keep reading!
1. Give Bidding Websites a Try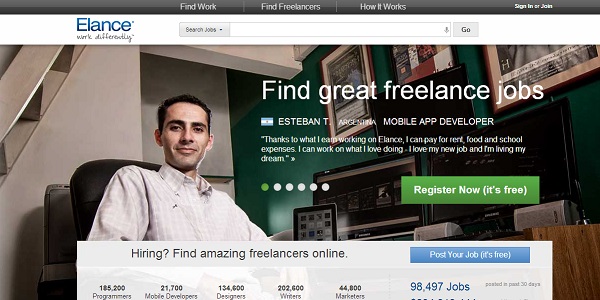 Bidding websites are not the best places to get work as a freelancer, but they're a good place to start. You should go and check out Guru, Elance and Odesk.
These sites have a pretty simple protocol: you find a job you think you can do, and you bid on the price you'll do it for. Not all the employers using bidding websites will select the lowest possible offer, but they will be price sensitive, so keep that in mind when bidding. These sites are low-pay, but they're good for something else: they can help you build up some notoriety, create a network of contacts and build your portfolio, all the while managing to earn some money.
Generally, it's a good idea to get the paid account on any bidding site, if you're serious about using it as a gateway to start up your freelancing career, as the paid membership will offer more than the basic, free one. Plus, it makes you look more serious and involved to employers, who now know you have actually invested some of your own money in freelancing.
2. Job Boards Are Your Friends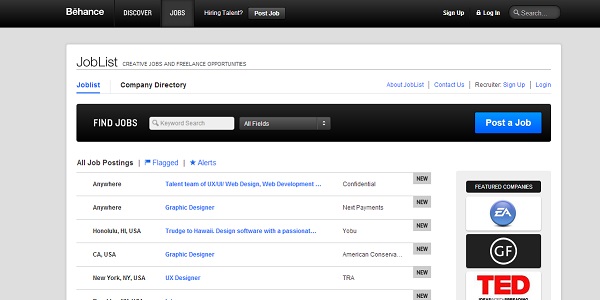 Job boards are more competitive and tougher to access, as you get fewer replies, but they're definitely worth it. You can find a lot of great projects on job boards and you should definitely give them a go, but be prepared for what Neil Gaiman cautioned us against in the first paragraph of this article. You may have to apply to a hundred jobs before you get your first reply. And, of course, the bigger the job board, the more jobs there are, and the more jobs there are, the more good jobs there are. Unfortunately, the bigger the job board, the more competitive it is.
Here are a few job boards you should check out:
Job listings at your local websites
3. Increase Your Visibility Online
There are a few things you have to do to keep yourself visible online that many freelancers just don't do. First of all, you need to get yourself a website. We can not stress this enough: you are your website. The site is your online calling card: you keep your portfolio there, you get clients to notice you by it and so on. Not having a website is tantamount to not existing as a freelancer.
Second, you should blog. Blog a lot and blog smartly. That means blog about things you know well and make sure you give your readers new information in every article. Don't just write filler. Doing this will guarantee readers will keep coming back to your site. And what are readers if not potential customers? More so, blogging frequently has SEO benefits that will make you easier to find with search engines.
Third, write guest articles. On smaller websites at first, and then on larger ones. The more guest articles you write, the more articles and sites there are linking to your own website. More so, the more guest articles you write, the more people hear about you. Make sure you get as much exposure as possible.
Fourth, use social media! This is very important. Get a Facebook page, a Twitter profile, a Google Plus profile and so on. Most importantly, though, get a LinkedIn profile. Make sure all these profiles are as complete as possible and update them frequently as possible.
This concludes our list of tips for finding work as a freelancer. If you have tried any of these variants, let us know how they worked out for you in the comments section below. If you've got any other tips for people just starting out in the freelance world, please leave a comment!
(Visited 241 time, 1 visit today)