"Since you get more joy out of giving joy to others, you should put a good deal of thought into the happiness that you are able to give." – Eleanor Roosevelt
Web designers, like any artists, require tools and materials so that they can create their works. But, since we are just getting out of a recession, your budget probably still isn't what it was a few years ago, and web design resources are not getting any cheaper.
ADVERTISMENT:
The Best Deals For Digital Design Assets - InkyDeals.com. Learn More>>
As a web designer, you are probably always on the look out for big discounts and excellent deals so you can stock up on all the things you need, without having to burn too much money. The problem with this is, however, that you are going to have to spend hours browsing the internet, searching for the best offers, and those are precious hours you could put in to that project who's deadline is coming up.
The internet is positively packed with websites for web design resources, so drudging through them all can be a painstaking process, and you also risk not having anything to show for it. Since we are real nice people and, like Eleanor Roosevelt said in the quote above, we get more joy out of giving joy to others, we have decided to put together a list of 10 of the most popular discount websites, for you to quickly find whatever web design resource you are looking for, at the lowest possible prices.
1. InkyDeals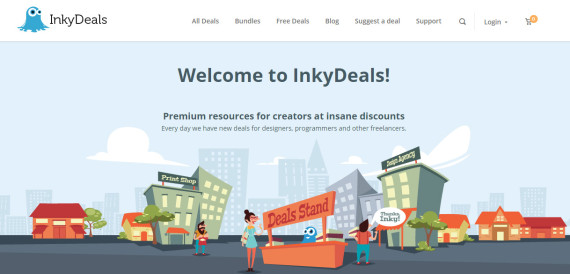 InkyDeals kind of makes you feel like you're stealing, and that's precisely why it's such a terrific place to go when looking for discount resources. With discounts ranging from 50%, all the way to 99%, and a very competitive freebie section, InkyDeals should definitely find a comfortable place to stay in your bookmarks folder.
The operation is based in Bucharest, Romania and has some pretty cool partners, including DepositPhotos and Vandelay.
2. StackSocial

StackSocial is a gargantuan deals website. With over 400 thousand users and over 400 publisher network partners, it is pretty safe to assume that you will find what you are looking for on this website. Whether you are a designer or a developer, StackSocial has your back covered with great discounts, both in terms of quantity and quality.
We've mentioned their huge amount partners earlier, and we are going to mention them again, so we can name a few of them, namely Design You Trust and Cult of Mac.
3. MyDesignDeals

MyDesignDeals is probably the friendliest deals website out there. The website's founder, John Shaver regularly chats with users so he can get feedback from customers and give the website a human face. Now that's smart thinking!
The site is built around 10 core values, listed here, and they really make the business seem truly customer orientated. They test every deal they post, making sure that what you are getting is truly a high quality product, and the discounts themselves are tremendous.
4. Webmaster Deals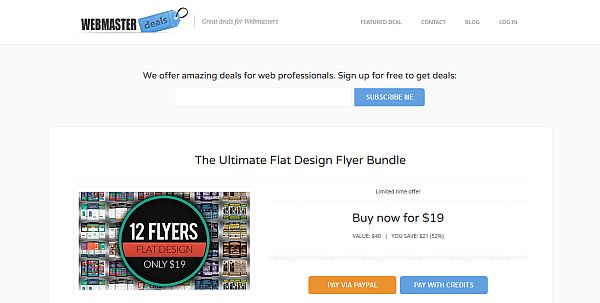 Yet another discount website from the dark, vampire-infested forests of Romania, Webmaster deals offers fantastic discounts, ranging once again from 50% to 99%. The really cool thing about this website is that it offers a 10% cashback for every purchase, credit that you can then use to buy more resources, allowing you, in a way, to customize your own discounts.
5. MightyDeals

Whether you are looking for royalty-free vectors or Drupal templates, MightyDeals serves it up to you on a platter, at a discount price and without making you register and pay fees. That's how you know that the money you'll be saving is the same amount as advertised.
The discounts are more than decent, ranging from 50% to 90%, and you also get access to a freebie section. That's if you sign up for the newsletter, but nobody is putting a gun to you head to do it.
6. BundleHunt

Everyone loves bundles, let's face it. Bundles are probably the single best concept that marketers have ever came up with. Bundles are tons of things for virtually no money at all. BundleHunt is dedicated to putting together great bundles of premium software, so that creative people can play around with the latest "toys" available.
The bundles consist of, among other things, apps, templates and icons, and they are excellent way of getting all the things you need and want for less than 10% of the real price. Bundles are so cool!
7. DealFuel

Aside from having an awesome collection of discount tutorials, software, developer and website tools, and WordPress themes, DealFuel also has fantastic deals for designer resources like icons, buttons, mockups, web fonts and much, much more, making sure that you'll get anything you want with at least a 50% cut.
8. MacZot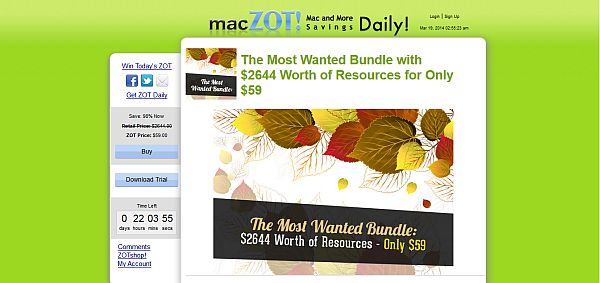 MacZOT's motto is "Mac & more", so don't worry if you are not looking for Mac discounts. MacZOT's got you covered with lots of discounts from all across the web, being a deal aggregator, so that you don't have to look for the best daily deals all by yourself.
9. Pixel Snacks

"The design bundle that grows" is how the makers of this bundle describe it, and they are so completely and utterly right to do so. The concept behind is so good, that it kind of seems impossible to believe that it's true.
It goes like this, you pay for the bundle once; after you pay for it, you get unlimited access to the bundle, which means that every time a new item is added to the bundle, you can download that item without paying extra. It's like having a life-time subscription to bundles!
10. DesignCuts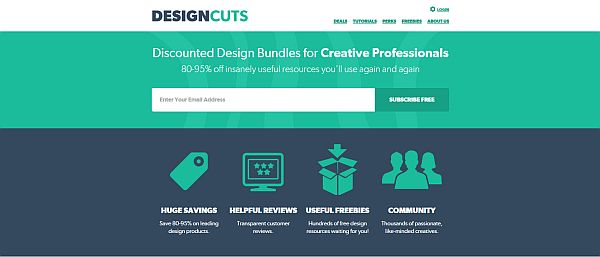 DesignCuts likes to make crazy deals. They boast offering a bare-minimum of 80% discount, which is just a gargantuan cut in the price. They also carefully curate the website so that they can make sure that the products they have on offer of top-notch, and you can also inspect every element of your dream resource before buying it.
That wraps up our list of great discount websites for web design resources. We hope these sites will help you save lots of money so you can finally buy that huge Smart TV you've been dreaming of.
Don't forget to let us know what you think of our list, in the comment section below.
Editor's Note: This post was originally published in May 2014 and has been completely revamped and updated for accuracy and comprehensiveness.
(Visited 7,147 time, 1 visit today)