"Minimalism? It is something I appreciate as an art form but leave to others – unless you count a collection of warhorse-workwear Yves Saint Laurent trouser suits. Maybe my penchant for hippie-deluxe eccentricity came from an escapist dream of a different world. It was tough being a working mom in the 1970s."
– Suzy Menkes
ADVERTISMENT:
The Best Deals For Digital Design Assets - InkyDeals.com. Learn More>>
Minimalism is one of the most interesting art movements there is. It takes a subject matter, and strips it to its bare essentials in an attempt to expose the very essence of what the artist is trying to represent.
It emerged in the 1960's in New York, with artists moving towards geometric abstraction, explored via painting by the likes of Frank Stella, Kenneth Noland, Al Held, Elsworth Kelly, and Robert Ryman, to name just a few. Minimalism also made its presence felt in sculpture though the works of such artists as David Smith, Anthony Caro, Tony Smith, Sol LeWitt, Carl Andre, Dan Flavin, and Donald Judd.
1966 was a particularly good year for minimalism, with big name museums and galleries, like the Jewish Museum and the Solomon R. Guggenheim Museum hosting, important exhibitions showcasing the works of minimalist painters and sculptors. It is in the wake of those exhibitions that the term "minimal art" emerged.
European minimalism can trace its roots back to the work of great modernist, Bauhaus, and De Stijl artists, as well as the works of Piet Mondrian, Kazimir Malevich, and Constantin Brâncuși, all of which explored geometric abstractions in their works.
The current may have been born in the 60's, but minimalism was predicted half a century earlier, by cubist Jean Metzinger in 1911. In an interview with Cyril Berger, published in Paris-Journal, the artist said:
"We cubists have only done our duty by creating a new rhythm for the benefit of humanity. Others will come after us who will do the same. What will they find? That is the tremendous secret of the future. Who knows if someday, a great painter, looking with scorn on the often brutal game of supposed colorists and taking the seven colors back to the primordial white unity that encompasses them all, will not exhibit completely white canvases, with nothing, absolutely nothing on them."
Now that we have told you a little bit about the history if minimalism, it is time we get to the list you have no doubt come here to see.
If you are a frequent reader of our website, than you know that we really love calligraphy, typography, and anything at all that has to do with letters (or numbers, commas, dots… you get the picture). So we decided to explore minimalism in fonts, and comprised a list of free fonts you can use in your minimalist designs. We will either be giving our own opinion on the fonts, or give relevant quotes from the designers when available.
1. Universe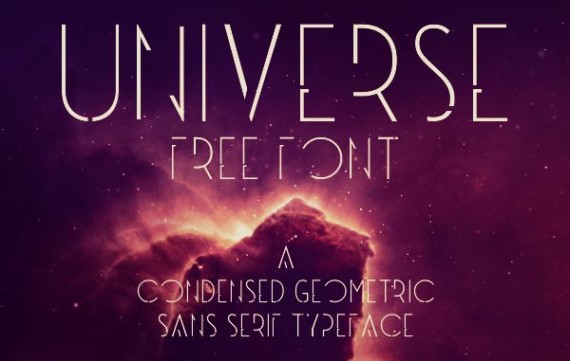 Made by Vincent Labonne, a graphic designer from Bel Air, Mauritius, Universe is a gorgeous font with a science fiction twist to it.
The lines are smooth and elegant, and the missing spaces give the font a real personality, while also keeping it easy to read.
2. Separator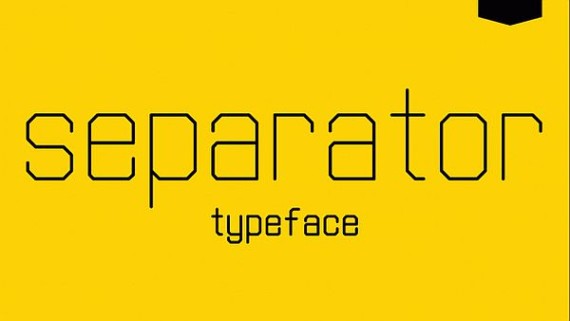 Separator is Simon Stratford's experiment in creating a typeface with no curves. Experimenting with geometry. Does that sound familiar?
The font has a really cool retro future vibe about it, and we definitely like it, perhaps more then the designer himself does:
"I'm still just scratching the surface of font creation. There are things that are going way over my head. That annoys me, hopefully it gets easier – I certainly hope so."
3. Raleway

"Raleway is an elegant sans-serif typeface, designed in a single thin weight. It is a display face that features both old style and lining numerals, standard and discretionary ligatures, a pretty complete set of diacritics, as well as a stylistic alternate inspired by more geometric sans-serif typefaces than it's neo-grotesque inspired default character set."
4. Equal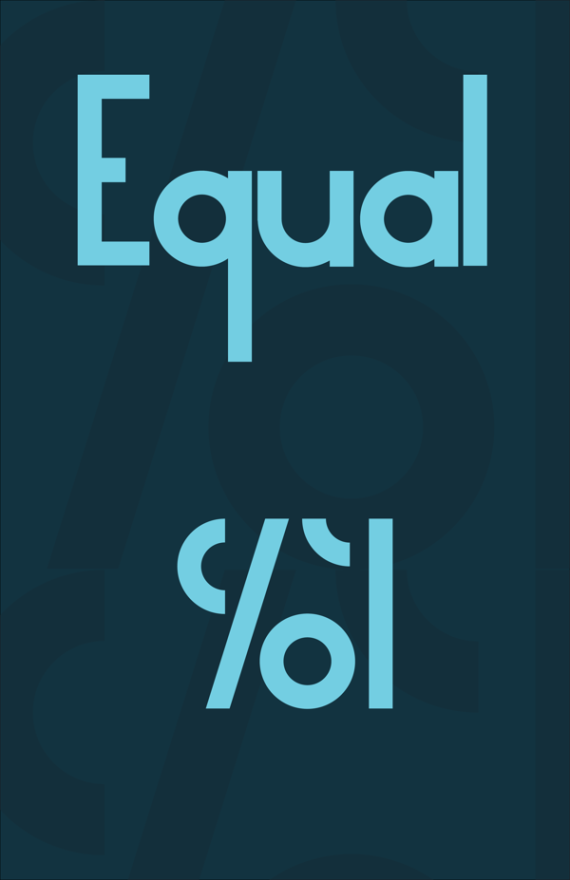 "I designed Equal in Adobe Illustrator then imported each letter, number, and symbol into Glyphs which is a font designing software. Only three geometric shapes were used to contract this font. A circle, and line, and a diagonal line. Which allows a a fluidity through out each letter. I hope you enjoy."
5. Helsinki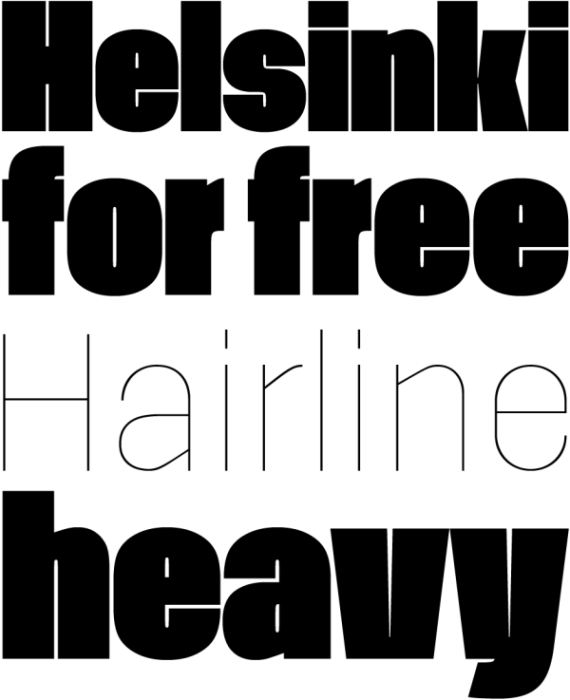 "The Helsinki free fonts cover the Western and Central European character set and come for desktop and web. To use the fonts, simply install the TTF files on your system. To use in your online projects EOT and WOFF files are also included. The fonts contain an alternate character g accessible via Stylistic Sets 01 or Stylistic Alternates."
6. Cicle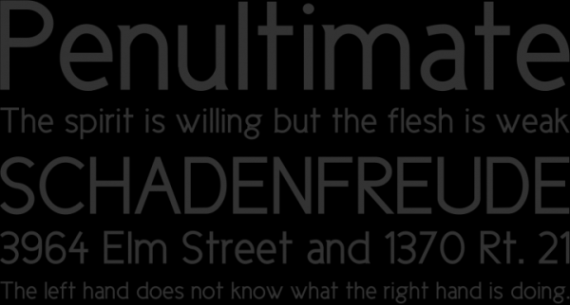 Cicle is a Sans Serif font that comes in a variety of different styles, all of which really change the font, making it almost entirely different. It is designed by La Tipomatika, and is available in a variety of languages, including Faroese, Galician, Basque, and Chamorro, as well as regular English.
7. Facile Sanse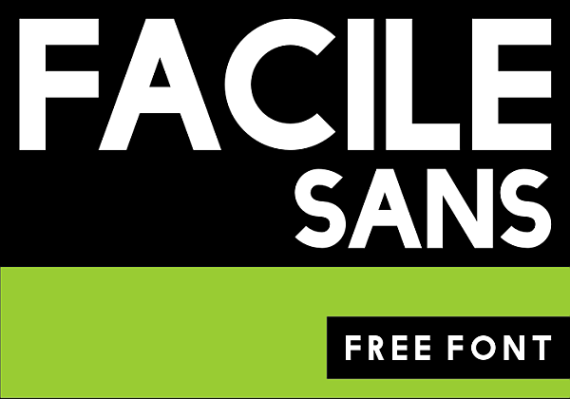 Designed by Fahrizal Tawakkal, Facile Sanse is, in the designer's own words, "an all caps sans serif font with bold and geometric shape. Suits best for modern / clean designs, logos, headlines, etc."
8. Viro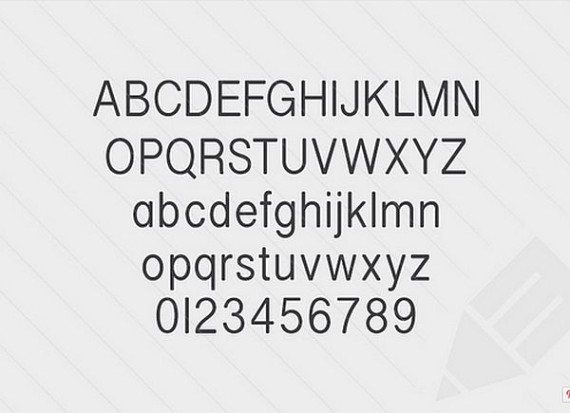 "Viro is a sans-serif humanist typeface, slightly condensed and with subtle rounded edges. This font would be suitable for almost any purpose from headlines to body copy. It includes uppercase and lowercase letters, numbers, symbols and accented letters."
9. Caviar Dreams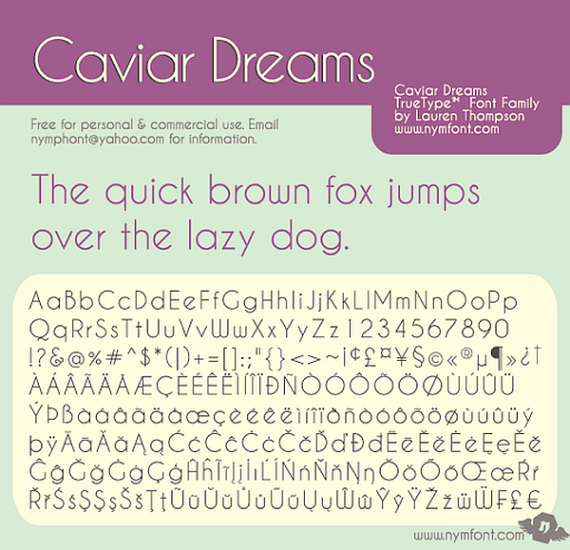 "Presenting the Caviar Dreams TrueType™ Font Family. More geometric sans-serif love, Nymphont style. Download contains 4 files, Caviar Dreams Regular, Italic, Bold, and Bold Italic."
10. Thin Line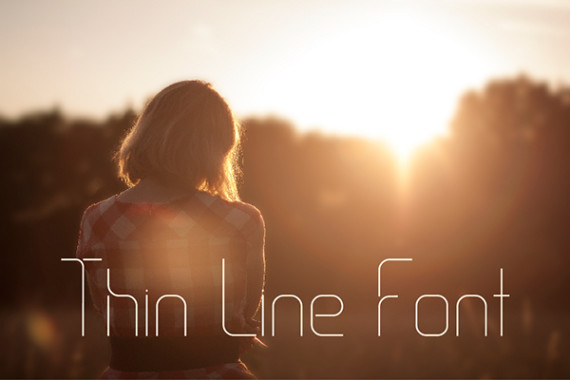 Gatis Vilaks is the designer behind this absolutely gorgeous font. Like the font's name suggests, the characters are made out of thin lines, which manage to stand out without being flashy.
11. Anke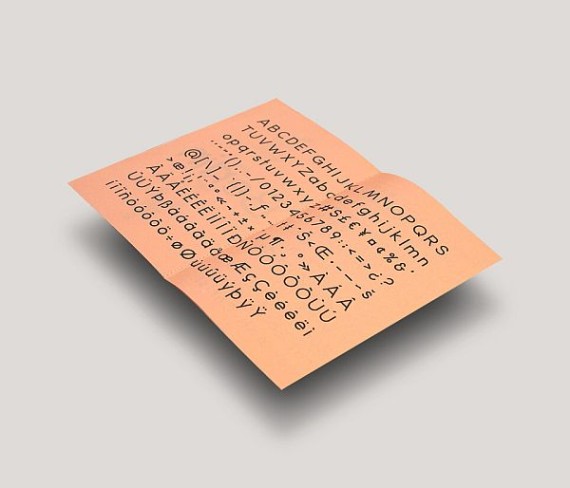 "Anke is a geometric, simple yet legible Sans Serif typeface. For my first non-experimental type, it meant the conception of the need of an earnest but always cool font for my projects, something in between Futura with a kind of orbed structure was pictured on my mind." says designer Noe Araujo.
12. Flex Display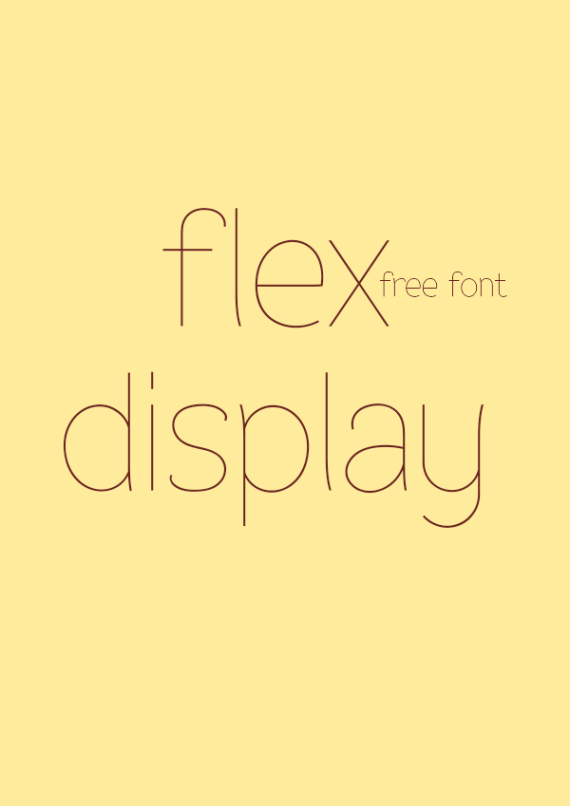 "Flex Display it's a free geometric thin display font that can be used in branding, candy recipes, webfonts and other."
13. Regina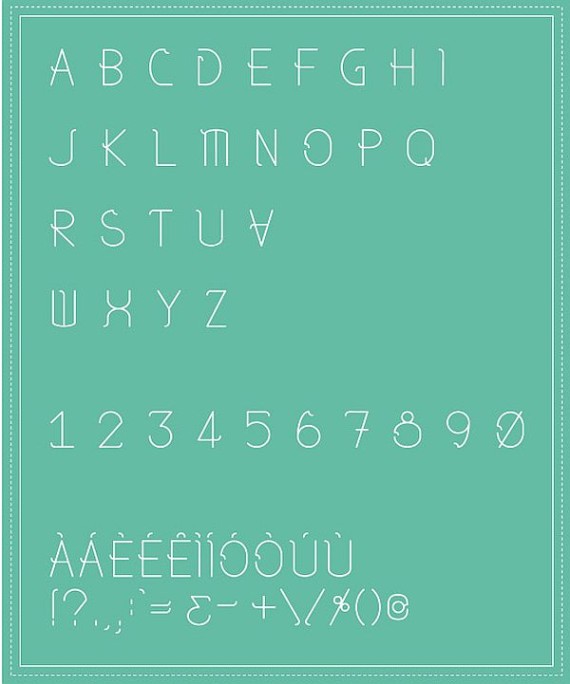 Regina is designer Santo Calvo's first attempt at making a font. He made it back in 2012, but only recenlty made it available for download. Each letter in the font is based on a 10 x 10 grid system, and they are characterized by soft curves and sharp lines, with the addition of a little curl for personality.
14. Code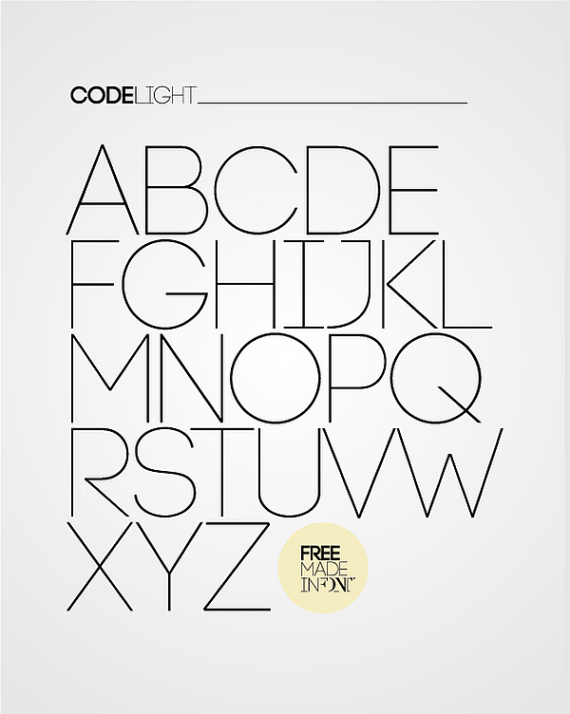 "Code free font is applicable for any type of graphic design – web, print, motion graphics etc and perfect for t-shirts and other items like posters, logos."
15. Uni Sans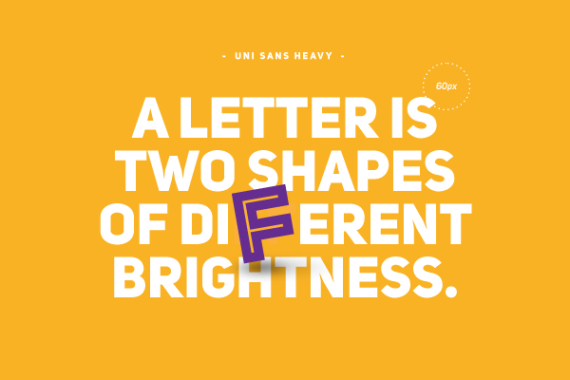 Made by Svet Simov, Ani Petrov, and Vasil Stanev, Uni Sans is described as follows:
"Four font weights set in Caps from our well known best seller Uni Sans, available for free download."
That concludes our list of 15 free fonts for your minimalist design. We hope you like the fonts we have listed here, and that they will find their way on to your designs. Please leave us your thoughts, and any other cool fonts you think we missed, in the comment section below.
Editor's Note: This post was originally published in September 2014 and has been completely revamped and updated for accuracy and comprehensiveness.
(Visited 14,825 time, 1 visit today)