Web Design Inspiration: 20 New & Beautiful Websites
"If there's one thing you learn by working on a lot of different Web sites, it's that almost any design idea, no matter how appallingly bad, can be made usable in the right circumstances, with enough effort." – Steve Krug
Web design, like any other form of design, or art in general, is continuously changing. What was cool or hip today can look completely unappealing tomorrow, and that really is the beauty of design; the fact that it constantly makes you up your game, and create new, better works.
Nobody could have expected the drastic changes in web design since the 90's, since technology is such a rapidly evolving creature, and you can do things now -in design- that you would not have even dreamed of back in the 20th century, or even merely a decade ago.
Even what websites are used for has ever so drastically changed. Really, there is no limit to what a website could be: news site, corporate site, book site, online store, browser-based game, online portfolio, and the list goes on.
What we are about to say should come as no shock, but you can not design every type of site the same way. Different types of sites are suppose to attract different types of people, so of course you are going to design a corporate website in a totally different way to, for example, an online portfolio.
And even in the case of the portfolio, are you trying to attract corporate customers, or are you going for the art-house crowd?
We have already covered trends for 2014 in a previous article, but just so you can get a little bit more of design inspiration, we have put together a list of 20 new and beautiful websites for you to browse, gawk at and analyze, and see what things you can add to your designs.
1. Studio Alto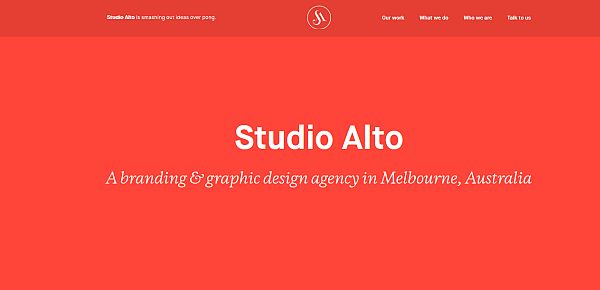 Studio Alto is a small design agency from Melbourne, Australia. Their website is a cool, responsive website that kind of works like a single-page website. They have chosen some really awesome colors to use on their website, but the real star of the show is the excellent optimization that makes it run really smooth, allowing you to not get fed up with it while browsing it.
2. Bench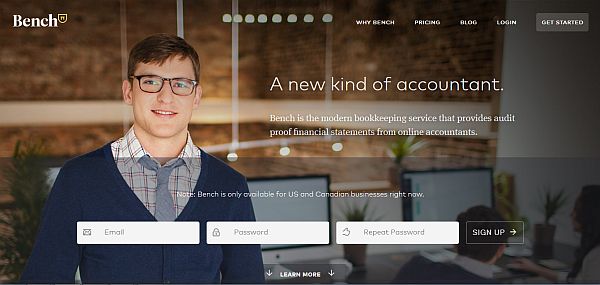 Bench is an online bookkeeping service, and, as such, knows what its potential clients are looking for, namely seriousness. Note how the people in the photos are young and friendly, but not necessarily fun, and the colors used; mostly earthly colors, meant to put you at ease, and create the sensation of trust.
3. Blocklevel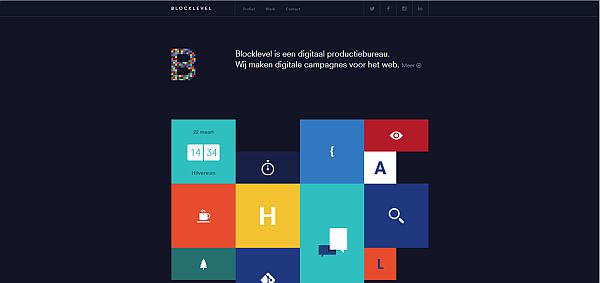 This Dutch digital production company's website really has the whole single page website mastered. Loading time is kept at a minimum, and you can quickly browse through the website by the scroll button, or the buttons in the header, that instantly scroll you down (or up) to the section you want to go to.
4. Little Forge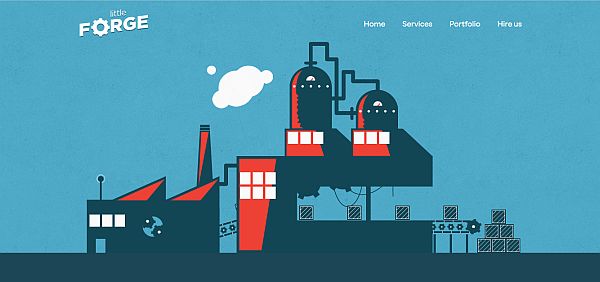 We will just start by saying that Little Forge's animated header is the coolest thing we've seen for a while, now. Flat design is definitely where it has been at for the past year, and it is great to see that we have not seen all that you can do with it, yet. There is still a lot of experimenting to do, and a lot of creative things to achieve with it.
5. Wifeel
Wifeel is a social network dedicated to emotions. We like to think of it like a Pinterest for emotions. But we are not here to tell you about the app, we're here just to show you the website, and it really is a stunner. It is a fluid, one page website that behaves exactly the way it should: dynamically. From the GIF like photos, to the numbers changing as you scroll, this really is a design tour de force.
6. Nitrografix
Immediately, the first thing that strikes you about this web site is how brilliantly it interacts with both the x and y axis of your mouse. The sun and moon go up and down with the x axis, and the background, fox and owl go from left to right with the y axis, and if you move your mouse to a corner, they they both move accordingly.
7. Pagelanes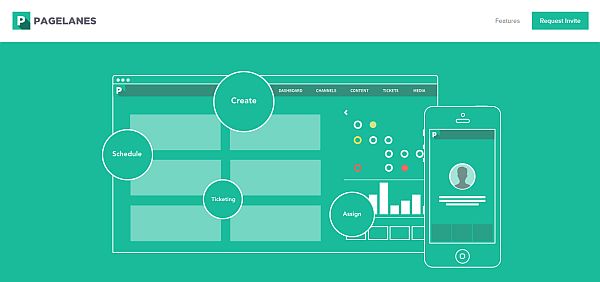 Pagelanes's website brilliantly blends single page scrolling with flat design and a minimalistic color theme, to create a truly well designed website. It could benefit from a sidebar for quicker browsing, but it is still really easy to scroll, and it so well optimized that, if are not specifically looking for flaws in its design, you probably won't notice the sidebar's absence.
8. Buzzoole Finder

Simple and to the point, that's what this website is about. Seeing as it is promoting app, it basically serves the same purpose as a flyer, only that it is a bit more interactive than one, although not a whole lot, at least not until you sign up for the aforementioned app.
9. Fibb
One designer. One developer. Sworn to take over the world, and they are pretty much on the right track with this totally awesome website. Its most notable feature has to be the "Say Cheeese!" button, that allows you to take a picture to be posted on their website. Now that's how you do user interaction!
10. Fluid UI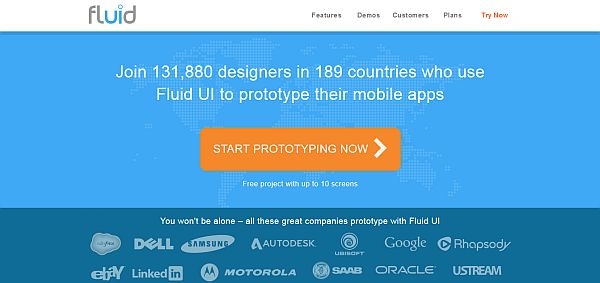 Once again, simple and to the point. If you are going to promote a product like a UI, all you need to do is make a simple website, with a few testimonials and feature presentations, and make sure it runs smoothly, which it most certainly does.
11. Standbuy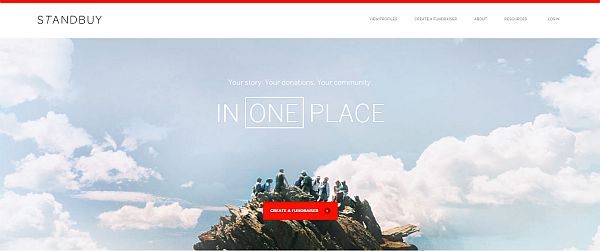 Standbuy is a lovely idea with a lovely website. A crowd funding platform for cancer sufferers, Standbuy does an excellent job of making clear its goals and the services it provides, all the more important, seeing as said service is one of comfort for those unfortunate enough to suffer from the disease.
12. Fhoke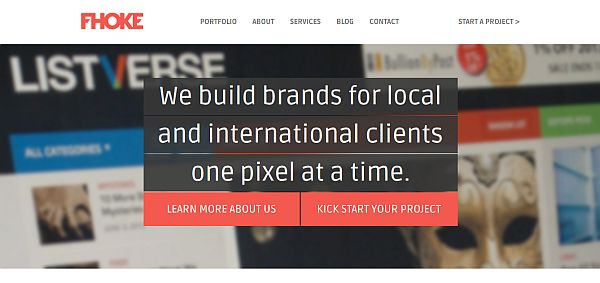 You have to love how excellently optimized this website is. Although not an entirely one-page website, Fhoke's website seamlessly changes from section to section, and it's minimalistic choice of colors also makes it look really modern and professional.
13. World in my Lens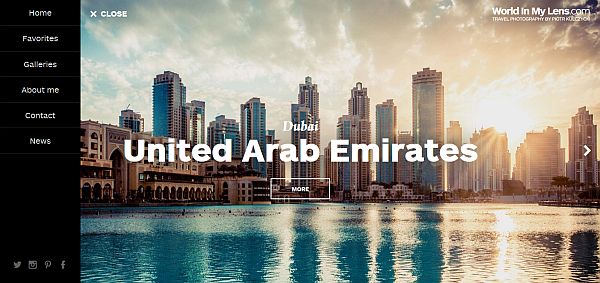 Piotr Kluczycki, head of the web design agency Crafton, has a real passion for traveling and photography. Since 2006 he has made made these passions public by making this fantastic website to showcase his stunning travel photography. It is no surprise that the web site looks as good as it does, seeing as (as we've mentioned before) he runs his own web design agency. It really is a great photographer portfolio.
14. Munchery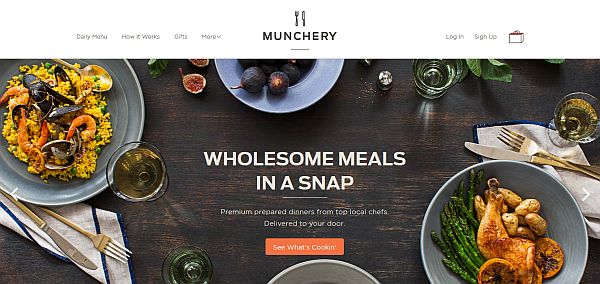 A food delivery company's website should make the user not want to look for a different option. Munchery does just that. All the white used on the website makes everything look very hygienic, and that makes the user trust the product, and the fact that the chefs have their own bios makes you feel like you really are buying a gourmet meal.
15. PSD2HTML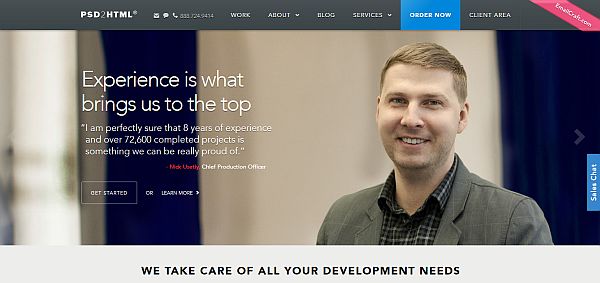 If you are on the creative side of web design, you can get away with a slightly clunky website, but if you are in development, your website needs to run one hundred percent smoothly. PSD2HTML's flat design website is a marvelous example of this, their site running completely smooth, with very little loading time between each section.
16. Brad Hogan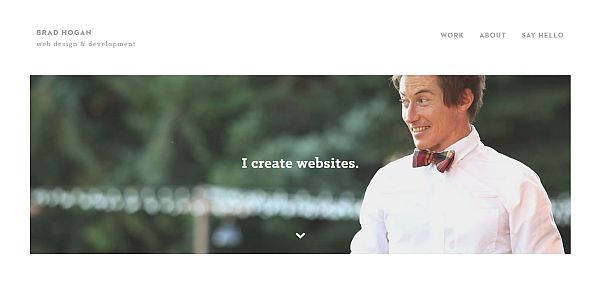 As we've mentioned in our trends article for 2014, personal portraits are becoming a pretty big deal. People want to know that they really are commissioning an actual human being to do whatever job it is they need doing. Brad Hogan's website features a header with him looking all snazzy in a shirt and bow-tie.
17. Anglepoise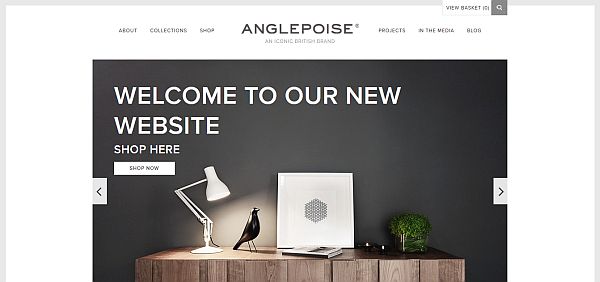 You've probably seen lamps like these a thousand times over, but we're willing to wager that you didn't know the name of the first company that produced them. Anglepoise knows it's a big part of what it means to British, and that clearly shows in its sober, elegant and poised website.
18. Playground Inc.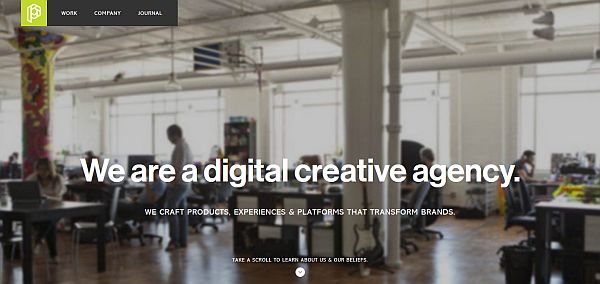 What we admire most of all is imagination and creativity, and we're guessing you do to. This website had the fantastic inspiration of animating the polygonal illustrations it has, making the whole site a real joy to browse.
19. Mekanism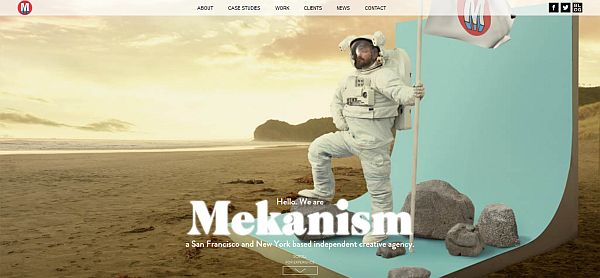 So much retro goodness!
20. Tyler Copeland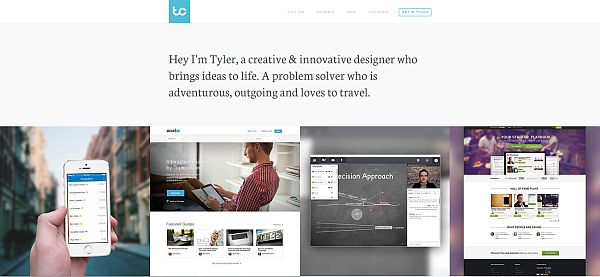 Tyler's site lets his work do the talking for him. His designs are presented in a grid form, in large squares, separated only by a small text section in which he states his philosophy. What little personal information he does give away is presented in the header section, where he friendly states that he likes to travel.
That concludes our list of 20 lovely websites for your web design inspiration. Be sure tell us which ones are your favorite, or show us any other ones you like, in the comment section below.