20 Web Design Conferences to Look Forward to in 2014
2014 is going to be a great year for web design. The internet is expanding (as it has ever since it first came into being), but it is also evolving with immense speed and momentum. That's why, while being an internet user will become even more exciting and handy over the coming months, being a web developer or a web designer will be more challenging than ever.
We've already discussed the trends to come in 2014, and what we're seeing is that things are becoming more complicated each day for the developer, who has to create complex websites, with broader functionality than ever, while keeping them flexible enough in order to display properly on the myriad of devices people are using to get online these days and keeping in mind that the end result has to be as simple-looking as possible.
So, what is the solution to keeping up to date with everything going on in the ever-demanding world of web design in 2014?
The answer is, of course, conferences. Not only do conferences help you network and meet other people in your field, thus creating meaningful work relations with professionals in your field, but they also help you grasp the more subtle nuances of recent developments in the ever-changing field of web design & development.
What follows is a list of our top picks from the list of the upcoming conferences of 2014. Which ones will you be attending?
1. UX Oxford


February 20th, Oxford, UK
While UX Oxford is not a conference per se, what with it containing just one talk from one speaker, it's definitely worth checking out if you're interested in implementing user experience concepts and approaches in your design. The talks usually touch on topics related to User Experience, Interaction Design, Usability, Web Development, Web Design and Digital Design. You should definitely check it out if you're in the Oxford area!
2. Mobile World Congress 2014

February 24-27, Barcelona, Spain
The Mobile World Congress is one of the biggest and most important conferences of the year and we highly recommend it. We don't even need to do much persuasion work here other than just mention a selection of their keynote speakers for 2014, which include Facebooks' Mark Zuckerberg, IBMs' Virginia Rometty, The Bitcoin Foundations' Jon Matonis, Ciscos' John Chambers, Shazams' Rich Reily and many, many others. Don't miss this awesome mobile conference!
3. ConFoo
February 24-28, Montreal, Canada
Easily one of the most fun conference experiences you can have while learning as much coding as you can, in Ruby on Rails, jQuery, Java and many other languages. All you need to do is keep an open mind and attend!
4. Reasons: London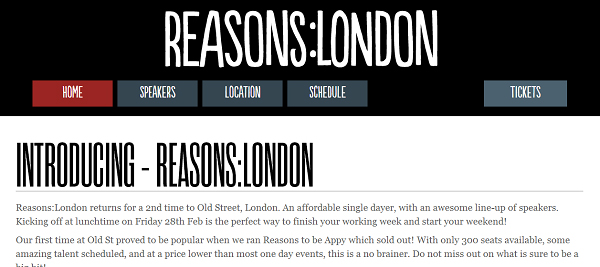 February 28th, London, UK
The second single-day conference we've recommended. The speakers are awesome, the conference is affordable, and the experience will be a valuable one. If you're in London this February 28th, do make sure to stop by!
5. jQuery Europe 2014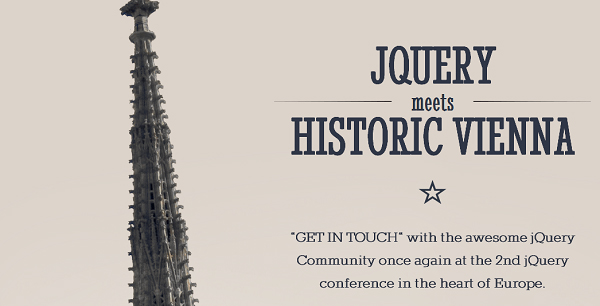 February 28th – March 1st, Vienna, Austria
This awesome two-day conference takes place in Vienna and has a huge selection of awesome speakers from the jQuery Foundation, Mozilla, Google, Microsoft, Adobe, Cisco, eBay and many others. It's the perfect conference getaway!
6. Kod.io 2014
March 1st, Linz, Austria
An awesome interdisciplinary web development conference and the second one we've featured that takes place in Austria. This conference has three things going for it: the interdisciplinary approach, where you don't have to have a certain prerequisite programming background, the great speaker panel (that we'll let you discover for yourself!) and the superb venue. Definitely a must-attend if you're in Linz this March 1st.
7. O'Reilly Fluent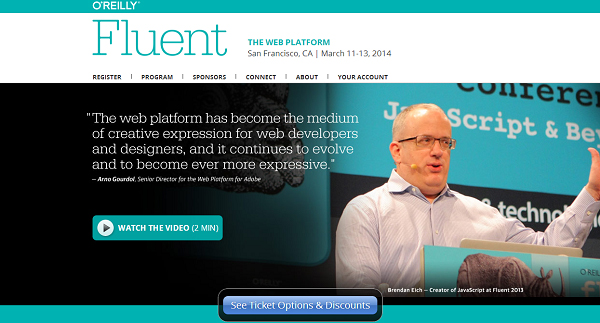 March 11-13, San Francisco, USA
Back in the Americas, there is Fluent, where developers and UI & UX specialists meet and share their different experiences and input in order to help the internet grow. It's one of the most important conferences of the year and you should definitely try to attend!
8. JSConfUY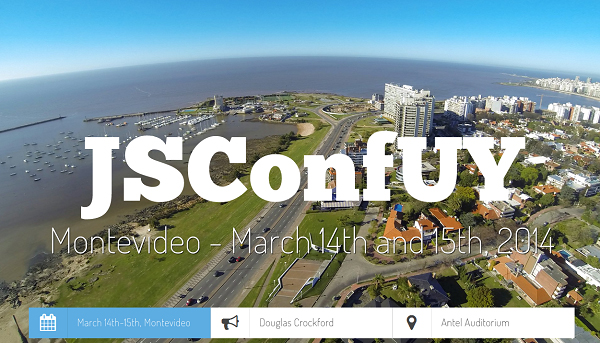 March 14-15, Montevideo, Uruguay
While not as big as some of the other conferences featured in this list, JSConfUY is by no means the smallest and it's the first JavaScript conference in Uruguay. The speaker list is impressive, to say the least and it's definitely worth attending!
9. jQueryTO 2014
March 15-16, Toronto, Canada
If you miss the European version of the conference which we've featured above, you absolutely have to see the Canadian one, no argument!
10. Microsoft Build

April 2-4, San Francisco, USA
If you're a developer, you definitely don't want to miss the Microsoft Build conference that will allow you to improve your output and optimize better for Microsoft devices. Unfortunately, the conference is presently sold out, so if you didn't get a ticket yet, you may have to sit this one out.
11. Future of Web Design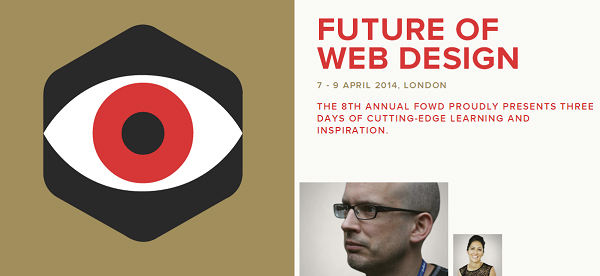 April 7-9, London, UK
The Future of Web Design conference is one of the best places to be if you want to stay ahead of the curve. Designers and developers meet here to discuss the latest technologies and techniques and to exchange tips & tricks, thus shaping the internet of tomorrow. Definitely a must-attend!
12. ConvergeSE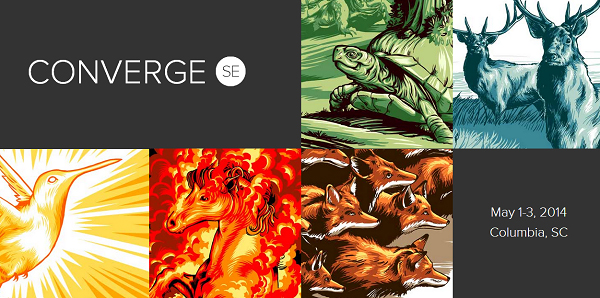 May 1-3, Columbia, USA
This is a great conference to be at that covers many topics of interest to web designers and developers, like Front-End Development, UX, Design, Gaming, Business & more! Definitely worth checking out if you're in Columbia this May!
13. HOW Design Live

May 12-16, Boston, USA
HOW Design Live is one of the largest design conferences in the world, with 5 days, 80 speakers and a whopping 3000 participants from all over the world. Web design is no stranger to HOW Design Live either, so get moving and get yourself a ticket!
14. UX Lausanne 2014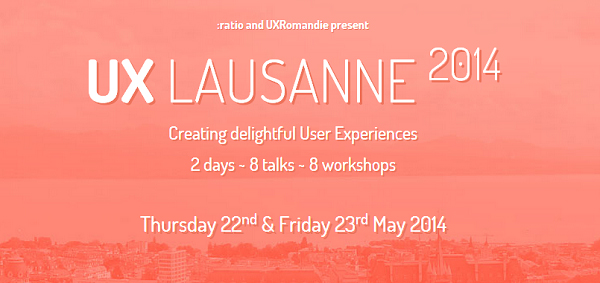 May 22-23 2014, Lausanne, Switzerland
UX Lausanne 2014 is the first edition of a very promising UX conference in Lausanne, Switzerland, the home of the EPFL (École Polytechnique Fédérale de Lausanne), also known as the MIT of Europe. With so many great specialists living, teaching and studying in the area, the conference is bound to be a resounding success. Our advice? Grab your ticket while you still can!
15. DrupalCon

June 2-6, Austin, USA
As a developer, you're bound to be using Drupal by now, so you might as well actually maximize your usage by attending DrupalCon! It's a great, affordable 2-day conference that we guarantee will improve your skillset.
16. UX-LX: User Experience Lisbon 2014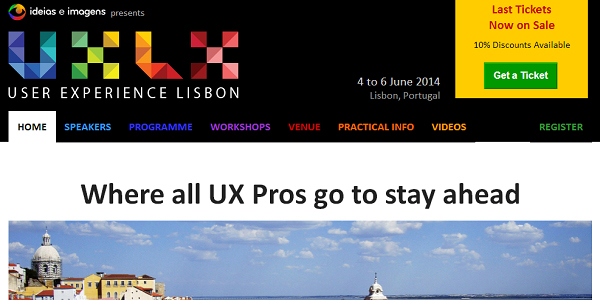 June 4-6, Lisbon, Portugal
Yet another awesome UX based conference that we urge you to attend. Not only are there 17 awesome speakers, 16 hands-on workshops as well as 10 talks, but the 3 day conference is set in Lisbon in June, so that's a double incentive to attend!
17. Interlink Conference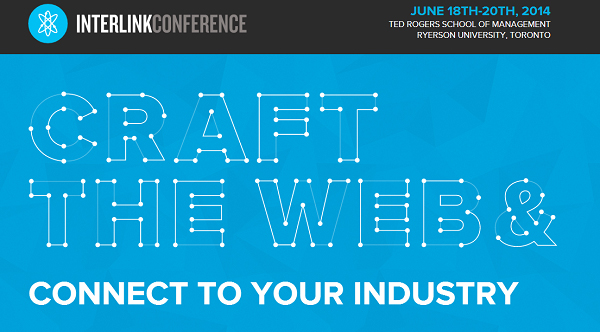 June 18-20, Toronto, Canada
Heading back to the American continent for a bit, we strongly suggest you attend the Interlink Conference, one of the biggest conferences that use an interdisciplinary approach, forcing designers, coders and content generators to mix and learn from one another. It's a definite must-have experience and one you should not miss out on this year!
18. SmartWeb Conference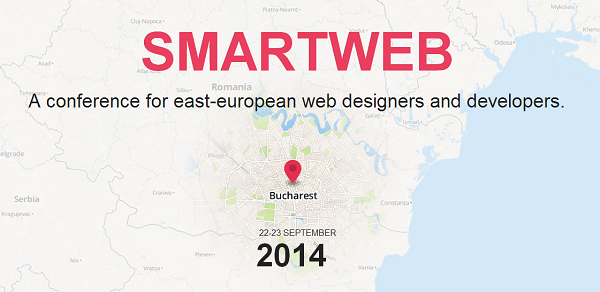 September 22-23, Bucharest, Romania
We're really looking forward to the second edition of the Romanian SmartWeb Conference on design and development and are pretty sure that this year it'll gather even more people working in this industry from all over the world and especially from Central & Eastern Europe. Looking forward to seeing you there!
19. Adobe MAX

October 4-8, Los Angeles, USA
Back in the US, you can catch one of the biggest and most popular development conferences in the world, Adobe MAX. With its over 5000 participants, this conference is bound to be an amazing experience (or it wouldn't be so popular). So just mark those 4 days as 'conference' in your calendar, buy your ticket and wait for October!
20. Web Summit

November, Dublin, Ireland
This is quite possibly the largest event we've featured in this list, and we're going to close on it. While the specific date hasn't been announced yet, we do know it's going to be a three day conference, that it's going to be in November and that there will be over 10000 participants, in total.
We also know that, in the past, speakers at the Summit have included Dropbox founder Drew Huston, Vice.com founder and CEO Shane Smith and many many others. If you only catch one conference this year, make sure it's this one!
This pretty much wraps up our look into the conferences of 2014. We're extremely excited and hope to catch as many of them as possible! What about you? Which ones will you be attending? Let us know in the comments section below!