"When you see a fish you don't think of its scales, do you? You think of its speed, its floating, flashing body seen through the water… If I made fins and eyes and scales, I would arrest its movement, give a pattern or shape of reality. I want just the flash of its spirit."
– Constantin Brancusi
ADVERTISMENT:
The Best Deals For Digital Design Assets - InkyDeals.com. Learn More>>
The Turda salt mine is a historical landmark for the Romanian people. It started its life about 1800 years ago, with the Romans being the first ones to profit from it. After the fall of the Roman Empire, other local powers decided it would be best for them to take the salt mine into their "protection". One of the most jaw-dropping facts about the salt mine is that explosives were never used in creating the underground world.
The stones were either destroyed by using conventional tools or heavy machinery. To think that about 3 billion tons of salt and rock have been excavated without the use of pew-pew arsenal is astounding. It was completely abandoned in 1932 and reopened in 1992 with a 6$ million investments. It's the 22nd most spectacular touristic destination in the world, according to Business Insider.
And without a doubt it's one of the most beautiful things that you can see in your lifetime. I recommend you, no, I urge you to plan a vacation there. Just visit their website and be amazed. Scroll down and see what you're missing out!
1. A Plateau of Wonder and Health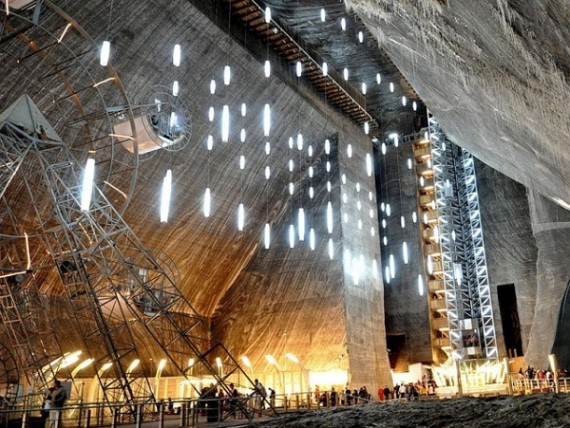 Besides being all pretty and stuff, the salt mine also offers spa therapy facilities that are incredibly useful for those who suffer from respiratory problems such as allergies and asthma.
2. Get Lost In the Underground World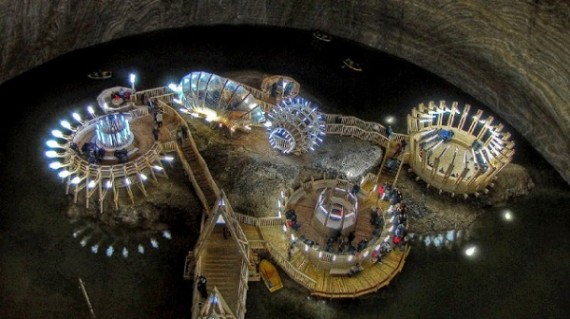 I remember visiting the salt mine when I was about 14 years old. It was a road trip facilitated by the school I was attending, in collaboration with a company of sorts. When we arrived at the entrance, I was confused about the whole thing – who would want to go underground? There's nothing to see there just darkness and rocks. I hate rocks and darkness, but I said it's something that I must do, or I will sit alone in the van for hours. I have to tell you, I was pleasantly surprised about the whole underground world that I found. It was cold, incredibly cold, and I had to borrow a jacket from one of the teachers, but it was worth it!
3. Staring Into Abyss Itself?!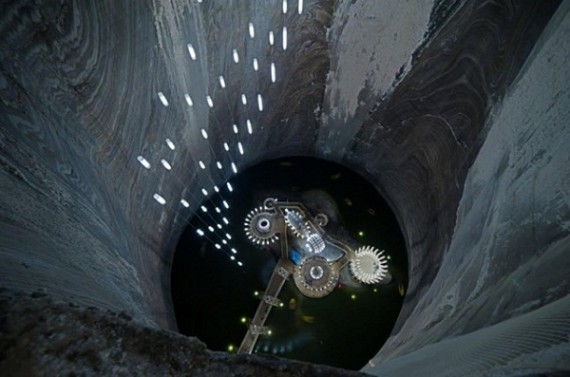 Before I continue to elaborate what a wonderful time I had underground, I have to tell you that the trip inside the mine was dull and exhilarating at the same time. It was boring because It lasted so long, and you could only see walls, after rocky walls, after salt walls after plain walls. But it was exhilarating because curiosity had taken ahold of me. What would I find down there? Mole people? Elodia? More rocky walls?
4. Joy Was All Present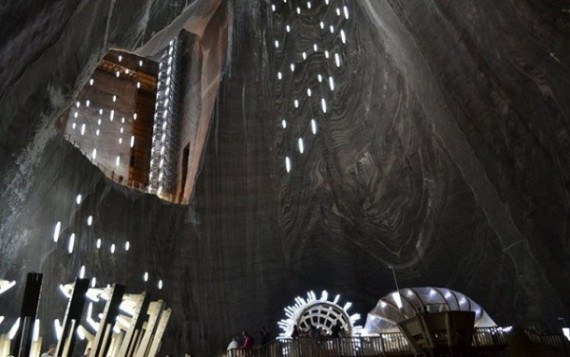 As soon as we "landed" inside the mine my immediate reaction was to get out of the lift, because how else would I experience the salt mine if I didn't move? My second urge was to look up and see how I got where I was. I left a shrieking " WooooooooooooW" that left everybody around me paralyzed. I was a weird girl that fell in love with a mine. And I didn't regret it one bit.
5. So Many Sparkling Lights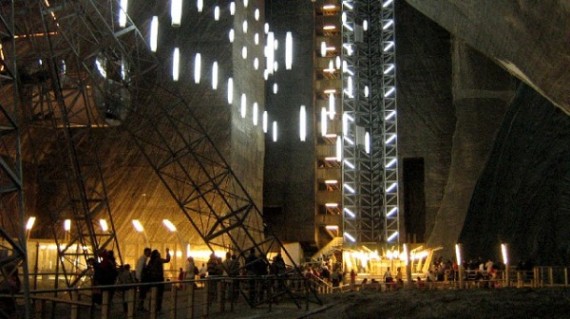 After recovering from my state of being awe-struck I slowly, but surely, got on my way and without even noticing I left the group I was supposed to be with. I explored every single inch of that mine ( every single inch that was made possible to explore by a 14 year old girl without any safety gear on her) before a teacher came running towards me sporting a shocked and angry face. But I wasn't put down. My happiness, my girly grinning was so infectious that everybody forgave me within a heartbeat, and we continue on our merry way.
6. Is That Future Tech?!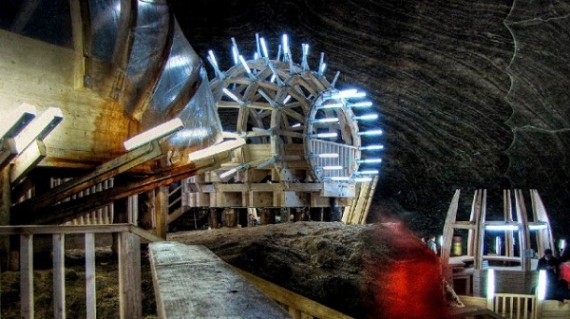 What I thought to be something out of a Arthur C. Clark book was merely a wooden shed. No, let me rephrase that – a wooden ball thingy covered in LEDs. I looked to the left; another futuristic creation was standing high. Towards my right was a snack stand looking like an old snack stand, but it also had a vibe of future to it – the future of fat me.
7. Venice Underground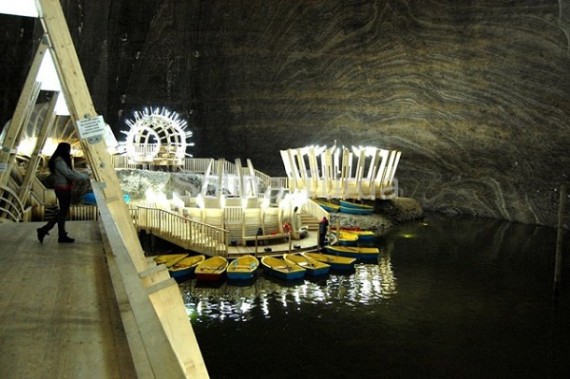 And then it hit me. Behind the snack stand, there was an underground lake. How could I have missed this? Possibly because I was either looking at the ground mesmerized by the texture or straight up, reminiscing about my trip to this land forgotten about its people. I rushed straight away to one of the boats, hopped into it and stood there thinking how could I go seek the center of the earth. I was soon accompanied by some of my fellow classmates that were smart enough to row.
8. The Time of Departure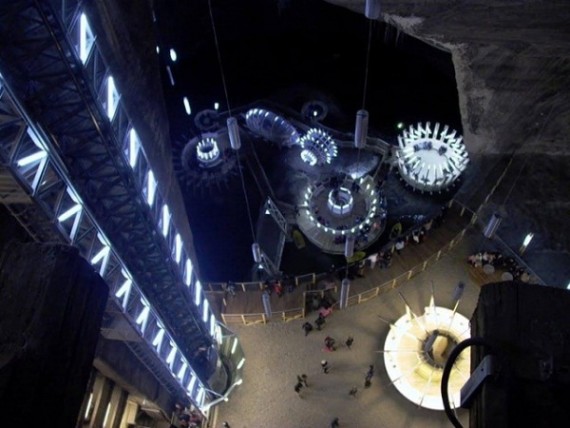 After completing the short journey of discovering the new brave world of the other dock, just a couple of meters away, I was told a hearth-rencing truth – that we have to go in 5 minutes. Just try to imagine how the sky fell upon a little girl – it will ruin your day.
9. Life Changing Experience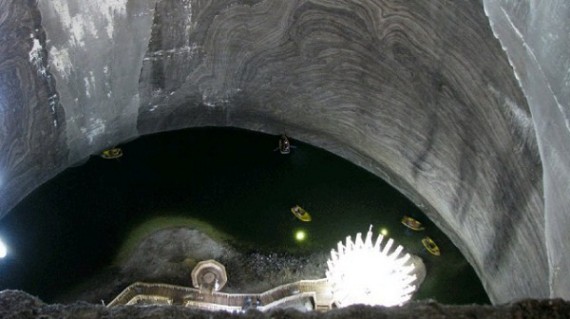 I tried to "man-up" like the other kids said, and obey my orders of getting on the lift, but I just couldn't do it without shouting " I will forever love you" just one more time.
10. Superb!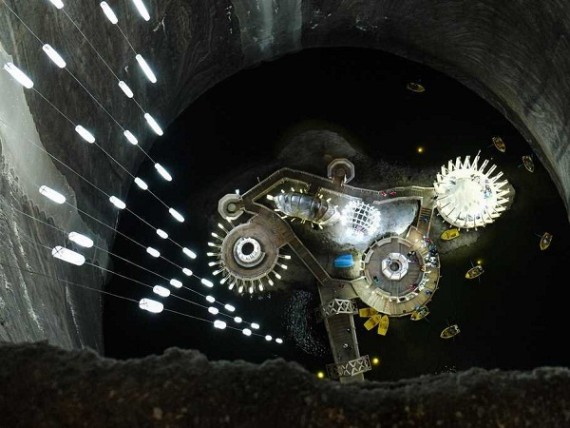 I will forever remember that beautiful trip that I took at the Turda salt mine.
If you have time to visit this beautiful place, you should do it without missing a heartbeat. If you don't, make time, you won't regret it. If you have anything to add, please feel free to do so by posting in the comments section below. We would love to hear from you!
(Visited 1,265 time, 1 visit today)