"To be an artist includes much; one must possess many gifts – absolute gifts – which have not been acquired by one's own effort. And, moreover, to succeed, the artist much possess the courageous soul."
– Kate Chopin
ADVERTISMENT:
The Best Deals For Digital Design Assets - InkyDeals.com. Learn More>>
Anamorphic art is one of those things that instantaneously blows our mind, no matter what. Maybe it's because perspective is so much like magic to us, or just because the sheer amount of effort you have to put in seems like a gargantuan task, but there is no denying that it is cool.
The earliest recorded use of the anamorphic method in modern times came from none other than Leonardo da Vinci, in his work Leonardo's Eye in around 1495. However, this earliest use ever might just come from prehistoric times, as there are cave paintings in Lascaux that may just posses these techniques.
The first artist to really popularize the method was Hans Holbein the Younger. Out of his works, the most famous example is The Ambassadors, which he did in 1533, which features a distorted skull that becomes clear when the painting is viewed from an acute angle, making the skull seem to jump out of the canvas.
In the 17th century, artists began using anamorphosis to combine architectural elements into the illusion. The viewer standing in front of the artwork in a particular spot would see the architecture blend with the decorative painting. The best illusion of this type is considered to be the dome vault of the Church of St. Ignazio in Rome, made by Andrea Pozzo. Pozzo was commissioned to paint the ceiling of the church (which is flat) and make it look like a dome.
The method has also been used to create more risky and subversive works. For example, anamorphosis was used to create a secret portrait of Bonnie Prince Charlie on a tray. The portrait becomes clear when viewed via a polished cylinder placed in the correct position. This work is exhibited at the West Highland Museum in Scotland.
Throughout the 18th and 19th centuries, the method was used more to create children's games rather than fine art, but the anamorphic technique saw a rebirth during the 20th century. Marcel Duchamp created "visual paraphrases" of anamorphoses, like The Bride Stripped Bare by Her Bachelors, Even, or The Large Glass as it is also known; and Salvador Dali created a living room installation, complete with custom furniture, that looks like the face of Mae West, when viewed from a particular angle.
Artists have been using optical illusions to create art since ever. If you think about it, optical illusions are the very essence of visual art. Take the depth of field of classical paintings, for example. It is itself, essentially, a product of the clever use of geometry, to trick the eye (or the brain, to be really precise) into seeing a dimension that is not actually there.
We here at Pixel77 have taken a look at art based on visual illusions a few times before, in the past, and today I will be showcasing some pretty awesome works by Odeith.
First, though, let me tell you a few things about him.
Odeith was born in 1976, in Damaia, Portugal. Although he actually picked up a spray can in the 80's, it was during the 90's that he first became acquainted with the art of graffiti. Like most graffiti artists, he began painting on street walls and train tracks, which changed the way he thought about art, and gave him new purpose.
He soon began painting large-scale murals his hometown of Damaia and in Carcavelos, as well as in social housing neighbourhoods like Cova da Moura, 6 de Maio and Santa Filomena.
Very early on he developed his unique style, inspired by his interest in perspective and shading. He called it sombre 3D, and his compositions, landscapes and portraits stood out for their realism and technique.
By 2005 he was recognized internationally for his work in the anamorphic art field, which included works created in perspective on varied surfaces, such as 90 degree corners and from the wall to the floor, creating optical illusions.
After moving for a while to London in 2008, he moved back to Portugal, in the capital city of Lisbon, and made painting his primary activity (up to 2008, he owned a tattoo parlour). Since he started focusing on painting, he has made large scale murals for several high profile clients, and to name just a few, we have London Shell, Kingsmill, the Coca-Cola Company, Estradas de Portugal, Samsung, Sport Lisboa e Benfica, and several Portuguese city halls such as Câmara Municipal de Lisboa and Câmara Municipal de Oeiras.
Aside from his commercial work, he has also showcased his compositions internationally in places like the Meeting of Styles in Alemanha, the Museum of Public Art in Louisiana, the MuBE – Brazilian Museum for Sculpture in São Paulo, Brasil, the 1st Bienal del Sur in Panamá, and the Berardo Collection Museum's 2nd anniversary party.
Time to show you his awesome works.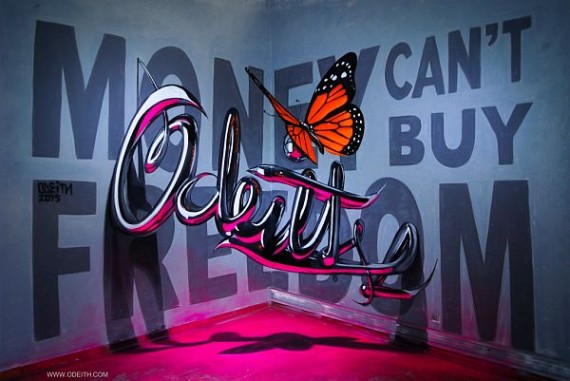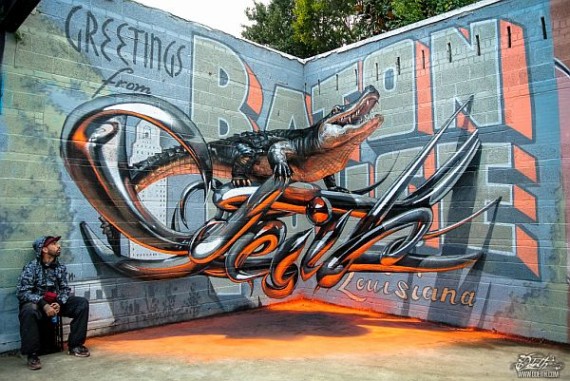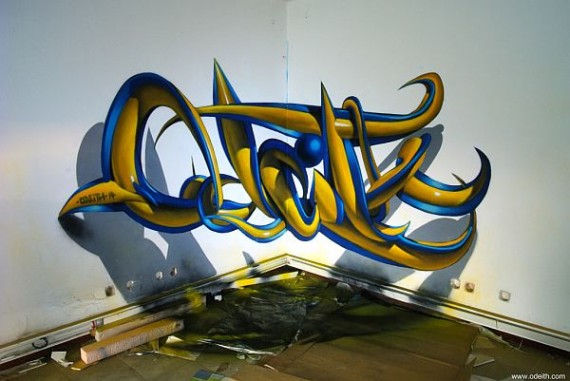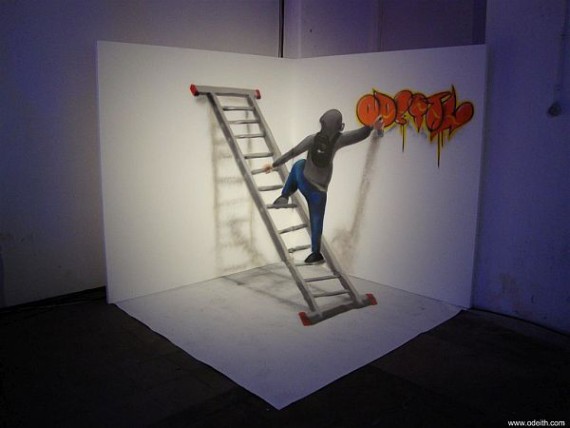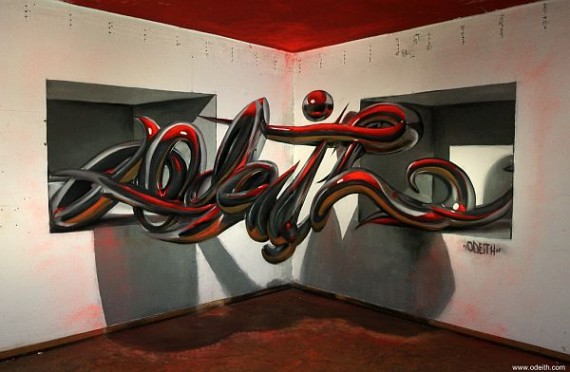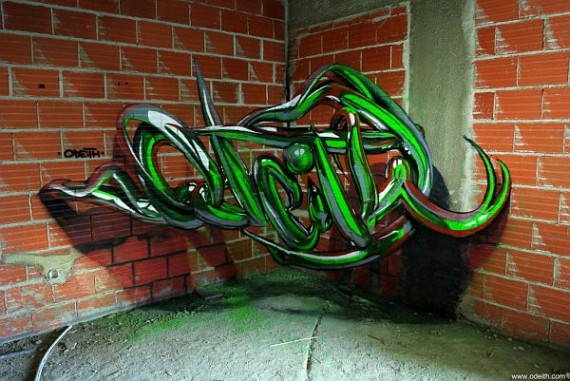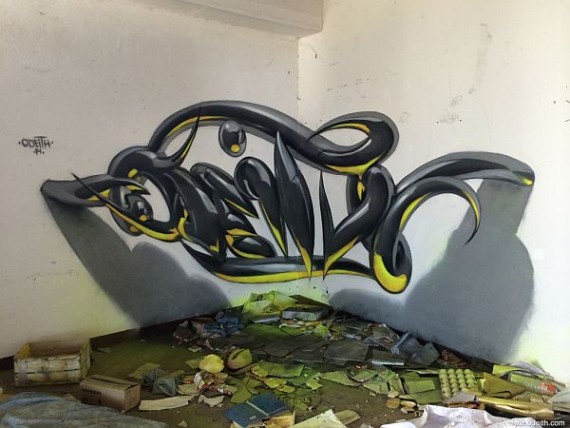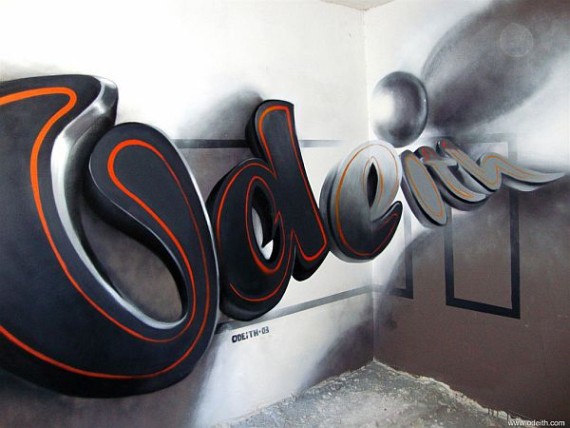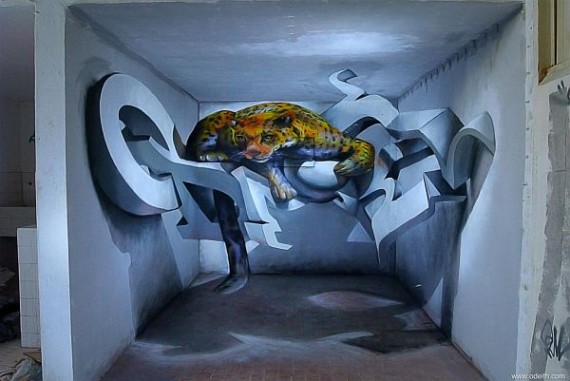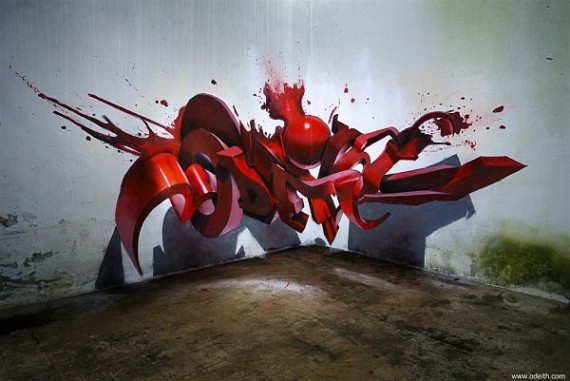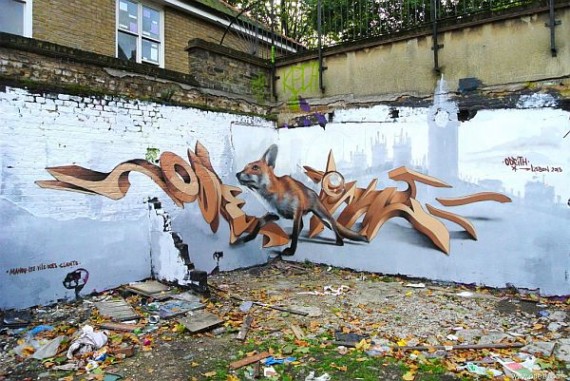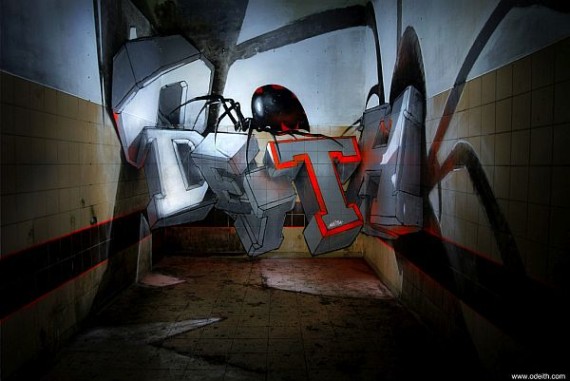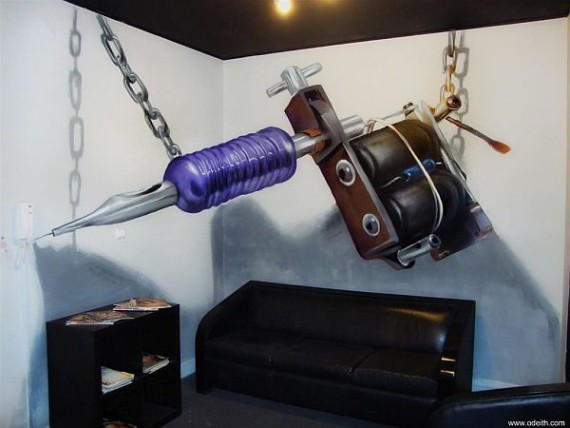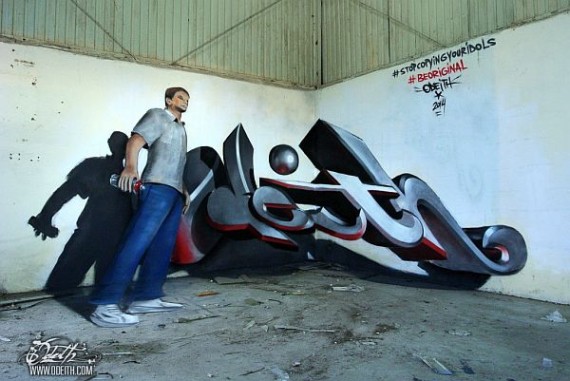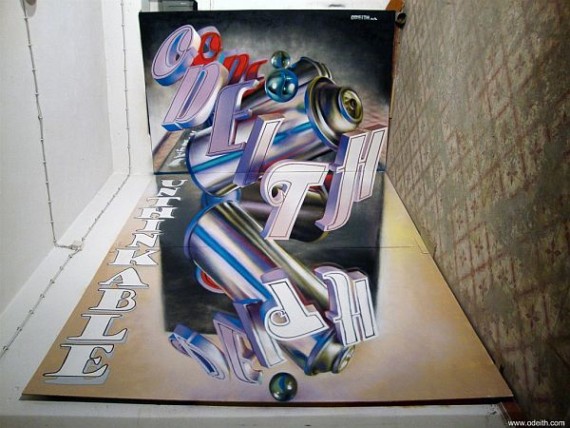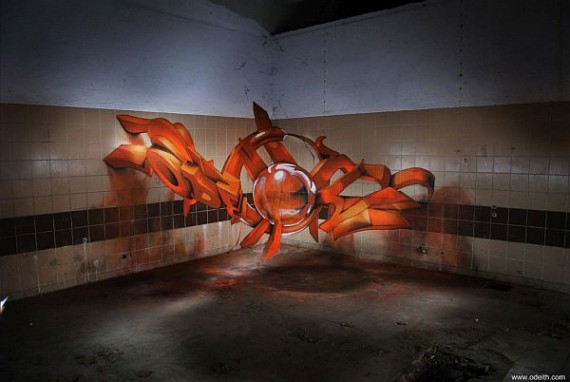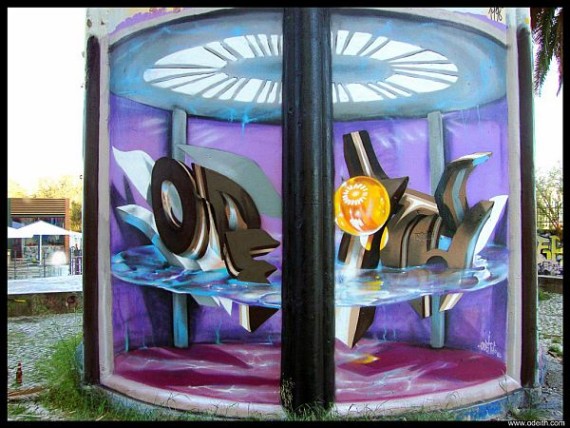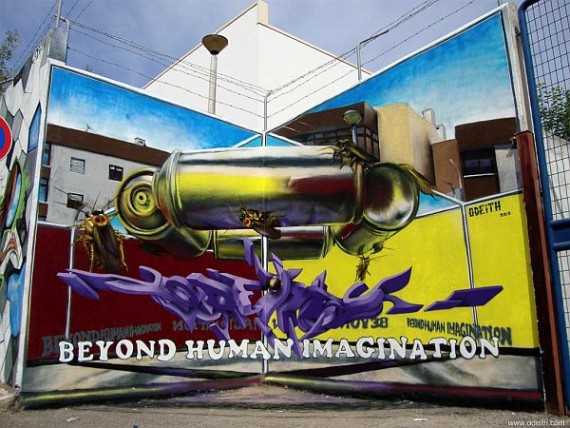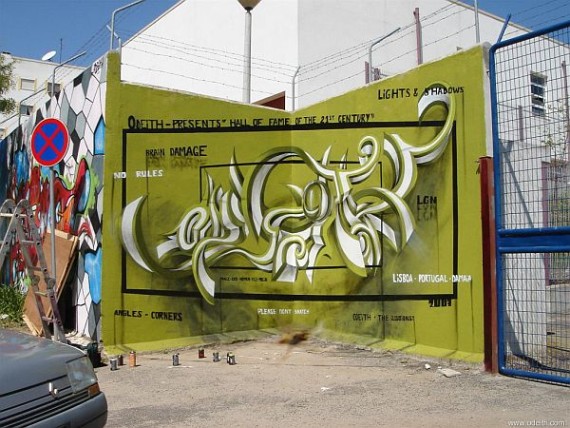 What I think has to be the most impressive feat here, besides the optical illusion itself, is the fact that most of the works look like they are generated by some software of some sort. I remember being in high school, when everyone started fooling around in Photoshop and whatnot and making these weird, shiny computer generated 3D abstract sculptures, and Odeith's works definitely remind me of those.
And that concludes this article. If you want to see more of Odeith's stuff, be sure to check out his website here, where you can also see some of his more, shall we say, conventional pieces. And do not forget to keep scrolling down to the comment section, where you can tell me what you think of the article and the artist's incredible 3D graffiti illusions.
(Visited 2,404 time, 1 visit today)