Print ads need to make an impact in order to be effective. Companies spend extraordinary amounts of money on an advertising campaign, to ensure that their product or service is appropriately represented, and that the campaign is memorable. One company who has worked on their advertising campaign to make sure it was appropriately represented is Visit Guernsey. Their printing partner, Elanders, have created a case study on how they were able to manage their highly complex marketing strategy available to read.
Most ads will simply work their way into your subconscious without you even noticing, but they are there. CBS Outdoor recently released the 150 Brands game, based on advertising on the London Underground. The game challenges players to identify brands by abstract product shots or straplines, and most people will be amazed at how much they have soaked up just from seeing these ads on a daily basis.
ADVERTISMENT:
The Best Deals For Digital Design Assets - InkyDeals.com. Learn More>>
The best print ads will be memorable because they are clever, funny or interesting and the provide great design inspiration. Here is a round-up of some of the best advertisements this year, and what makes them special.
ANLCI
Agency: DDB
February 2013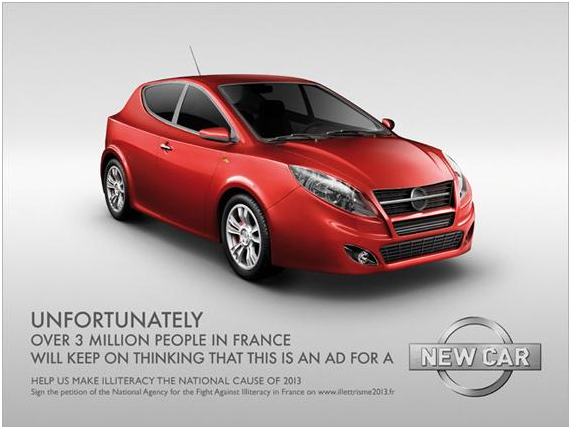 These clever ads play on the very subject they are raising awareness for. In this ad the wording explains that those who cannot read will understand the advertisement as one for a new car. This ad is memorable because the image and wording backs up the very thought behind the campaign and makes people think on it for longer than they usually would about an advertisement.
IKEA
Agency: DDB
May 2013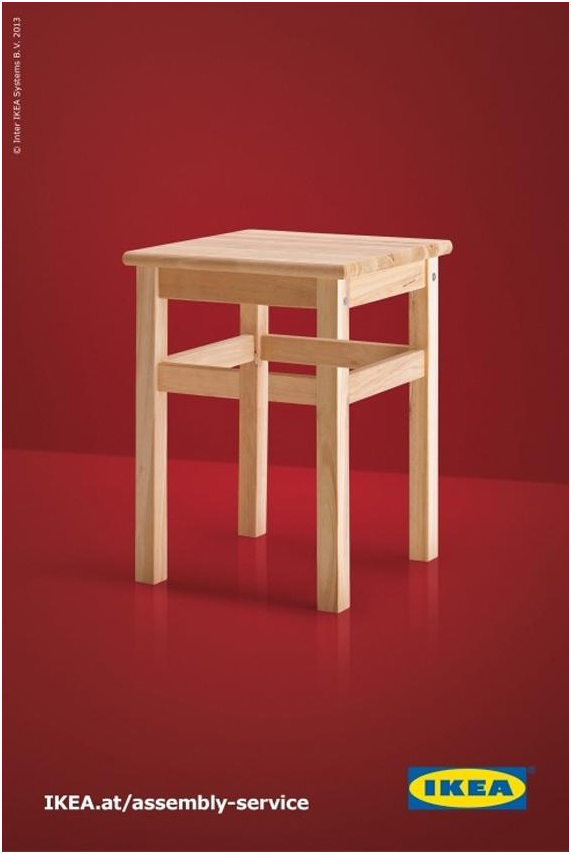 IKEA is renowned for selling furniture that customers put together themselves. This advertisement has two memorable factors. The first is simply the design and image, which is a great optical illusion, whilst the second plays on the perceived trickiness of putting together furniture, adding a comedic edge to the ad.
1st For Women
Agency: Black River Fc
May 2013
A little known insurance company, 1st For Women have used comedy and a complete absence of political correctness to sell their services. Although this ad may be seen as sexist, it is humorous enough not to be offensive.
Duracell
Agency: Grey
May 2013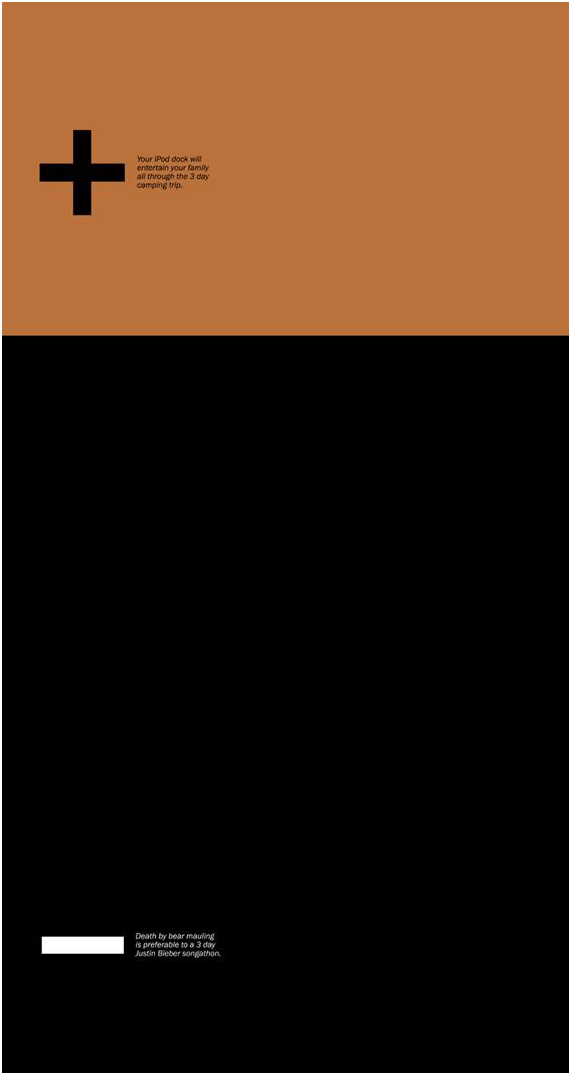 Another humorous ad which is simple enough to grab the viewer's attention, and with just enough writing to draw them in for longer than the standard ½ second a consumer would usually look at an ad. This ad is part of a series, which makes people more likely to notice it, as they search for a punchline they haven't seen yet.
Garnier Fructis
Agency: Publicis
December 2012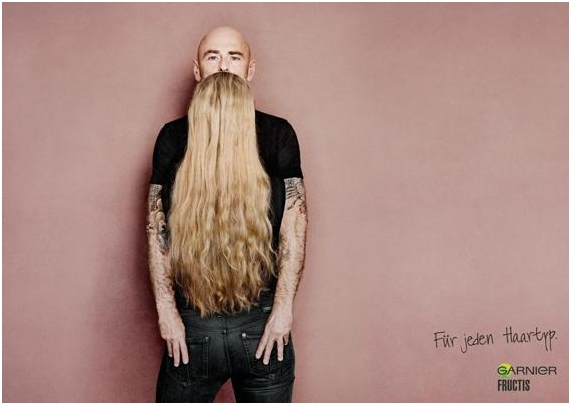 Ads for hair products tend to be very similar. This GarnierFructis advert uses an amusing optical illusion to grab attention, whilst still focusing on the benefits of their product.
Harvey Nicholls
Agency: Y&R Dubai
June 2013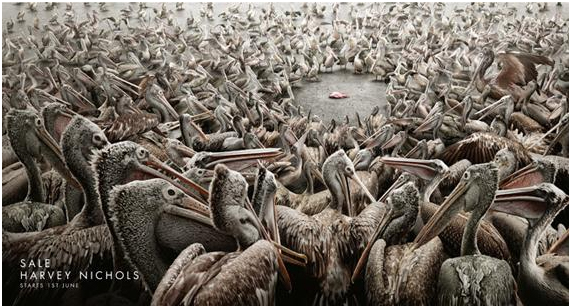 One of the more 'epic' ads of 2013, this advertisement shows a crowd of pelicans gathered around a solitary fish, contrasting this image in the viewer's mind with that of crowds of shoppers at the beginning of a sale. This ad is just visually stunning and draws the eye easily, and with minimal information, lends a sense of urgency to the campaign.
iPad
Agency: TBWA
December 2012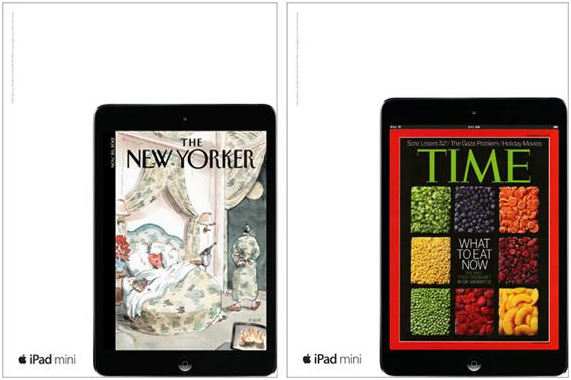 Another clever print ad, these ads were placed on the back cover of the magazine they represented, showing an actual size iPad Mini with the front cover of the magazine displayed on it.
Comedy Central
Agency: Grey
July 2013
A foldable ad which advertises Comedy Central and promises the reader a comedy punchline for their effort, this ad causes the viewer to spend a little more time on it and thus keeps the company in mind for longer.
Expedia
Agency: Ogilvy & Mather
January 2013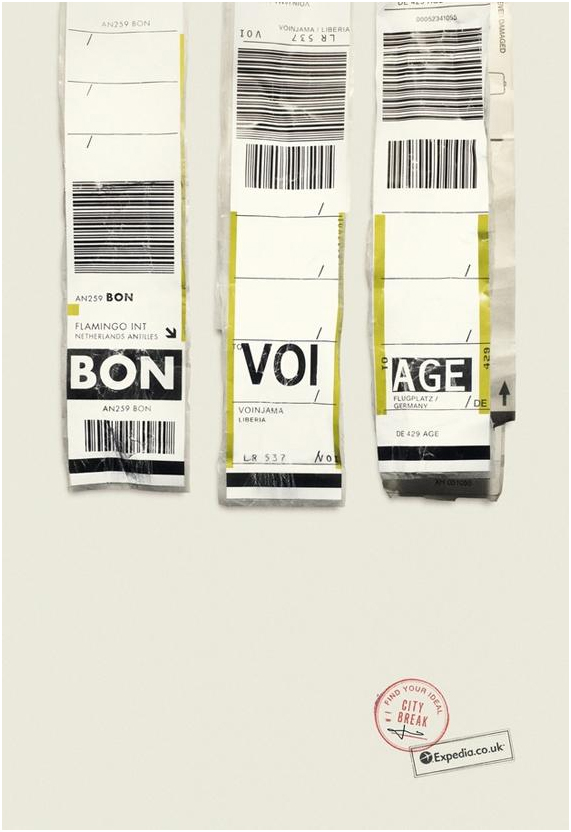 Part of a range of ads, all with witty slogans made up of real luggage tags with real airport codes on, this advertisement is designed to be read carefully and offers a light humour which should make it more memorable.
Dove
Agency: Ogilvy
April 2013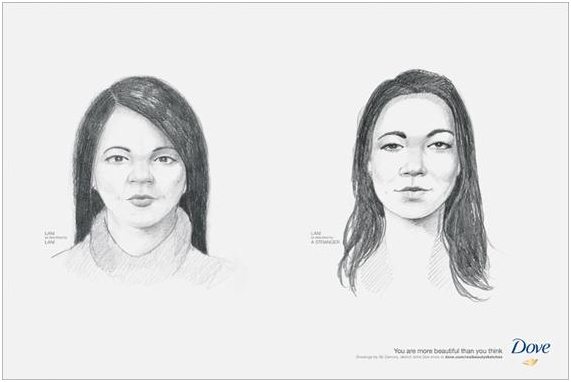 This ad is also part of a series. On the left side is the woman as described by herself to a professional sketch artist, and on the right the women as described by a stranger. Dove has a natural beauty agenda and these ads highlight to women how they see themselves compared with what the world sees.
Which one is your favorite and why? Have you seen any other recent adds that you think deserve to be part of this showcase?
(Visited 1,969 time, 1 visit today)