If you're searching for the best free graphic design websites, this guide is for you. As you probably know, best design resources are crucial in becoming a skilled graphic designer.
But that can be difficult with all the distractions around today. Finding high quality resources that will make your designs stand out can be challenging.
ADVERTISMENT:
The Best Deals For Digital Design Assets - InkyDeals.com. Learn More>>
So we've gathered the best graphic design websites to help you take it easy on yourself. These sites will help you avoid wastage of time, money and efforts in finding high-quality resources.
With that said, let's begin.
Top 10 Graphic Design Websites For Students In 2022
Canva is a popular graphic design website with an outstanding interface. It's also an excellent tool for creating awesome social media posts. In addition, Canva is a drag-and-drop online design tool that's simple.
It's a perfect option if you don't know much about designs. It helps you create simple images and documents and learn about design. In addition, making banner flyers out of canvas might give your social media accounts a boost.
It does provide a limitless image selection. Also, you can use the service to make your YouTube thumbnails and much more.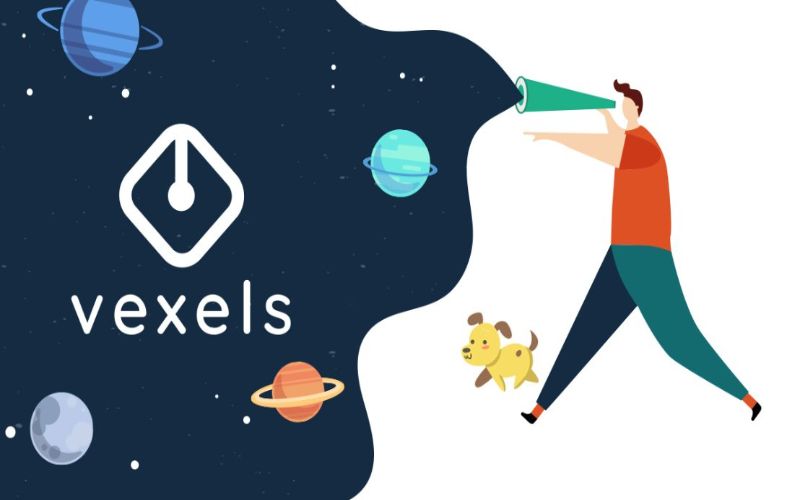 Vexels is a design stock where you can find anything you need for your projects. In addition, the website allows you to discover and explore the best ready-made graphics for personal or business projects.
And that includes anything from fashionable icons, great logo templates, and adaptable backdrops to print-ready designs.
Search on Vexels for what you're looking for. And if you don't find it, submit a design request, and their team will create it for you!
Vexels have over 71k excellent design resources to help you save money and time on your projects.
You can check out their blog for helpful articles if you're a novice or want to learn more about logos, graphics, site, etc.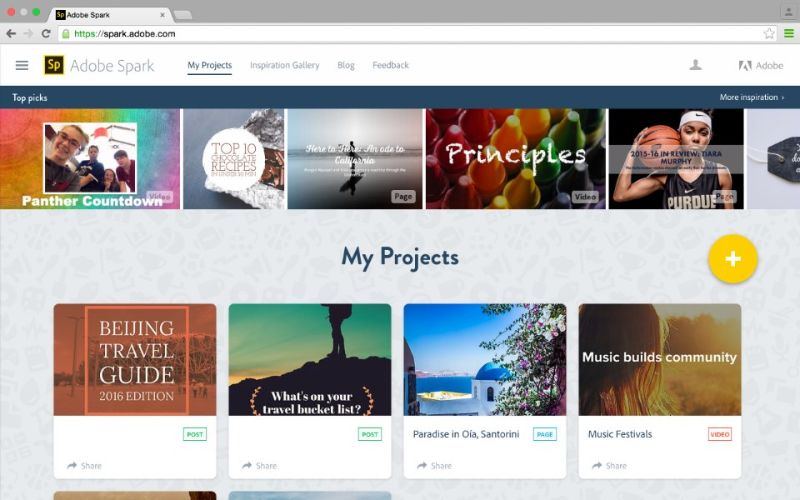 Students can't fully appreciate the power of Adobe tools on Chromebooks. And that's because most Adobe products are only available on Mac or PC.
On the other hand, Adobe has released several excellent web-based tools, like Adobe Spark.
Adobe Spark is a free graphic design program that you can use online and on your mobile device. However, you can still quickly produce movies, photos, and web pages.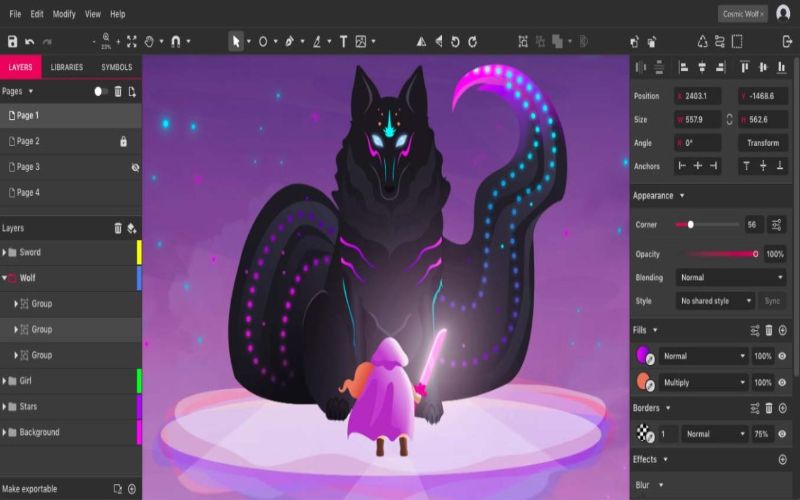 One of the best vector graphic design programs is Gravit Designer. It can handle most design tasks, from prototype to icon design to animation and vector drawing. What makes Gravit Designer unique is its interface and simplicity.
In the free edition, you can export files as SVG, PDF, or bitmap. And the Gravit Cloud allows you to access your work from anywhere.
Gravit Designer is available as a web-based application or as a desktop application. It's free, but you'll instantly be put on a free trial when you sign up for Gravit Designer Pro. And once your trial is up, you'll be reverted to the free version.
However, you'll lose access to the Pro features unless you pay for a subscription.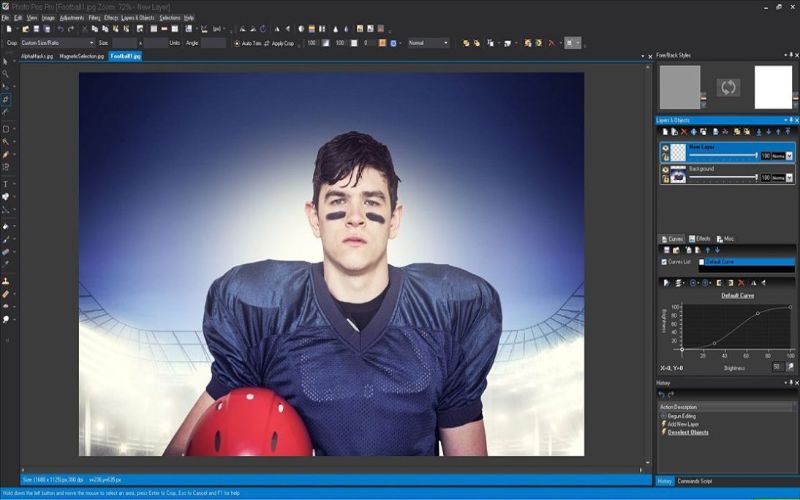 Photo Pos Pro is a straightforward program that's ideal for people who want to modify their photos quickly. This free software has a user-friendly interface and a comprehensive help system.
The program is designed for image improvement and editing. But with numerous plugins and expansions available, it can also handle more advanced approaches.
Since 1999, Krita has provided free and open-source painting for its users. It's popular among concept artists, texture artists, matte, illustrators, and others in the visual effects industry.
It's well-known for its extensive brush assortment, including brush stabilizers for smoothing out broken lines. In addition, there are numerous plugins available, ranging from advanced filters to perspective painting assistance.
Version 5.0 is reliable, and it doesn't consume as many resources as previous versions.
There are several good graphic design websites. However, Design Wizard stands out since it includes more than 1.2 million illustrations, photos, and movies. And all of its tools are free. You can also use this site to create banners, buttons, and logos.
There are even graphics for Facebook, Twitter, YouTube, etc. And it has a large selection of color palettes and fonts.
Design Wizard offers a nice finishing touch to your graphic design adventure.
Infographics are often used for visual communication and to present concepts clearly and concisely. But not everyone knows how to produce one.
You can create an in-depth infographic with Piktochart's 400 templates. It's a fantastic approach to learning how to make an infographic. And you'll be able to do it on your own in the future.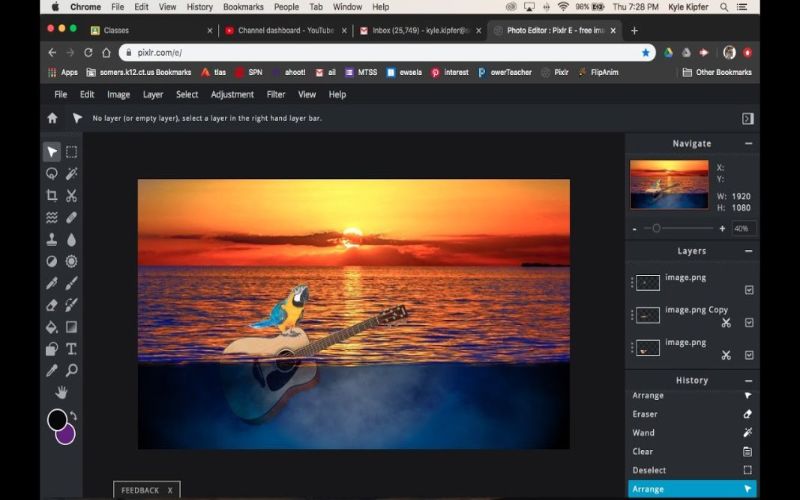 Pixlr is a collection of three programs that you can use on Android and iOS apps or browsers. You don't need to register to utilize them. And you can start using them right away.
Pixlr X is a simple photo editing program that's perfect for giving your work a boost with artistic effects and one-click adjustments. Pixlr E is a more comprehensive image editing app that includes a variety of handy editing capabilities.
Pixlr BG is an AI-driven tool for removing backgrounds from photographs.
They are pretty simple to use. However, the only disadvantage of the free version is its intrusive adverts and a six-second delay when downloading your work.
Subscriptions eliminate both and provide advanced tools, stickers, extra overlays, and a stock library.
Graphic Burger offers free mockups, design backdrops, text UI kits, effects, icons, etc. It's one of the best graphic design websites you can use.
You can use all free graphic design resources for personal and business use.
A decent design and inspiration are two things that every designer adores. Free resources not only aid in creating your designs. But also in the increase of your expertise.
Everyone needs a little motivation now and then, and these graphic design websites are a fantastic place to find it.
This article was contributed by BookDeal.com. BookDeal is a premium platform where you can sell textbooks online. They provide an extensive network of dependable buyback vendors to ensure that you always get the highest price for your books. And they ensure you always get paid!
(Visited 30 time, 1 visit today)