5 Project Management Tools for Designers & Why You Should Use Them
Project management can be a difficult task to perform. You can easily find yourself swamped with things to do and may even wind up overlooking essential aspects of your project because of the sheer amount of work related to successfully managing a project.
More so, if you're managing a team that's not in the same city or even country, then the task becomes all the more daunting: simple emails and instant communication may simply not be enough to successfully pull through.
Seeing as the design industry is no different than any other, you should look at these tools as more design resources. That's why you should take a look at the following tools and give them a shot.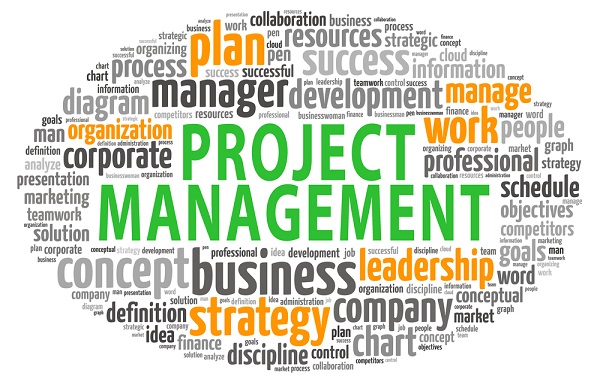 Before we take a look at the actual tools we're discussing, let's stop to discuss what advantages and disadvantages using a project management tool has compared to going about it the old-fashioned way.
On one hand, an online tool lets you collaborate, manage, assign tasks, analyze risks and coordinate schedules with people all around the world. On the other hand, like any software, project management tools are not completely intuitive and they make some time to get the hang of.
That being said, if time is of the essence and the team you're managing is in one convenient spot where you can get together in real life and perform all these tasks, then these tools may not be what you need right now. Still, if you're not in this exact situation, it's surely worth the time you put in to learn how to use one of these tools in order to maximize your productivity and chances of success in this and future projects.
Let's just jump straight in and take a look at some of these tools!
1. Teambox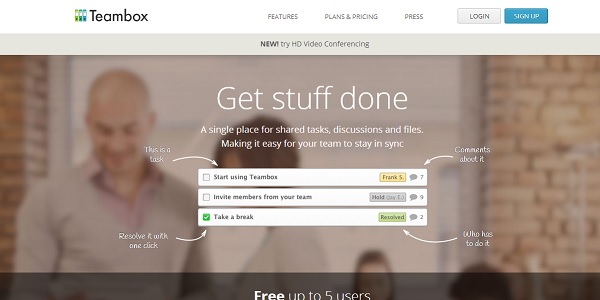 While Teambox may not be the most complex of the tools we're looking at today, it's definitely one of the easiest to use. This is their prime selling point even on their website.
Teambox offers a Twitter-like environment where you can share tasks, messages, attach files, organize HD video conferences, and get email notifications for everything. More so, besides being available in-browser, Teambox has native apps for the iPhone, iPad or for Android devices.
Between the fact that there are a lot of companies who are practically a household name that use Teambox, like Subaru, HP or Symantec and the three projects you can use Teambox on for free in order to try it out, there's really no reason for you not to try this out.
2. Basecamp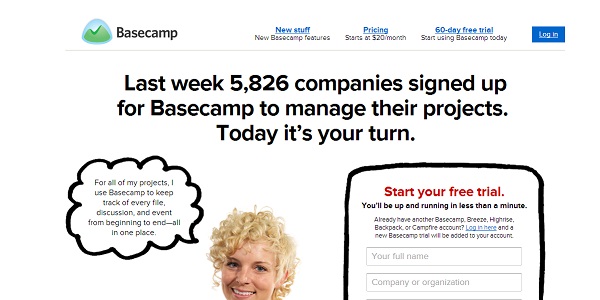 Basecamp is one of the most popular project management tools out there. It's been almost a decade since it first came out and it's still being used by a lot of people who need to manage complex projects.
One of its strong points is its user interface, that allows you to see all of your projects, collaborators, files and tools in one single page. Like Teambox, Basecamp is fully compatible with working in-browser, on an iPhone, iPad or Android device.
You can try out Basecamp for free for 60 days, after which you have to opt for their one of their pricing packages, which start from $20/month for 10 simultaneous projects with 3 GB storage space and go up to $150/month for unlimited projects and 100 GB storage space.
3. LiquidPlanner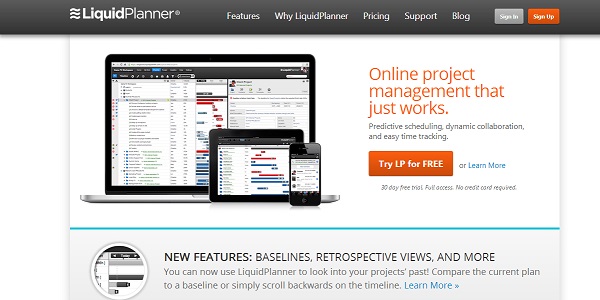 LiquidPlanner is a great tool that has a lot to offer. It creates schedules based on the priority levels you set for each task to reach completion, helping teams focus on strategic projects or projects with the most revenue potential. These schedules are automatically updated based on the information you feed into it regarding new tasks to be made and tasks that have been completed before schedule.
If you feed the app realistic estimations of when you're bound to get each task done, it automatically calculates when you're likely to complete your work, while taking your availability, vacations and priorities into account.
If you're still not convinced, you should know that this is the tool that HTC and Marriott use to manage their projects. You can get a free 30-day trial period and the pricing starts at $24/month.
4. Solo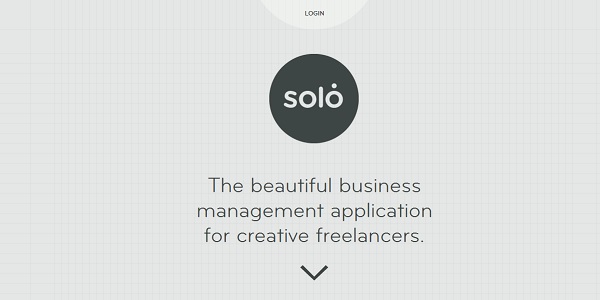 Solo is marketed towards freelancers and is a great tool for managing a client's project. It can help you out with invoicing to your clients and has some very good  time- and budget-tracking systems.
The project is still in a beta phase right now, but it's very good as it is and will definitely get even better. For the time being, you can register for a trial via email, or social networking account (Twitter, Facebook or Google Plus).
5. Podio

Podio is a great tool to manage projects, meetings and events. Its interface is simple and features task management, instant messanging and complete integration with Google Drive, Dropbox and Skydrive. The key feature of this app is the dedicated workspaces you can create and share with the relevant team members. Podio has hundreds of specialized work apps and gives you the option to creat your own, should you need an app to perform a function that doesn't exist in their library yet.
Podio has a different method of pricing than the other tools we've looked at in this article. Instead of charging per number of projects, Podio charges per number of team members. If you're working with a team of up to 5 members, Podio (with certain restricted functionalities) is free to use. You can always get a Podio teams account that costs $5 per employee per month.
We've looked at some very powerful and interesting tools for project management, each with their own strengths and weaknesses. There is a chance that they be exactly what you need to optimize your workflow.
Let us know in the comment section what you thought of these tools and whether you prefer using others and why, if so!