Are you a master of photo effects? Or just an amateur hobbyist? Do you know how to tell the difference?
Here's the difference!
Amateurs use Adobe Photoshop as a joke. They use it to crop out people they don't like. Or to make themselves look skinnier.
ADVERTISMENT:
The Best Deals For Digital Design Assets - InkyDeals.com. Learn More>>
But true masters know that Adobe Photoshop is great for so much more than that. They know how to leverage it for graphic design. To add surreal and eye-catching colors and patterns. To create the vintage look of a digital painting.
It's photo effects like these that mark you as a professional, a true master. Are you ready to explore the depths of all Adobe Photoshop has to offer?
Here are some resources to get you started…
1. Cool Photoshop Effects
If you want to add dark and slightly Gothic effects to your photos, this package can't be beat. It comes with a total of 23 Cool Atmospheric Photoshop Effects. One of these is the Blacklight Poster, which gives the image a surreal look of black light. The result looks more like a poster than a photo.
Another effect is Crystal Abstracts, which gives an image that abstract eerie glow. Also, you can even give your image the smooth sheen of satin with another effect in this bundle.
Each effect comes with 11 variations. So every image you create will be different. Even if you create hundreds of them.
Another nice thing about this pack is that it's very easy to use. It's compatible with Photoshop CS5 through CreativeCloud 18-19. You can also use it with 2019 versions of Elements 14. And it works with Mac and IBM machines.
Another bonus: it comes with lifetime access so that you can use it for as many projects as you want.
2. Advanced Graphic Designing
Do you dream of earning a living as a graphic designer? If so, this online tutorial series may be perfect for you.
This series offers instruction in three key areas: Adobe Illustrator, Photoshop and Core IDraw. It's a rare opportunity to master the tools that every successful graphic designer needs.
With the mastery of these three graphic designing resources, the only limit to your success will be your own creativity.
The courses are easy to access 24/7, and can even be viewed offline or on your mobile device. A lifetime subscription means you can go back and refer to them as many times as you need. And believe me, you'll need to. With over 58 hours of video instruction in total, there's a lot here.
Another benefit to the course is that the instruction is hands-on. Most artists are visual people, so it's hard to learn by reading or listening to a lecture. The videos in this series take you through every step of the process.
You'll learn how to:
Print artboards on separate pages, in numbered PDF files
Navigate the Illustrator interface
Use fonts effectively
Work with Illustrator advanced commands, like Path Distort, Make Brush Spiral Grid and Creating 3D
Design logos in Photoshop
Design flat UI elements
Create effective website layout
Use a variety of tools in Core IDraw, including Shape, Crop-Knife-Erase, Freehand, and 2-Point Line
Understand and use tables
Arrange transformations in the menu bar view
The instruction is suitable for any level, whether you're a novice or you've been doing this for quite a while.
3. Mega Bundle of Photoshop Actions
Ever heard the saying "there's strength in numbers?" Well, this bundle wins the award for numbers, packing 2850 professional Photoshop actions, organized into 65 categories.
It also wins the award for creativity. Take a look at the names of some of these categories and you'll see why.
Dark Soul
Elegant Painting
Grunge Painting
Colored Smoke
Evil Soul
Tetroid
The Mask Action
Just to name a few. But the magic of these actions doesn't lie merely in numbers and variety. It's in the layers. The layers of these actions are organized, editable, fully customizable which gives you a lot of control and plenty of possibilities.
The process is clear and easy to understand. You simply paste your image into a PSD file and then choose a layer.
4. Visual Design Expert E-Course
If you're serious about becoming a visual designer, this course will take your skills to the professional level.
Courses give you everything you need to harness Adobe Photoshop in the service of expert visual design.
Among the skills you can learn:
Logo Designing
Brochure Designing
Jewelry Design
Website Design and Layout
UI Designing
Sketching
Magazine Design
The course even comes with certification, setting the experts apart from the novices.
5. Artistic Photo Effects
This bundle of artistic photo effects comes with 20 Photoshop Actions and 5 PSD templates. These are easy to use, as they come with organized layers and a handy video tutorial.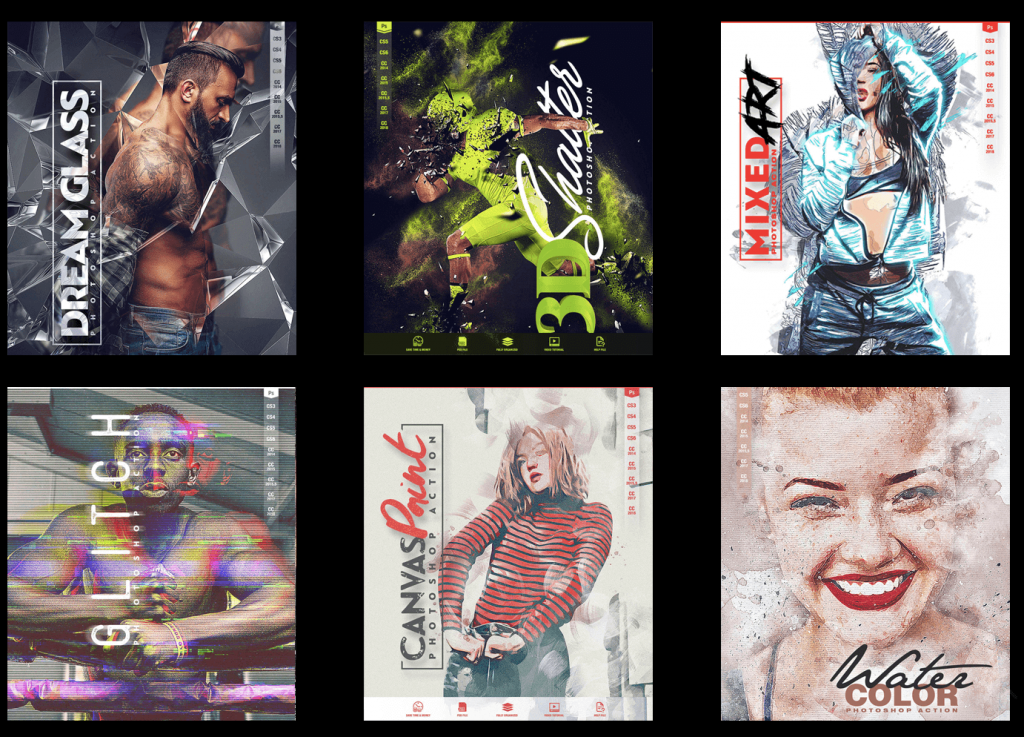 Here are a few of the unique photo effects that are included.
Broken Glass Photoshop Action and Template
Glitch Photoshop Action
Mixed Art Photoshop Action
Realistic Pencil Sketch Photoshop Action
Splatter Paint Photoshop Action
Fresh Meat Photoshop Template
Grunge Photoshop Template
Of course, you can mix and match actions and templates to achieve a truly unique effect.
What About Freebies??? 
Do you like getting fun photography tools for free? So do we. :) Here are a few of our favorite freebie deals.
1. 600 Acrylic Photoshop Brushes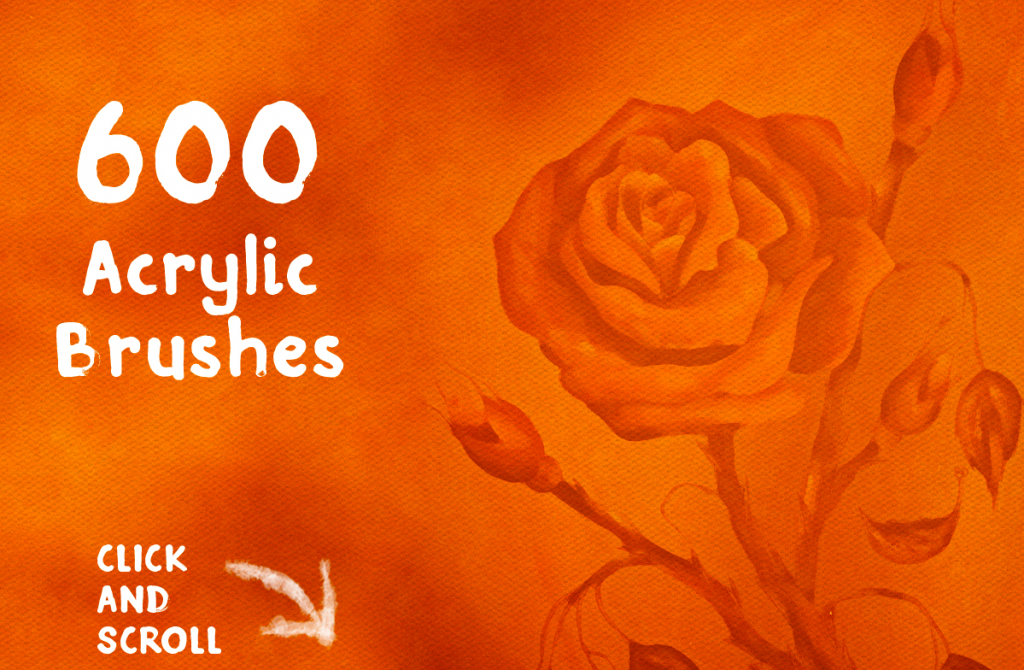 Are you ready to experiment with digital painting? These brushes are a great place to start. The package comes with 600 Acrylic Photoshop Brushes with 100 types of brush shapes. Each of these brush shapes has 6 different kinds of brushes.
The variety, as well as the instant download, make this tool easy and fun.
2. Black and White Photoshop Actions
You once thought black and white photography was simple. The truth, it's anything but. Fortunately, having the right Photoshop actions can make a huge difference.
This set of 22 black and white Photoshop actions will simplify the editing process for you. They will also enhance the quality of your photos.
3. 20 Free Actions for Photoshop
These 20 Photoshop Actions are the simplest way to give your photos a professional look. They're perfect for displaying photos on blogs, websites or social media.
They allow you to easily sharpen your images or play around with color.
So go ahead. It's time to begin having fun with your photo effects. ;)
(Visited 433 time, 1 visit today)