"Imagination is not only the uniquely human capacity to envision that which is not, and therefore the fount of all invention and innovation. In its arguably most transformative and revelatory capacity, it is the power to that enables us to empathize with humans whose experiences we have never shared." – J.K. Rowling
Update: Our friends over at SHORTCUT-S have relaunched their Kickstarter campaign, so there's another chance for you to get your own. Better still, they added lots of new compatibility features, meaning that you can now customize the keyboard for the whole Adobe Suite (including Adobe Audition, which is great news for any of you people who work with sounds, as well as images), as well as CorelDraw and Mac OS X Aperture and Final Cut Pro.
ADVERTISMENT:
The Best Deals For Digital Design Assets - InkyDeals.com. Learn More>>
Aside from image editing, SHORTCUT-S can now also be used with Microsoft Word, Excel and Outlook, and also Facebook.
It has new and sleek design, with a thickness of only 6.4 mm, making it even thinner than an iPhone 6. Also, since variety is always the key, there are three possible models of the SHORTCUT-S keyboard for you to choose from: the 320 key version, the 160 key version, and the 80 key version.

Adobe Photoshop is, simply put, the most popular photo editing software around. Virtually everyone uses (or has used) Adobe Photoshop to edit images, either for work, artistic or recreational purposes.
The reason Photoshop is so popular is the fact that it has such a vast number of features that can be used to manipulate images. It's so versatile that you can use several images to create an entirely new one. But no one said it was easy.
When using it, you can either rely on the trusty old mouse to browse through all the features, or you can use the keyboard shortcuts. The 2nd option is by far the quickest way to use the program, but the problem with shortcuts is that there are 568 of them, and that is one seriously scary number.
Some really nice people have decided to address this issue, and decided to build and design a special keyboard to be used with Adobe Photoshop.
This keyboard is called "Shortcut-S", and it is the brain-child of Sorin Neica. Together with 5 other friends, including co-founder Sandu Cucui from Vienna and USA Project Coordinator Maria Chindea from Georgia, Sorin worked for 18 months to reach the 319-key design (299 pre-defined keys and 20 customizable ones) that allows you to have quick access to 372 of the most used tools, filters and functions Adobe Photoshop has to offer.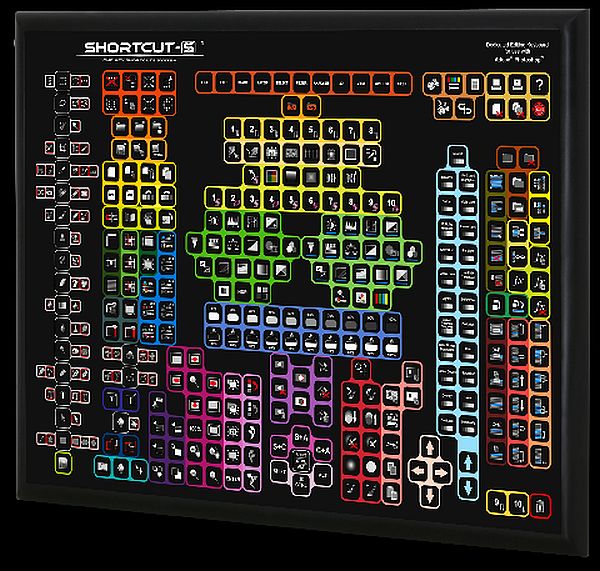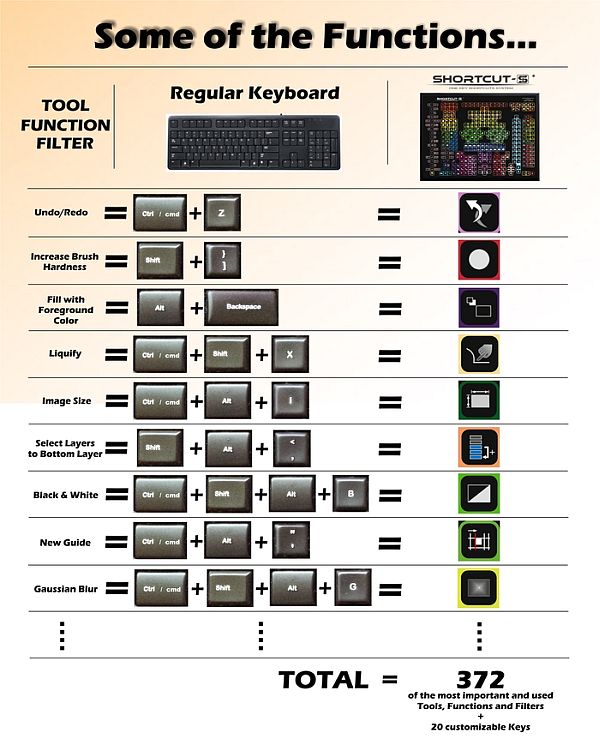 Software specific keyboards are, by no means, a new idea. Video editing programs such as Avid or Final Cut Pro have specialized keyboards, and even PC games benefit from their very own peripheral devices (we're looking at you, World of Warcraft), but funnily enough, there are no keyboards specially designed to operate photo editing software.
We say photo editing, and not just Adobe Photoshop, because the creators' end goal is making this device compatible with all the major editing software out there, including Adobe Premiere, Corel Draw and Final Cut.
50 of these keyboards have already been produced in Shenzhen, China, as a pilot-batch, and have been tested to see how users interact with it. The results of these tests seem to indicate that, for advanced users, their work speed is increased by 30%, and learning shortcuts becomes easier for beginners and mid-level users.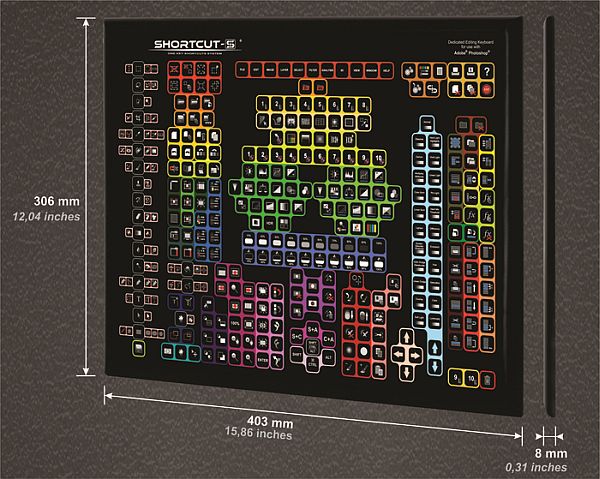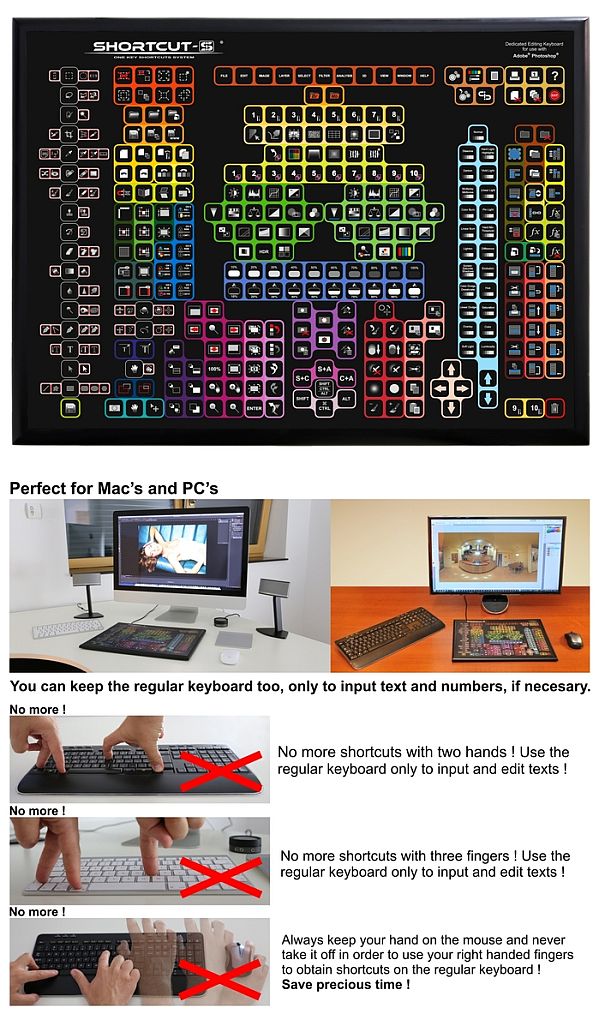 Although it may look a bit intimidating, at first, the Shortcut-S keyboard has its keys color and shape coded, so that you can quickly and easily adjust to it. And once you do, we are pretty sure that you will never want to go back to your regular keyboard again. It might not seem like much, but being able to keep your hand on the mouse, and not needing to look for the up to four key combinations required to achieve certain shortcuts, can definitely help you save time when working on a project.
It's also really easy to carry around with you, as you can see in the picture above, and since it's Plug & Play, you can use it on any device, be it at home, or at work. By extension, this also means that you can show it off to more people, which is not something you might feel inclined to do with an ordinary, run-of-the-mill keyboard.
We have mentioned earlier that this is not a one-man project. Sorin Neica is the founder of this project, and inventor of the Shortcut-S keyboard itself, but he has a few friends to help him get this really fresh and innovative idea on it's way to becoming a mass-produced item, so we are going to tell you a little bit about them.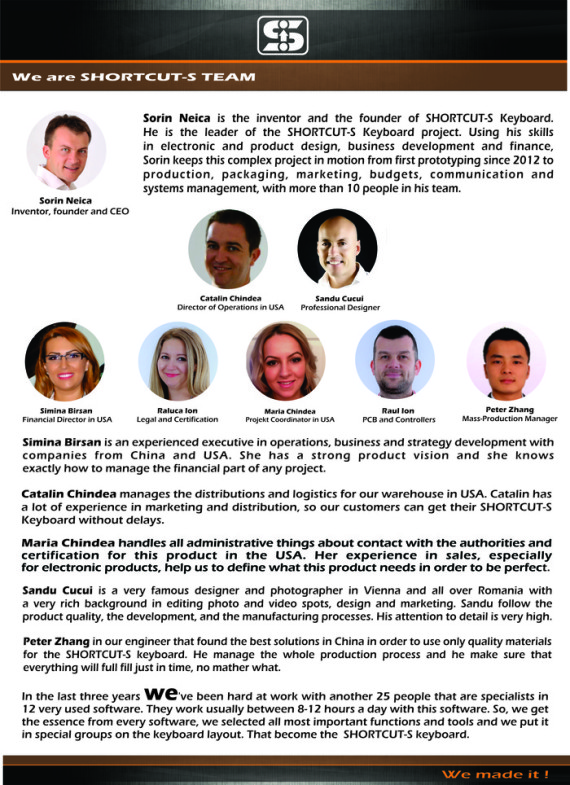 You already know that Sorin is the inventor, but he isn't just kicking back, relaxing and waiting for his invention to take over the world. He is putting his electronic and product design skills, as well as his business development and finance skills to use here in every aspect of this project, keeping it in motion.
Co-Founder and Managing Director Sandu Cucui lives in Vienna, where he is a well-known photographer. He has a very rich background in both photo and video editing, and his responsibility within this project is overseeing product quality, the development process and the manufacturing process, using his very own super power: attention to detail.
Simina Birsan is the Financial Director in the USA. She's an experienced executive in operations, business and strategy developments, having worked with both American and Chinese companies, and she plays a vital role in managing the project's funds.
Maria Chindea handles all things administrative in the US, giving her the title "Project Coordinator". She brings sales experience to the table, especially for electronics, assures that the keyboard gets another critical eye thrown at it.
Catalin Chindea is the Director of Operations for the USA. As such, he manages the distribution and logistics for the team's USA warehouse. It's you who will be on the receiving end of his expertise in marketing and distribution, since he'll be making sure clients get their Shortcut-S' on schedule.
To find out more about this great project, you can check out their KickStarter account by pressing this link here. Their goal is to reach just over 180.000$ so they can cover the costs of making a first batch of 2000 units of the keyboard. They've got several really cool payment plans, one of which includes a trip to Brasov, the inventor's hometown, that is just 18 miles away from Castle Bran, better known as Dracula's Castle. Here you'll get to test the Shortcut-S for yourself, and get a surprise gift.
That about covers our highlight of the Shorcut-S. We definitely think it's pretty cool, so be sure to check out their KickStarter page, and don't forget to let us know what you think of it in the comment section below.
(Visited 1,724 time, 1 visit today)