Interview with Talented Illustrator Raphael Vicenzi
Raphael Vicenzi a.k.a. Mydeadpony is a very talented sefl-taught artist from Brussels, Belgium. He is represented by the illustrator agency Colagene, so you can find most of his works there, among some of the most gifted artists. Raphael's influence in his artwork comes from fashion, street art and graffiti. His illustrations are a mix of digital media, painting, sketches and drawings on watercolors, with textures and splotches and they are very detailed and meticulous.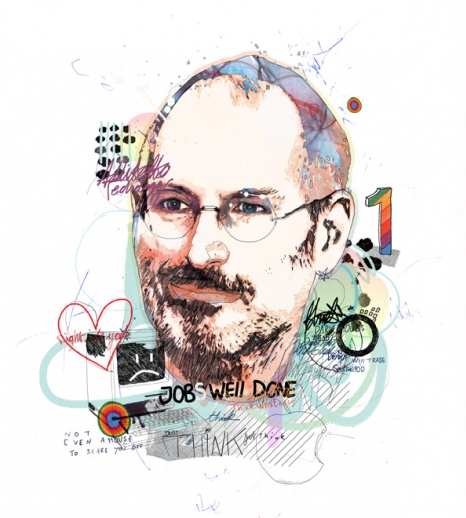 When did you start your career as a designer?
Around ten years ago but it has only been these last few years that i can consider myself doing something that i really like.
I always wanted to do something creative and the possibility to make graphics with computer really attracted me so I started to learn most of it very slowly by myself.
Three or fours years back I got contacted by Colagene to join their illustrator's agency so it really helped me to keep going and push my career forward.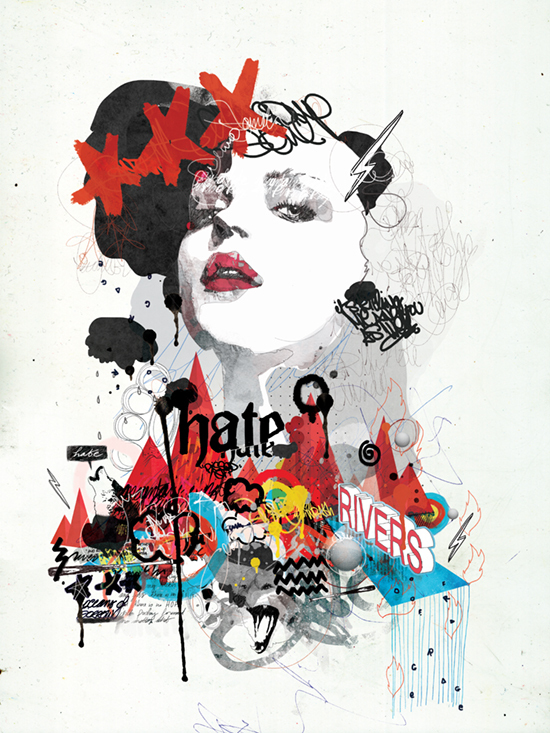 What is your educational background?
I am self-taught and I have no university diplomas or else.
You've surely worked on several projects so far. What would be the most relevant ones?
From my latest client works, I enjoyed working for an illustrated notebook for Write now and an illustration for Line Skis.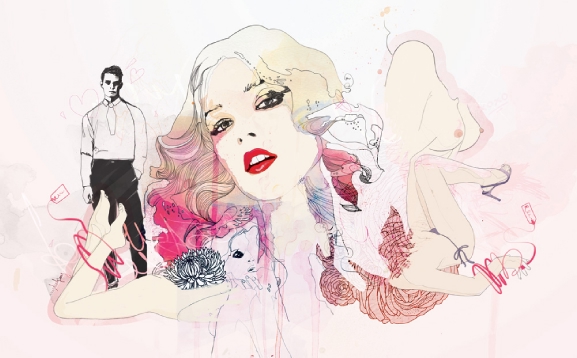 Can you name 3 designs from your portfolio you like the most?
My latest pieces because they reflect what I am thinking lately.
So Procrastination, The semtex in your heart and Worse than I am.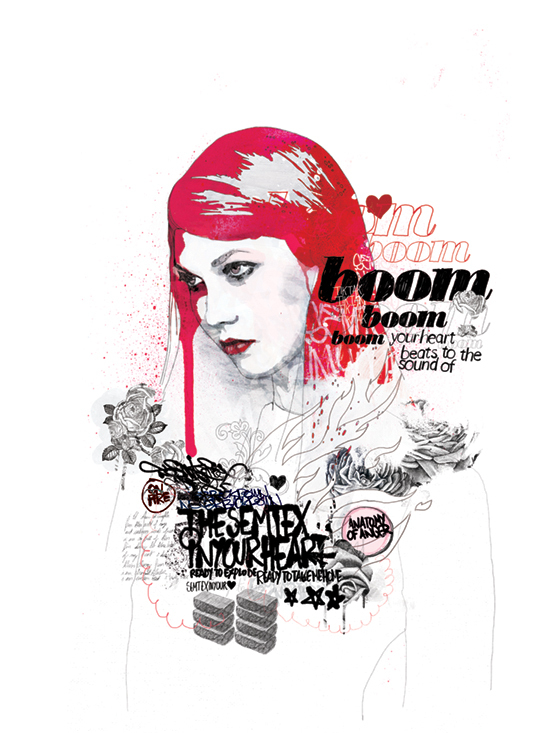 Our readers would definitely love to know what hardware and software you use when you create your designs?
I use a PC, Photoshop, a Wacom intuos and a scanner to do what I do.
I use my own watercolours acrylic paint, markers etc…as well.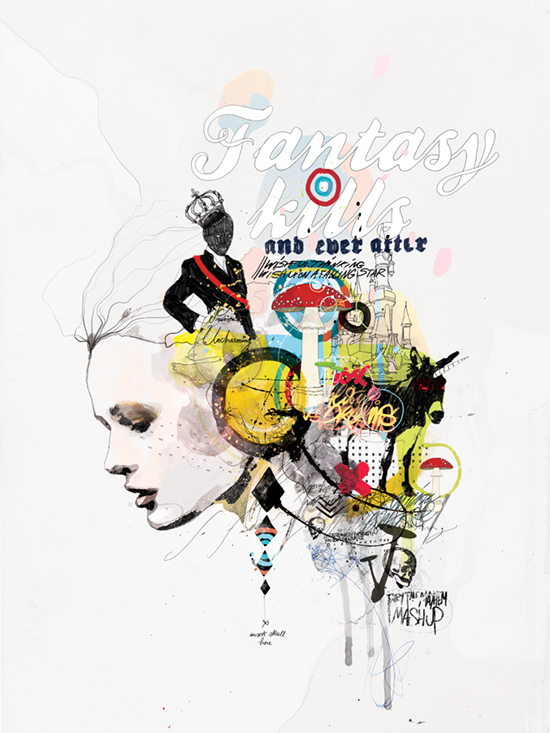 What are the things that inspire you? Can you name a few websites you use for inspiration?
Life and personal experiences feed my creative process.
I check tumblr, fffound, booooooom and other websites to keep me inspired as well.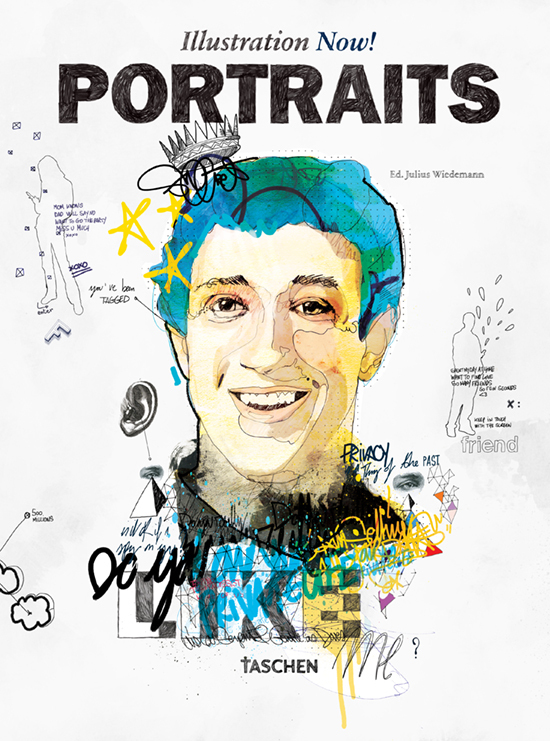 When you began your journey as a designer you probably had a few role models, would you name two of your favorite artists?
At the beginning I got really inspired by Anthony Micallef, THS and Vault49.
But the list is very long and almost everyday there is someone new I did not know about.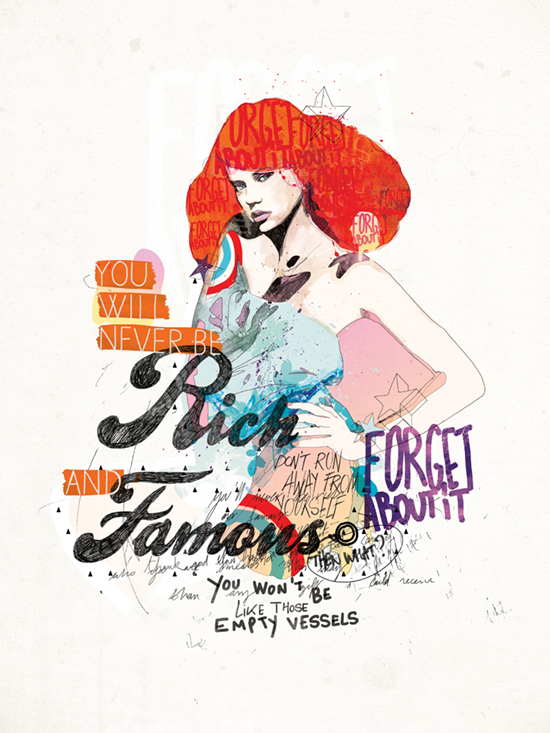 Designing has its ups and downs, what is the most difficult problem you ever faced as a designer?
As an illustrator, the most difficult thing for me is to be inspired by something I can't really relate to. Trying to express certain ideas without being able to make them more personal is really difficult sometimes. that's just the way I work though.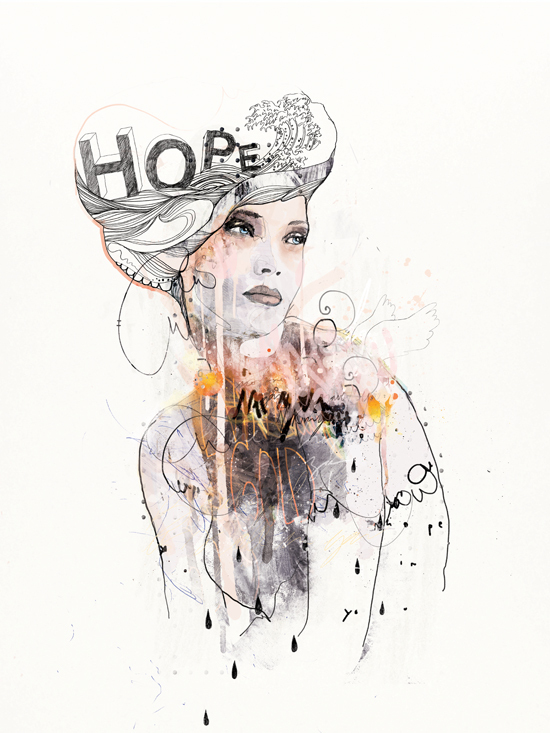 Looking a bit into the future, how do you think people will look at your designs in four years from now?
I don't know, I hope I'll still be able to create in four years from now and that people will see how I progressed and changed.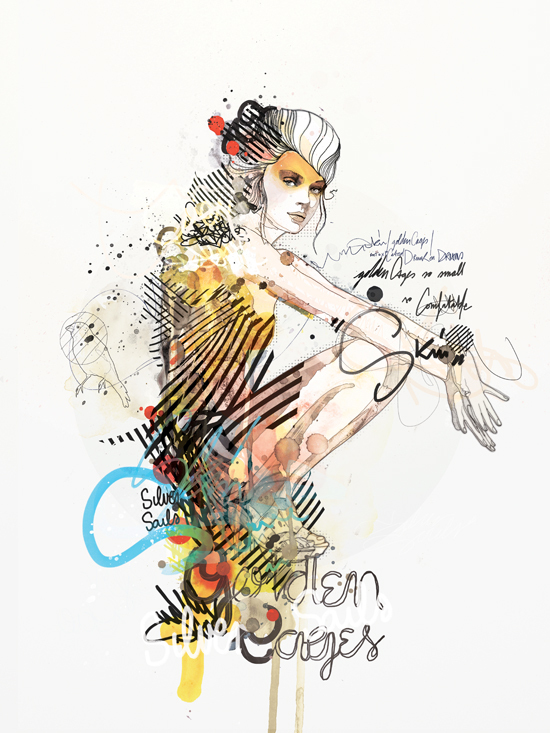 What advice would you give to the newbie designers?
Work a lot, get inspired by your own personal life, be curious of everything, don't listen to peer pressure, trust your vision but learn to be able to change your mind about what you think is right because sometimes you won't be.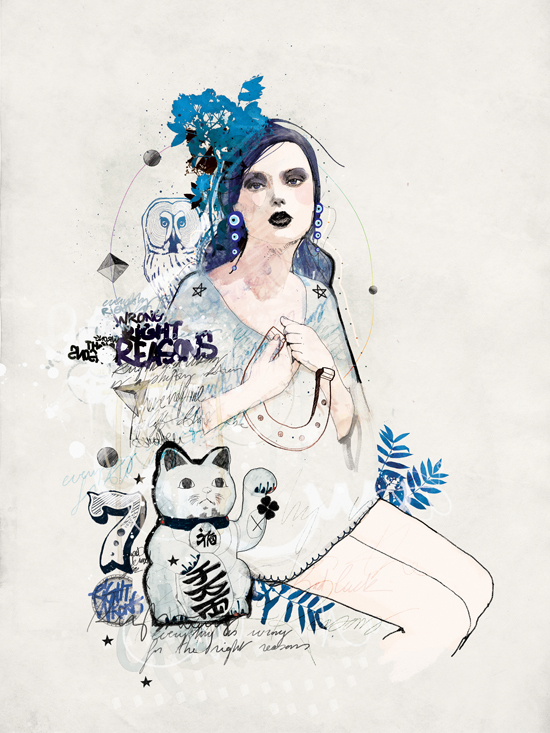 What do you think your greatest achievement is so far?
I don't know. To be still alive at this time and having a family that I love.
The rest is the cherry on the cake.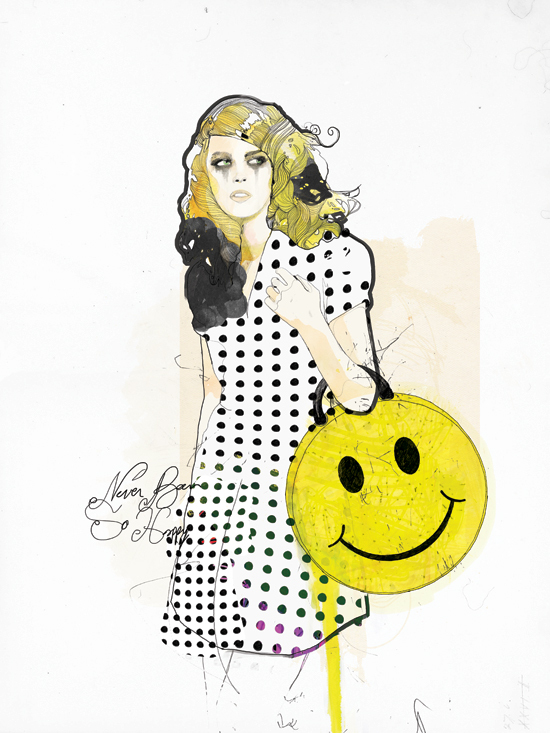 How much free time you have in a week and how do you usually spend that?
Free time it's all I have, it's just that as a freelance I chose to spend this time working on illustrations or looking for inspiration. I work more when I have a client project but it's difficult to separate my free time and work time as they seem to blend together all the time.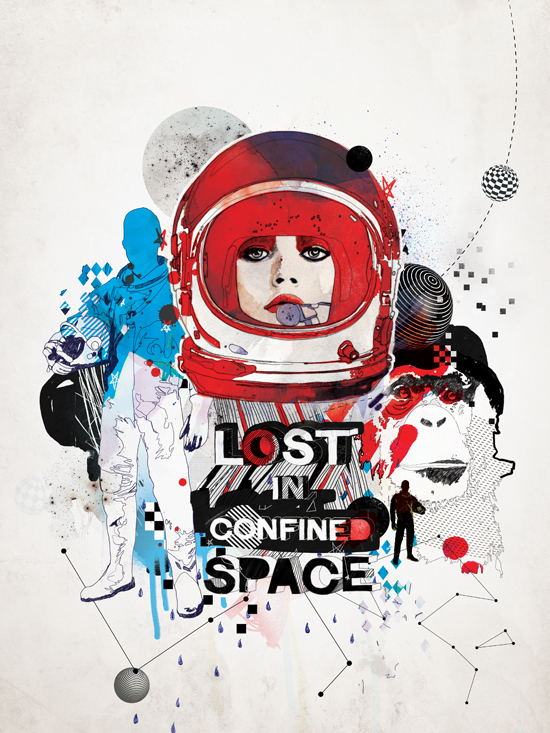 What is your favorite PC game and how many hours you spend playing it?
I don't play video games anymore, it's too time consuming and I can't finish any games anyway because they usually bore me very fast. But I did play half life a lot years ago and I checked out mine craft as well.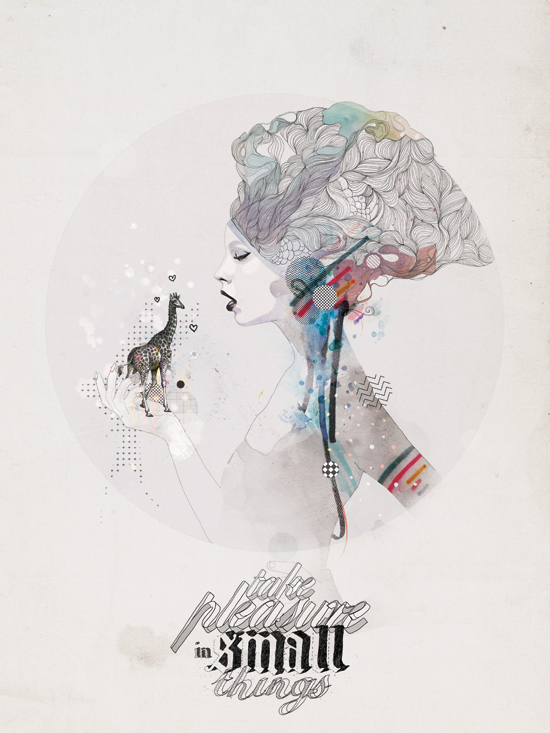 I really liked this design. What was your drive to create it?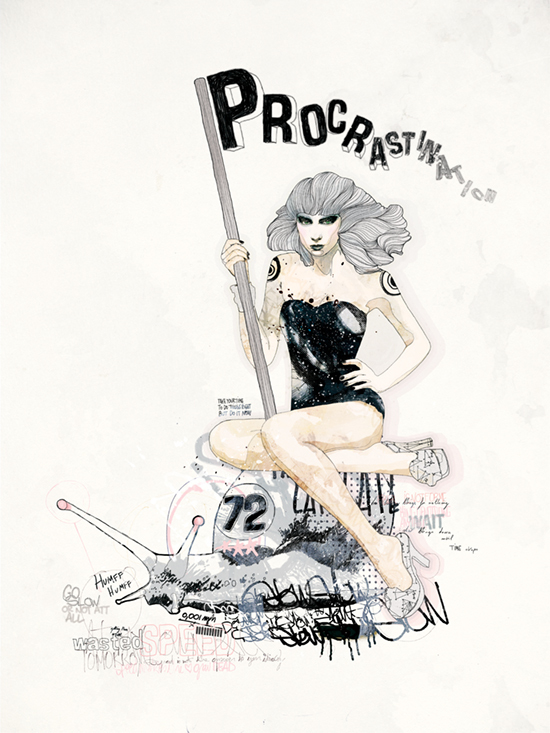 Because I had no drive to do anything at all so I made an illustration out of it.
I think we forget to do just that,  procrastinate, do nothing and take time to do things we like without worrying.
Sometimes it is really to escape a situation or problem, sometimes it's necessary to gather up your strength to keep going.
I just know you fell in love with Raphael's illustrations, so you probably want to see more! Here is where you can reach him: