"Even if you can't draw, do a little doodle or rip an illustration from a magazine – these visuals will help bring your idea to life."
– John Emmerling
I think that most of us doodle, given the option, whenever we are on the phone too long or are attending a particularly boring class. I, for one, am pretty sure I could make my very own exhibition, showcasing my "works" from college alone, not to mention all of the doodles I produced ever since I first laid my eyes on a teacher.
Doodle is one of those words that really needs a change of definition (if you know any other, please let me know, 'cause I really can't think of any other right now). Merriam-Webster defines a doodle as "an aimless, casual scribble, design, or sketch", but doodles are not necessarily aimless. I remember being quite fond of mine, and actively sought out to cover more of the surface with them so it would look cooler.
There are two kinds of doodles: concrete representations, which can be identified as caricatures of actual people, or representations of either original or famous fictional characters; and abstract forms, which are exactly that.
The word itself first appeared during the 17th century, and it meant fool or simpleton, but changed its meaning during the 1930's and became closer to the meaning of the verb "to dawdle" -to waste time or be lazy-.
Another fun fact about doodles is that they have a great positive impact on memory. Professor Jackie Andrade showed in a study published in Applied Cognitive Psychology that doodling expands just enough energy to keep you from daydreaming, therefore allowing you to concentrate and memorize better.
Well, now that I have told you a thing or three about doodles, it is time I talk to you about a pretty interesting artist called Troqman, or David Troquier as he is known by legal institutions.
Originally from Paris, France, and currently based in Amsterdam, The Netherlands, Troqman is an illustrator and self-described rough man. He does a wide array of illustrations, but what really got him noticed lately is his series of doodles called Cartoonbombing.
In an interview he did for Bored Panda, he said:
"Cartoonbombing was born in June 2013, during a holiday in the Greek islands. I brought a sketchbook and was hoping to do some travel sketches but got bored just drawing at landscapes or people at the beach."
The sketches show either original or famous characters that "interact" with the environment to create funny situations. His advertisement work takes up the bulk of his time, but he does these doodles as often as he can, as his mind works way faster than his hands.
And now it is time for you to see a few of his hilarious cartoon bombings.
1. Star Wars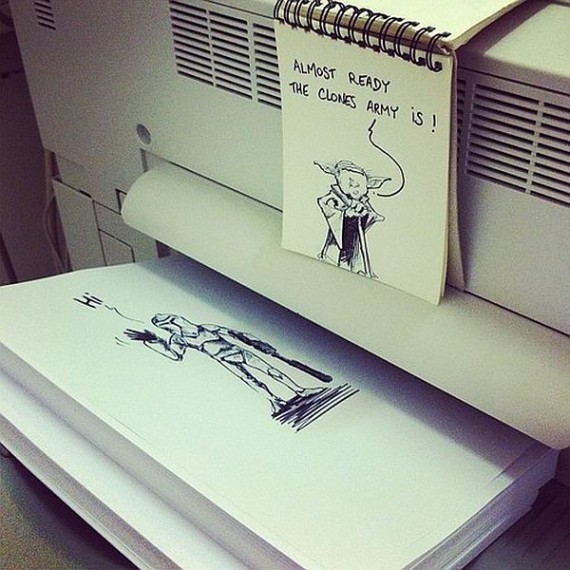 Star Wars fans are really polarized between the ones who think the prequels of the original series are a travesty, and the two or three who do not.
But let us think about it this way: without episodes I through three, we would not have had this awesome little illustration from Troqman, depicting a pretty accurate representation of how the clone army came to be.
2. Zombies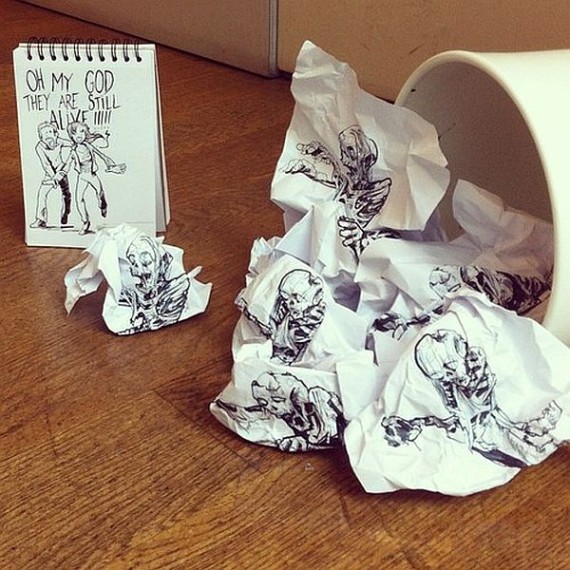 Zombies are probably the biggest thing to have hit entertainment media in the past 50 years. Critics, whether they are movie, book or game critics talk about the monsters' ubiquity in art these days. But I for one am far from feeling that they -the zombies- have outstayed their welcome and think that there are still plenty of cool things you can do with them.
Take this sketch, for example, with the scared couple drawn on straight paper, and the zombies and crumpled up throw-aways.
3. Lord of the Rings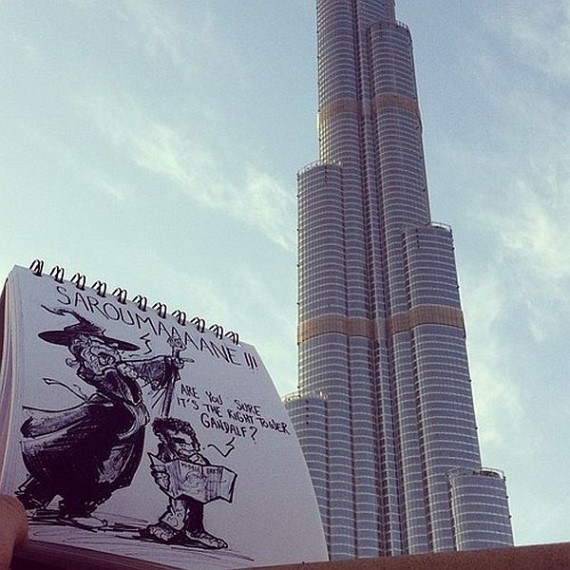 Lord of the Rings is one of the best trilogies ever to hit the silver screen, and probably the most ambitious project in movie history. It is single-handedly responsible for the popularization of "geek" culture, and without it, there would definitely not be any good comic book movies (still waiting for good video game movies, though).
One of the most iconic scenes in the franchise is the final showdown between Gandalf the White and the treacherous Saruman, at the later's tower. Here that scenes takes a comic twist, with Gandalf screaming defiance at the wrong building.
4. Winter is coming!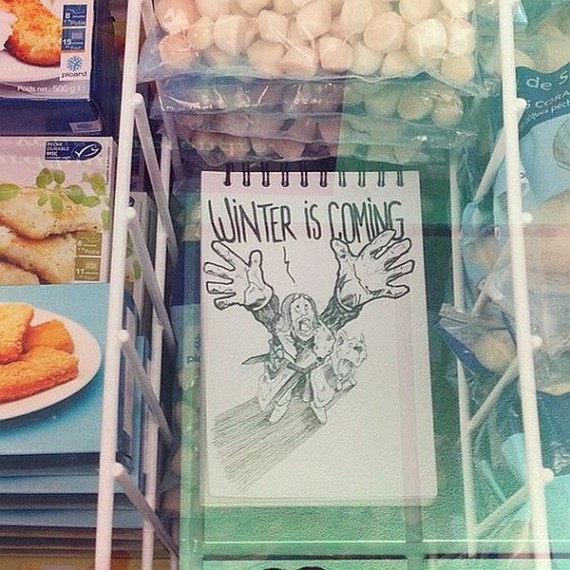 I am going to over-analyze this one a bit because I just fell in love with my train of thought.
The main pun is fairly obvious here. We see Ned Stark warning us about the approach of winter while he is in a supermarket freezer. But the freezer can represent more than just the cold of winter. The freezer can represent Ned's, and perhaps every character's entrapment to the oncoming frost of winter.
Winter, furthermore, can represent the cessation of life, which, as any Game of Thrones fans knows, is the inevitable fate of all their favorite characters. Valar Morghulis!
5. Spiderman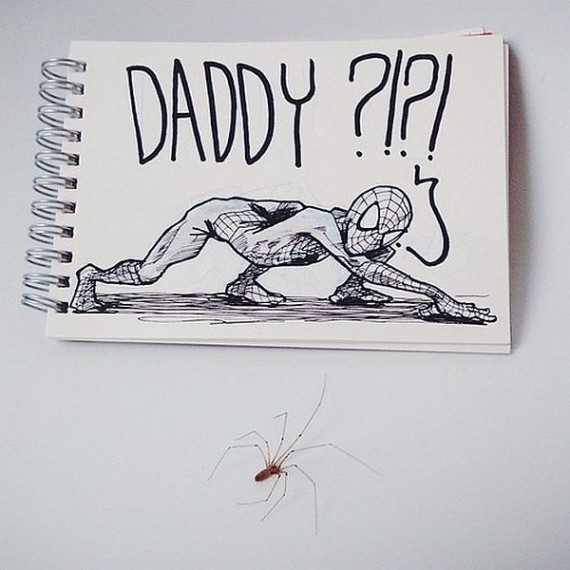 The real impressive feat about this doodle is the fact that Troqman was able to finish Spiderman in before the spider decided it was time to move on, and sow fear into the heart of some other unsuspecting mortal.
6. Hipsters gonna hip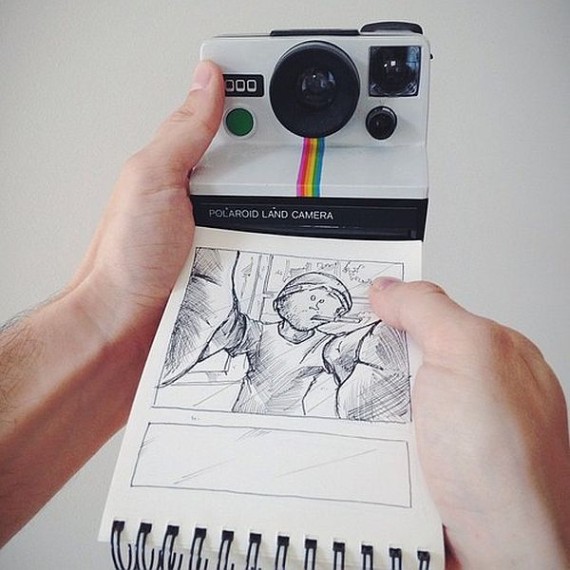 Hipsters gonna hip, as they say, and selfies are definitely being appropriated by hipsters, in what I find to be one of the most confusing acts of "gentrification" in the history of upper-middle class appropriation of property or customs.
I say "confusing" because I cannot really say if it is a good thing or not. I was never one to have any issues with people taking pictures of themselves (whether they made the duckface or not), and this trend might be a sign of support towards those less financially fortunate. On the other hand, it is not like rich people were not taking selfies.
Am I over-thinking again?
7. Mario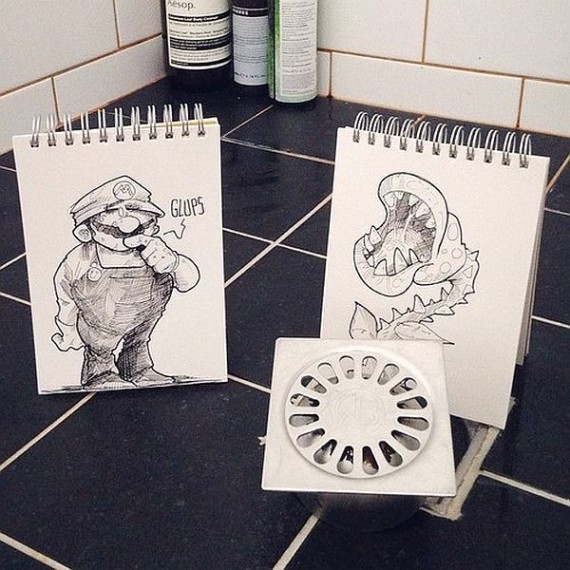 Reinterpreted Mario designs are always cool, and this is a fine example of that. Aside from the fact that I would definitely go for a Mario game where the characters look like that, there is also the humorous element of it all, having the eponymous plumber be confused about the strange plant monster coming out of the drainage system.
That wraps up this presentation of Troqman's totally awesome Cartoonbombing series. I hope it was just as much a pleasure for you to see this pictures, as it was for me to collect and talk about them.
You can see the full collection by checking out his Tumblr page, here, and you can also see lots of his other projects by checking out his online portfolio.
Also, don't forget to leave me the bestest of feedback in the comment section below.
Editor's Note: This post was originally published in March 2015 and has been completely revamped and updated for accuracy and comprehensiveness.
(Visited 1,880 time, 1 visit today)