"Visual design is often the polar opposite of engineering: trading hard edges for subjective decisions based on gut feelings and personal experiences. It's messy, unpredictable, and notoriously hard to measure. The apparently erratic behavior of artists drives engineers bananas. Their decisions seem arbitrary and risk everything with no guaranteed benefit."
– Scott Stevenson
ADVERTISMENT:
The Best Deals For Digital Design Assets - InkyDeals.com. Learn More>>
Scott Wade loves to get dirty and make art. Literally, he does art in dirt. Well, on dirty cars, but you get the point of it. Music and art has always been a part of Scott's life, his father was an amateur cartoonist that just loved to doodle and he would make coloring books for the neighborhood kids during Christmas. He went on a music scholarship to college, but changed majors so he could seek his true calling – Art.
He played in several local bands in Texas, composed some music, did some freelance work, and finally he got pass his fear of getting sucked into the virtual world and taught himself Photoshop and Illustrator. His most popular project is the "Dirt Car Art". He managed to surprise us all with his creativity, and I bet that he won't stop here.
1. Great Blue Herron at the Narrows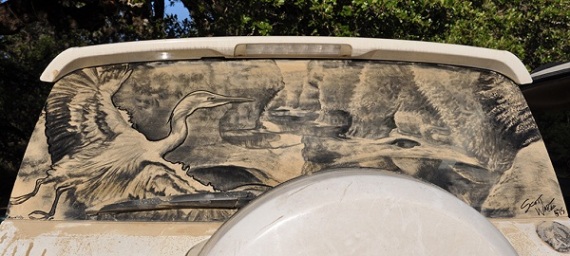 Ardea herodias has made its way onto the back of what seems to be an SUV. Yeah, let's call it blue, and not the Great Dirty Brown Herron. It was specifically created for a book signing event for Jimmy Ash's new book, called  "Blue Herron Crossing". The Narrows is a location on the Blanco River, in Central Texas. It seems quite magical.
2. A Friend in Need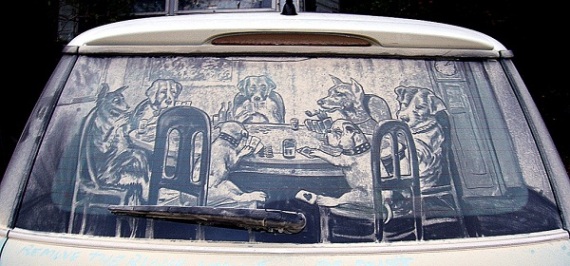 The painting "A Friend in Need" is a part of "Dogs Playing Poker" –a series of sixteen oil paintings by C.M Coolidge. He was commissioned way back in 1903 by Brown & Bigelow to advertise cigars. Interesting little fact: "A Bold Bluff" and " Waterloo" were sold to an undisclosed buyer for $590,000, topic the previous price of $74,000 for a Coolidge painting. Great inspiration you got here Scott.
3. Einstein with Crazy Hair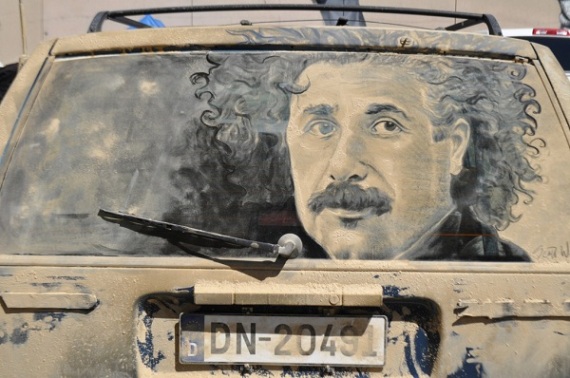 Albert Einstein – what an incredible man. Besides developing the general theory of relativity, known as one of the two pillars of modern physics, Einstein has meddled in the fields of thermodynamic fluctuations and statistical physics, photons and energy quanta, quantized atomic vibrations, critical opalescence, and many others theories.
He has won so many awards during his life time, and after it, and we can only list the notable ones, such as the Noble Prize in Physics in 1921, Matteucci Medal also in 1921,  Copley Medal in 1925, Max Planck Medal in 1929, and post mortem he has won Time Person of the Century in 1999. Einstein was the one that convinced the Roosevelt regime to enter the atomic bombs race, going over his pacifist principles.
One year before his death, in 1954 he stated to a close friend "I made one great mistake in my life—when I signed the letter to President Roosevelt recommending that atom bombs be made; but there was some justification—the danger that the Germans would make them …"
4. Laurel And Hardy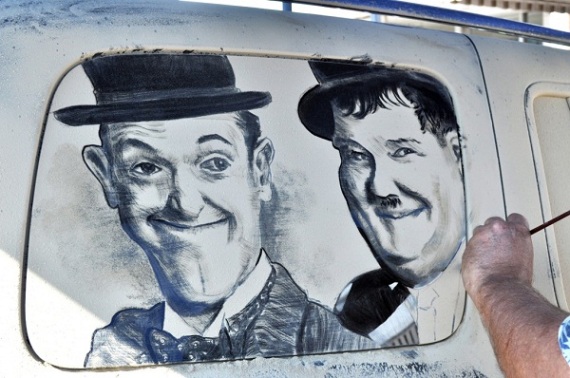 What an incredible duo. I still remember the first time I saw a film of theirs – I couldn't stop laughing, I found the chemistry between them to be one of a kind. They were really popular in the late 1920s all the way through the middle of the 1940s – but their legacy will continue to dawn over future generations.
Together, as a team, they appeared in 107 films, 32 short silent films, 40 short sound films and 23 full length feature films. "Well, here's another nice mess you've gotten me into! "
5. The Great Wave Off Of Kanagawa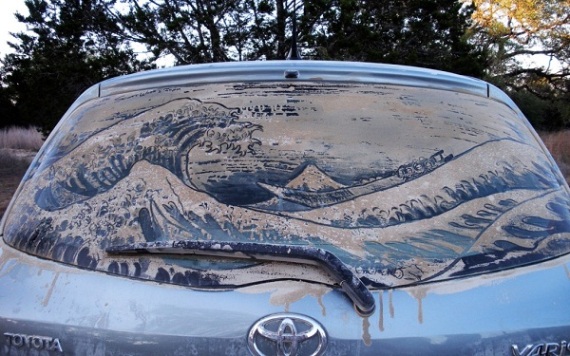 This piece is a homage to Hokusai's master woodblock print. During it's creation phase, Scott found himself in a bit of a pickle – " This is an example of one of those times when the dust doesn't stick well, and there are a lot of places where the dust would just fall off as I worked. I struggled with it, but realized afterward how much it ended up looking like a woodblock print as a result. One of those happy accidents where the universe collaborates with you!".
6. Potter Kids At Premiere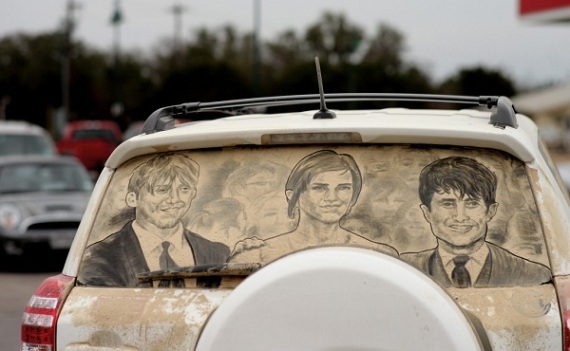 Yup, I am also a big fan of Rowling's Harry Potter series. I loved them, and I think I am going to go on a binge and start reading them all again. It will be my 4th time doing so. What? Don't judge, Harry Potter is incredibly awesome. So what if I'm not a child anymore, that's not the point of these books. It is a story of a wonderful friendship that stares adversity in the eyes and through their powers combined they defeat evil.
It was absolutely wonderful seeing the cast grow up with each movie. Daniel Radcliffe has played in "The Woman In Black" and "Horns" after finishing up with the series – can't wait to see more of him. With Emma Watson is a different story – she hoped on the fame wagon and released a couple of movies. Don't get me wrong, they are not bad, but it was sort of a surprise to me seeing her portraying some roles.
She did really well in "The Bling Ring" and "The Perks of Being a Wallflower", but her latest character in Aronofsky's "Noah" was just badly cast, badly played, badly everything. Rupert Grint on the other hand, hasn't been in the spotlight for a while now. He played in a couple of movies after the series, the most notable one being " The Necessary Death of Charlie Countryman" but nothing special.
We just loved Scott Wade's art. You can dig up some more by going onto his website, right here. If you find something that didn't quite made our list, please post freely in the comments section below. We would love to hear from you!
(Visited 738 time, 1 visit today)