"For me, graffiti and the complexities with which it is either absorbed or expelled from what is going on, is a really good comparison to the way I see my work being similarly expelled or absorbed into different types of discourse." – Richard Phillips
Love it or hate it, graffiti has revolutionized the way we think of art. It is anarchic, untamed, ephemeral at times, and difficult. Like the impressionists before them, graffiti artists take art to the streets, only in a much more literal way. Their works show up over night, and many times disappear even quicker, erased by the authorities, in what some might call a misguided attempt at keeping the community clean.
ADVERTISMENT:
The Best Deals For Digital Design Assets - InkyDeals.com. Learn More>>
Unlike most art forms, graffiti does not aspire to immortality. They are not timeless, and nor should they be. They last and they impact only as long as the issue they are addressing exists. They are meant to instantly raise awareness, and to mobilize the viewer as he sees it. It can be satire or manifesto, or anything the artist wants it to be, and that is why graffiti is art.
This week we'll be taking a look at one of the most original graffiti artists there is. He goes by the name Above, and he keeps his real identity a secret. He was born in 1981 in California, and has been active on the scene since back in 1996, when he was only 15 years old. He developed his trademark upward arrow signature when he was 18, stating that he wanted something instantly recognizable, since at the time he was spray-painting trains, and wanted something distinguishable even as the train was moving fast.
Talking about his background, Above stated in an interview for Abuzeedo that he comes from a family of artists. This allowed him from early on to experiment with a wide range of art supplies, that were always available in his family home in California, and sparked his passion for making art. It was this passion and his involvement with the skater community that eventually led him to start tagging trains.
In 2001 he left California for Paris. He joined other artists, such as Zevs, Invader, Staks, Honet and Andre as part of a movement in graffiti art that moved away from the traditional letter based tagging, to a logo and character influenced form of graffiti. It was this period that inspired him to apply his signature not only in tags, but also to installation art. The installation art came in the form of wooden arrow mobiles, that he would hang from various places.
After his return to California in 2003, Above began his "U.S.A Tour", where he visited 14 major U.S cities and hung over 300 of his wooden arrow mobiles. During this tour he also implemented word play in his installations. When interviewed by the Pittsburgh Post-Gazette in 2012, and asked how he would actually hang his installations, the artist replied "I value and respect that we all have imaginations and for me to interfere with what your imagination is creating, or thinking, would be wrong".
2003 to 2006 saw him taking his eye-opening installations to Europe as well, in two tours, one of which he dubbed "Sign Language Tour". The tour not only brought the artist's work to new audiences, but it also raised his linguistic range, having added German, French and Italian words to his word play.
In 2007, after working for 4 months as a waiter in a restaurant in Alaska, he returned to graffiti, embarking on a South and Central American tour that took him to 18 cities in 13 countries. The tour started in Rio de Janeiro and ended in Mexico City. Rather than just tagging various sites with his sign, Above made his work site-specific by painting word based art that people could connect with. This marked a change of direction for the artist, his works becoming more and more socially and politically aware.
Since 2009, he has been living in Portland, where he started a charitable project called "Homeless, Not Hopeless".  The project tries to raise awareness about the large homeless population in Portland, and also dispel misconceptions about homeless people.
Together with Blek le Rat, he held his first indoor gallery exhibition in San Francisco's White Walls Gallery. The exhibition took place on May 1st, 2010, and it showcased themes and techniques the artist originally developed for his outdoor works. His first solo show was held in January 2011, in Sydney. The show, called "Here Today, Gone Tomorrow" explored themes such as "fragility of life, death, and the importance of living life to the fullest". It was inspired by Above's brother's untimely death.
His "Give a Wall St. Banker Enough Rope" installation sparked serious controversy at the height of the Occupy Wall Street movement. It depicts a straw figure, dressed in a suit, that is hung in front of a wall he tagged with the "Above arrow". This gained him serious media attention from the likes of the Daily Mail and Fox News, and also got attention for the movement itself.
Another work that got people talking is "Diamonds are a woman's best friend", the graffiti that Above was commissioned to do for Jewell City, one of the largest diamond exporters in the world. It is a comment about the illegal blood diamond trade, that he done unbeknownst to the people who commissioned it, and it reads "Diamonds are a woman's best friend, and a man's worst enemy".
Since we're talking about a visual artist, it's only fair we show you some of his work. Up next, we'll be showcasing several of his graffiti and installation projects, split into three categories, just like on the artist's website. Enjoy!
Site Specific Stencils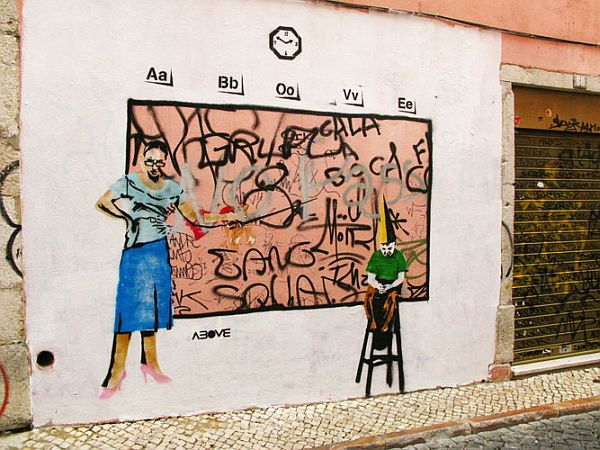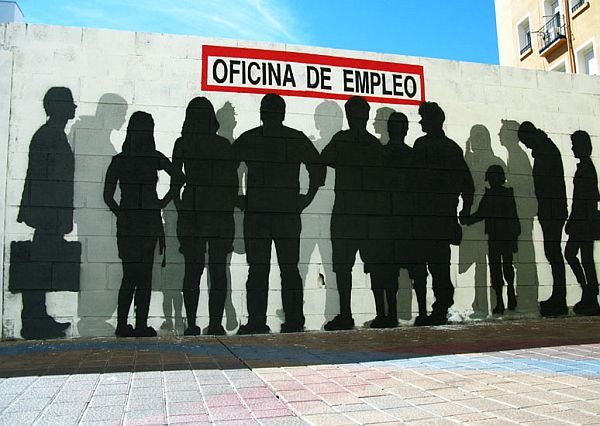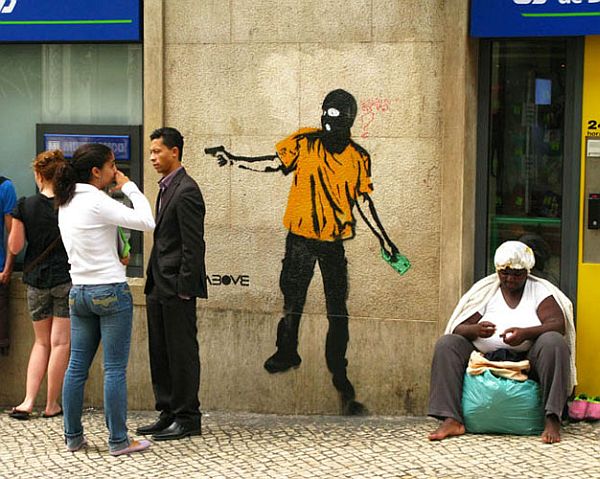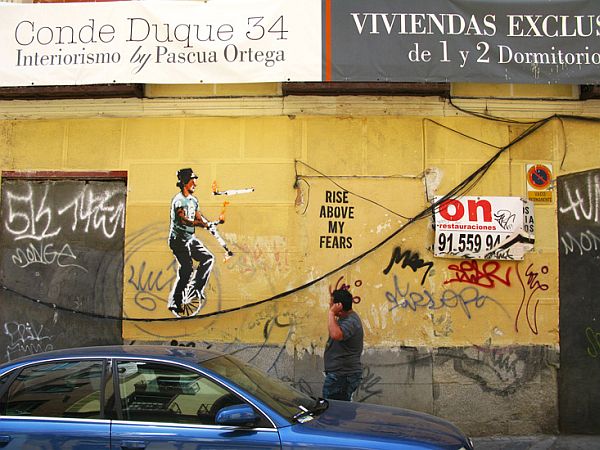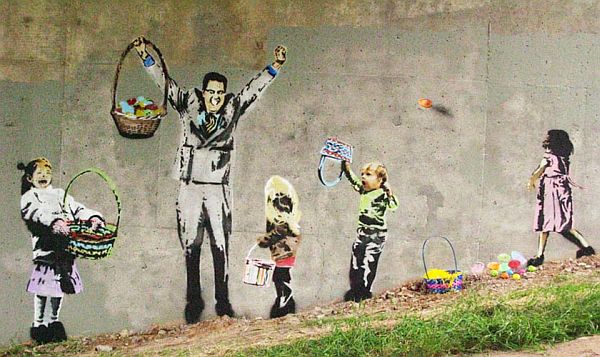 You can clearly see how Above evolved into so much more than just a graffiti artist that does tags on trains. These works have meaning and message. The first one can be seen as a critique of the school system, and how it stamps out creativity; the 2nd one is about the large unemployment rate that Spain faced in 2012; and so on.
Playing With Words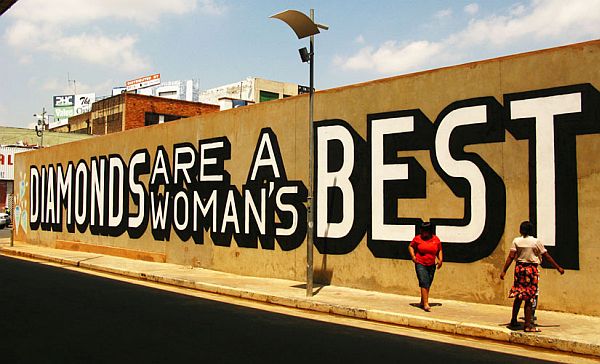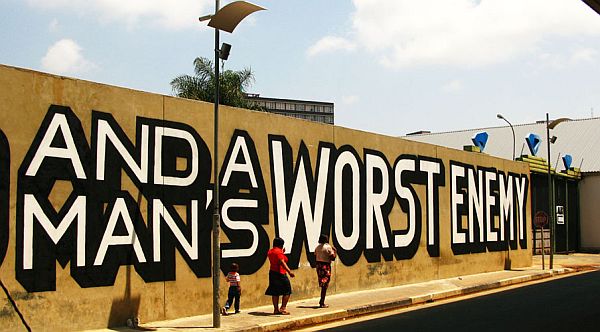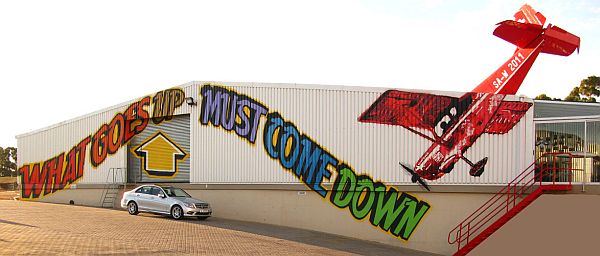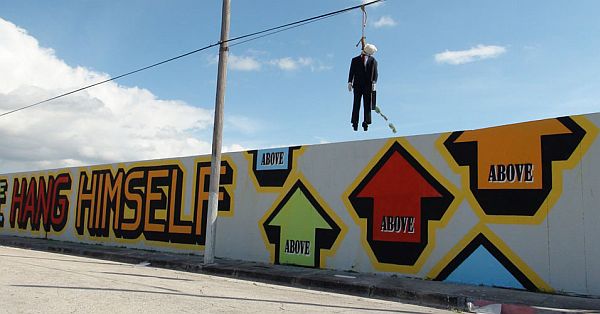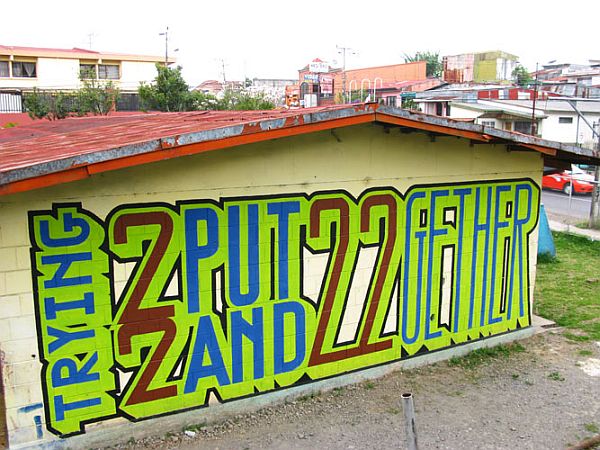 You'll probably recognize the first two and the fourth ones as being his most controversial works. Numbers 3 and 5 are, on the other hand, not satires or critiques. The 3rd one is a work commissioned by Fairhills Winery, which is one of the largest fair-trade projects in the world, putting in in direct ideological opposition with Jewell City, and the 5th one has a really cute story: "This Word/Play was painted on the outside of a 4th grade classroom. While the young students were inside learning how to put 2 and 2 together, I was outside trying my best to do the same!"
Arrows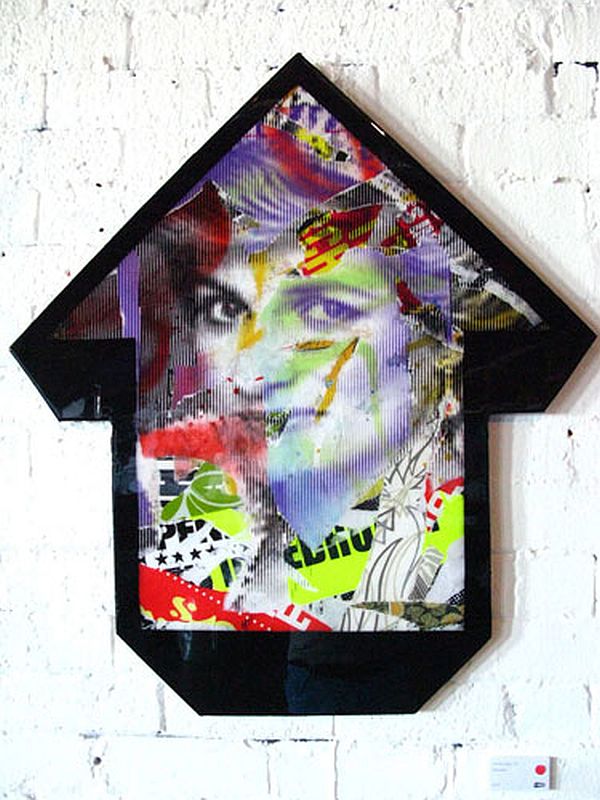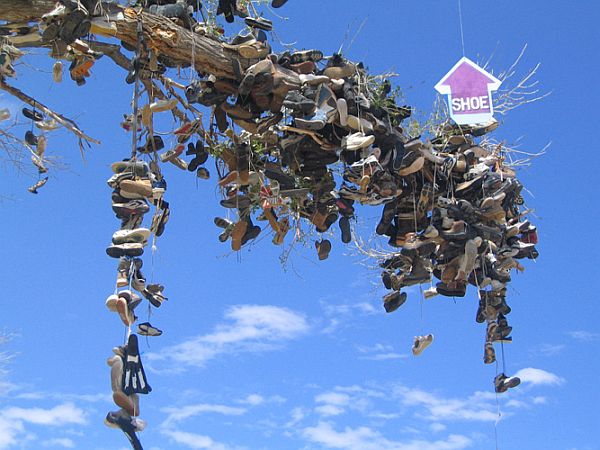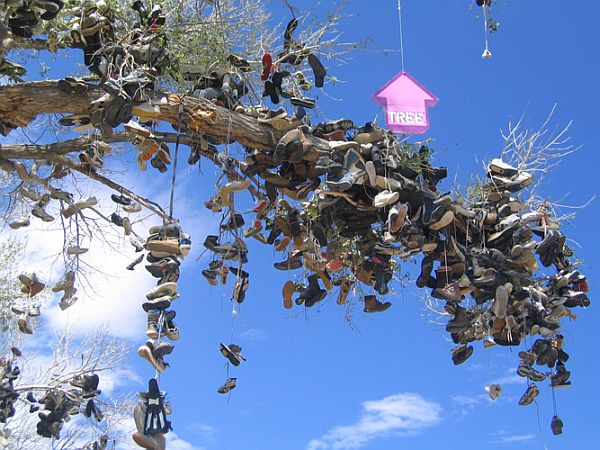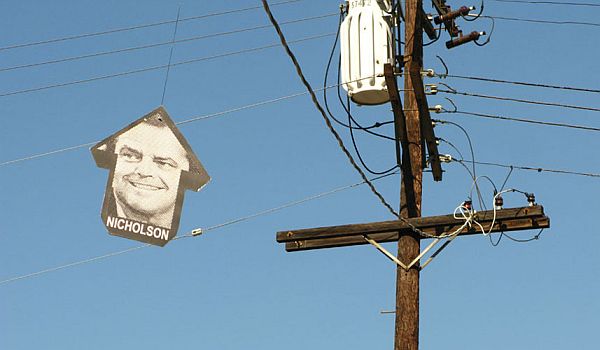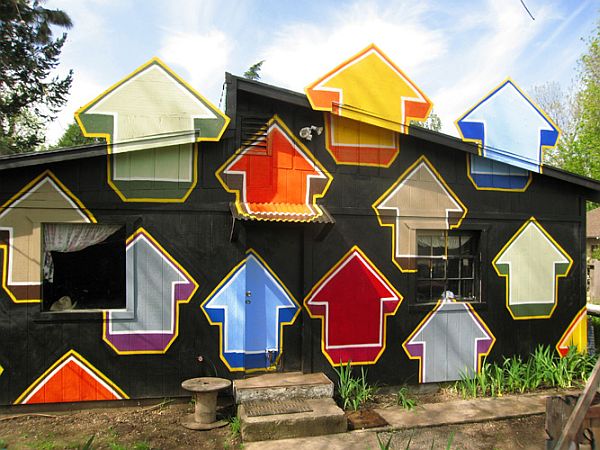 Arrows are Above's leitmotif, so it stands to reason that they have their own dedicated section. As you can see in the last picture, some of his arrow projects are really quite ample. That one, for example, is a friend's house he painted.
The Princess Diana arrow is from the "Here Today, Gone Tomorrow" exhibition, it's one of several arrows depicting people that died young. The one with Jack Nicholson is also part of a series of arrows with famous people on them, that the artist hung on Hollywood Boulevard, and the ones in the "shoe tree" are part of his word play installations.
It was truly a pleasure researching this unique artist, and we hope it was a pleasure for you to read our short presentation. Be sure to check out his website for more stunning works, and share what you like in the comment section below.
(Visited 888 time, 1 visit today)