This tutorial shows you how you can make sun rays in Adobe Illustrator, I'm using the CS3 version.
Before you start make sure you set your Fill color to None and Stroke color to Black or whatever color you prefer.
ADVERTISMENT:
The Best Deals For Digital Design Assets - InkyDeals.com. Learn More>>

Step 1 Your draw a circle. The one I drew was 100 px in diameter.

Step 2 Select Window>Stoke (Ctr+F10) to bring up the Stroke Panel and click on the Show options to view all the Stroke options.

Step 3 Now increase the Stroke Weight until you get something similar to a circle. For a diameter of 100 pixels a weight of 100 pixels should do it.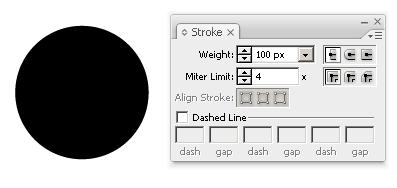 Step 4 Now Click of the Dashed Line option and… tadam!!! You have your Vector Sun Rays. But what if you want to spice things up?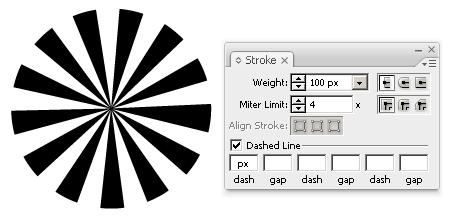 Step 5 You play with the Dash/Gap Values!
Let's try a 3-4-1 setting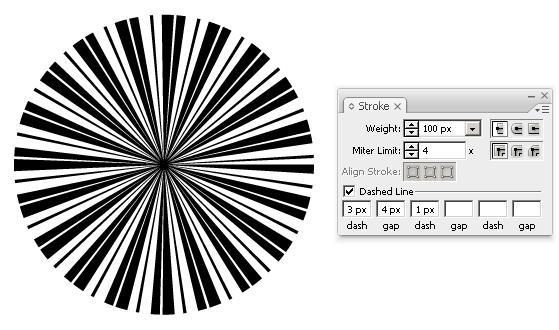 Now a 5-3-2-1-12 setting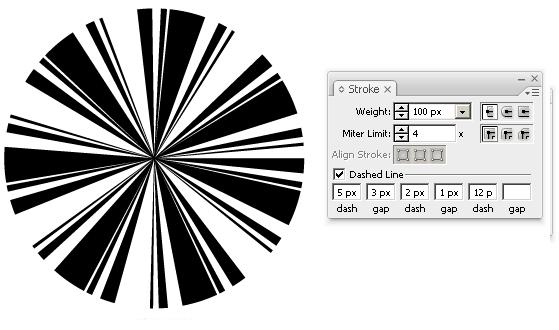 Make sure that before you use your customs sun rays you expand your circle by using OBJECT>EXPAND from the menu bar.
As you seen you can get some real funky, retro vector sun rays for your backgrounds in less than a minute. Your Vector Sun Rays are ready to be used in your backgrounds. You can easily add a Radial Gradient in Illustrator to add a bit of dept. You now have a cool background for your next illustration .
Keep a close eye on our blog for more Drop-Dead Tutorials.
Do you want to learn more about how to work with Photoshop?
See our Illustrator and Photoshop tutorials. They are all FREE. Also check all Free Vectors Category.
(Visited 18,999 time, 2 visit today)