Package design may not sound too glamorous, but we suspect everyone's been wowed once or twice in their life by an unusual and cool way to present a fairly unremarkable product. If you do some research, you'll be taken aback by what some very talented designers have thought up. The problem is, as a design consumer, once you spend a couple of hours among these products, you start feeling that you may have seen it all. Multiply that feeling by a thousand and you may be close to what actual product designers are up against constantly. But somehow, the job gets done.
Here are some of our most recent finds in the world of package design for 2013. We found that it's important to tell a story through well-designed characters or somehow awaken people's collector's streak through well-designed, quality elements of pop culture. We hope they'll provide design inspiration for your present (and future) design endeavors.
ADVERTISMENT:
The Best Deals For Digital Design Assets - InkyDeals.com. Learn More>>
1. Pulp Friction
Under the Pulp Friction logo – a fictional company addressing young movie-goers particularly, since these beverages would be sold exclusively in movie theaters – stands a line of healthy drinks that don't look like healthy drinks. That is to say, they don't play on that attribute of theirs. Instead, designer Woody Harrington and art director Alice Drueding thought of the most iconic (old or recent) films they could incorporate into the design of a juice can. The result is spectacular. The soft drinks' flavors reference David Lynch's Blue Velvet (Blueberry Velvet), Hitchcock's Dial M for Murder (Dial M for Mango), The Silence of the Lambs (Silence of the Limes) or Darren Aronofsky's recent hit Black Swan (Blackcherry Swan).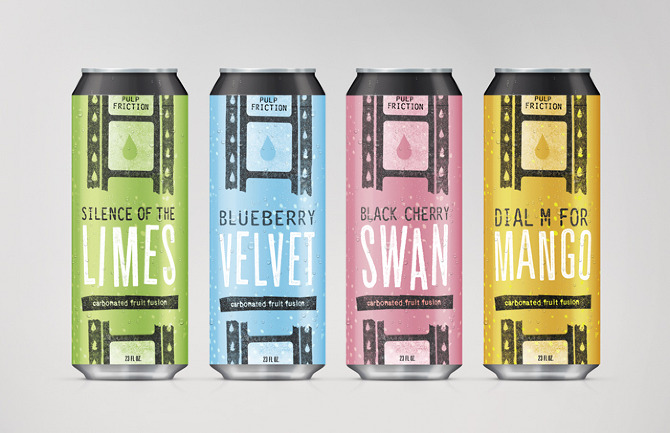 2. Double Coffee
"A fancy brand of coffee shops", Double coffee, gets some dynamic elements going with their takeaway coffee cups. Grabbing inspiration from classic arcade games such as Pac Man or plain vintage video game graphics, these coffee cups come alive. By moving the cardboard sleeve around the cup, you get fun animation effects that can't do anything other than elevating your spirits. Eye-catching and good to play with, we'd feel bad to have to throw the cups away after finishing our coffee.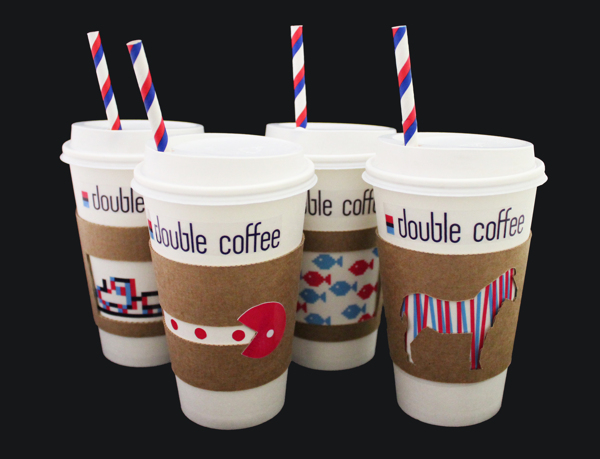 3. Hell's Mouth
A line of sauces that means business uses no more, no less than the concept of barbecue as a sin. A student project by Eric Lowery, he devised a strategy centered toward a fictional restaurant called Hell's Mouth, which specializes in serving stakes. Hell's Mouth was founded by a priest wanting to become chef, and transferring his faith and devotion onto his products.  The copy may go a little too far with its fictional biblical references, but the illustrations are great and the concept itself is definitely inspirational.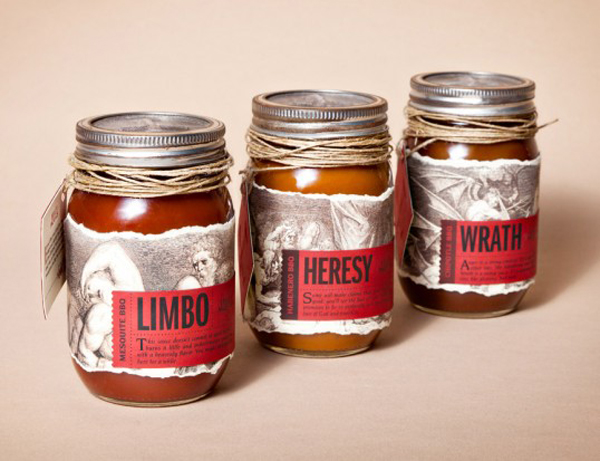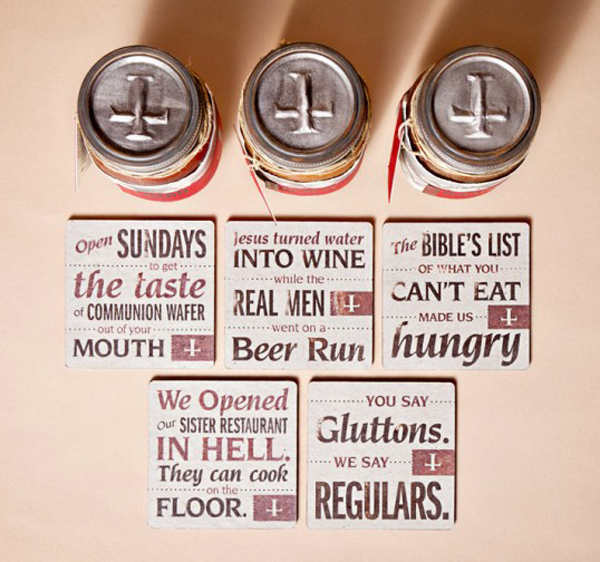 4. Naughtea
Vintage design never seems to go wrong. And may these photos be newly taken or just made to look that way, it doesn't matter. Add some colors to the mix, as well as some delicious flavors, both in terms of aroma and their clever naming attributes and you have the ingredients for this charming package for tea – one for each of your moods and personalities. Another student project –  redesigning the British High Street through a tea shop – that we hope will somehow take off and get made. The different varieties of tea include Naughtea, Serenitea, Royaltea and Intensitea, paired with descriptions of how they taste and when you should drink them.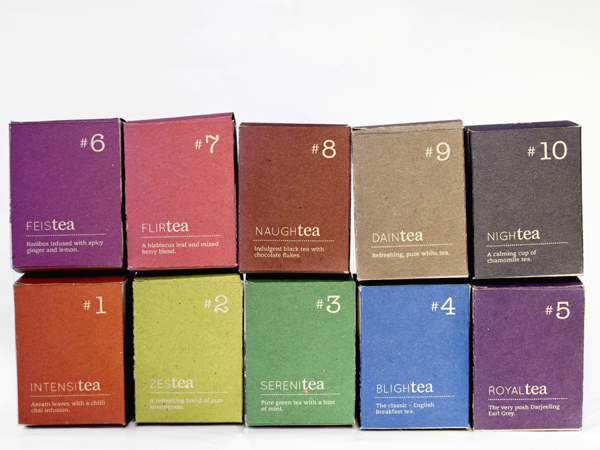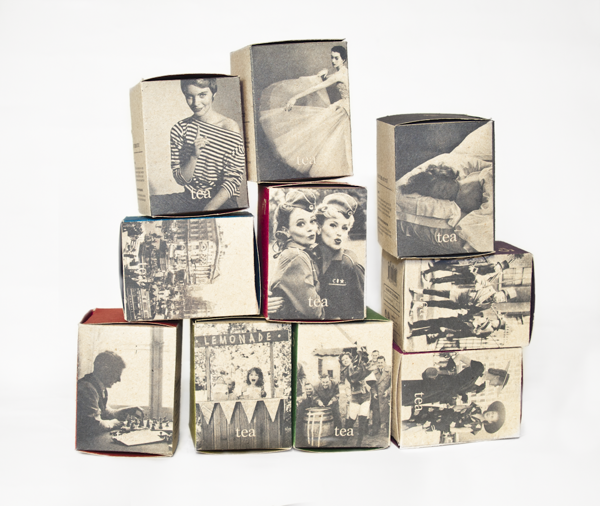 5. Małopolska's Red Corals Box
Pretty self-explanatory, this great way to box a string of luscious-looking beads lets you immediately see what they'd look like on you. The portrait you see on the cover belongs to Polish painter, illustrator and designer Zofia Stryjeńska, a known promoter of art deco style at the beginning of the last century.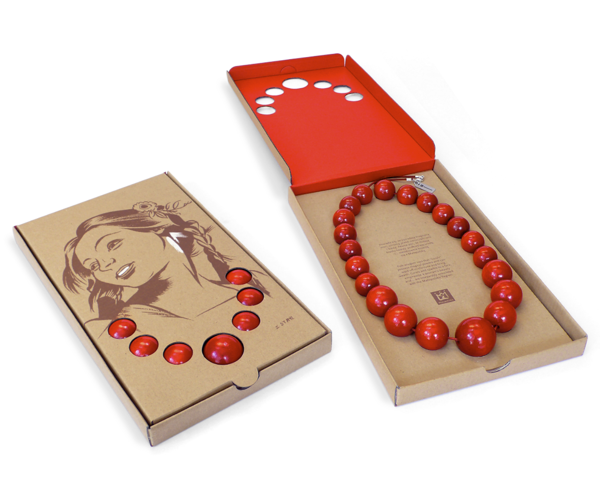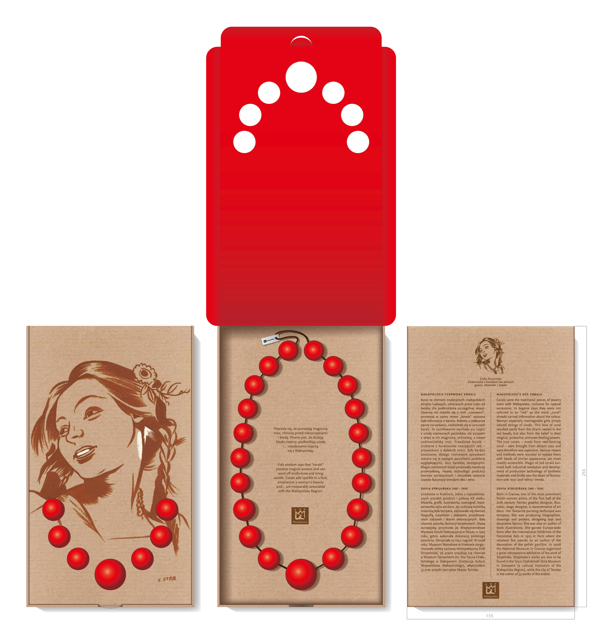 6. Délices de Michèle
A creative way to use fruit photography with fun illustrations was used for this line of French jams. The result is both inspiring and inviting. Especially when thinking of children – besides promoting healthy, natural treats – the design is likely to entice their imagination and generate a preference over the "traditional" Nutella or peanut butter jars.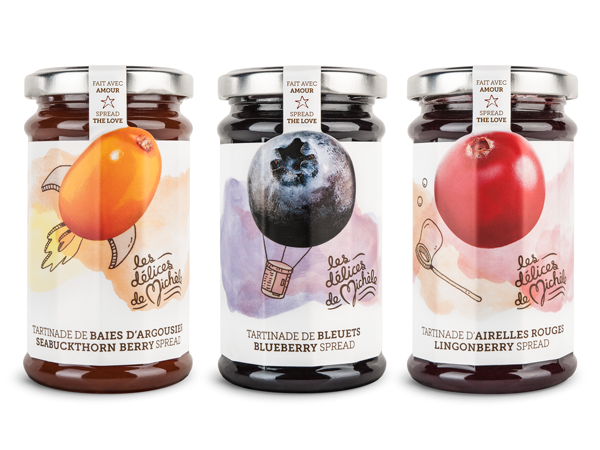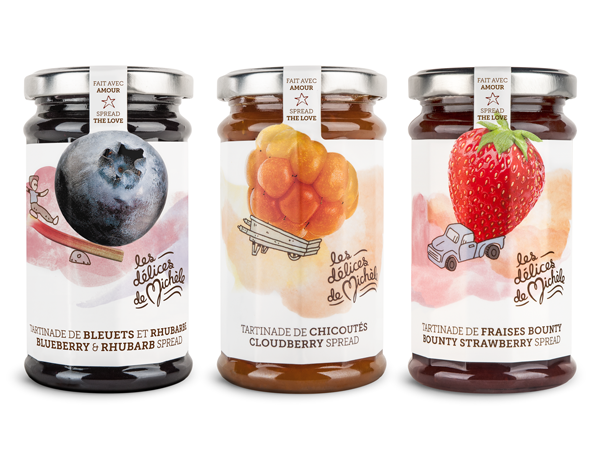 7. Ginsters Reinterpretation
Have you ever seen ready-made supermarket sandwiches packaged so beautifully? The three varieties – pork, tuna and a special kind of cheese – come with characters of their own, made to reinforce The Cornish Farms tradition. Beautiful pastel colors and a creative way to let you take a look at the sandwich itself make for a delicate invitation to take it out to lunch.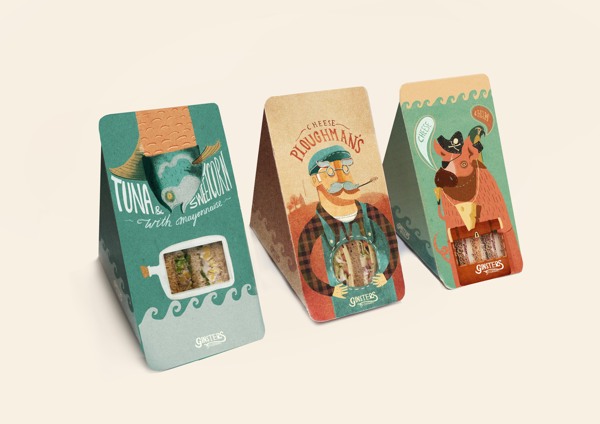 8. Gaga Tea
Whether you're a fan of Lady Gaga or not, it shouldn't influence your appreciation of this great conceptual teabox design. Inside there are 10 different flavors of tea, each with its own title and designated Lady Gaga character. Among the tea blends are the odd-sounding Meat Maniac (you remember the meat dress she showcased at an awards ceremony in 2012) – we're curious as to what that tea tastes like – or Diet Coke Dar(jee)ling (reminding of us of one of the hairdos she wore in the music video Telephone). Apparently, as the artist Nathalie Hallman specifies, Lady Gaga is quite the tea aficionado herself, so this tribute is very appropriate.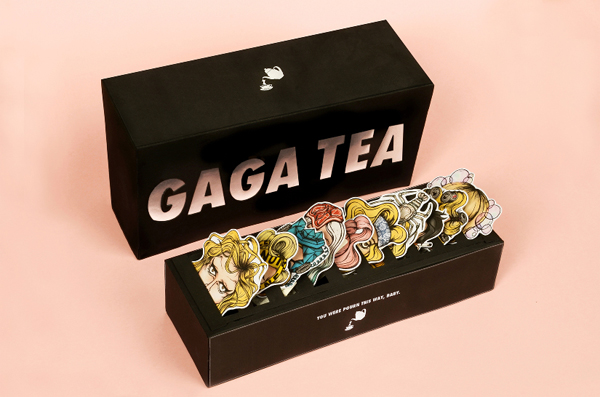 9. Madonna Dell/Olivo
Here's an elegant design for an olive oil bottle that you may mistake for a bottle of wine. Taking a subtle approach to incorporating its brand into the product's packaging, the designers focused on shape and imagery to get their point across.We liked the texture of the label and the elastic strap used to cover the eyes of the main feminine figurine. She represents the matron of the Italian farm that produces the oil – the approximate English translation would be Our Lady of the Olive.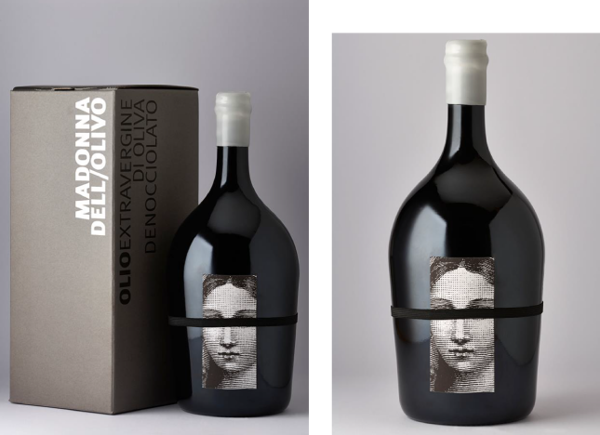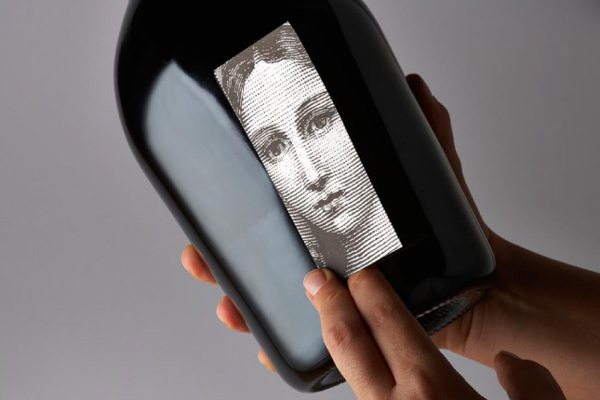 10. Le Chat
A French brand of beer granted the Isabela Rodrigues Sweety Branding Studio complete freedom "to break paradigms and delight your eyes" through a new package design for Le Chat beer. Cats and beer don't really go together when you think about it, but this package provides more than that. It succeeds in making beer appear elegant and sassy. The vibrant colors, the elegant font and the cat logo really might seem out of place when considered two and two together. But as a whole, we think it works, and works well.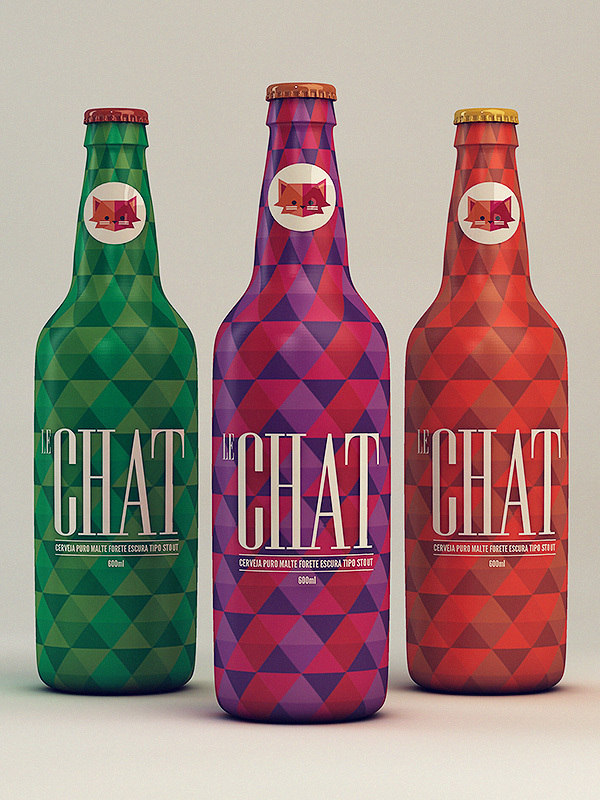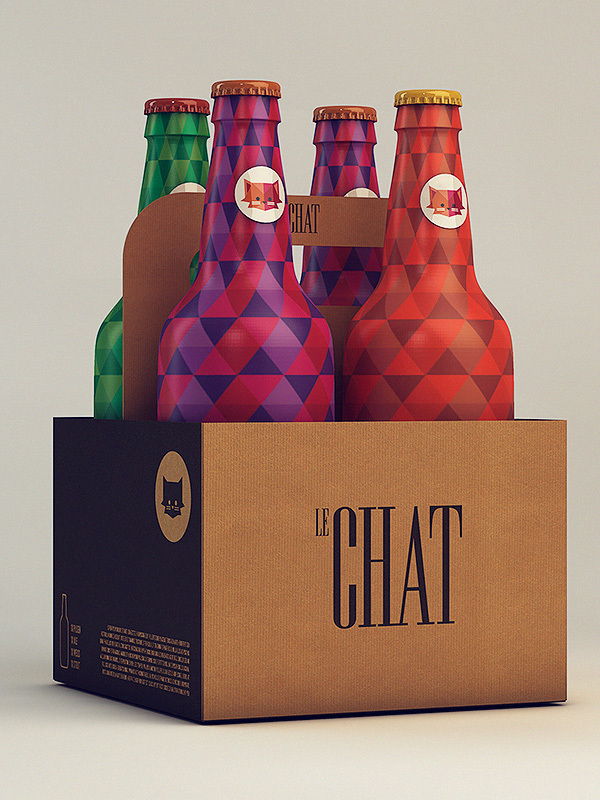 11. GT Cool Mints
This is a stylish package that doesn't need much commentary, since both the idea and the execution speak for themselves. A series of three collectible Grand Touring mint tin-boxes gives it a wonderful retro feel, mostly due to the beautiful watercolor illustrations by artist Stefan Marjoram. By purchasing two of the larger-edition boxes, you get a complete representation of one of three vintage automobile models – Firebird, Fafnir and Bugatti.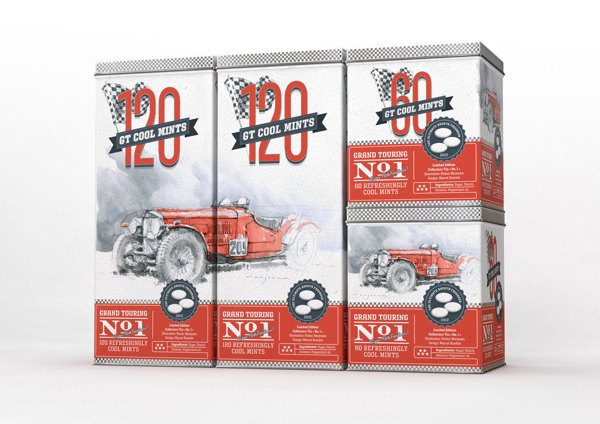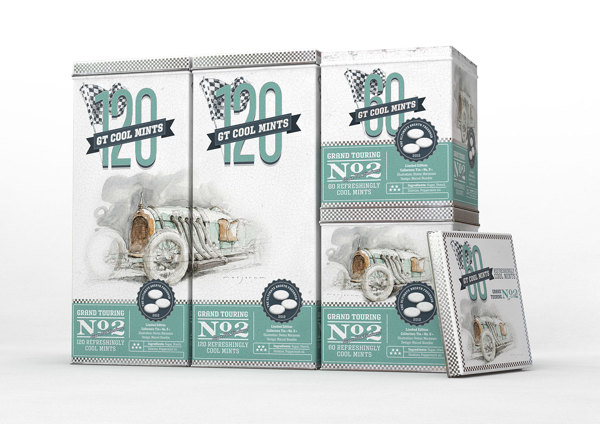 12. Bla-bla Cookies
Russian designers have found a fun way to depict office gossip and associate a tasty treat with office breaks. This product is directed at office employees and the design showcases three characters, hungry for cookies and… sharing information. When you can't chit-chat during work, you'll have to make do with your cookie break. (Not to get political on you, but why do you think a male character wasn't included in this story line?)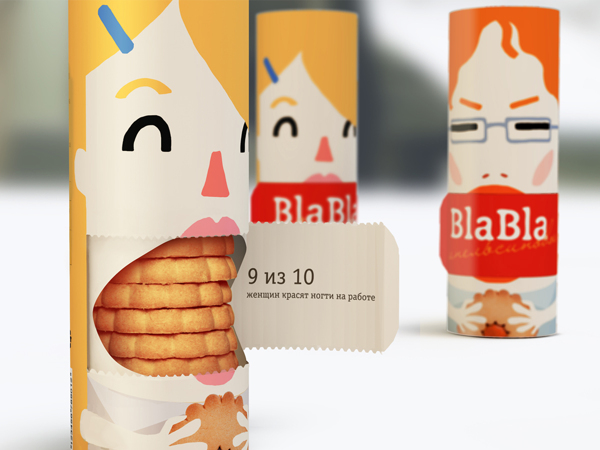 13. EarSkinz
Ok, so you probably won't buy these ear buds just to keep the package, but isn't it a very well-done mode of presentation? Believe it or not, the idea first came from one of the most famous painters of all time. That's right, we're talking about Van Gogh's ear. Imagine telling your client just that. The artists themselves say what important was for the client to agree to what sounded like a risky idea, harder to put into practice than you might think. The end result is both engaging and visually pleasing.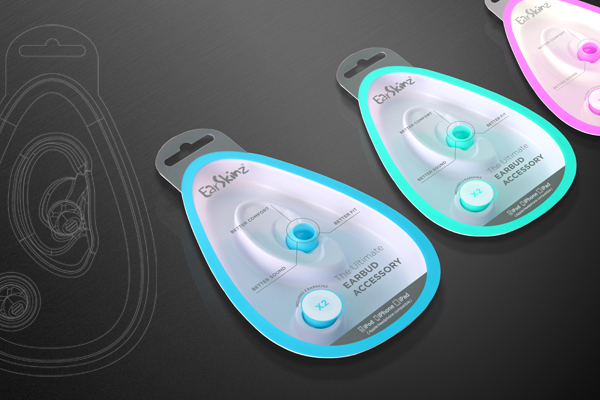 14. Jaw Drop Coolers
Bold colors on a metallic foundation bring to life a series of comic book illustrations, suggestive to each of the flavors these vodka coolers'have in store for us- this packaging is one of the eye-catchers of the list. This series is likely to arouse that collector's spirit in most of us, and you'll probably want to give all the flavors a try – how do Sucking Lemons, Puckering Punch (fruit punch), Biting Oranges, Licking Limes or Squeezing Melons sound, if not appealing?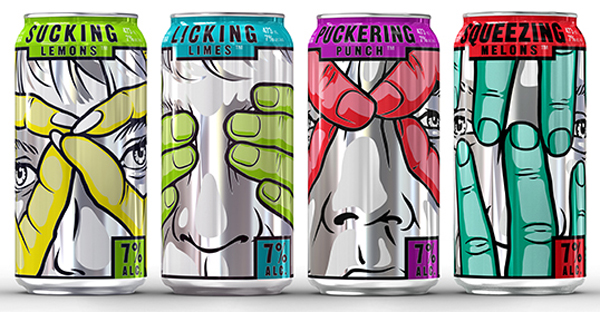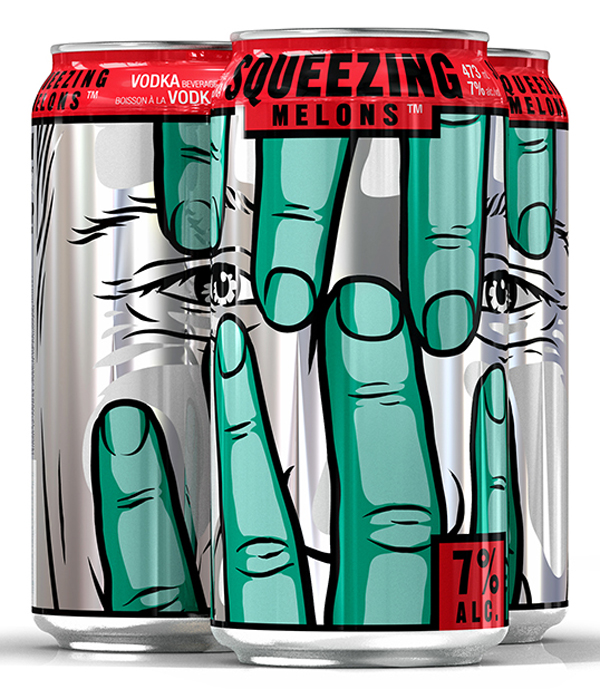 15. White Artisan Playing Cards
One of the most carefully crafted pack of playing cards you could find, The Artisan White Edition playing cards has been released in 2013 to compliment the Black Edition that has been on the market for a year or so. Apart from its beauty, this packaging is made exclusively out of organic, sustainable materials.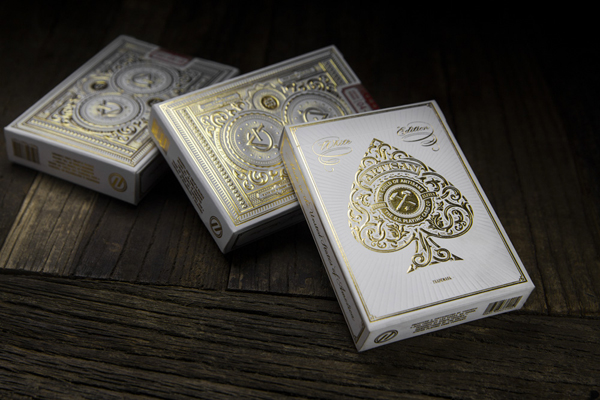 16. The Four Fat Ladies
Here you have another imaginative way to wrap cookies. Contrary to today's rigid notions of beauty, in the past having a little extra-weight was nothing to be ashamed of. The "puffier" you were, the better-off you seemed to be because you could afford consuming various kinds of food in generous quantities. Fast-forward to the present and you'll find a brand of cookies capitalizing on this attribute. Cakes or biscuits become even more appealing when endorsed by four ladies who seem to know their way around good baking products.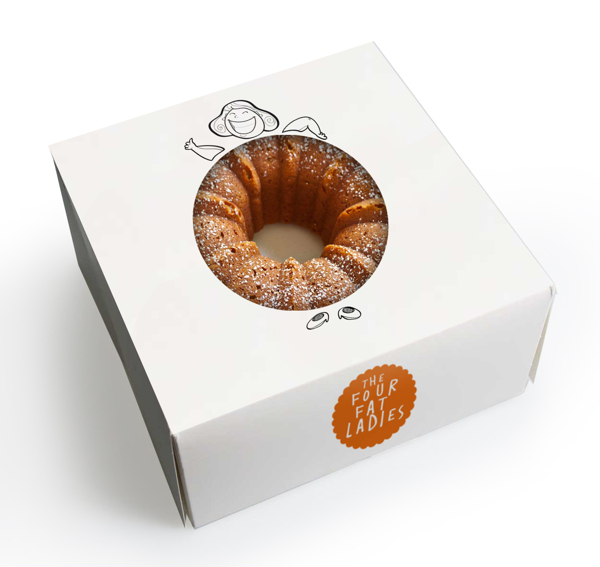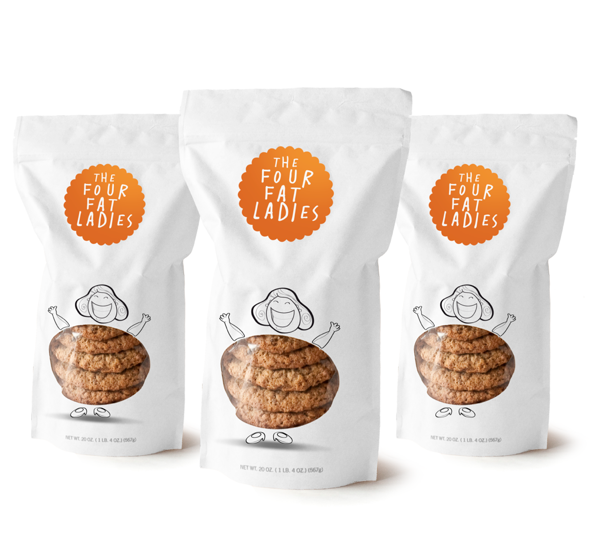 17. Heartland Breakfast Cereal
A new approach to packaging breakfast cereal that succeeds, The Beehive Honey Squares look pretty delicious. Lacy Kuhn delivered a fun design that's also effective, making you want to forget the milk and eat them right away, like the bear seems to be doing. The marketing strategy as a whole envelops a few more layers – each box of cereal is supposed to be named after an American state (Utah is also known as The Beehive State), while also providing further educational info, a few main characteristics of that state.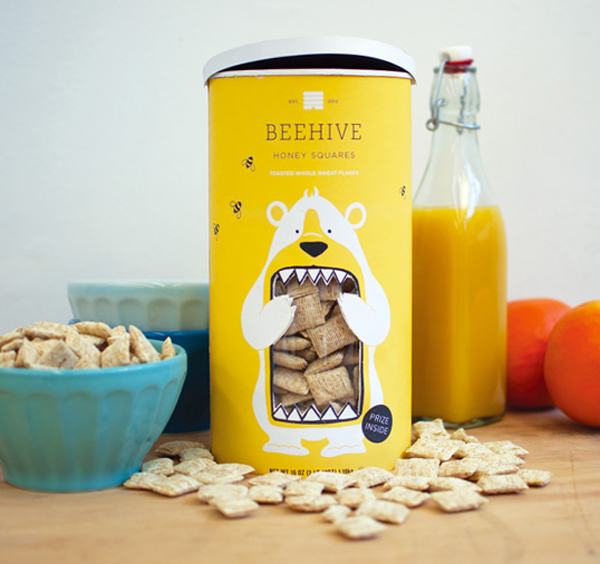 18. Illegal Burger
Two unrelated environments brought together not just in one package, but a whole branding campaign. The crime world has little to do with the fast food industry, but this combo seems to work just fine. Combining minimal design with funny, playful illustrations that tell a story is often a recipe for success. Illegal Burgers will surely be a concept to talk about, rich in its potential of supplying further product ideas.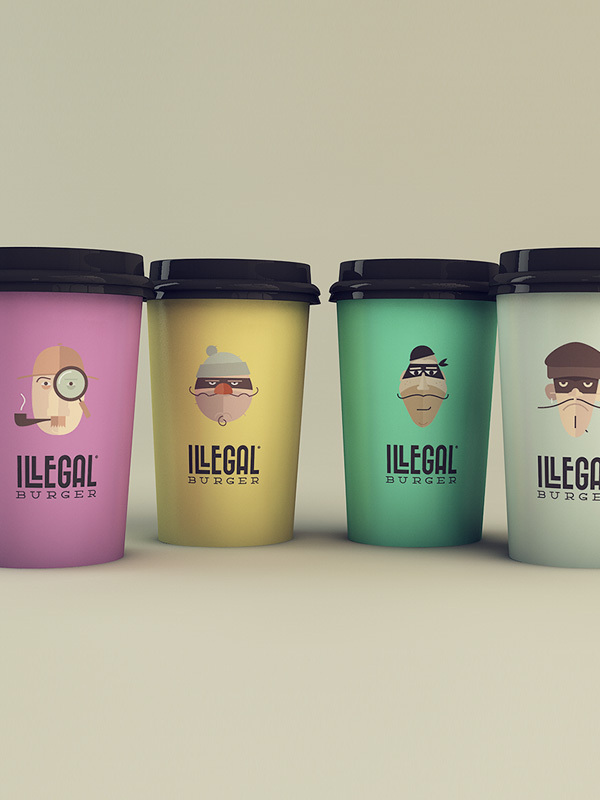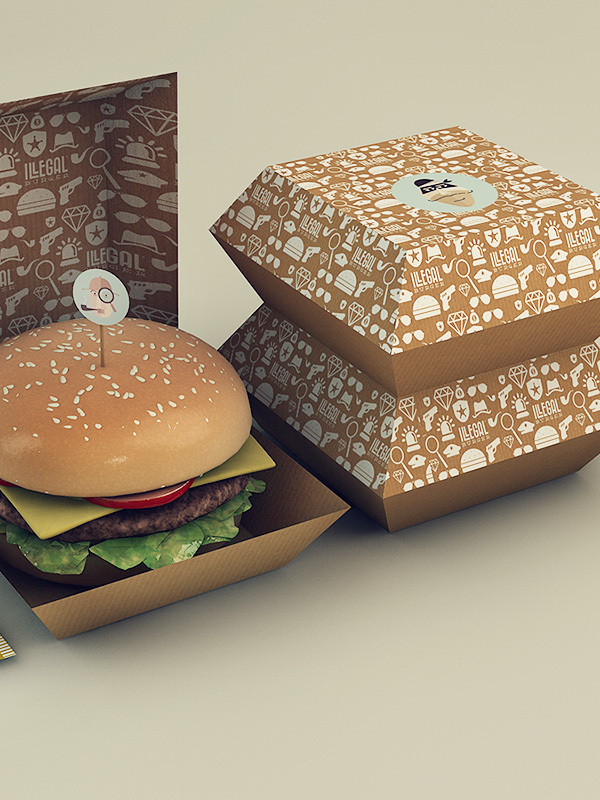 19. Healthy Pizza
A student project design by Sue Taylor, this pizza bag looks much more attractive than your usual box. It's also more practical, since it doesn't take so much space and is easy to carry around. Keep in mind that the product is chilled pizza you find at the supermarket, so none of the toppings would suffer any damage by being wrapped vertically. A natural, unaltered look is used to suggest a healthier variety of pizza than the dominating, flashy fast-food option.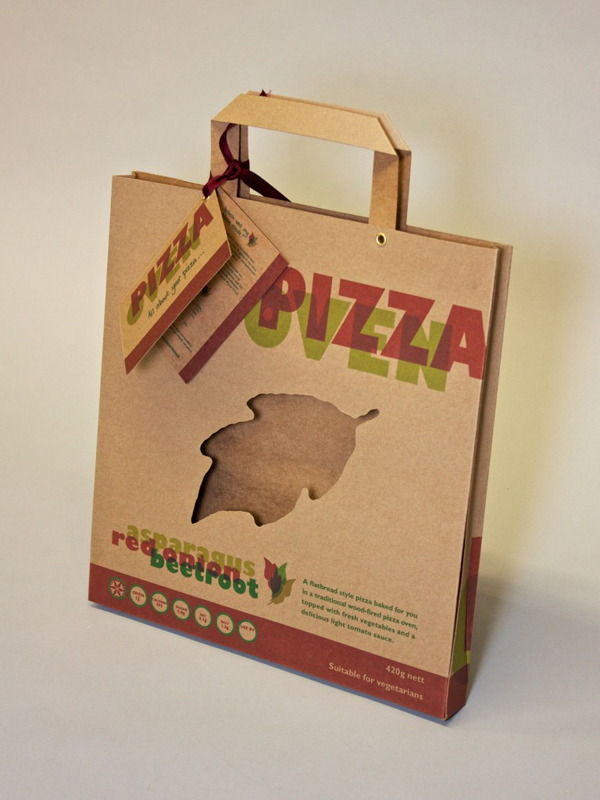 20. Midnight Drinks
A revolutionary way to make cocktails comes in a colorful box made to please both aesthetically and practically. One big advantage is the fact that anyone could make cocktails on-the-go, thus popularizing a pub-bound drink. And whether you already know you like your cocktails or you don't just yet, this packaging is sure to make you curios. Mixing different images of fruit specific to the type of cocktail you want with geometric shapes, originating in a different way of interpreting letters, namely M and N – the product's name being Midnight Drinks.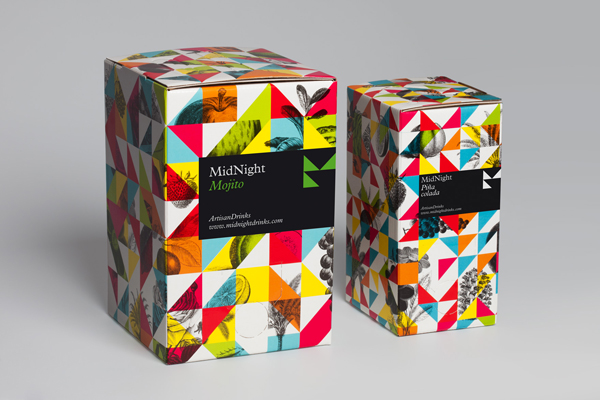 The highest achievement a package can be credited for is becoming the sole reason of the product's purchase. Now that we've seen the best of 2013 (so far), apart from what level of design inspiration you got from this article, which of these products would you buy only for the "wrapping"? Or, at least, which package would clearly influence your attitude towards a potential purchase? Designers or not, we are all consumers after all.
Let us know your favorites in the comments section below!
(Visited 1,522 time, 1 visit today)