We can't say for sure if "Vintage" is a trend or a recurring phenomenon that happens once a style has been gone for a long enough while. The word itself has its roots in Latin, of course, the original word being "vindemia", which loosely translates into "to take grapes".
Furthermore, to give you a short linguistics lesson, it is an Anglo-Norman alteration of the French word "vendange", which neatly brings us to the topic of today's article.
ADVERTISMENT:
The Best Deals For Digital Design Assets - InkyDeals.com. Learn More>>
The vintage posters you are going to see in this article are made by David Rebon, a graphic designer and illustrator from Paris, France. David is a graduate of Intuit Lab, specializing in Graphic Design, Typography, Editing and Advertisement.
His professional career began in 2009, at BDDP & Fills, where he worked for clients such as Cadbury and M6. Since then he has worked at several other companies, including JWT, adding clients like BMW, Nokia, Bayer, Mazda and Nestlé to his resume.
In this article, we will be showing you 12 of his song-inspired vintage posters, and we will also talk about them a little as we go along. Sit back and enjoy.
1. Hey Ya! by Outkast (Andre 3000)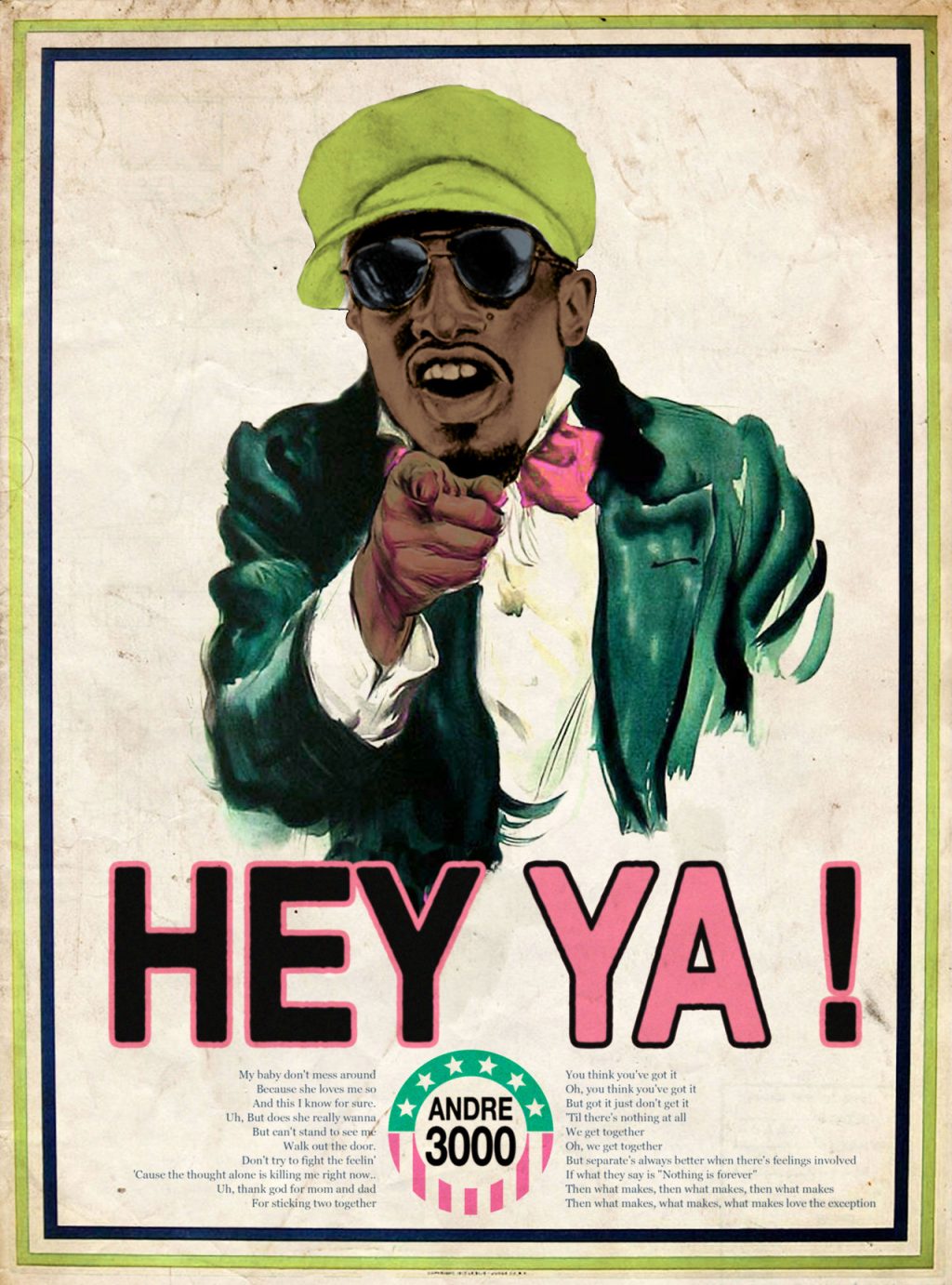 It seems hard to believe that it's been 13 years since Outkast's Andre 3000 made us race for the dance floor with his iconic hit, "Hey Ya!". The song is off the duo's double album "Speakerboxxx/The Love Below", each of the members working solo on one part of the album, so "Hey Ya!" can be found on "The Love Below", which is Andre's half of the double album.
It was praised by critics and fans alike, reaching number 1 in the US Mainstream Billboard charts, and it also received a Grammy Award for Best Urban/Alternative Performance.
2. Stronger by Kanye West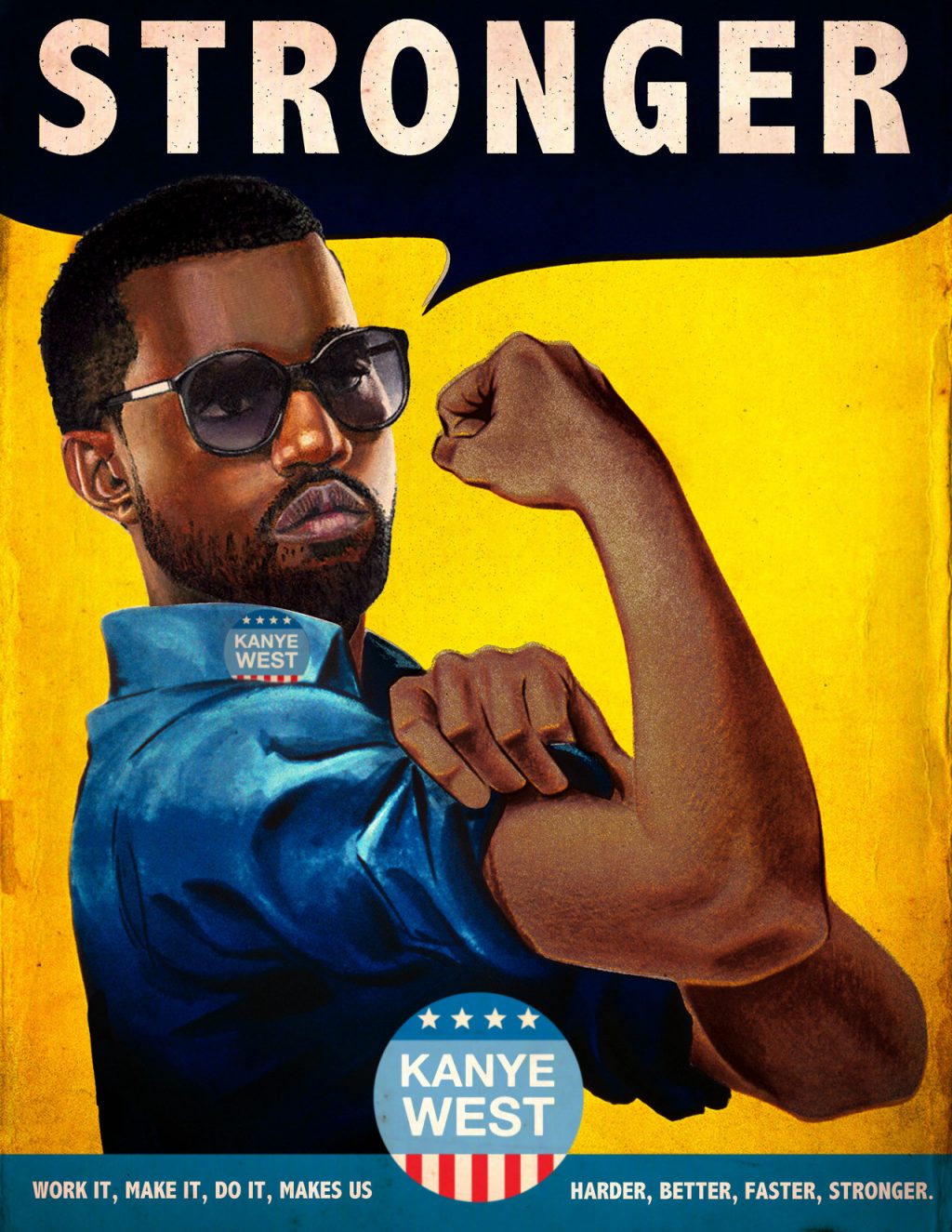 We've seen this poster pop-up quite a few times in our News Feed, so we imagine that you are probably familiar with it, too.
The song "Stronger" by Kanye West is an odd little number, seeing as you can immediately recognize it as being, essentially, Daft Punk's "Harder, Better, Faster, Stronger", but even "Harder, Better etc" was itself based on a different song, called "Cola Bottle Baby", by Edwin Birdsong. Kanye's "Stronger" was released in 2007, and it slowly climbed its way to number 1 in the US Billboard charts. The song also got Kanye West a Grammy Award for Best Rap Solo Performance.
3. Come as You Are by Nirvana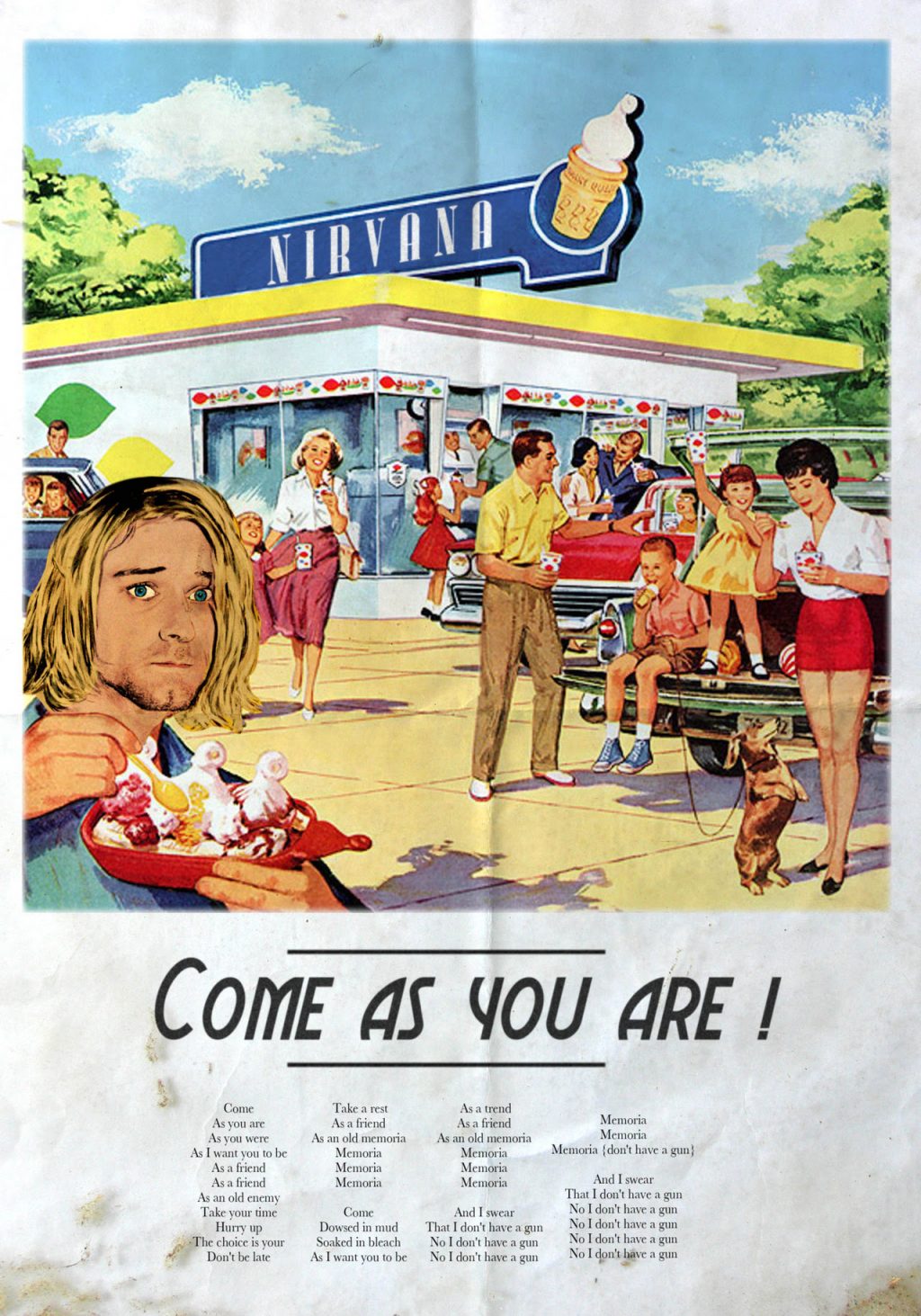 Nirvana are one of the most influential bands that ever existed, so this list had to include at least one Nirvana song (spoiler alert: it contains two).
Nirvana's 1991 breakthrough album "Nevermind" contained most of their most famous songs, one of which is the song "posterfied" here. "Come as You Are" is the second single off the album, and it was released in 1992. Although nowhere near as successful as "Smells Like Teens Spirit", the song performed decently in the charts, peaking at number 9 in the UK charts, and maintaining Nirvana's popularity.
4. Smells Like Teen Spirit by Nirvana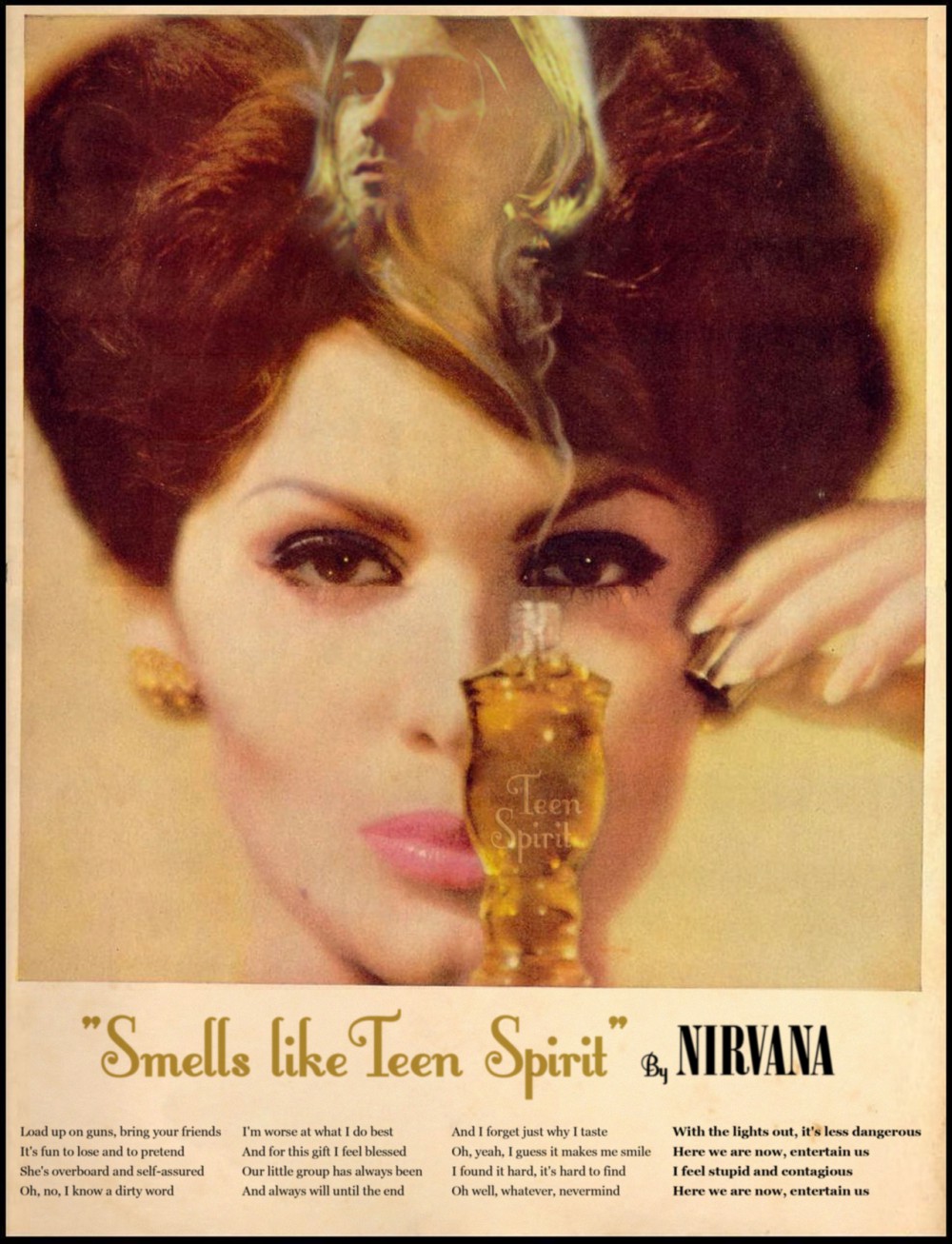 You didn't think we were going to put "Come as You Are" on this list, and not put "Smells Like Teen Spirit", did you?
"Smells Like Teen Spirit" is Nirvana's highest grossing single, the track that brought them worldwide acclaim and made them a household name. The song was released in 1991, and has not stopped receiving acclaims ever since, being constantly hailed as one of the greatest rock songs ever made, and an anthem for 90's generation.
5. Gin & Juice by Snoop Dogg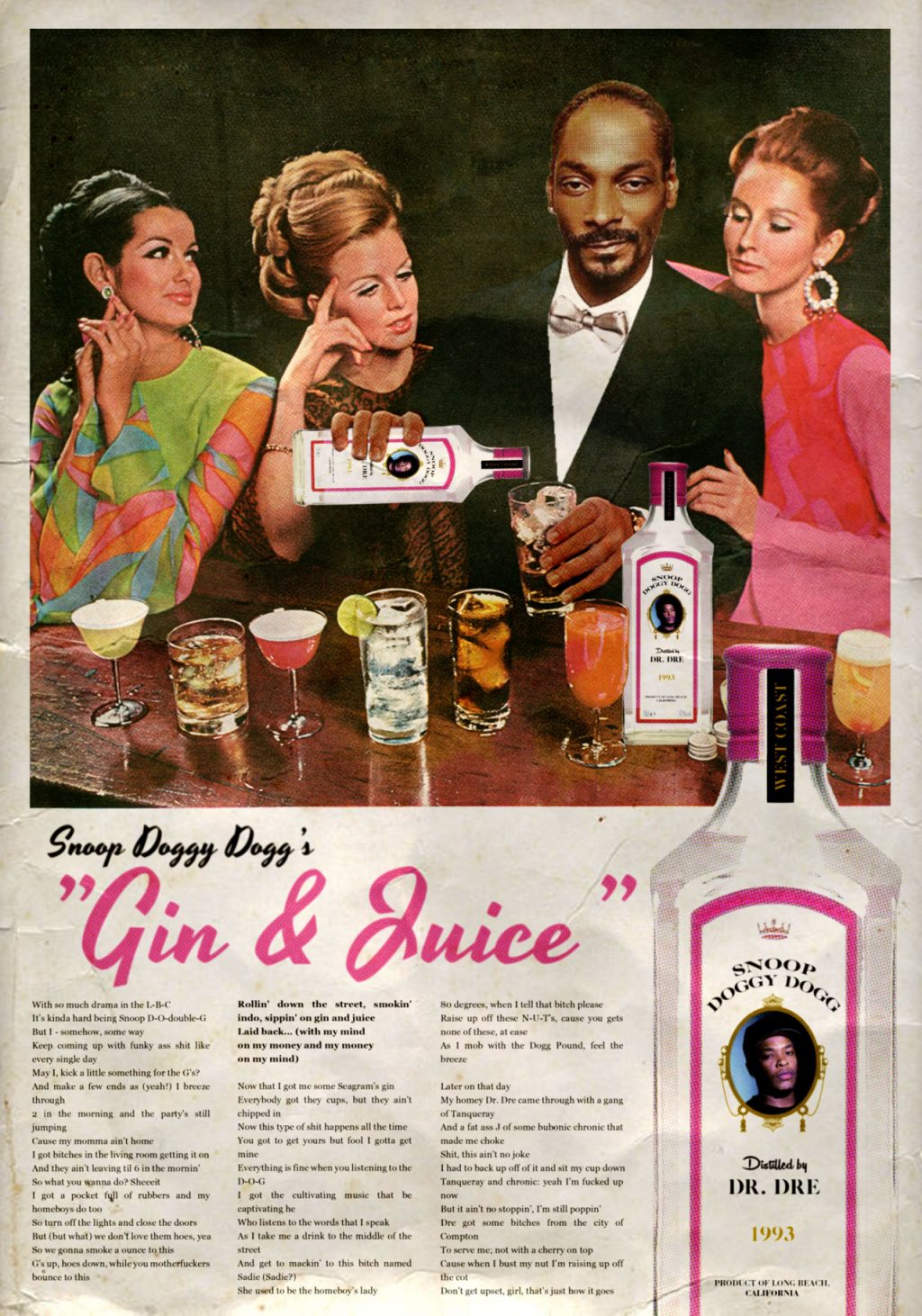 Veering away from the world of rock & roll music, we now enter the world of old school hip-hop with this nifty poster for Snoop Dogg's "Gin & Juice".
For many people, Snoop Dogg is synonymous with rap, and "Gin & Juice" is one of his most famous songs. Released in 1994, the song peaked at number 8 in the US Billboard Hot 100 chart, and also got Snoop a Grammy Awards nomination for Best Rap Solo Performance. The song has been covered several times, most famous of which being Richard Cheese's lounge version, released ten years later, in 2004.
6. So Fresh, So Clean by Outkast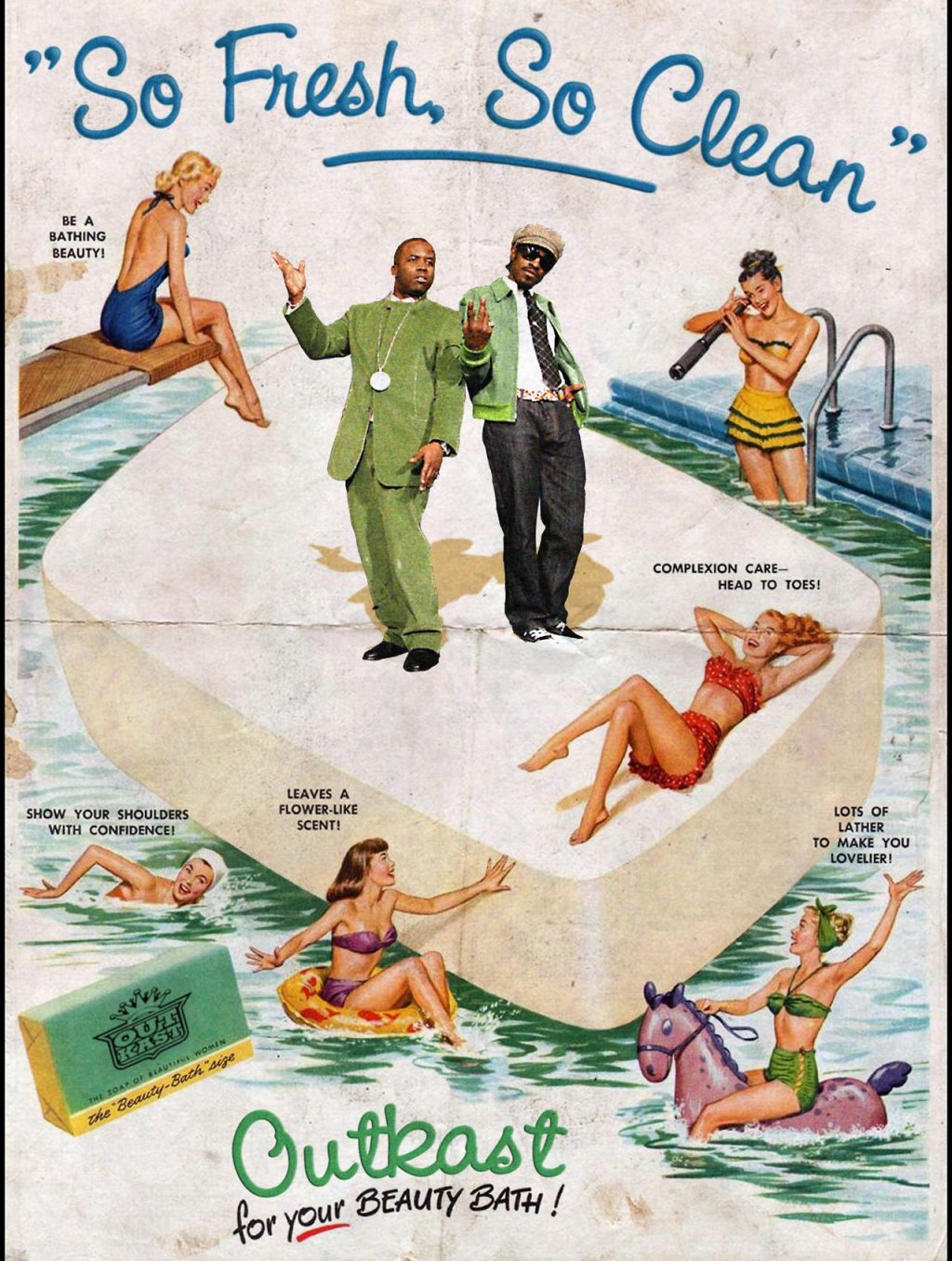 Outkast's second entry on our list is a slightly less successful song than the other entries, but we definitely love the track.
"So Fresh, So Clean" is the third single off of Outkast's fourth album "Stankonia, and it peaked at number 30 in the Billboard charts.
7. Beat It by Michael Jackson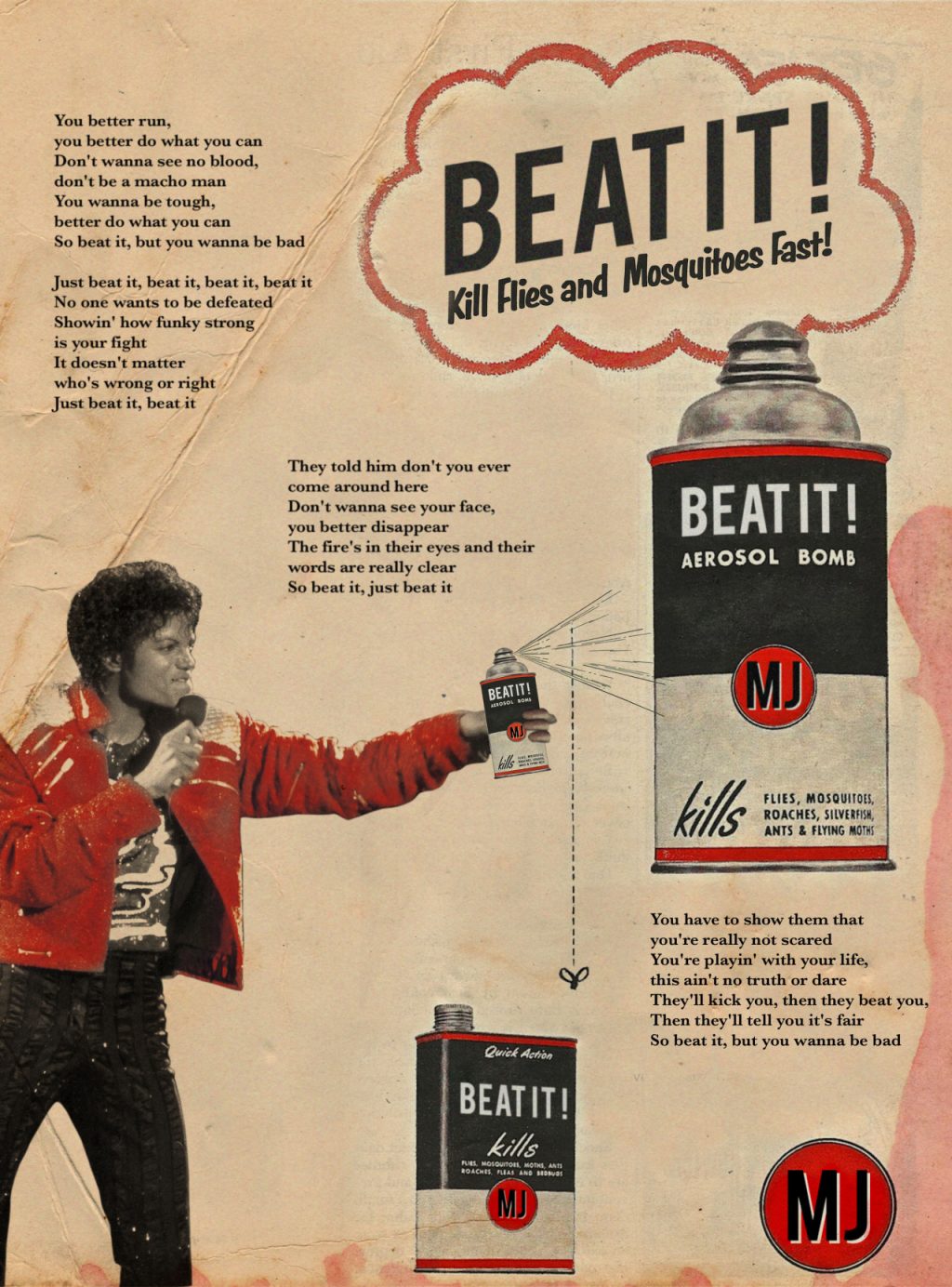 Now, what self-respecting list that has "iconic songs" in the title wouldn't include a Michael Jackson song?
Released in 1983, Michael Jackson's "Beat It" is the third single of his hugely popular album "Thriller". The song received Grammy nominations for Record of the Year and Best Male Rock Vocal Performance, and went platinum in 1989.
8. Get Free by Major Lazer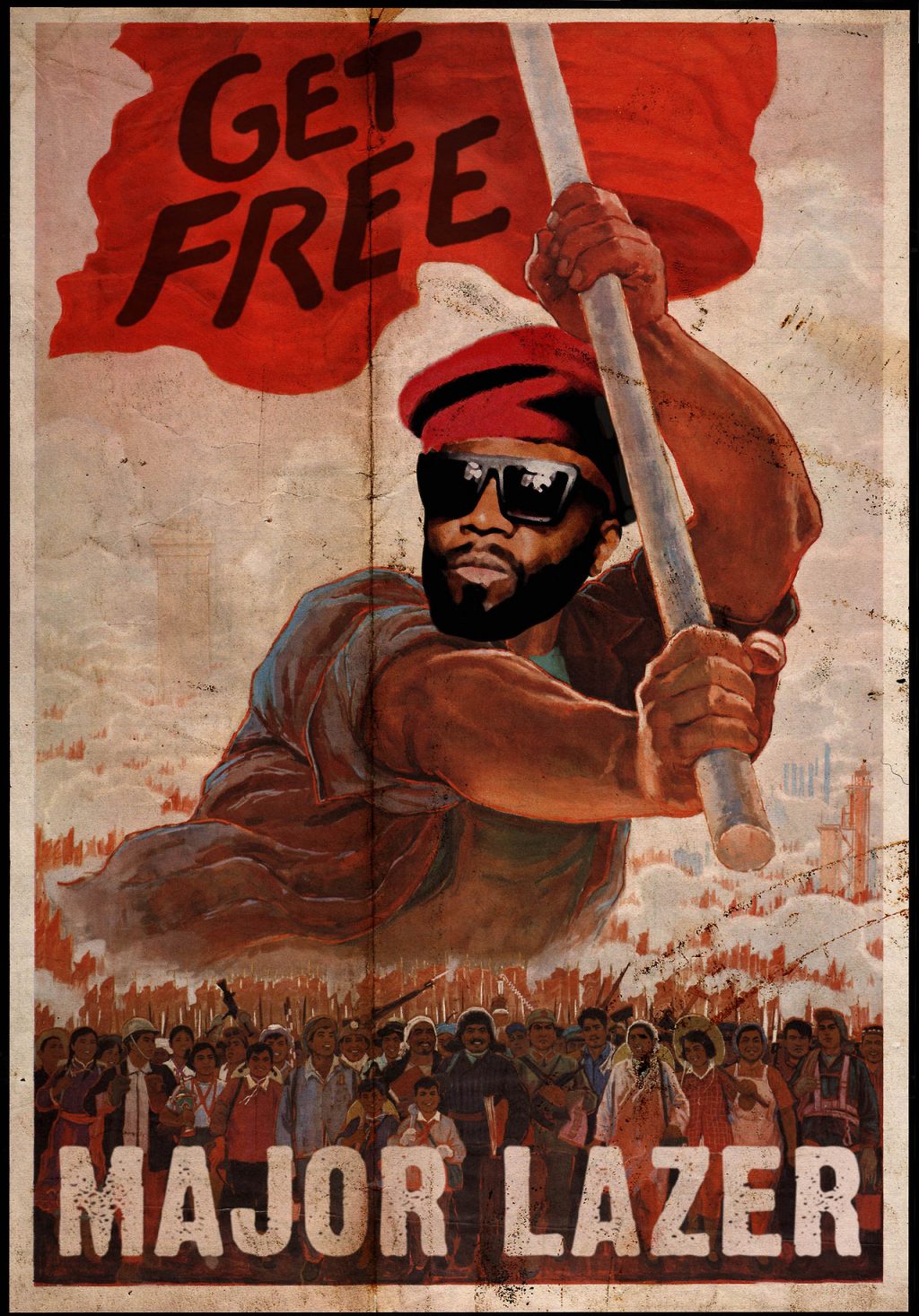 Major Lazer's "Get Free" is probably the newest song on our list, so we'll just go ahead and be frank with you and tell you we put it here because we love the song, and the poster just looks so very good.
9. Run The World (Girls) by Beyonce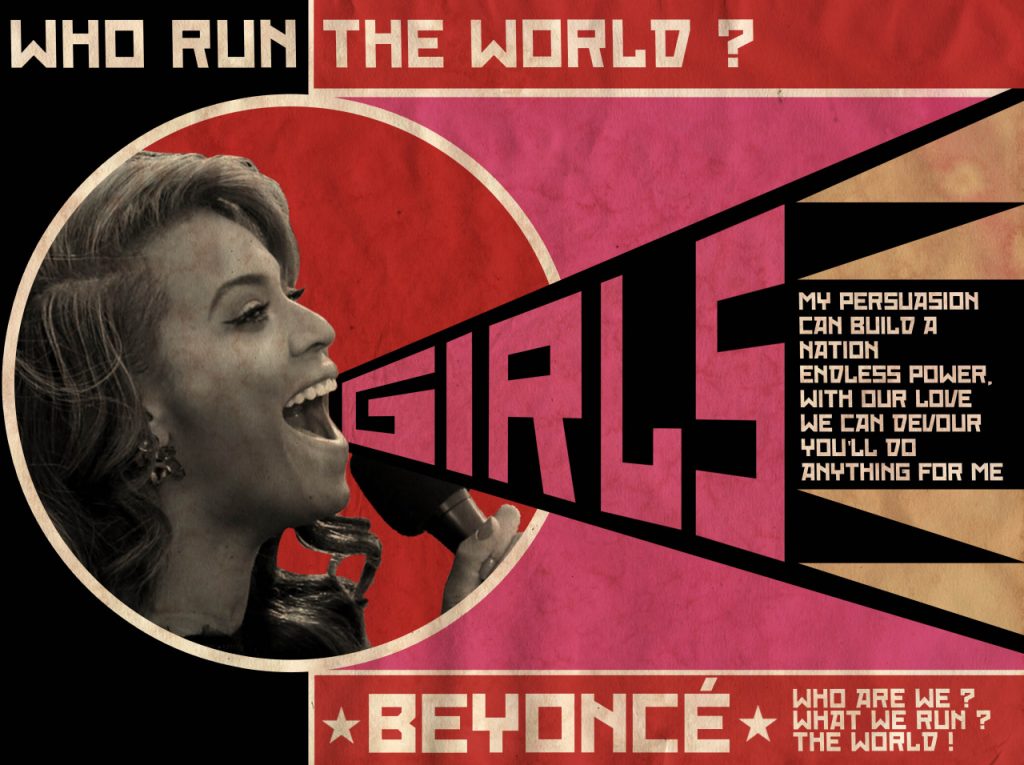 Beyonce Knowles' "Run the World (Girls)" was released in 2012 to instant commercial and critical success. Its empowering message and infectious beats quickly got the dance floor packed, and solidified Beyonce as a true feminist icon.
10. Back to Black by Amy Winehouse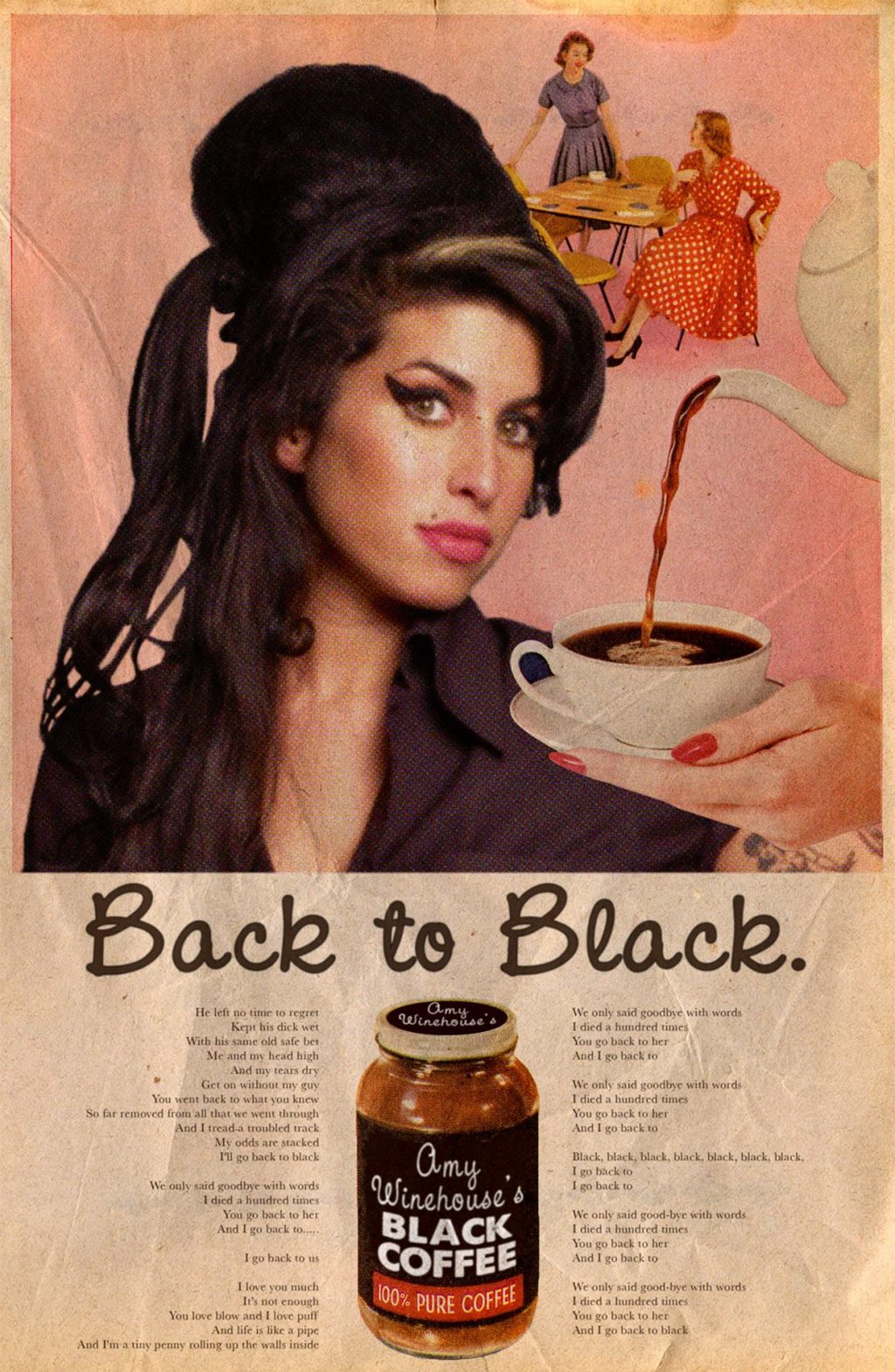 The third single of the album with the same name, Amy Winehouse's "Back to Black" proved beyond the shadow of a doubt that she was a unique and talented artist. Released in 2007, "Back to Black" spent 34 non-consecutive weeks in UK Singles chart, and after its posthumous re-release, in 2011, its new peak position in the Singles chart is 8.
11. Sun is Shining by Bob Marley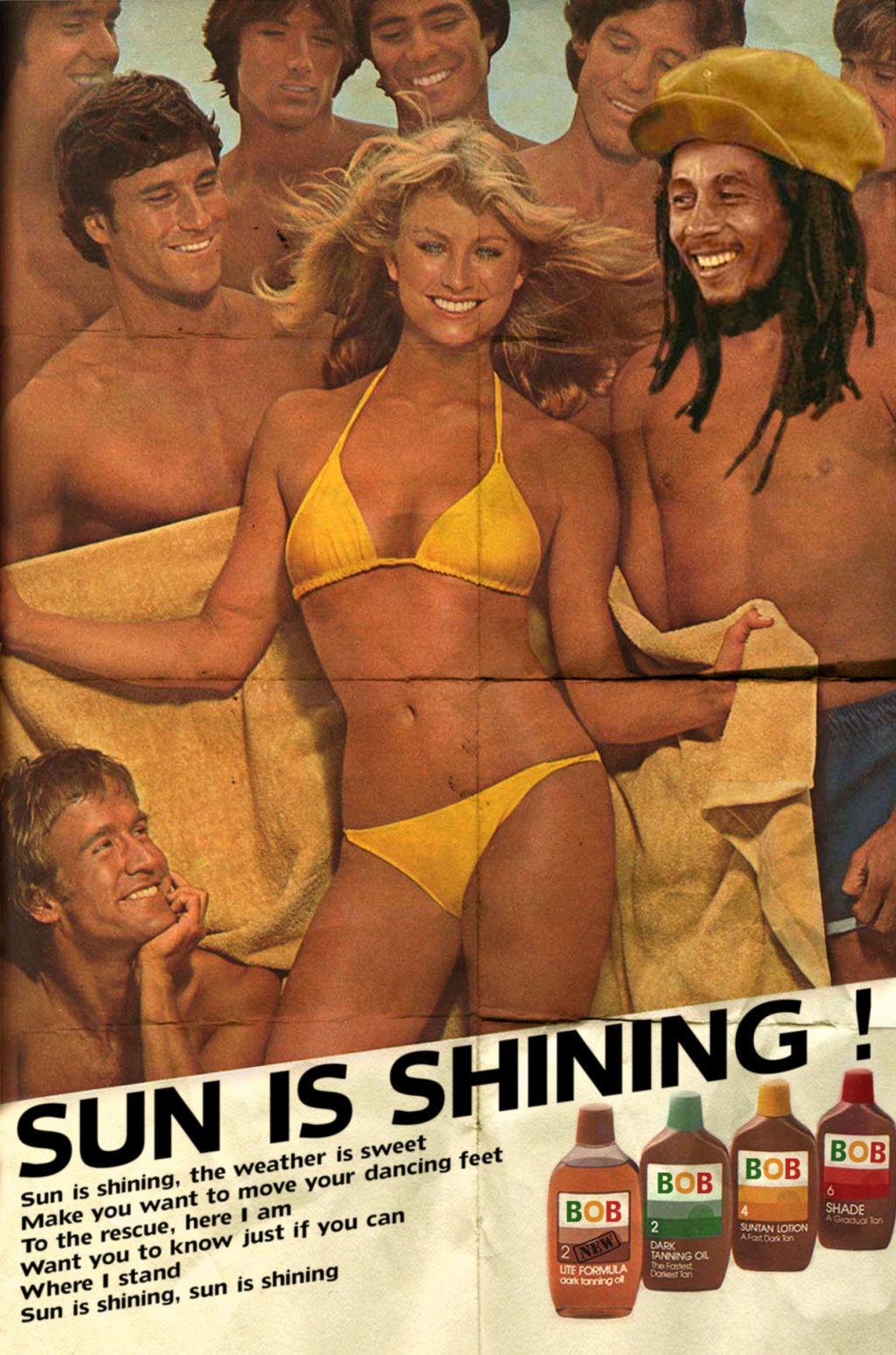 Best known for the Funkstar De Luxe version, "Sun is Shining" is one of Bob Marley's lesser known songs from the "Soul Revolution" album released in 1971, and "African Herbsman" in 1973. He re-recorded the song in 1978 for "Kaya", and it is this version that got remixed into the famous Funkstar De Luxe version.
12. Insane in the Brain by Cypress Hill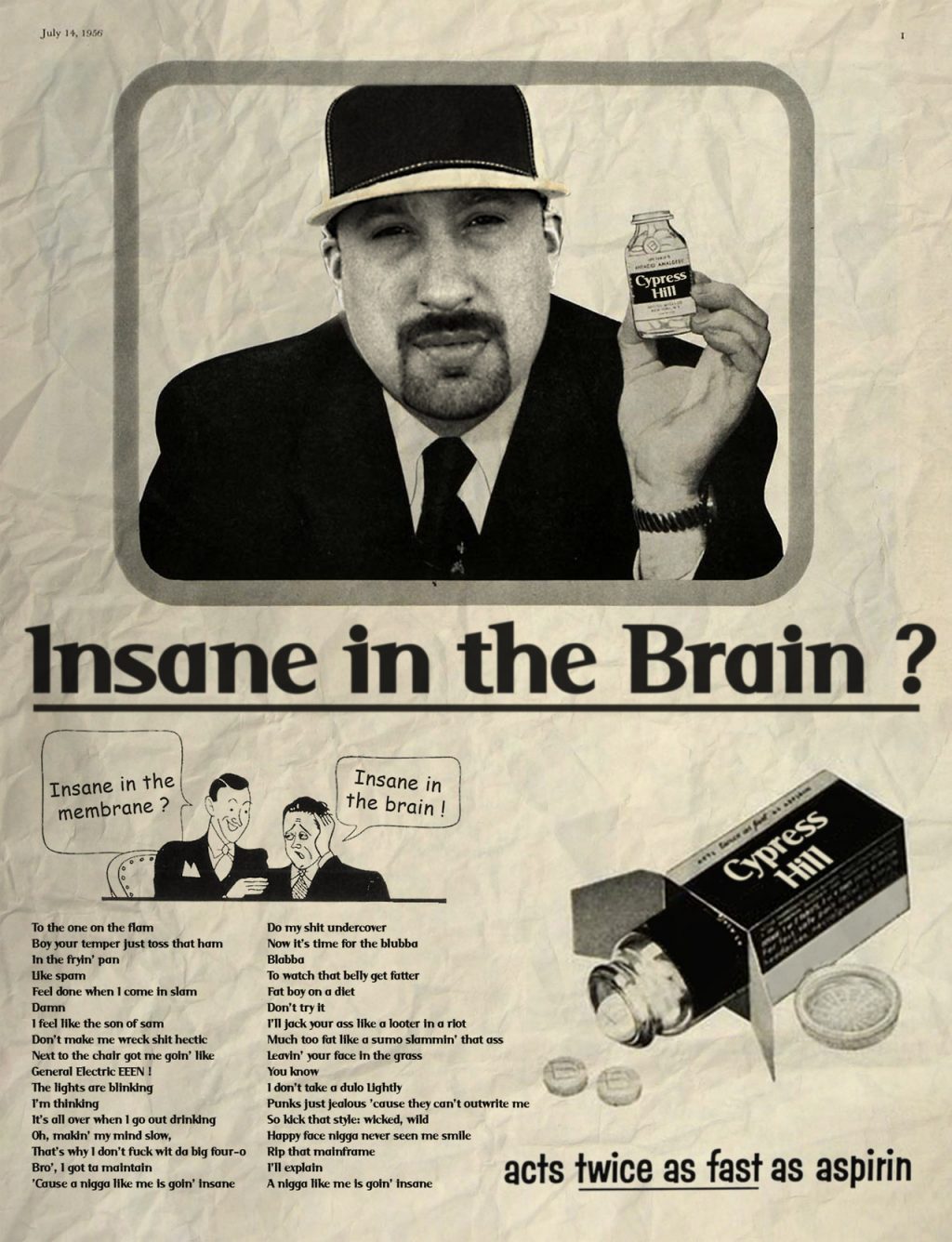 "Insane in the Brain" is Cypress Hill's most well-known song. Released in 1993 as a single off of their album "Black Sunday". The song hit number one in the US rap charts and number 19 on the Billboard Hot 100.
That concludes our list of 12 iconic songs transformed into vintage posters. We hope you enjoyed our list, and that it helped you get a bit of design inspiration.
Be sure to share your thoughts in the comment section below, and don't forget to check out more cool vintage song posters, by clicking this link here.
(Visited 2,153 time, 1 visit today)