"Words are singularly the most powerful force available to humanity. We can choose to use this force constructively with words of encouragement, or destructively using words of despair. Words have energy and power with the ability to help, to heal, to hinder, to hurt, to harm, to humiliate and to humble."
– Yehuda Berg
Many visual arts aid the written word. Chief among them, I think, has to be typography; the art of creating appealing lettering.
Whether it is mechanical or manual, letter design plays a pretty big role in what makes books appealing, as well as being an integral part of all things design, from graphic and web design, all the way to print design.
For a few years, now, there has been this pretty cool trend among designers (and not only) where you pick a quote you like and make a cool little image with it using typography. You do this by either putting the "typed" quote over a photo (usually a "hipsterized" photo), or just a plain black, white, or any plain color background… but you probably knew all that already.
There are probably more of these things than there are people on planet earth, but I thought I would do a quick search, and pick some of my favourites, and tell you just why I like them, whether it is just the quote, just the design, or a mix of both.
1. Be Patient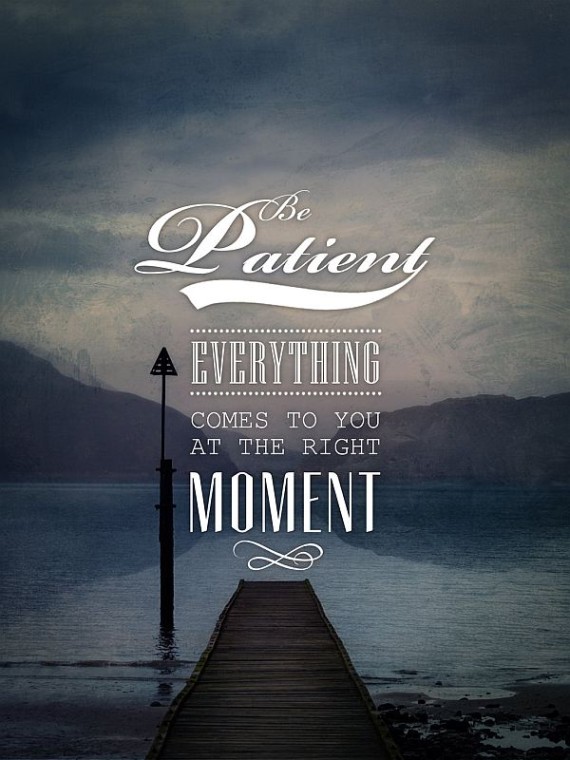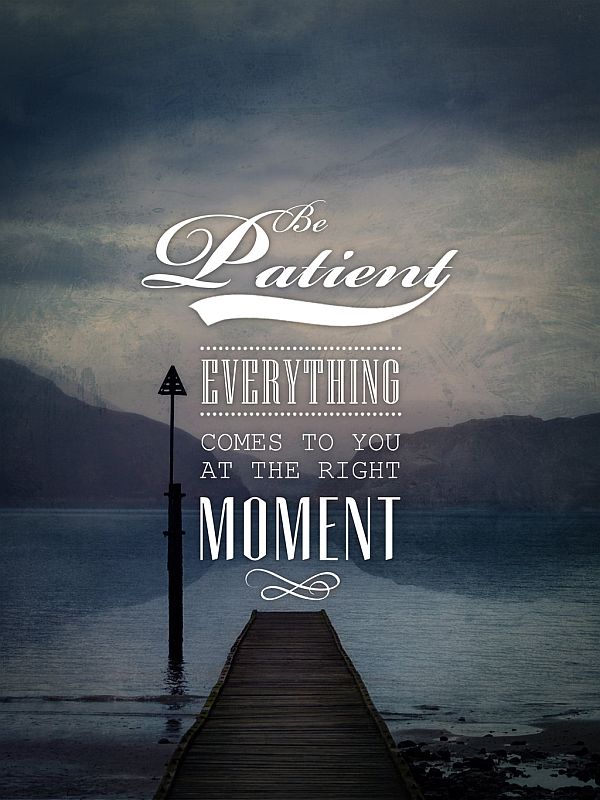 I am the number one fan of being lazy. I can think of nothing I like to do more than not being productive, so this quote really strikes a chord with me.
Seriously, though, the quote is about not getting anxious or agitated. No good can come of it. It is all about staying level-headed, and not losing your cool. The background image reflects this by depicting a desolate scene, so maybe it represents the fear of being alone.
2. Inspire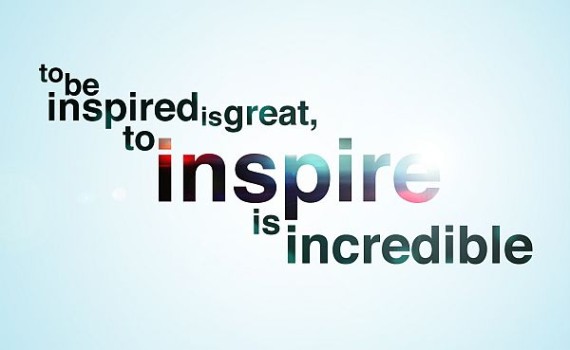 Although the design of this image does not really do it for me, I do think the quote is pretty good.
Inspiration goes both ways, and there is a chance that the more inspired we are, the more we will inspire others further down the road. Perhaps the only actual context where the trickle down effect actually works.
Also, the person who made this typography quote came up with the quote, too. So that is a deffo bonus.
3. Amateur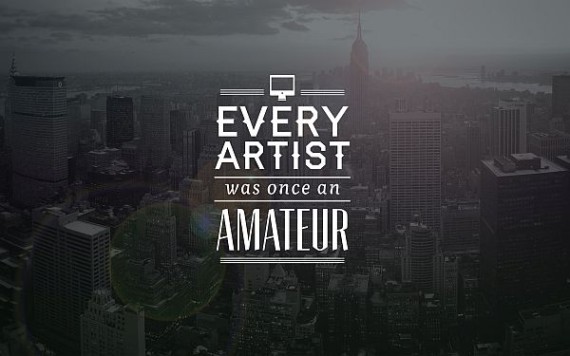 There are two places where most artists want to go if they do not already live there: New York City and Paris, France.
Now, I dream of New York myself, and I am also an absolute sucker for black & white photography, so this was definitely getting a place on this list, even if the quote was not as good as it is. Ralph Waldo Emerson said those words, and they are still giving hope to fledgling creatives all across the world, dreaming of New York.
4. Every Revolution Evaporates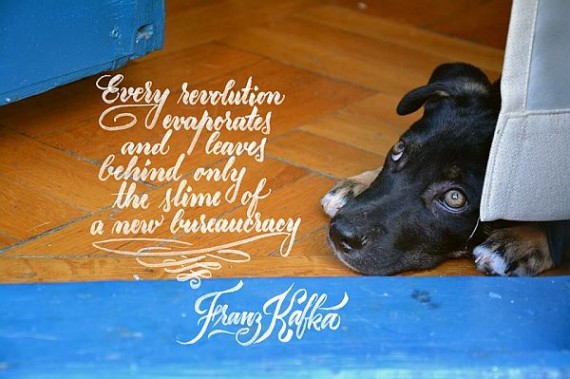 Luckily for you, I have a bit of inside information about this photo. The quote is from Franz Kafka, who is famous for his hatred (or perhaps fear) of bureaucracy, and the quote reflects that perfectly. However, that is not the inside information I am talking about, of course. That absolutely adorable wide-eyed wonder of a dog is called Kafka, and this is my shout out to him.
5. Live Life to Express
Unlike other similar images, this one has no background to talk about. All you are left to do is focus on the words, and what wonderful words they are. This is probably my favourite in the bunch, at least as far as the words go. You could call this the artist's mantra.
6. Head First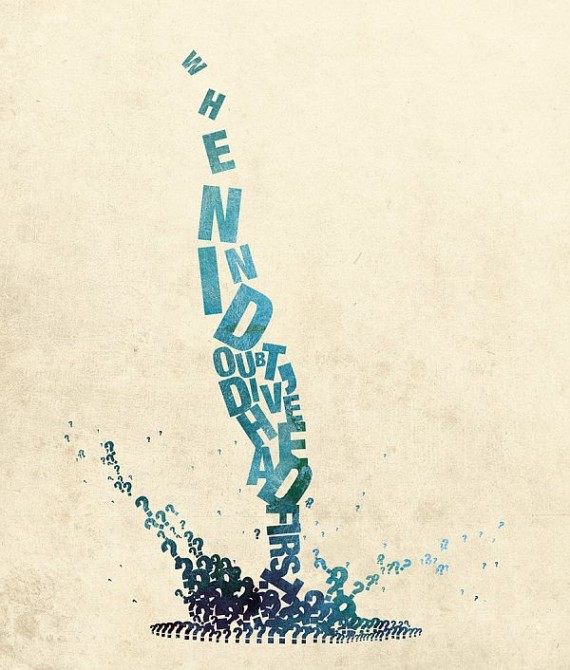 If the first entry on this list preached patience, then this goes the opposite route.
A friend of mine once said "Thought is the death of action", and I am sure that the maker of this image would concur.
On a side note, my friend's quote is up for the taking, so if want to make you own typography quote with, feel free, and please post in the comment section below.
7. Kiss from a Rose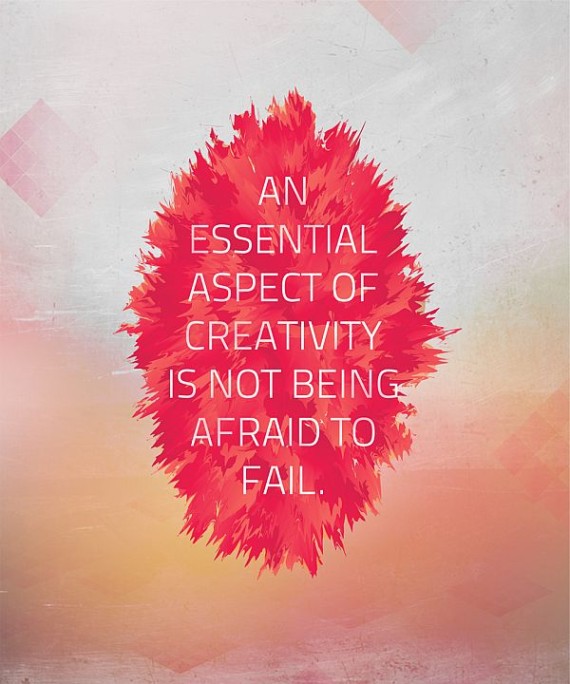 At first glance, the image and the quote do not really have much to do with each other, but perhaps that is exactly the point.
Not appearing to related in any way could be considered a failure on the artist's side, but by not fearing failure, he let his creativity shine and made this gorgeous motivational image.
8. May the Force be with You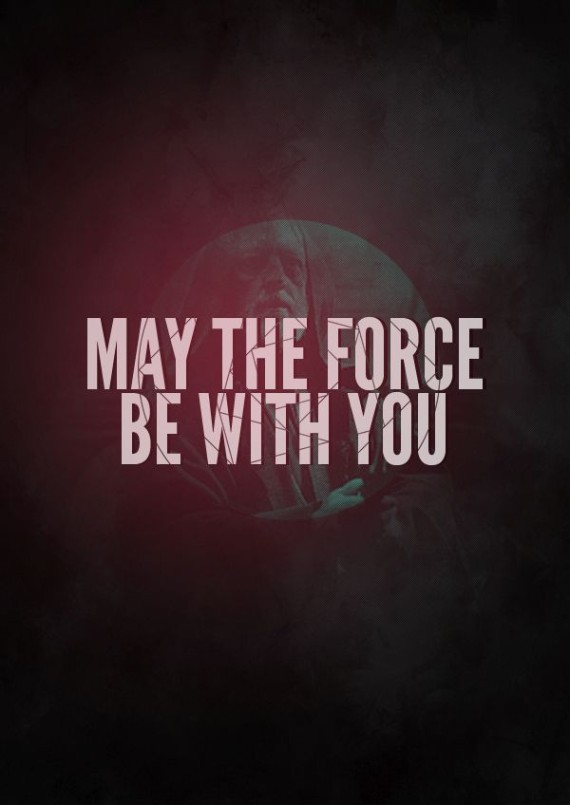 I am a complete Star Wars fanatic, so my reasons for putting this item on the list should be fairly obvious. The quote itself is iconic, and the image is elegantly designed.
9. Like Tears in Rain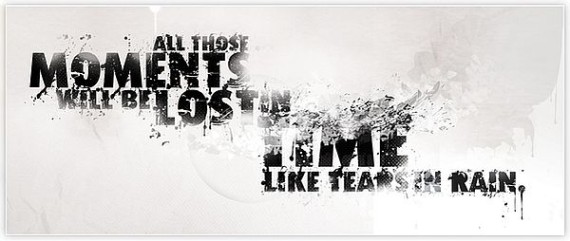 Another movie quote, this time from what perhaps is my all-time favourite science fiction movie Blade Runner. That line is spoken by Rutger Hauer's character, Roy Batty, right at the end of the movie, and I will not say any more about that because you have to see it. Even more impressive is that the line was not in the script, Hauer improvising the whole bit which would later become the most iconic line and scene in the movie.
10. Simplicity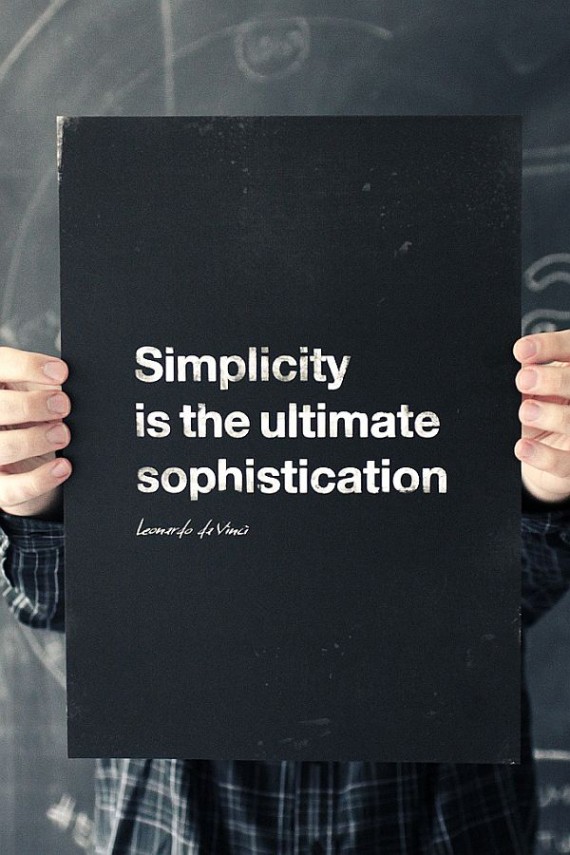 Next up we have a Leonardo da Vinci quote.
Keeping true to the quote, Pawel simply put the quote, with plain a mostly plain font, just a bit faded, on a black surface.
11. Silence Speaks
This image has such a wonderful vintage feel to it; there is no way I could not put it on this list. The background makes me think of David Lynch's Twin Peaks (though most vintage things do since I just recently binge watched the whole show) and the lettering goes hand in hand perfectly with the rest of it. Top notch design right here.
12. Glory is Fleeting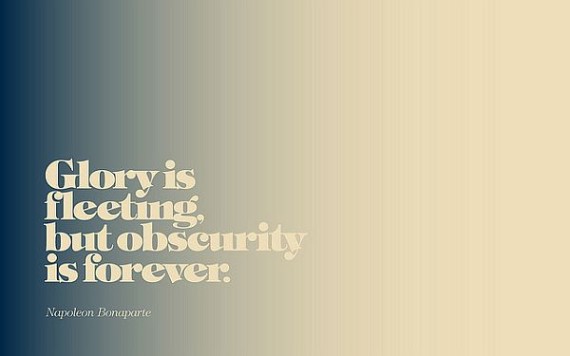 This could be a pretty nice insight into Napoleon Bonaparte's way of thinking (assuming that the quote is legit). He led furious campaigns throughout Europe, and was madly driven to conquer the whole continent, and more, all because he feared eternity that is obscurity.
That about wraps up this article on beautiful and inspiring typography quote designs. We hope you enjoyed the ones I picked at least as much as I did.
I would love to hear your thoughts on them, and the article, so please share them in the comment section below.
Editor's Note: This post was originally published in March 2015 and has been completely revamped and updated for accuracy and comprehensiveness.
(Visited 7,426 time, 1 visit today)