"We can't just design an item that looks great. We also have to anticipate how it is boxed up, distributed, and shipped, as well as wether or not a seventeen year old kid with a summer job can stock it on the store shelf without ruining it."
– Robin Perkins
ADVERTISMENT:
The Best Deals For Digital Design Assets - InkyDeals.com. Learn More>>
We all just love when we encounter errors, don't we? Well, of course we hate them with a passion, but some of them are incredibly well made, and make us come back – to experience the same error countless times, hoping we will see other funny ones. A while back, we did a take on some funny IMDb errors –  19 Funny IMDB 404 Error Pages Based on Movie Quotes.
Well, this time, we decided to compile a list of  8 error pages that will surely keep visitors on your site. Don't believe us? Take a look down below.
1. co.uk' Error Page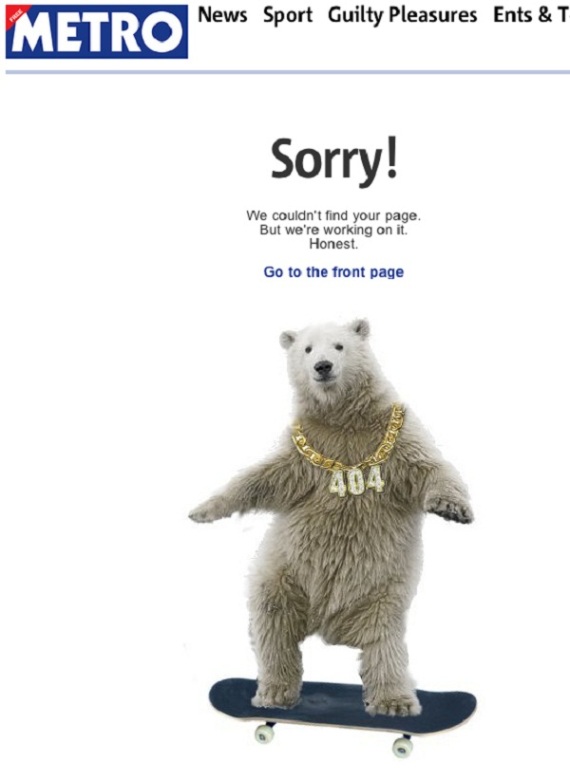 Who wouldn't want a bear on a skateboard, pulling off a cool golden neck chain telling them that the page their looking for does not exist. What can you do when you face the Bear of Error? Well, you just have to be patient, go to the front page as he asks you, and then try again. Still having his face all smirk like on your desktop?
Then you need to contact their customer service and tell them something is wrong with their website. Did they just tell you that you are having delusions of reality and there is no such page? Well, you better get off the internet and take a break then.
2. com's Error Page

And it goes on and on and on, telling you its daily problems, and worries, how it really tried to help you out by multi tasking and being there for you in your time of need. It tells you that you are special and it doesn't do this to all internet persons, it is just for you, they only get the blank 404 page.
Be careful. It will want to steal a smooch from you, so you have to decide quick – give it to it, or just press Xreally fast and get away from that page, and never come back. I think it's stalking me now. I am afraid, I better go unplug my router.
3. Zelda Fans Error Page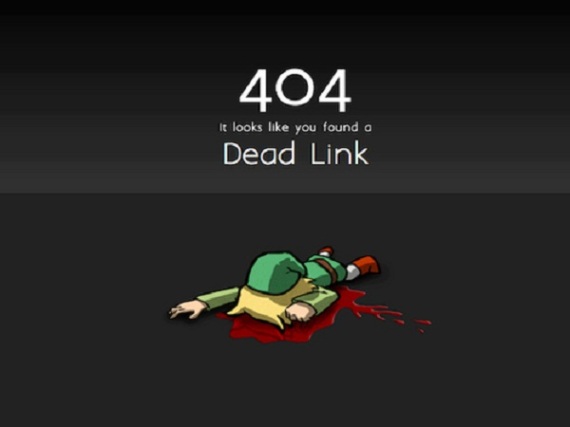 Haha, get it? Dead Link? *Sigh* for those of you that have a life and don't play video games, or more exactly, didn't have a childhood filled with video games. Zelda and Link are characters from the incredibly awesome cool – insert another compliment here – video game called " The Legend of Zelda", that first appeared on February the 21st , 1986 on the Famicom Disk System.
It tells the story of Link, that is given the task of rescuing Princess Zelda and all the Hyrule world from the treacherous and evil Gerudo thief, called Ganondorf.
4. com's Former Error Page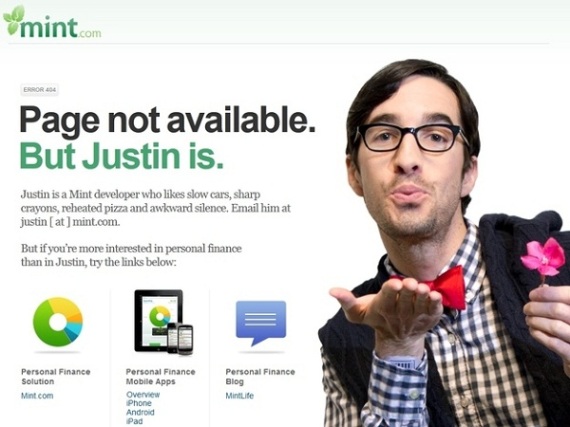 Mint.com used to have this error page a while back. Don't you just want to take Justin home? Come on, don't be cruel, look how dashing he is. He is a mint developer, in love with pizza, and you, well, primarily pizza, but hey, you do have a spot in his heart. Look, he also likes awkward silence like every normal human being.
What's not to love? The page has gone for a while, probably because Justin has found true love. Come to think of it, I do fear for the worst, maybe he found true love in that reheated pizza. Gee, it's hard being Justin.
5. com's Error Page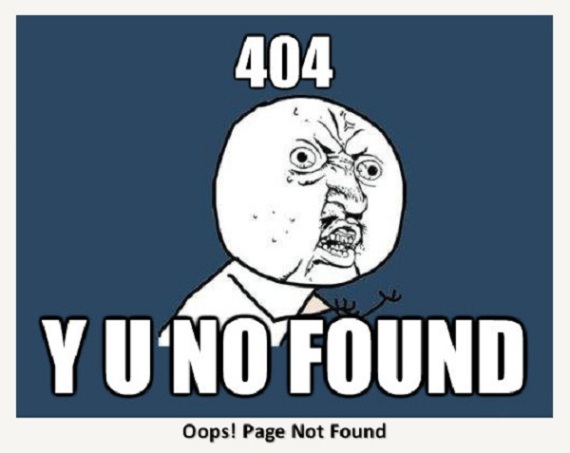 Wait, what? You don't get this either? Well, guess who doesn't waste time on the internet like the rest of us. It's a meme, no, not a me-me, a meme. Still confused on how it's spelled? Well, take a look at his YouTube video and give it a try. Ah, I love making silly jokes.
But for real now, it's not spelled like that, it's spelled like this. There you go, now you can join us, we have cookies and the dark side, and absolutely nothing to do all day besides creating memes.
6. com's Error Page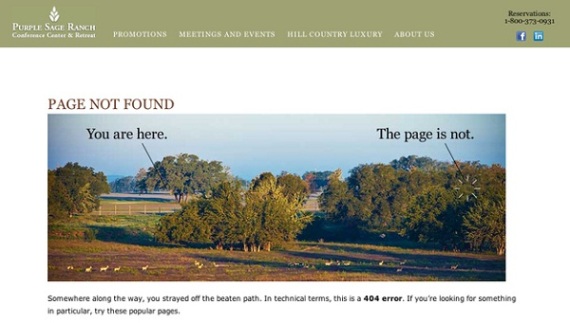 Well, doh. I am definitely there, or here, or whatever and the page isn't. What are you trying to do by being so condescending. The nerve on some people. But no, I am kidding right now. It is quite a funny way to tell your users that they have wondered on a complete different path on the website – "Somewhere along the way, you strayed off the beaten path. In technical terms, this is a 404 error. If you're looking for something in particular, try these popular pages.".
7. org's Error Page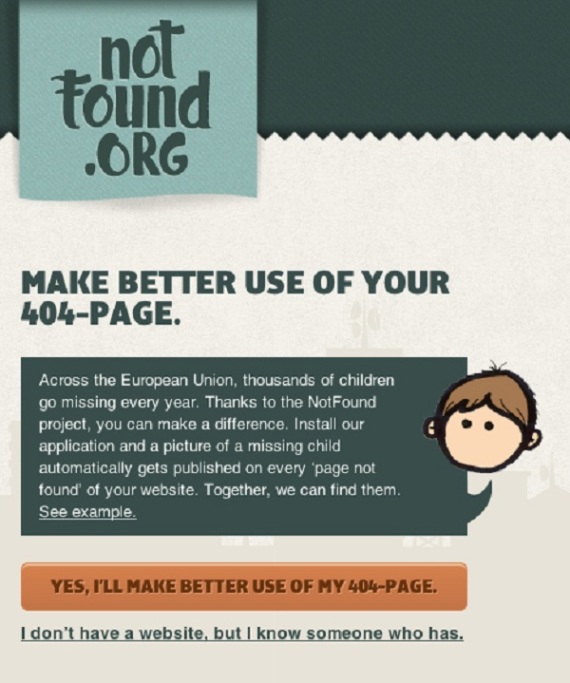 This is not funny at all, but it is quite useful. It will transform your 404 error pages into a poster showing missing people across the European Union, where thousands of children go missing every year. Have a heart, click a button and install this app for your website. You can probably help and find someone get back to their families. I know it is a long shot, but every option must be taken into consideration.
8. College Humor's Error Page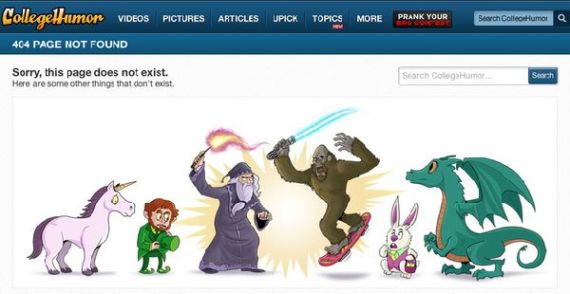 "Sorry, this page does not exist. Here are some other things that don't exist." Wait. Unicorns don't exist? This means I have been living a lie all my life. I can't believe this. What do you mean Bigfoot handling a light saber and flying on a skateboard doesn't exist either? You know what? I'm fed with all these awful things.
Tomorrow I will probably find out that there is not Santa Clause either. Or the tooth fairy is just something made up by my parents so I don't have to worry about my denture.
I know we had a blast looking up for these error pages, but what about you? What is your favorite one? Maybe you know of one that didn't make our list. We would be thrilled if you would post in the comments section below.
(Visited 840 time, 1 visit today)