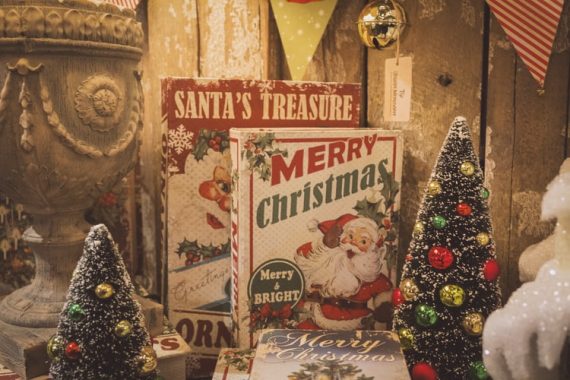 Christmas is here again, with its happy moments and atmosphere. It is the season of pictures and merriment. Families want memorable photographs that will go into the photo book. Individuals want that stunning shot with their loved ones. Photographers also receive several invitations to capture these exciting experiences. However, it might be challenging to get the right wallpapers and backgrounds to go along with appropriate pictures. Other times, it might be expensive. Moreover, when you are on a budget, things might turn sour quickly.
ADVERTISMENT:
The Best Deals For Digital Design Assets - InkyDeals.com. Learn More>>
To salvage this situation, we have compiled a list of the top 10+ free Christmas card templates. You can download them right away and easily customize them with your family photos and warm greetings.
1.  Spectacular Moments with your kids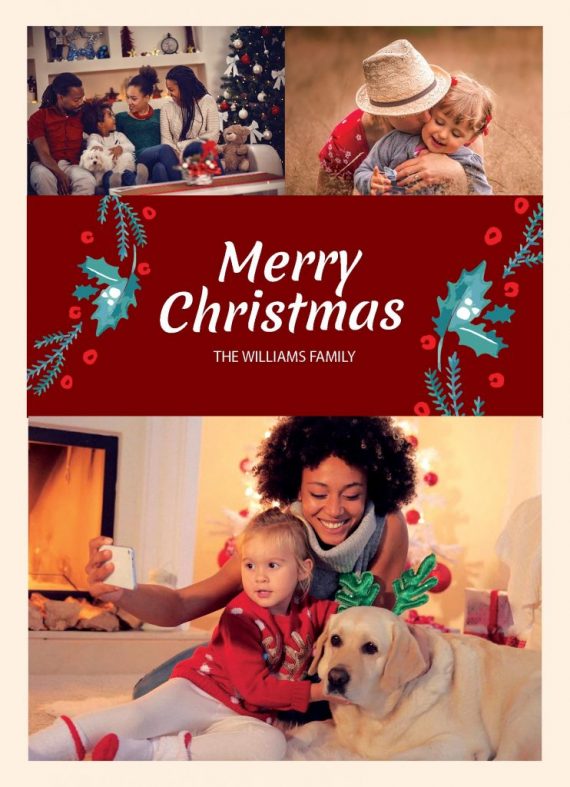 This sleek, free Christmas card template gives you the chance to add three distinct pictures with your children. The first column will accommodate a family-sized image that contains four people. Although it is indoors, it is a grassy template for a more personal shot.
If you love the outdoors, this column is perfect for you. Moreover, it captures very rare moments of deep affection and connection. The last column is ideal for you, your kid, and your pet. What an amazing feeling to remember!
2.  Night-time Shot of your kids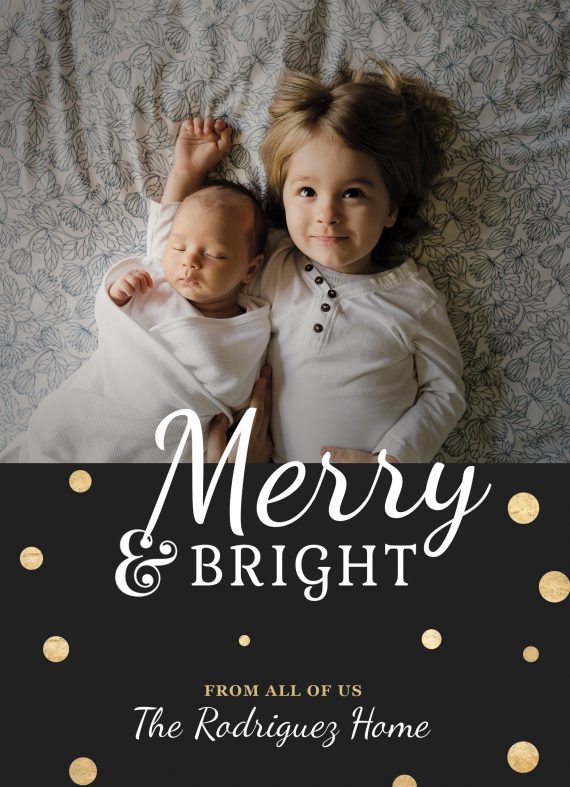 For parents, kids are the joys and lights of their lives. These free Christmas card templates provides a cool picture of your children while lying down. All you need to do is insert a superb snapshot of your kids.
You can also include their names in beautiful calligraphy. Moreover, the bottom half has a starry theme, where tiny, pale yellow stars dot the dark sky. In the end, you can sign your family name to it. If you want, you can easily print it out.
3. Stunning Outdoor Pictures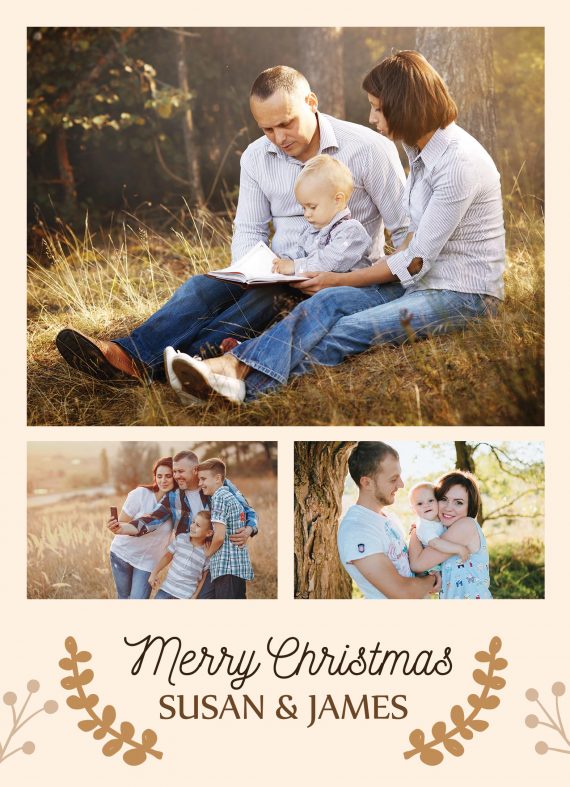 If you are an outdoor person with several photographs, this free Christmas card templates is perfect for you. It has three columns with ample space to insert pictures of your choice.
The top section is an evening hangout with your family, where you study your child's favorite book. Photos of this nature will fit perfectly into this. The bottom left column has the evening sun shining far ahead. Once done, you can append your name and your wife (or husband) to the template
4.  One Priceless Shot
You can only place one picture – premium, priceless, and spectacular in this free Christmas card template. Ideally, you should find a rare picture that includes all your loved ones. Full of fun, full of energy, and dripping with love! The background is a dark blue theme with different shapes and designs. There is a sketch of a Christmas tree, an excited Santa Claus, and a package. It also has creamy, tiny spots all over the background.
5.  Dated Season's Greeting
With this unique, free Christmas card templates, you can spell out the year in words instead of figures. This leaves the tone of being personal and friendly. Below the image, you can leave your lovely wishes and prayers. You can also remove the default message – "Love & Best Wishes from the Tellachiao Family" and customize it into what you want. Sign off in grand style with your name and that of your spouse. With the evening sun shining from the horizon, any picture you attach will be distinct.
6.  Personal Touch with Family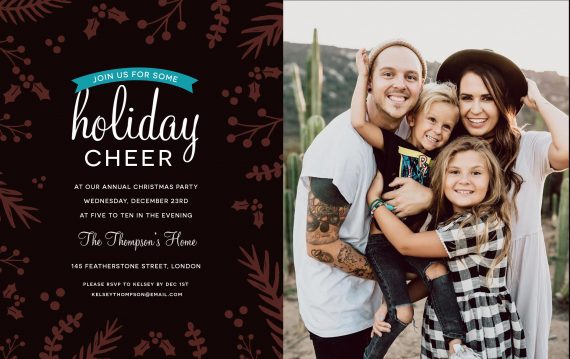 As a photographer, this free Christmas card template provides space for only one image. As such, you need to think carefully about that picture, which reflects a deep tone of love and closeness. Families matter a lot, and this template displays your picture in a spherical format. The purplish theme makes the image stand out. The "Christmas Celebration" headline uses wavy fonts, which adds to its uniqueness. You can add your family name to the special shape attached. The tiny white spots around the image typify the sun surrounded by smaller stars in the Galaxy.
7.  Favorite Hymn Card
If you have a memorable hymn such as "joy to the world," "silent night," or "amazing grace," you can get free Christmas card templates that typify your emotion. Also, it communicates your thoughts to the recipient in a few words. Ideally, it has space for only one image. So, you have to consider the type of picture you want to use. Also, it allows you to add your name and your other wishes. You should check out cards with a cool theme and background.
8.  Powerful Holiday Message
Since Christmas is a perfect holiday festivity, crafting a beautiful holiday message to your loved one is an excellent idea. The theme should be bright, brilliant, and communicate enthusiasm. Those cards with a modern touch and design will also be more appealing to your recipient. If it has spots for two or three pictures, that will make more sense.
9.  Modern Christmas Template
Do you love to have a touch of modernity in your photographs? You can check out free Christmas card templates that are broken into uneven columns. Besides, ensure that the theme has contemporary sceneries like a waterfall, snowfall, flower gardens, malls, and amusement parks. The color schemes should also be warm enough to blend with your photograph. Look out for beautiful and stylish fonts, too. If it has space to include your name or greeting, that will be perfect.
10. Christmas Collage
Christmas card templates with a collage design are another option to consider. Some of these templates have multiple images like red, white, green, and blue. Moreover, it has sufficient space to include your surname. You can also add a personal message as you wish.
(Visited 206 time, 1 visit today)