"Never doubt that a small group of thoughtful, committed citizens can change the world; indeed, it's the only thing that ever has." – Margaret Mead
LinkedIn is the largest business-orientated social networking service in the world, with 277 million users, more than 178 million monthly unique visitors and headquarters in the U.S., U.K. and Ireland.
ADVERTISMENT:
The Best Deals For Digital Design Assets - InkyDeals.com. Learn More>>
If Facebook has changed the way we socialize (and interact with all forms of media, but let's keep things simple), than LinkedIn has changed the way we look for jobs, and the way jobs look at us. We research each other, potential employer and potential employee, on this social network and, all to often, decisions are made based on LinkedIn profiles.
That is not to say LinkedIn is evil. After all, it is a great way to centralize your work experience, and it is a much more handsome looking CV than your average made-in-Word one. What it also is, first and foremost, perhaps, is a terrific way to get tips and advice on how to properly work in your chosen domain, via Groups.
All social networking websites have groups. The one's who do not can hardly call themselves social networks anymore. It is through these groups that you can interact with people you do not necessarily know, but with whom you share a common interest. In short, networking.
Being business-orientated, LinkedIn is a fantastic way to look for jobs and find out about best-practices in all domains, and that includes, of course, design.
There are plenty of groups aimed at designers, so we have decided to compile a list of some of the best ones, so you do not have to waste precious time looking for the right one for you.
1. Freelance Graphic and Web Designers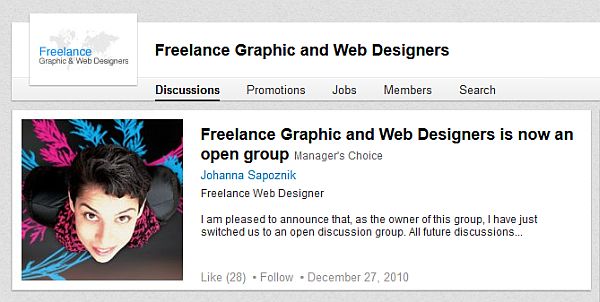 If you are a freelancer, or would like starting to be one, than you should definitely check out this group. Here, freelancers from around the world share tips, tricks and trends so that everyone can keep up to date with what is going on the world of design.
The group has over 9,000 members, 20% of which are either directors, managers or business owners, so aside from getting the latest updates from the world of design, there is also the chance of getting a job offer.
2. Designer Talk: Freelance Graphic Design Group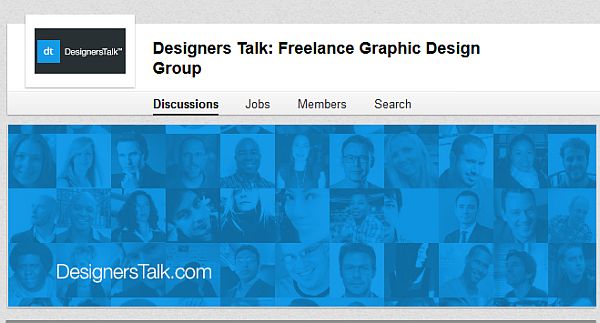 Designer Talk is another freelance LinkedIn group, only a much larger one. Having almost 80,000 members, Designer Talk is, possibly, the biggest group for freelancers working in the domain of graphic design.
Their statistics show that out of 19 posts last week, 18 were job offers. So if you are looking for a job you should definitely try this group out.
3. Designers – Web/Graphic, User Experience (UI, UX), Interaction Design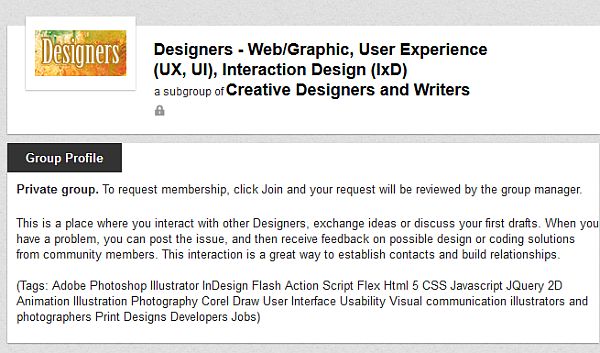 This is a subgroup of the group Creative Designers and Writers, aimed specifically at the "designers" part of "Designers and Writers". It is a rather more selective group, membership "applications" being reviewed by the group manager, but it still has an impressive number of members (over 25,000 of them).
Members benefit from peer feedback on anything from first drafts to to design and coding issues, as well as a great exchange of ideas and design discussions.
4. Graphic Design Pros – Designers Forum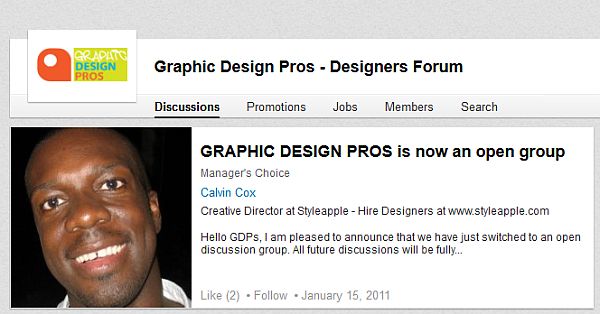 Creative professionals from all backgrounds, including graphic design, web design, illustration and fashion, "gather" here to discuss, give feedback build businesses, making this group a fantastic opportunity to do some cross-platform networking.
The group has just over 14,000 members, and the group itself is really active, having 14 discussions last week, generating 29 comments.
5. WordPress Web Designers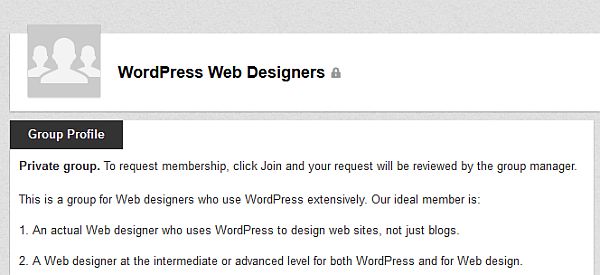 This is also a private group, so to become a member your application will have to be reviewed by the group's manager.
As the name suggests, the group is for designers that specialize in using WordPress. You have to be an intermediate or advanced designer in WordPress and web design in general, which means that you cannot really join if all you do is blogs.
Topics discussed on the group include SEO for WordPress, new versions of the platform, themes, plugins, widgets and WordPress resources, all actively discussed on the almost 13,000-strong group.
6. Graphic & Iconography Design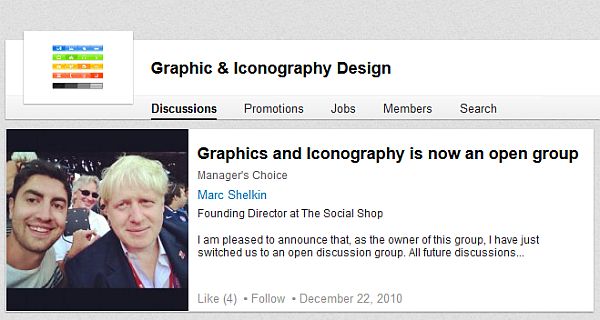 Graphic & Iconography Design is a real niche group, as it especially focuses on icon design. It might seem, at first glance, as too much of a niche, but having people that are especially passionate about icon design give you tips & tricks, and feedback on your own icon designs can really come in handy.
Let's not forget, icons are an intricate part of design, especially web design.
7. London Web Designers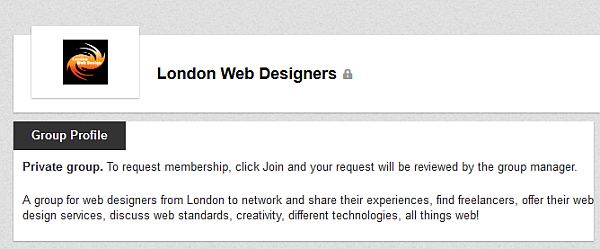 If you are a citizen of the Commonwealth (and a web designer, of course), then London Web Designers can prove a valuable resource for design inspiration, as well as a terrific place to find a job. The group discusses all things web, from standards to creativity to technologies.
8. Graphic Designer & Art Director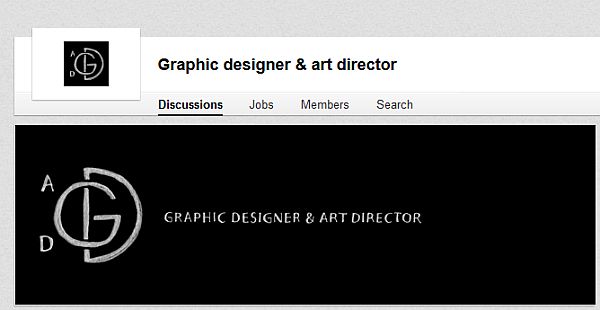 All things design are welcome in this group, topics ranging from graphic design to lettering and typography, all the way to consulting and branding. The group is massive, having over 97,000 members, generating 83 discussions last week and 8 job offers.
9. Web Developer & Graphic Designer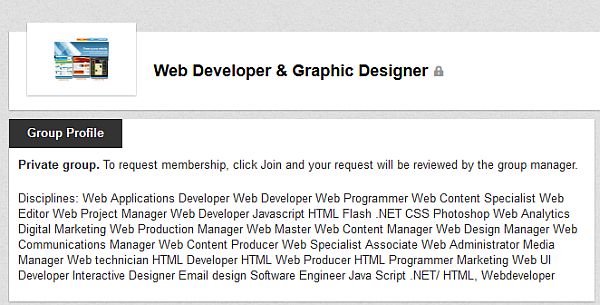 Web Developer & Graphic Designer is an absolutely terrific group to join if you are looking for a job. 14% of its almost 40,000 members are people who post job offers, and they do this quite a lot. Last week alone there were 53 job offers posted.
10. Creative Design Professionals Worldwide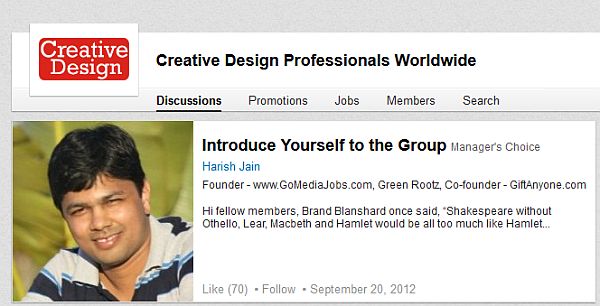 Whether you are a graphic designer, web designer or even interior designer, Creative Design Professionals Worldwide will welcome you open armed. Over 30% of the almost 32,000 members are people who might be looking to hire a creative professional, so it is a fantastic place to hunt for jobs, as well as get feedback and keep up to date with current best practices.
11. Web Professionals Connect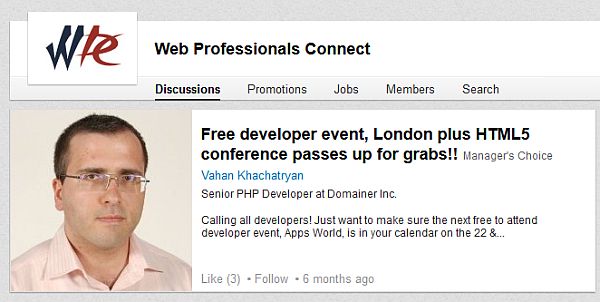 If you are looking to get a job in designing for the web, which you most likely are, then you would do well by yourself to Web Professionals Connect a try. But, like most entries on this list, this groups is, of course, not limited to job seekers and employers.
It is, after all, a community, and members are more than willing to share experiences, give tips and offer feedback, so it is also an opportunity to better yourself as a designer.
12. Design Recruiters Forum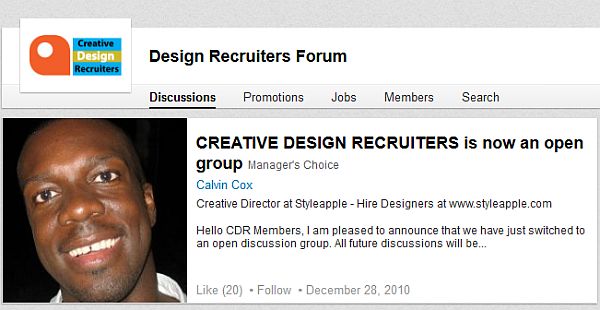 The name pretty much says it all. This is a group for design recruiters that are looking for design professionals to give money to, in exchange for a creative effort that results in a product for they -the employers- need. In other words, keep your eyes peeled on this group to see what job offers tickle your fancy.
13. Web Design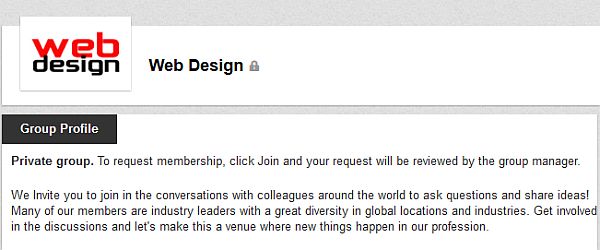 You can tell this is an old and experienced group because they get to use the name "Web Design". Since 2008, this group has been bringing together industry professionals from around the world, giving them the opportunity to network, discuss and share new ideas.
There are just over 18,000 members in the group and, being a private group, makes it a fantastic place to read up on articles and stories from experienced peers, some of which are industry leaders.
14. Art of Advertising & Design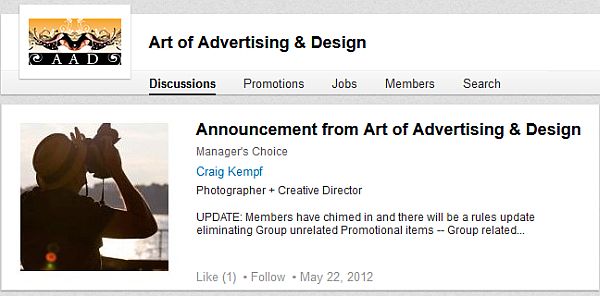 It is good to remember that what you are doing is art. Considering yourself a professional can really weigh down on you, especially if your heart is more set on the artistic side of things, rather than the commercial one.
Art of Advertising & Design is a great group to check out if you want to discuss design as an art form, and get a bit more philosophical about things, instead of thinking if the client is going to like your designs. Its also a great place to get feedback on your projects.
15. Web Design and Development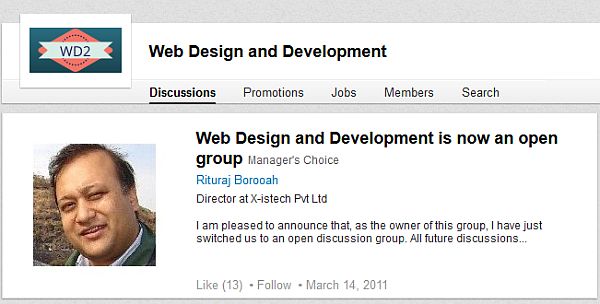 Web design trends are constantly on the move and it is vital that you stay up to date with them, so that your designs will always look modern and fresh. Web Design and Development's main goal is giving professionals a place to discuss developments and trends in web design, allowing its members to give some design inspiration to each other, as well as sharing personal projects and relevant industry information.
That wraps up our list of 15 LinkedIn groups you should keep an eye on. We hope you find the right group for you in this list, and that it will help you get inspired, informed and, not to mention, money.
Tell us what you think of the list, in the comment section below, and feel free to share any groups you think we might have missed.
(Visited 5,320 time, 4 visit today)