Our Pixel77 Jobs site has been booming ever since we announced it a couple of weeks ago. Starting today we're going to make it even easier for you to find opportunities for creatives online.
Every week we'll post a roundup of the best jobs for designers you can find online. Our list will include full-time, remote, startup, contract, freelance, part-time, and full stack jobs so you can choose the right opportunities that match your expectations.
ADVERTISMENT:
The Best Deals For Digital Design Assets - InkyDeals.com. Learn More>>
Get more Creative graphic designer jobs from Jooble.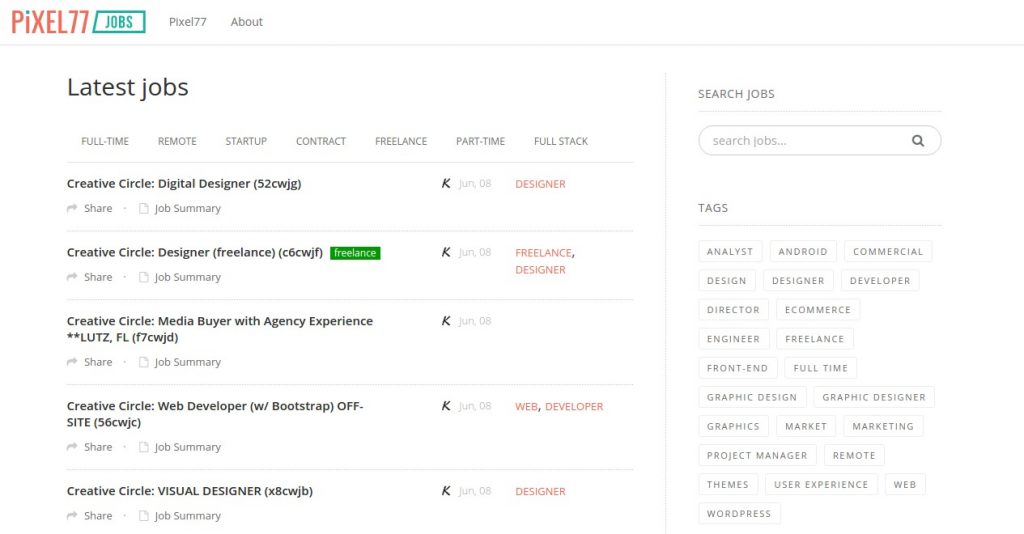 Here's the roundup for this week's Pixel77 Jobs:
#1 Full-time Jobs
Advertising Agency ACD – ART
Job Poster: Creative Circle
Location: City of Chicago
Description: Our full-service agency client is looking for an ACD (Art) who can bring highly conceptual creative to a new client for the agency.
They are looking for someone who is heavily conceptual, can be hands on, but can pitch concepts to new Clients, who is charismatic in your approach to creative solutions and client relationships.
Read more here.
UI Designer – Exciting Data Lab
Job Poster: Ordnance Survey
Location: London, EC1
Description: As a UI Designer, you'll be challenged to create amazing visuals for Ordnance Survey's data lab in London, the Geovation Hub. This unique environment is geared towards developing new and exciting uses for location information and technology.
Using your talent for clean, artful designs, you'll be translating high level requirements into interaction flows and artifacts and transforming them into beautiful, intuitive and functional user interfaces. You'll be working with all manner of cutting edge web-based and native mapping applications.
Read more here.
Experienced UX/Information Designer
Job Poster: Markit Digital
Location: Boulder, Colorado
Description: We're in the business of making the financial world friendlier and we're looking for energetic designers who can geek out about data and ways to present it to regular humans. You'll be exposed to a plethora of unique projects and challenges from clients located both domestically and around the world—Australia, Singapore, Italy and the UK, to name a few—and the solutions are never cookie-cutter.
Read more here.
#2 Remote Jobs
UI Invision Clickable Prototype Designer
Job Poster: Gearstream
Location: Raleigh
Type: Remote, project based
Description:We seek a highly skilled, pixel perfect UI designer highly skilled in implementing high-resolution, clickable prototypes using Invision. We will be providing style examples in in the form of high-res Photoshop files and low fidelity wireframes and user flows so that you can quickly render these as high-resolution, fully clickable prototypes in Invision.  The Invision prototypes will give the user a realistic sense of interacting with a full blown application.
Read more here.
Lead Designer
Job Poster: VIRYA GROUP LIMITED
Location: Ipswich, Suffolk, UK
Type: Remote, full-time
Description:We are recruiting a lead designer who will report directly to our Creative Director, and work in close collaboration with our development and operational leads. At Virya Group our designers are involved in all aspects of the creative process including strategy, UX, brand evolution, prototyping, and visual design.
Read more here.
UX Designer at E-180
Job Poster: E-180
Location: Montreal, Canada
Description: If you are passionate about making products that people love, deeply care about humans, and have an empathic approach to design that helps you make it all come to life, we want to hear from you. We're looking for a team member who has a contagious drive for learning, acquiring new skills and perspectives, and who cares about sharing their insights with the team – this is what makes us so efficient.
Read more here.
#3 Startup
Graphic Designer/Apparel Designer
Job Poster:Grow My Team
Location: Melbourne, Australia
Description: Our client is a fast-growing startup that designs and manufactures active sports clothing. Their vision is to align the action-sports market in terms of quality, reputation, & design. They do that by manufacturing high-quality garments and working with reputable suppliers in the fashion industry. They have positioned themselves in the international market serving clients in Europe, America, and the Asia-Pacific. To date, they are actively involved in sponsorships, global skydiving events, and record-breaking attempts around the world.
Read more here.
Senior Designer
Job Poster: SKIM IT LTD
Location: London
Description: We're looking for our first full time designer to join a team of highly skilled and technical programmers. Someone to take the proverbial 'design' ball and run with it. We need someone who can introduce strong design principles and influence the company in becoming product design focused.
Read more here.
UX Designer For a Well-Funded Stealth Startup!
Job Poster: United Income
Location: Washington
Description: United Income is looking for a UX designer who can be a jack-of-all-trades while setting the course for the future of our product. If you love learning personas, understanding people's problems, and building (and testing, and refining!) user experiences that solve them and make their lives better then this is the job for you!
In this role you are going to encounter opportunities that not many other UX people will have.
Read more here.
#4 Contract Jobs
Contract Interactive Designer
Job Poster: Millennium Communications
Location: Syosset, New York
Description: We're an award-winning, Long Island-based digital & traditional agency looking to bolster our talented Creative team. We're seeking a contract Interactive Designer able to architect and design unique and unexpected web design solutions.
Read more here.
Sr. Graphic Designer
Job Poster: ASD Marketweek
Location: Los Angeles, CA
Description:Emerald Expositions, a leader in the b2b tradeshow industry, is seeking a Senior Graphic Designer looking for a contract position based in Los Angeles, CA who can hit the ground running. You will be a vital part of the marketing team providing all design support for a team of seven marketing managers and coordinators that serve the ASD Market Week, Source Direct and the National Industrial Fastener Show brands of our portfolio.
Read more here.
#5 Freelance Jobs
Interactive Designer (freelance to full-time)
Job Poster: Creative Circle
Location: Boston – Metro West
Description: They are looking for a freelance Web Designer to join their fast-paced in-house creative team for at least 3 months. This could definitely turn into much more!
Position is on-site and workstation will be provided.
Read more here.
Print Production Manager – Long-term Freelance Opportunity!
Job Poster: Creative Circle
Location: South Bay Area
Description:Lifestyle brand is looking for a Print Production Manager to join their creative team. You will be responsible for the management of print projects (scheduling, creating and managing production calendars, managing budgets and workflow).
Read more here.
Motion Designer(s) – freelance
Job Poster:Creative Circle
Location: Manhattan
Description: You need to be very conceptual and have great type skills. Your design style should be fun, playful, modern and cool. Ideally you would also be able to handle some Photoshop and InDesign print projects. You must have a solid portfolio to be considered for this gig!
Read more here.
#6 Part Time Jobs
Designer, Creative Services (Part Time)
Job Poster: Everyday Health
Location: New York, NY
Description:What to Expect, the world's most recognized pregnancy and parenting brand is looking for a talented, eager and curious designer to join our Creative Services team. The designer works on a variety of digital and print projects for including mockups and product concepts for sales proposals, engaging digital advertising and other promotional projects as assigned. He/she also works on presentation design, image searching and editing and other projects to assist the What to Expect Art Director.
Read more here.
Part Time Web Designer (20 hours/wk)
Job Poster: DEVSCHOOL
Location: Puerto Vallarta, MX
Description: Howdy howdy! It's that time again – time to find the next person to continue making Devschool, the best online coding bootcamp in 2016! This time around we need a designer that wants to get shit done, not just push pixels around for hours with no goal in mind.
To start, you will take our website to the next level, taking 'ugly' sections like the elective pills, and making them nice. You get to work from home, and we could care less if you do your work while smoking on a bong or vape, or for the matter, drinking a whiskey or scotch. Do the job in your underwear if that is what makes you creative.
Read more here.
Part-time Communication Designer (FTC)
Location: London
Description: You will help ideate, create and deliver a wide variety of creative assets that enable us to communicate the stories and value of our approach, work and insight with greater visual creativity, speed and consistency.
Read more here.
#7 Full Stack Jobs
Angular.js / Full Stack
Job Poster: Nex9 LLC
Location: New York, Tribeca
Description:Your mission is to revolutionize the web. Building single page applications is your favorite discipline — eager to try new things and create beautiful things.
As part of our team, you will interface with our designers to work on client projects and our content platform.
Read more here.
There you have it , this week's best job listings on Pixel77 Jobs. Which of the jobs caught your eye? Tell us in the comment section below.

(Visited 517 time, 1 visit today)