"By three methods we may learn wisdom: First, by reflection, which is noblest; Second, by imitation, which is easiest; and third by experience, which is the bitterest." – Confucius
To be truly good at your craft, you need to constantly up-set your skills, and this is especially true in the world of web design. Fact of the matter is that is that it is impossible to know everything there is to know about web design, but if you are passionate it, than that's one of the things that makes it so exciting.
ADVERTISMENT:
The Best Deals For Digital Design Assets - InkyDeals.com. Learn More>>
Passion manifests itself in two ways: doing what you love, and learning what you love. And since we know that you absolutely adore web design, we are going to show you a few websites where you can take some useful and free web design lessons.
The lessons range from short tutorials to full-blown courses, so you can pick and choose according to the amount of time you want to invest. Let's get started.
1. Codeacademy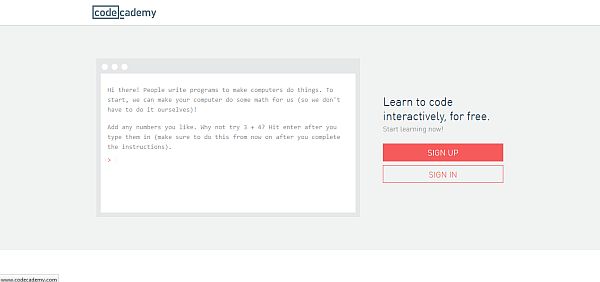 Rethinking education from the bottom up, Codeacademy's mission is to adapt the act of teaching to the age of the internet. As the web has revolutionized all aspects of our lives, from the way we do business, to the way we meet people and build relationships, Codeacademy's aim is to finally drag education into the 21st century.
Currently offering courses in JavaScript, HTML/CSS, PHP, Ruby, Python, and API, Codeacademy is definitely the place for you if you have only just started making your first steps into web design.
2. Treehouse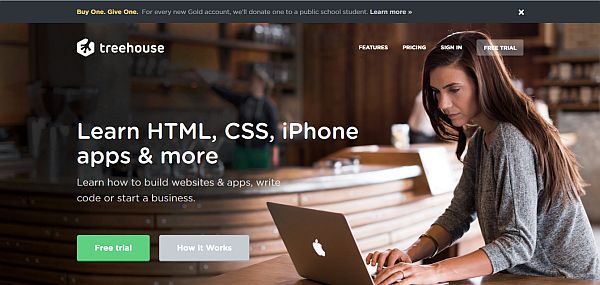 Boasting a massive library of topics, Treehouse is a terrific learning resource for any web designer, regardless of skill level. Courses and lessons are constantly being updated, and new ones are added regularly, so that you can really make the most out of either your free 14 day trial, or your paid monthly subscription.
One of the coolest features this site has, we think, is the badge system they implemented. It works like the achievements system that games have, making the learning process so much more fun than the plain old one we know and loathe, and allowing you to show off what a great student you are.
3. Google Developers University Consortium

Google is a big brand with a big reputation. In many ways, Google is the internet, so any lessons that they are willing to give are undoubtedly valuable ones. Offering lots of great lessons, from and AJAX tutorial, to information on GIS and KML, GDUC is one of the most relevant web resources out there.
4. World Wide Access: Accessible Web Design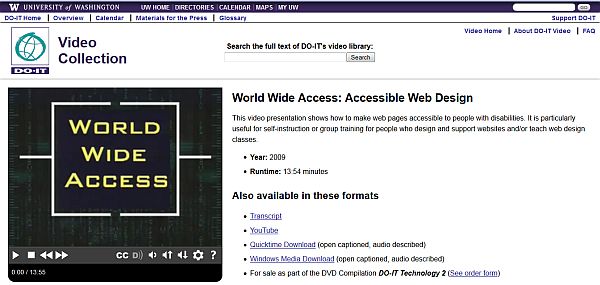 The University of Washington made this really cool free course back in 2009. It is a social conscious lesson, teaching you how to make websites that are available to people with disabilities. There are no assessments or grades involved in this course, but it does contain an accompanying publication, as well as links to resources with additional information.
5. HTML Tutorials by John C. Gilson

Brought to you by Brantford Educational Services, this list of 21 tutorials cover topics for both people wanting to learn web design, and for people who are already proficient in it, but want to learn a few more tips and tricks.
6. Don't Fear the Internet

Don't Fear the Internet is not specifically aimed at web designers, so there's not much this website has to offer you if you have moved past beginner level. But if you have only just started web designing, or want to start web designing, than this definitely is the site for you. Created by letterer and illustrator Jessica Hische, and web designer, musician, inventor and DIY enthusiast Russ Maschmeyer, the website consists of 7 videos, whose purpose is to make you feel empowered by the internet.
7. Introduction into Web Design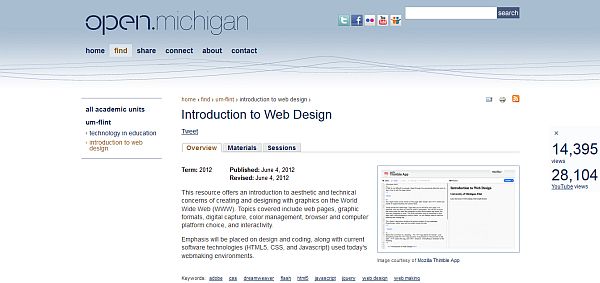 Admittedly, this course is perhaps a bit out of date, as it uses a slightly older Adobe CS, namely the CS 5.5. But that shouldn't be too much of a problem, as the differences between CS 6 and CS 5.5 aren't too dramatic. The whole course contains 13 video tutorials, split into three categories (Device Central Tutorials, Dreamweaver JQuery Tutorials, and Flash Tutorials), so that you can either take the whole course, or just pick which bit interests you the most.
8. P2PU's School of Webcraft

P2PU is one of the biggest and best open universities there is, and their School of Webcraft is an absolutely marvelous learning resource for any web designer. Like our previous entry Treehouse, P2PU's School of Webcraft has a badge system that makes the learning experience more fun, the added bonus of their badge system is that they are easy to implement in a portfolio or CV.
That makes them valuable for bragging rights to both peers, and potential employers. And if that wasn't enough, the school is also backed by Mozilla.
9. Udemy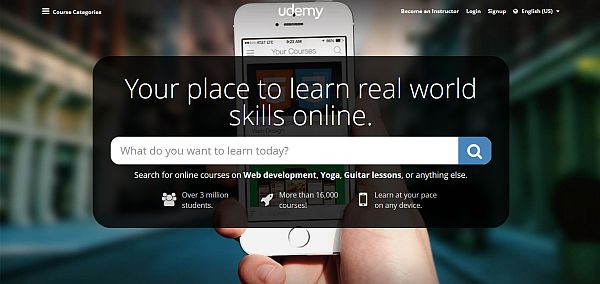 Udemy is a terrific resource for all kinds of courses and tutorials, so of course it also has a few really useful and pleasantly packaged tutorials for hopeful we designers. Most of the advanced stuff is paid, but they do have plenty of beginner tutorials that are totally free.
10. Code School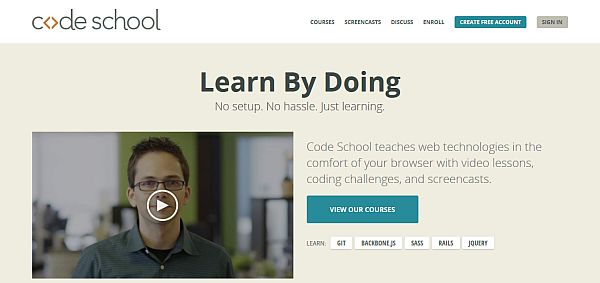 We are definitely pleased to see that at least online education is starting to focus on gamification, to make learning an enjoyable experience.
Code School's credo is that you can't learn program or design just by reading a book, so their courses focus on "learn by doing", by mixing video, in-browser coding, and the aforementioned gamification to make learning new technology fun. Their "Paths" system makes it easy for you to see the steps you have to go through to reach the level you want (kind of like Civilization's tech tree). There are four main categories of "Paths", namely Ruby, JavaScript, HTML/CSS and iOS, and they offer a mixture of both paid and free courses.
That wraps up our list of free web design lesson resources. We hope that the entries on our list will help learn what you need to be a fantastic web designer, and make the web a better place.
Don't forget to leave us your thoughts, in the comment section below, and feel free to share any other free lesson resources you might know, too.
(Visited 466 time, 1 visit today)