Foodscapes a.k.a Landscapes Made from Food by Carl Warner
"I don't like food that's too carefully arranged; it makes me think that the chef is spending too much time arranging and not enough time cooking. If I wanted a picture I'd buy a painting." – Andy Rooney
Whether you agree or not with what mister Andy Rooney said, you have to admit that carefully arranged food looks really cool. A nice presentation builds appetite, and you feel as if the cook put it that little extra effort to make your meal a truly pleasant experience, and that you are getting your money's worth.
But intricately designed food is not limited to the plate. Carl Warner found a totally new way to approach the art of food presentation. Using his extensive experience in both still-life and outdoor photography, Warner designs and, of course, photographs stunning landscapes made of food, which he has named "foodscapes".
He came up with this idea during the mid to late 90's, when he found that work as an advertising photographer was becoming creatively and financially unsatisfying. So he set out created his first foodscape, dubbed Mushroom Savanna, and over the next decade or so has continued to perfect his unique style, creating over 6 dozen landscapes made from food.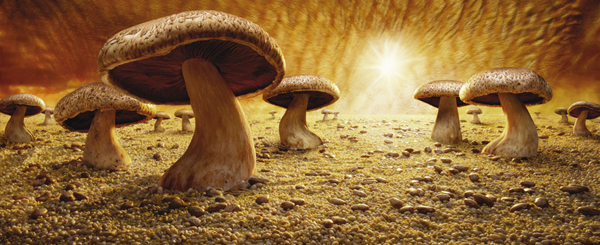 His fantastic photographs soon caught the attention of advertisement agencies, and they started commissioning his work for many food products and brands, such as McDonald's, Uncle Ben's and Hellman's.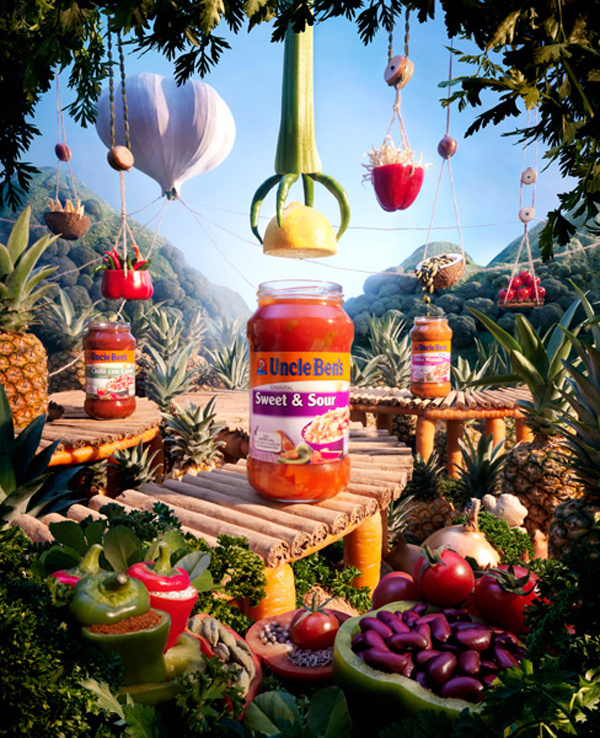 Carl Warner's story starts in Liverpool, England (home of The Beatles) in 1963. In 1970 he moved to Kent with his parents, and spent a lot of time in his bedroom, putting his imagination on paper and listening to music. He had posters of Salvador Dali and Patrick Woodroofe, as well as record sleeve designs by Roger Dean and album cover art by Hipgnosis.
Inspired by the aforementioned artists, he began attending the Maidstone College of Art in 1981, planning to became an illustrator. He soon discovered a strong passion for photography, and moved in 1982 to the London College of Printing, where he studied photography, film and television.
After finishing his courses in 1985, he started working as an assistant to David Lowe. It's in this period that he first started meeting professionals from the advertising industry, and after one year set up his own studio next to Lowe's.
Through the mid 80's and 90's he became a much sought after photographer, having worked with many advertisement agencies, design groups and PR houses on a number of products and brands. Although his true passion lay in landscape photography, he first achieved notoriety as a still-life photographer, only later being able to branch out into portraits and landscapes.
After Mushroom Savanna started getting attention, The Sunday Times published it back in 2008, and that is when the media really started to take an interest in his work. Carl also benefited from the creation of a PDF of his work that soon went viral via email, and attracted the attention of a major U.S. publisher, which offered him a book deal.
With his new found success, Warner started getting more and more commissioned work, including directing TV and internet commercials, making his works truly unique and recognizable, and allowing him to reinvent himself as an artist.
He isn't very secretive about the process of creating his marvelous foodscapes, that's for sure. His first book, "Carl Warner's Food Landscapes", contains many of his early work, and details the work that was put into them, from inspiration to realization. The book is a "full disclosure", as it reveals crucial details such as ingredient lists and sketches of his works.
His second book, however, is a children's book, and it also contains poems written by Carl himself. Titled "A World of Food", the book's aim is to encourage children to eat healthy by allowing them to discover facts about the ingredients he uses and their nutritional value.
Although he is the mastermind behind this project, foodscapes are most definitely not a one-man project. Carl works closely with a team of food stylists and model makers to create his jaw-dropping sets, and every member of the team has a say in what foodscape will be made, and how it will be made.
The whole process starts with a simple drawing. As the artists himself says: "I tend to draw a very conventional landscape using classic compositional techniques as I need to fool the viewer into thinking it is a real scene at first glance, it is the realization that the scene is in fact made of food that brings a smile that brings a smile to the viewer, and for me that's the best part".
After the drawing and the choosing of the ingredients comes the actual building of the set and shooting it. This can take up to three days to shoot, and since the food spoils really fast because of the lights, so a lot of the magic you get to see is in the photos is the product of painstaking retouching and fine tuning, after the photos are taken.
The whole process is very laborious. Even selecting the right individual ingredients is time-consuming, seeing as not just any ol' tomato will look convincing as a cart-wheel. Carl says he spends a lot of time in the supermarket just starring at vegetables, and he knows hat makes him look a bit weird, but as you are about to see, the results really make it worthwhile.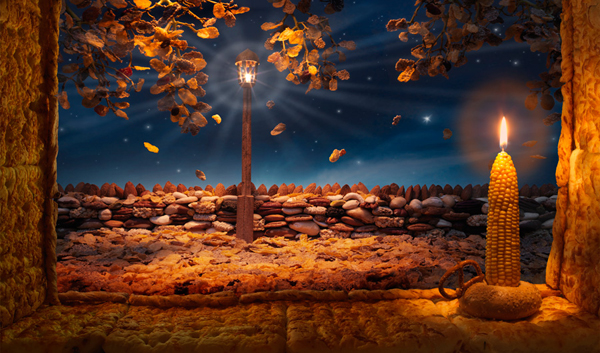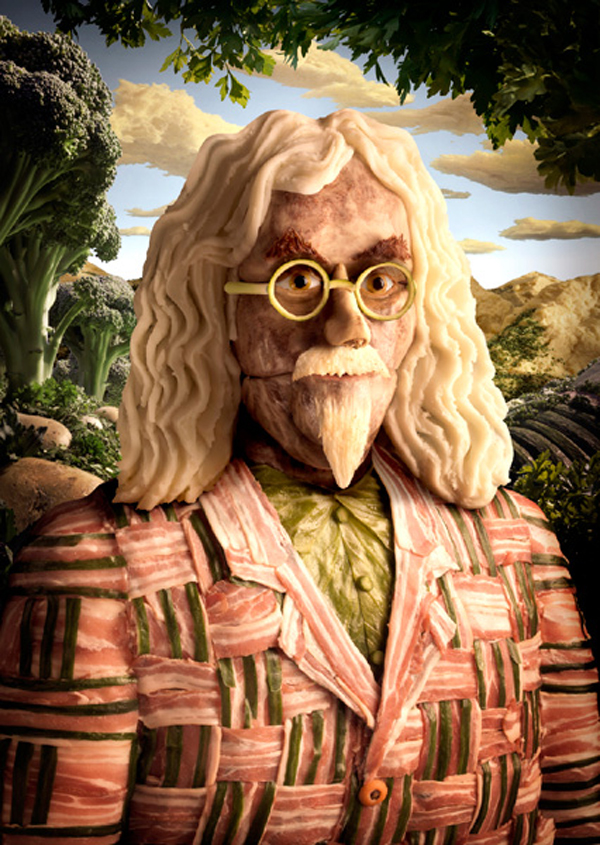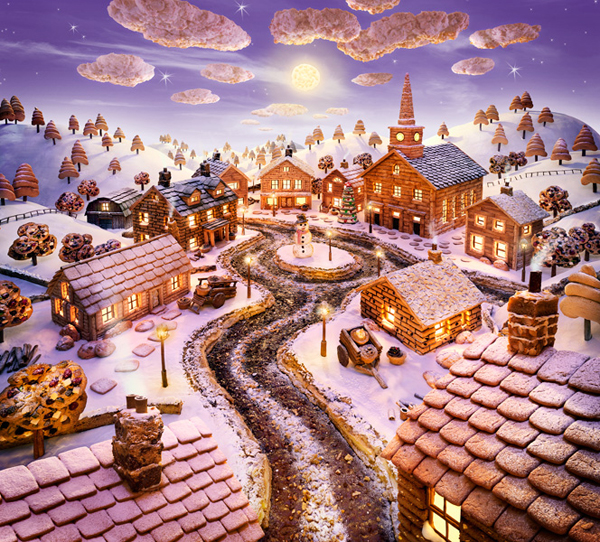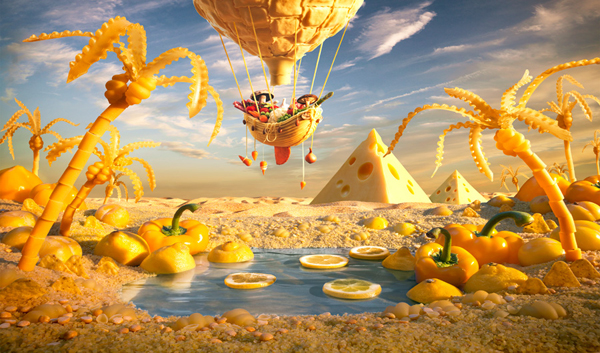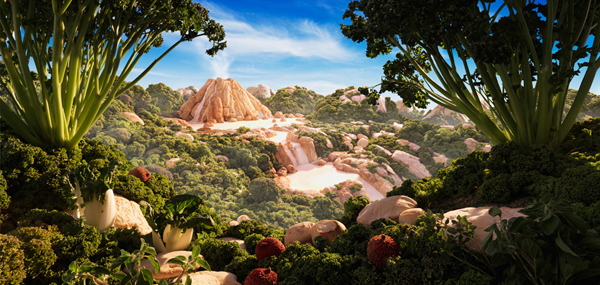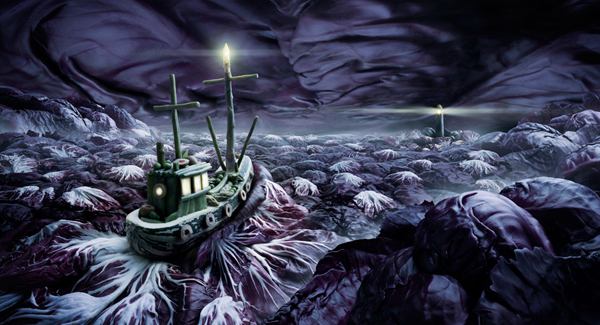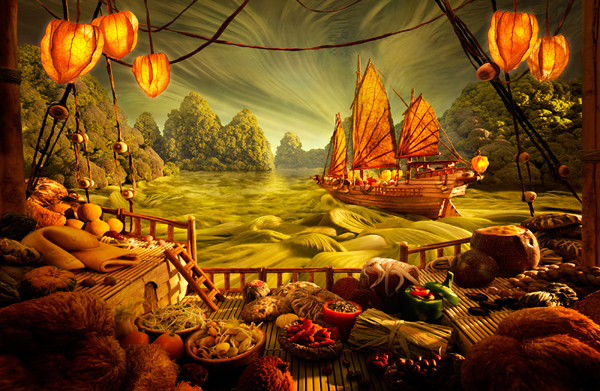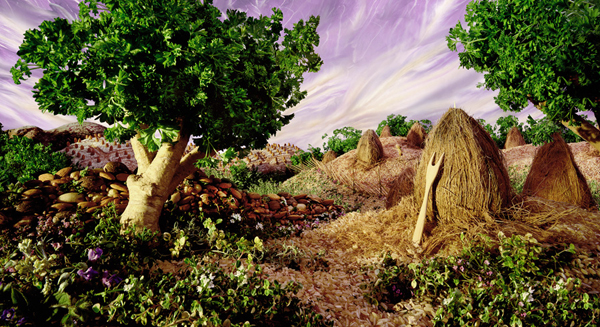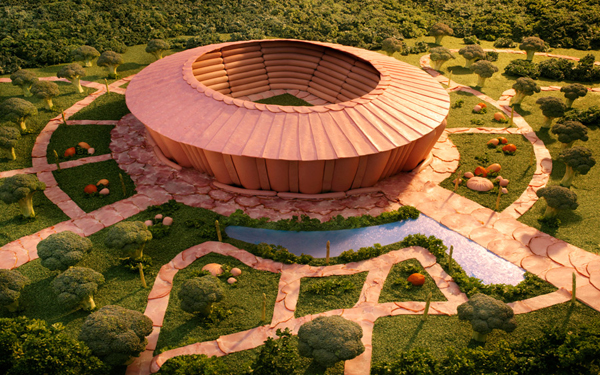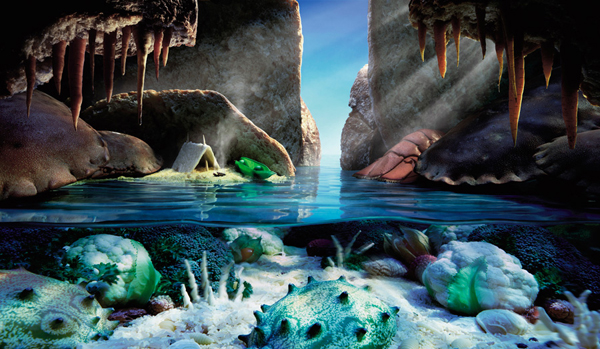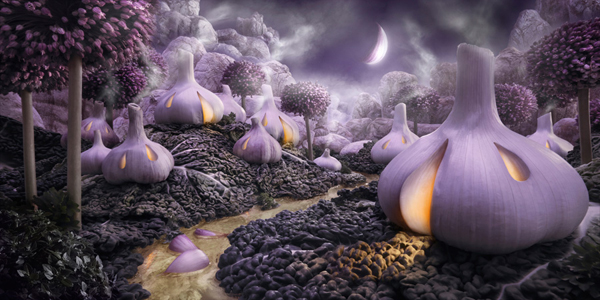 We don't know about you, but we could stare at them for hours. Words just can't do justice to the incredible amount of skill, effort and attention to detail put in to create these beautiful landscapes.
From the Billy Connolly portrait with a bacon jacket, to the cheese pyramids in the cheese desert and the superb coconut haystacks and garlic cottages, all these foodscapes are real stunners, and they also kind of built up an appetite.
We hope you enjoyed our little presentation of Carl Warner's awesome gastronomic landscapes, because we sure have. Feel free to check out more of his works, whether they're foodscapes or not, on his website, by clicking the link here, and be sure to share your favorite foodscapes in the comment section below.