Eka Gotsiridze is an artist of Georgian descent, now based in Cyprus. She graduated the Tbilisi State Academy of Arts with a degree in Fashion design. While still a student, she garnered a reputation for herself by designing costumes for award-winning ballet films, followed by the creation of a TV documentary about Fashion of 20th Century. Since then, Eka designs costumes, fashion, exhibits her own paintings, and what she really loves to create is her superb fashion illustrations, fashion art.
A fashion artist, that's how Eka defines herself.
ADVERTISMENT:
The Best Deals For Digital Design Assets - InkyDeals.com. Learn More>>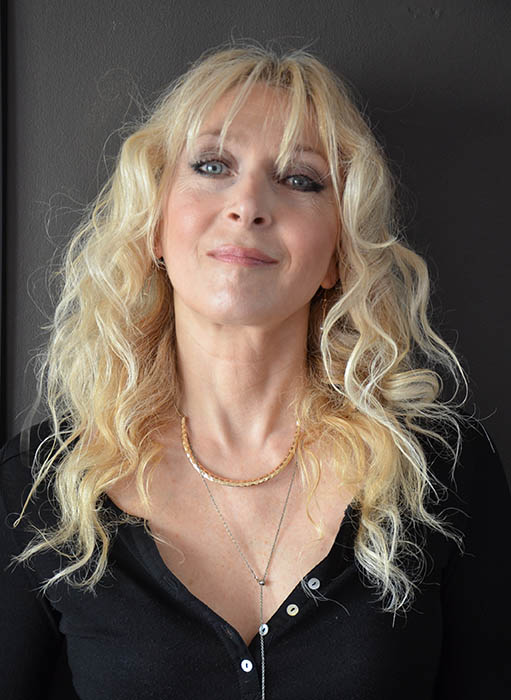 Victor: Tell us something about yourself and what defines you.
Eka: I am a fashion artist, occasionally fashion and costume designer.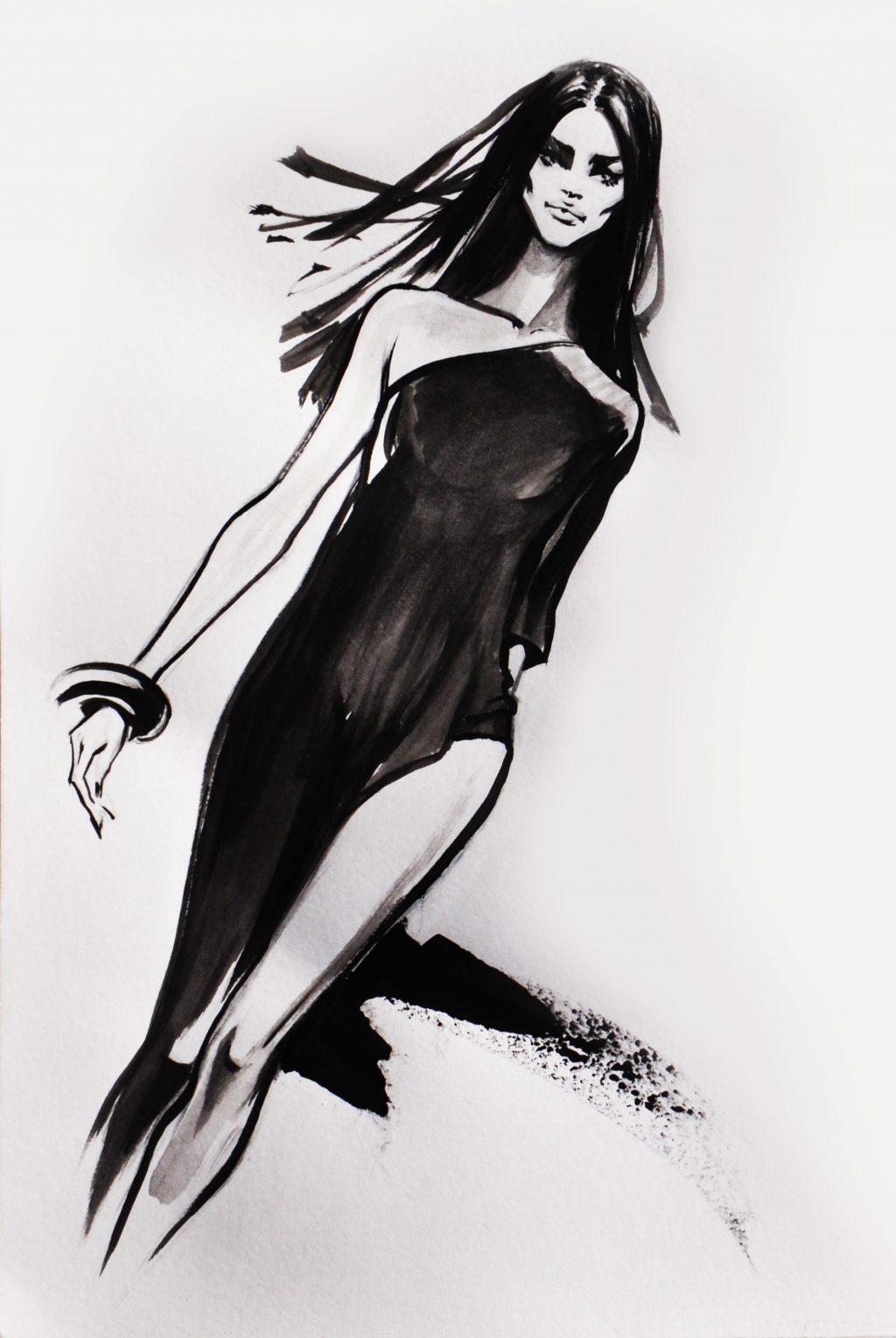 V: For how long have you been working in this field?
E: Hmm, that's a good question! Let's see… I've been designing costumes for a ballet films and design fashion from the age of 16. Studied fashion design for five years at the Tbilisi State Academy of Arts, where I was often told not to pay that much attention to the details of a female face and body in the sketch, as I would constantly do, but instead to concentrate on a design itself, which made perfect sense of course! But the thing was, that I wanted to do both and do it very well too! Instead of being an essential, but still only a part of the creative process, I wanted my sketches to expand into complete works of art in their own right. As I'm writing this, I can see how funny it sounds now, when fashion illustrations and illustrators are all around you, anywhere you look and often their work is so detailed that you can't tell if it's a photograph or a drawing. But back in early 80's, it was a completely different story! No one was interested in fashion illustration, and frankly, no one knew what it was! So that's how and when I've started, and that's what I've been doing since.

V: Could you tell us who inspired you throughout your career? In what way did you use this inspiration?
E: I've always admired posters, especially by Alphonse Mucha with his ornate lines, costume illustrations by Leon Bakst and Pin-up art by Gil Elvgren. Their work had a profound influence on my earlier body of work and even now when I'm drawing hair, my hand automatically draws art nouveau-like lines and I love it. I think we all as human beings, sort of collect data all the time, and later you can read it in our behavior, decisions, choices we make in our lives in general and of course in work we do and in my case in my art. A lot of people have inspired and inspiring me, anybody who really loves what they do inspires me!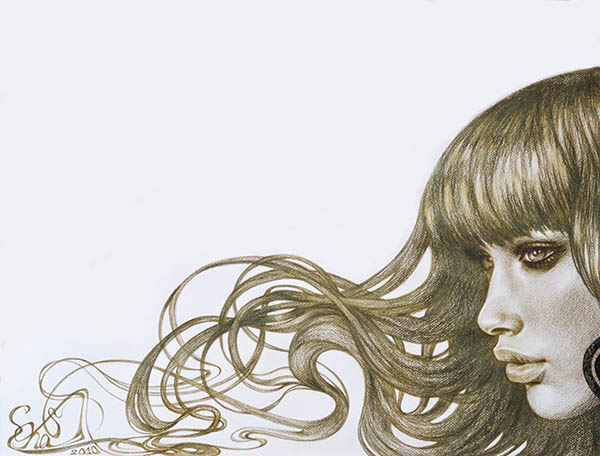 V: How does your work day look like? Take me step by step through how a normal work day looks for you.
E: I prefer to work where I live. In fact, I can't even separate my work from my life anymore, and I love it that way! First of all, I live literally on the beach! The view from my balcony and room I'm writing right now is UNBELIEVABLE! Just check out a couple of my videos I have on my website or Instagram and you'll understand what I'm talking about! So there is no better place for me to work.
I wake up every morning with the sound of waves, in a peaceful, clear state of mind. So I try to get to my desk as soon as possible before something or someone interrupts that conducive to creativity space I'm usually in the morning. Then I start with putting on some nice music I love or listening to something that really inspires me. I try to work as much as possible until it starts getting darker because I prefer to work with natural light. Then I work for 5 to 8 hours or more, if necessary. When I'm done, I usually turn the drawing towards the wall. Otherwise, whenever I see it I'll be tempted to make some change, which most probably would not be the right one. In the evening I usually work on my computer, cleaning backgrounds of the new pieces, resizing, just preparing them to post later mostly on Instagram or upload to my website etc.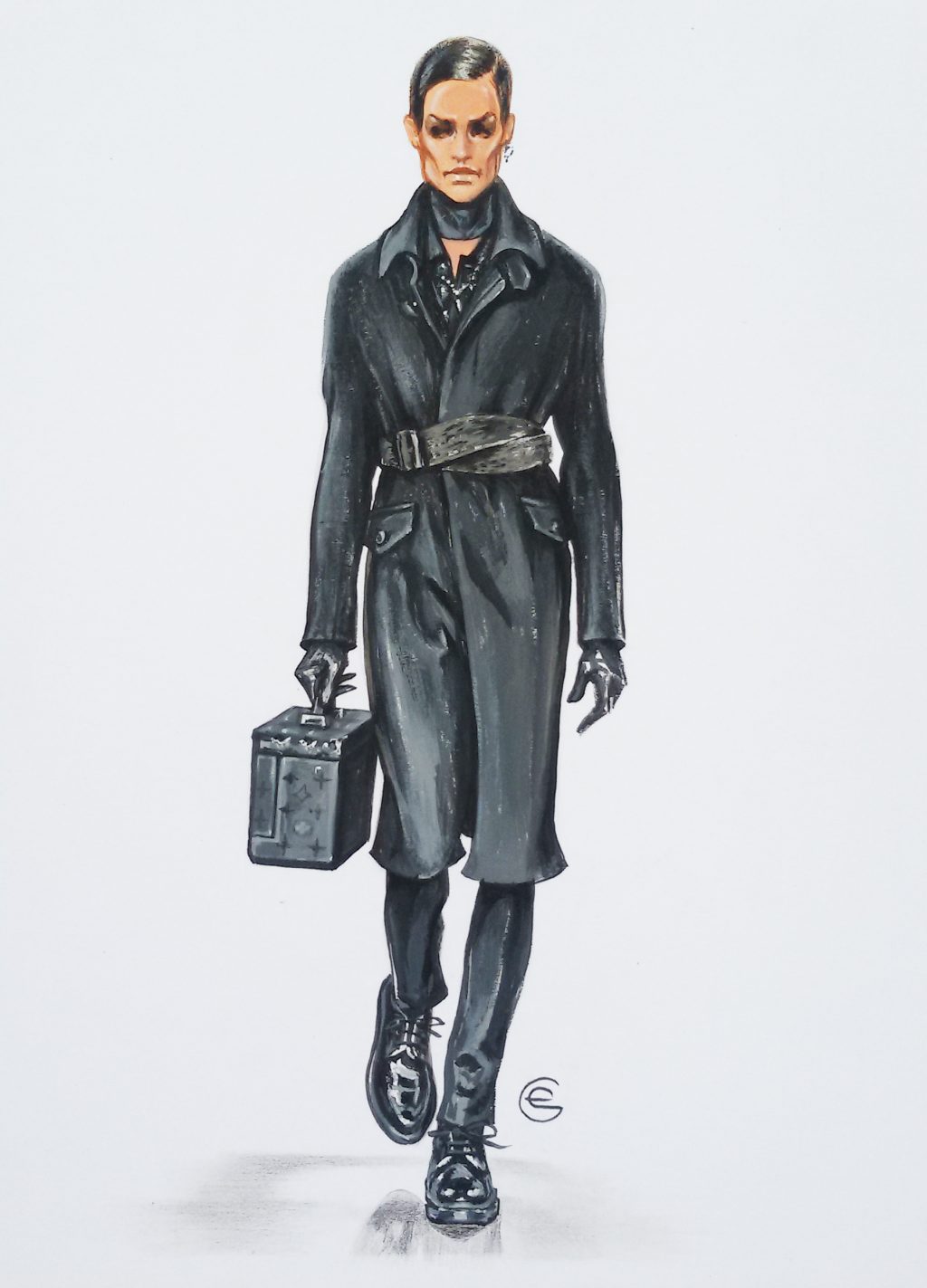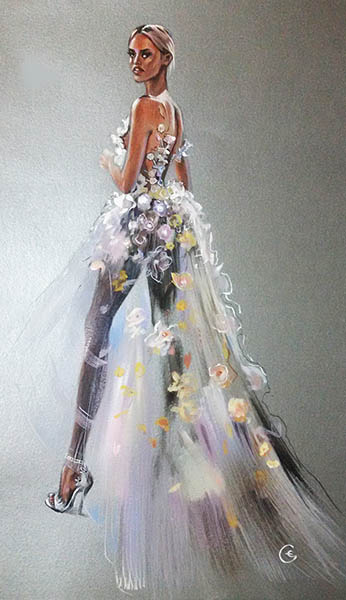 V: Do you have preferred tools you work with? Give us a few examples of tools you love using and why.
E: Lately, I use stumps a lot for blending. A specially when I'm working on a face or body and want to achieve a beautiful, smooth shade effect. For those you don't know what they are, stamps are dual-pointed sticks of tightly rolled felt-like paper.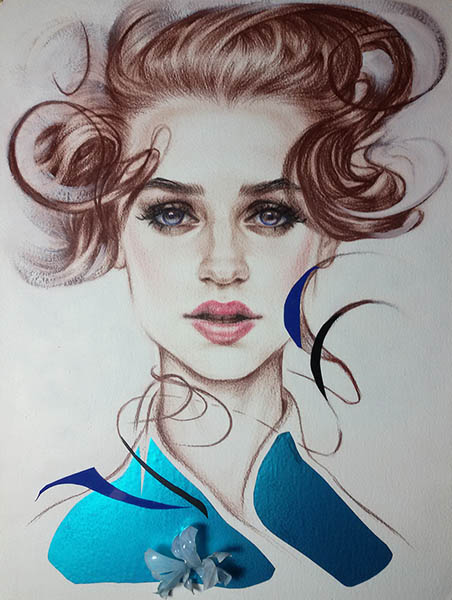 V: What do you believe are the most important projects you have worked on?
E: I got to do the costume design for the short ballet film when I was only 16. I was trusted to design costumes for the Bolshoi Theater's prima ballerina Nino Ananiashvili (photo below). That trust and later appraisal for the work I did, most gave me a boost of confidence. Another important project for me was designing uniforms for Georgian Olympic Team (photo below) to wear at the opening ceremony of London Olympics 2012.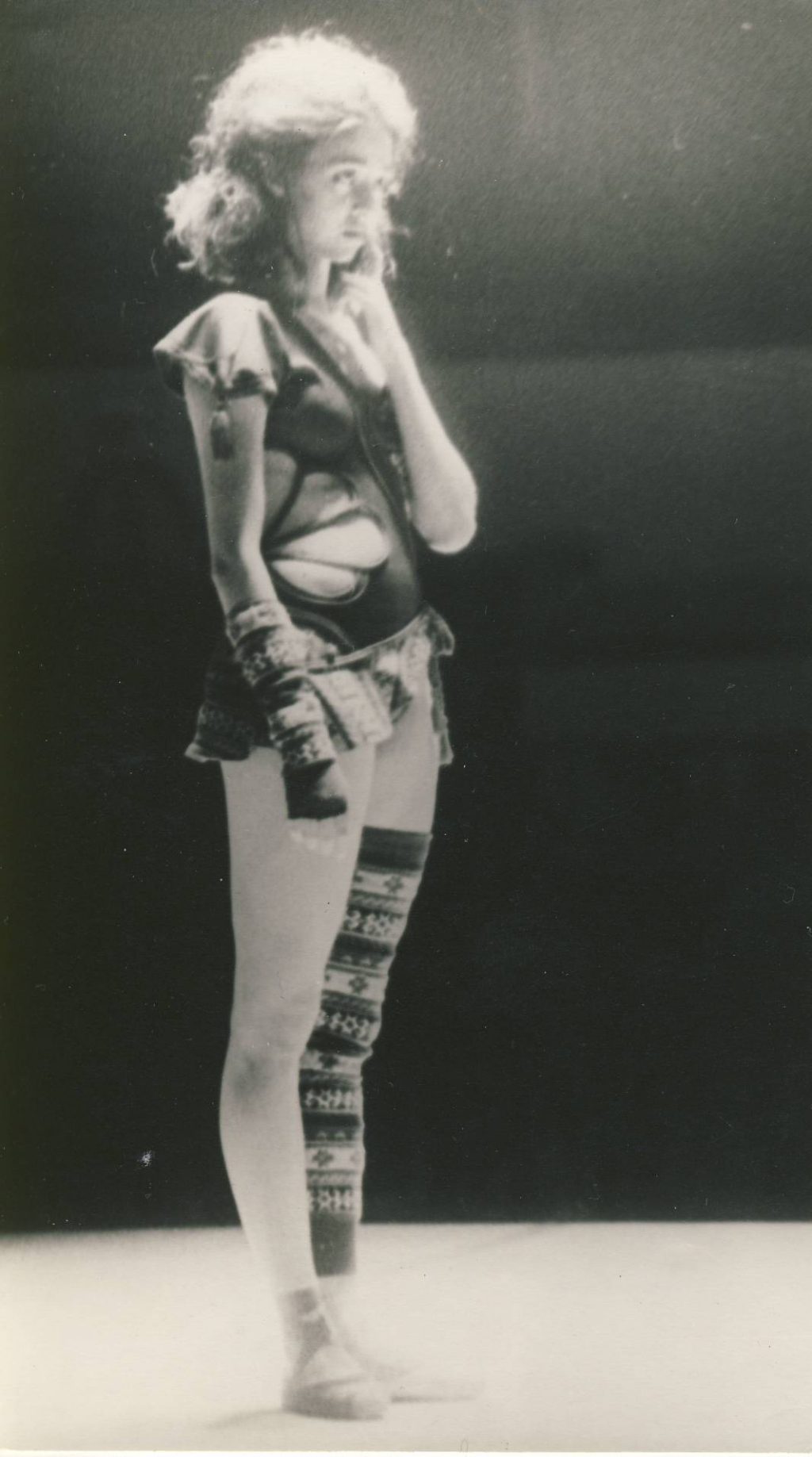 V: What is your work philosophy?How do you apply these beliefs to your work?
E: Do your best! I always do my best; there's simply no alternative.
V: Did you ever lose something you would love to have back?
E: Everything I had on my external hard drive that died and I did not back it up when I could! I wish I would have every file on that hard drive back, but unfortunately, I've been told that it's practically impossible.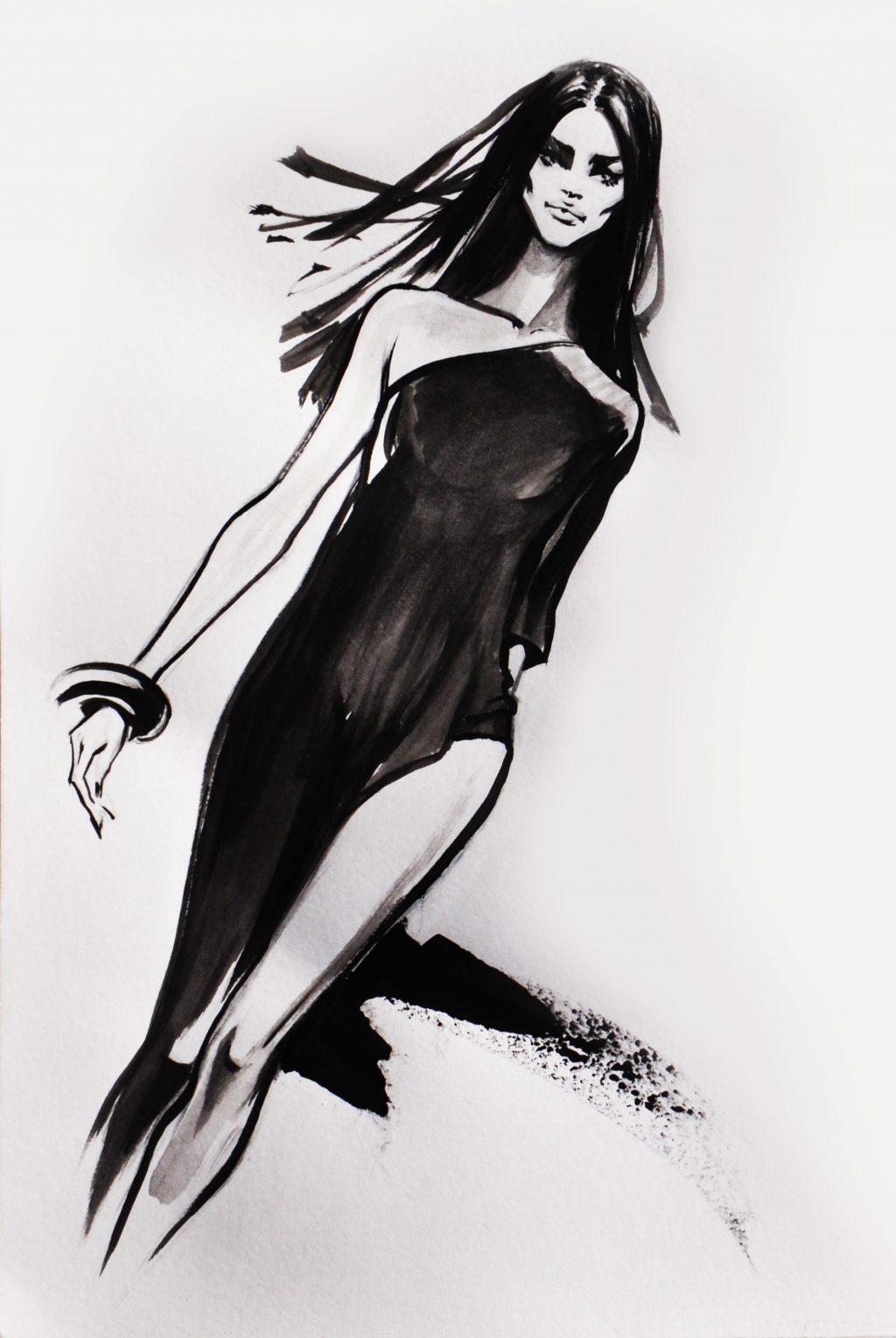 If you like Eka's work, you can find out more by visiting her website. If you want to tell her something, please do so in the comment section below and I'll pass it along.
All the images in the article were provided by the artist Eka Gotsiridze.
(Visited 1,456 time, 1 visit today)