Kaz Turner is a UK based artist that specializes in creating realistic works of art inspired by wildlife and the natural world. Kaz graduated from Glyndwr University Wales in 2007, where she gained a B A Hons in Illustration for Children's Publishing; however she now works as a Professional Wildlife Artist and has been doing so for 6 years.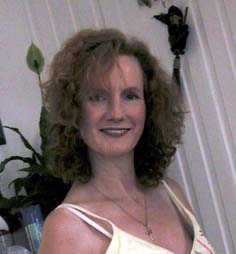 ADVERTISMENT:
The Best Deals For Digital Design Assets - InkyDeals.com. Learn More>>
Image Courtesy of Artist – Kaz Turner
[pixel77_quote type="2″ quote='"For me, my love of wildlife and the natural world has inspired me to create realistic works of art. My aim is to capture the spirit and character of the animals I paint. My assiduous attention to detail enables me to create a personal style of imagery and as a consequence, I consider it an honor and a pleasure to illustrate animals in art. I also enjoy helping others to improve their painting skills, with the correct encouragement and guidance anyone can learn to paint."' author="Kaz Turner"]
In addition to accepting commissions she also offers private tuition, travels to workshops and is currently in the process of arranging her own workshops. All of her lessons aim to develop the potential skill of any visual artist who wishes to learn wildlife art.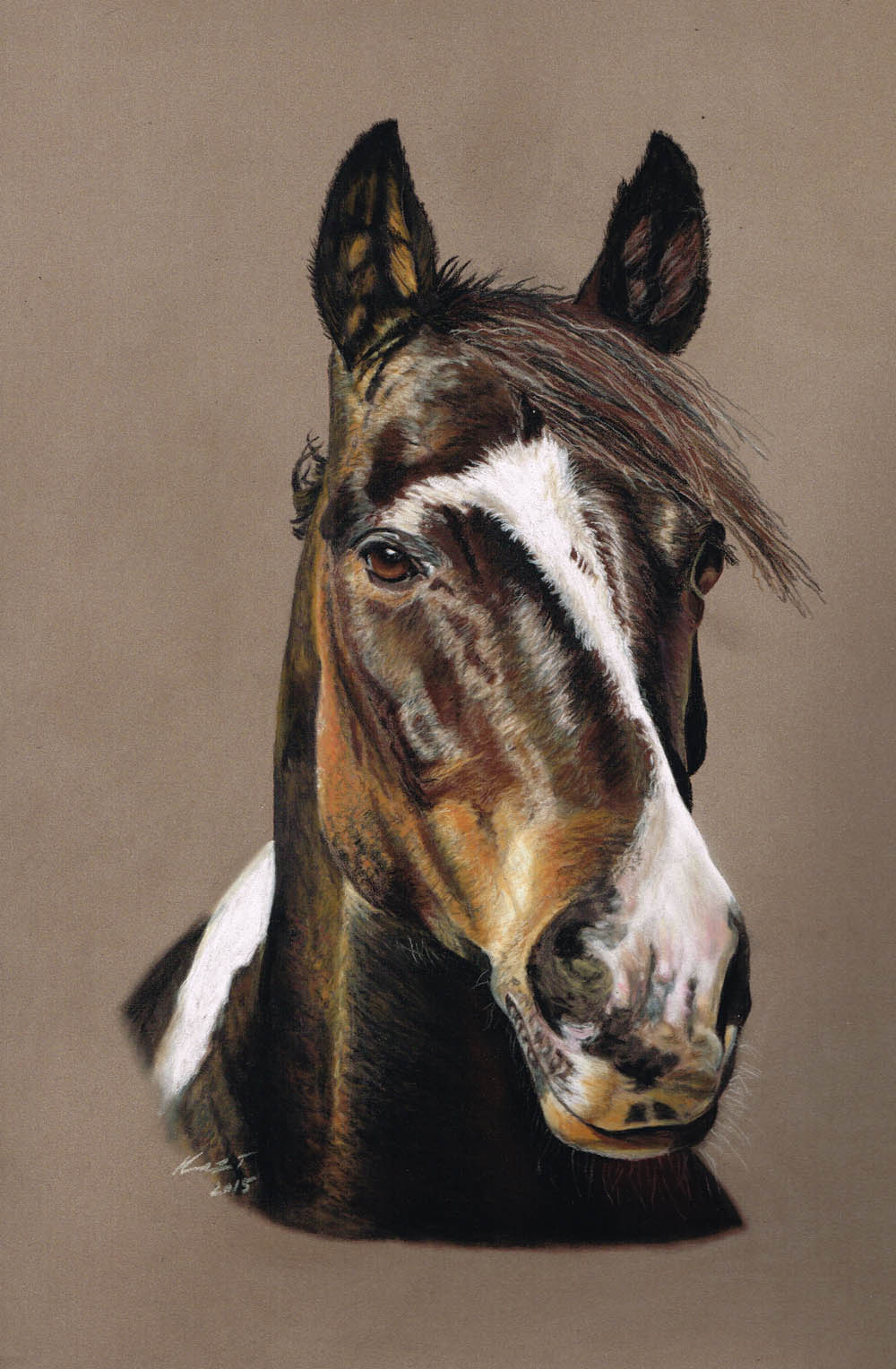 Image Courtesy of Artist – Kaz Turner
Victor: Where do you go to get your creativity flowing?
Kaz: When I left school I worked for a photographic company as a microfilmist, it was here I acquired my knowledge of the rudimentary processes of photography, thus creating a valuable starting point for my current work. Taking my own pictures allows me to create compositions I wouldn't necessarily be able to craft since they are designed using many shots; this assists to further assimilate any new ideas I may have. The very beauty of nature is enough to inspire a painting, to capture a fleeting moment of glory is enough to visualize a forthcoming work of art.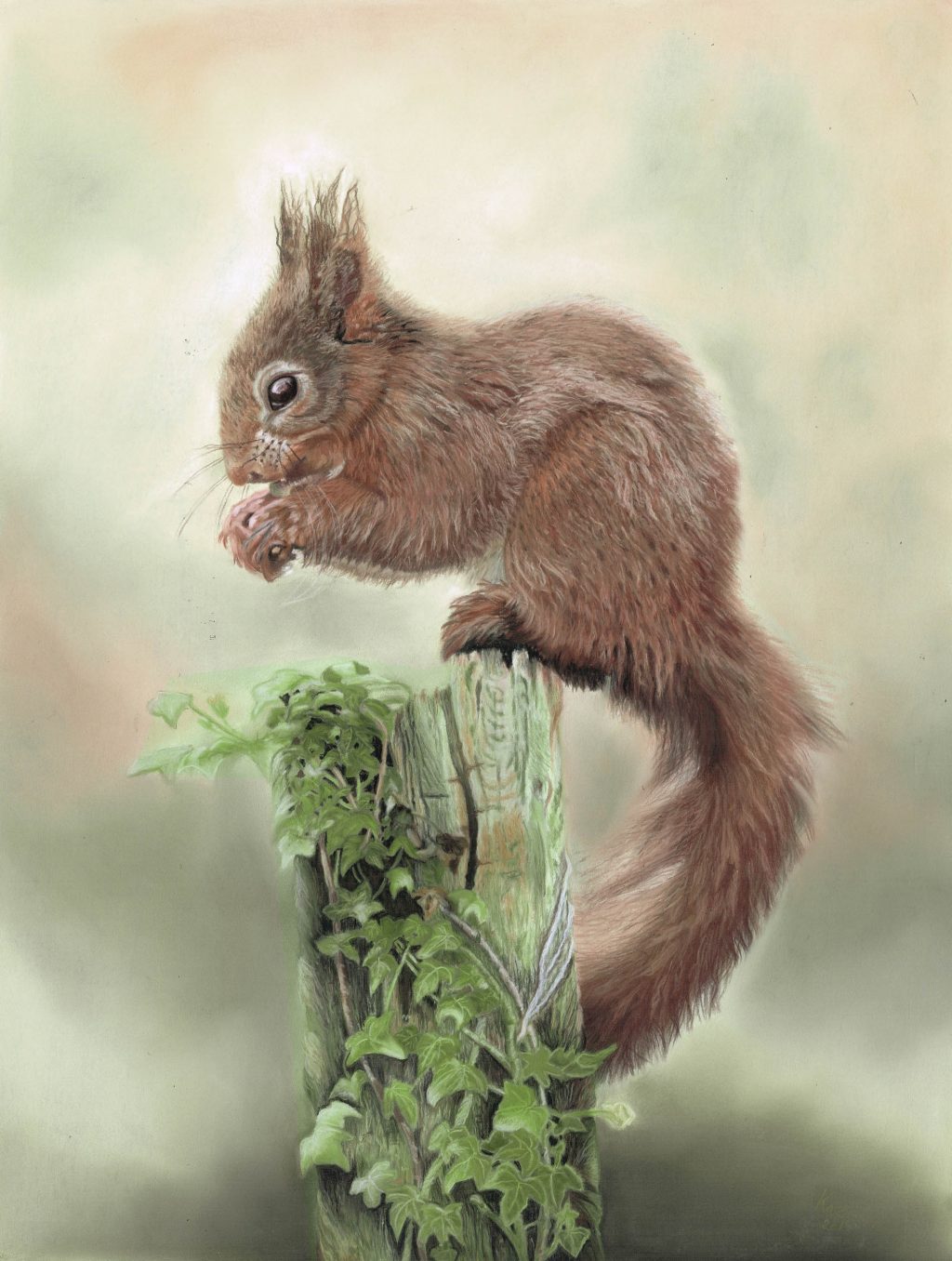 Image Courtesy of Artist – Kaz Turner
V: Do you have any hobbies? 
K: My work life is my hobby !! All rolled into one. I love what I do. Quite often I'd go walking, just me and my camera, a working break! My mind never switches off, its constantly in art mode. When life does become too weary though you may find me trekking up a mountain somewhere in North Wales.
V: Do you have any preferred tools you work with?
K: Although I've experimented with a plethora of art materials my preferred medium is pastels. I love the diversity and luminosity of the colors on offer. The effects that can be accomplished from a controlled medium are quite outstanding, plus the precise detail attained, which isn't widely associated with pastel is easily achievable. In my work I only use professional materials for example Faber-Castell Pitt Pastel Pencils for their firm leads whenever my work calls for clarity. A mixture of Stabilo Carbothello and Derwent Pastel Pencils not only for their softness but also for color. Unison, Sennelier, Winsor & Newton, Faber Castell, Maxell finest soft pastels for my backgrounds, while I use Conte hard pastel sticks for all under-paintings.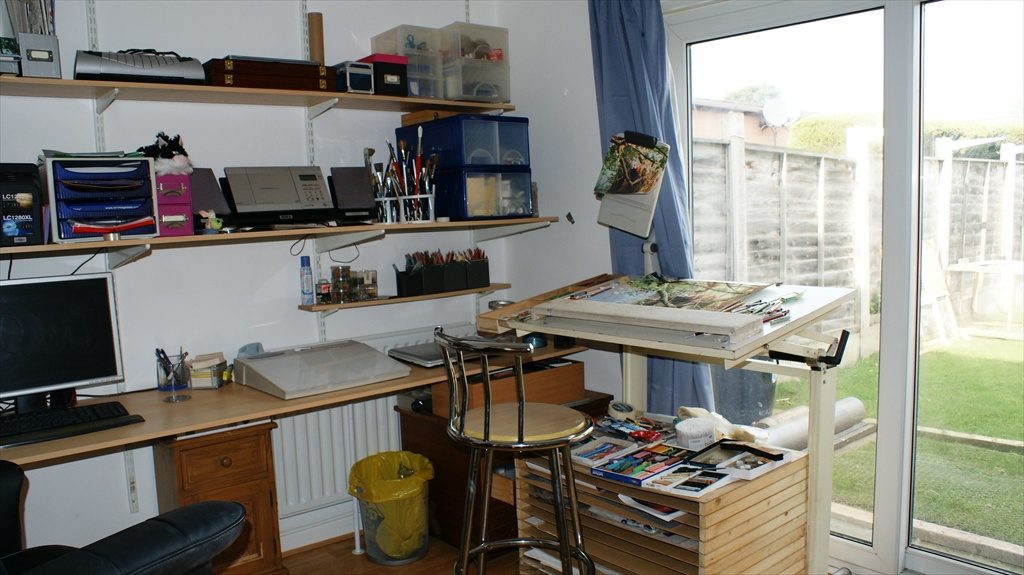 Image Courtesy of Artist – Kaz Turner
V: How many hours do you work daily? 
K: It may be easier to tell you how many hours I sleep !! I create whenever possible. I'm up early usually 6.30, so I pastel paint about 14 hours per day. If all goes well, I do my marketing in the evenings.
V:  Have you ever thought of quitting your work? If so, what caused you to ponder such a decision?
K: There are times when I ask myself is it worth it, of course there are; but I truly believe it is. I could never give up my dream; art runs through my veins, I breathe it, I wake up for it, it's my life. I always try my best, it's what all artists do and I'm always trying to think of new ways and ideas to market my work.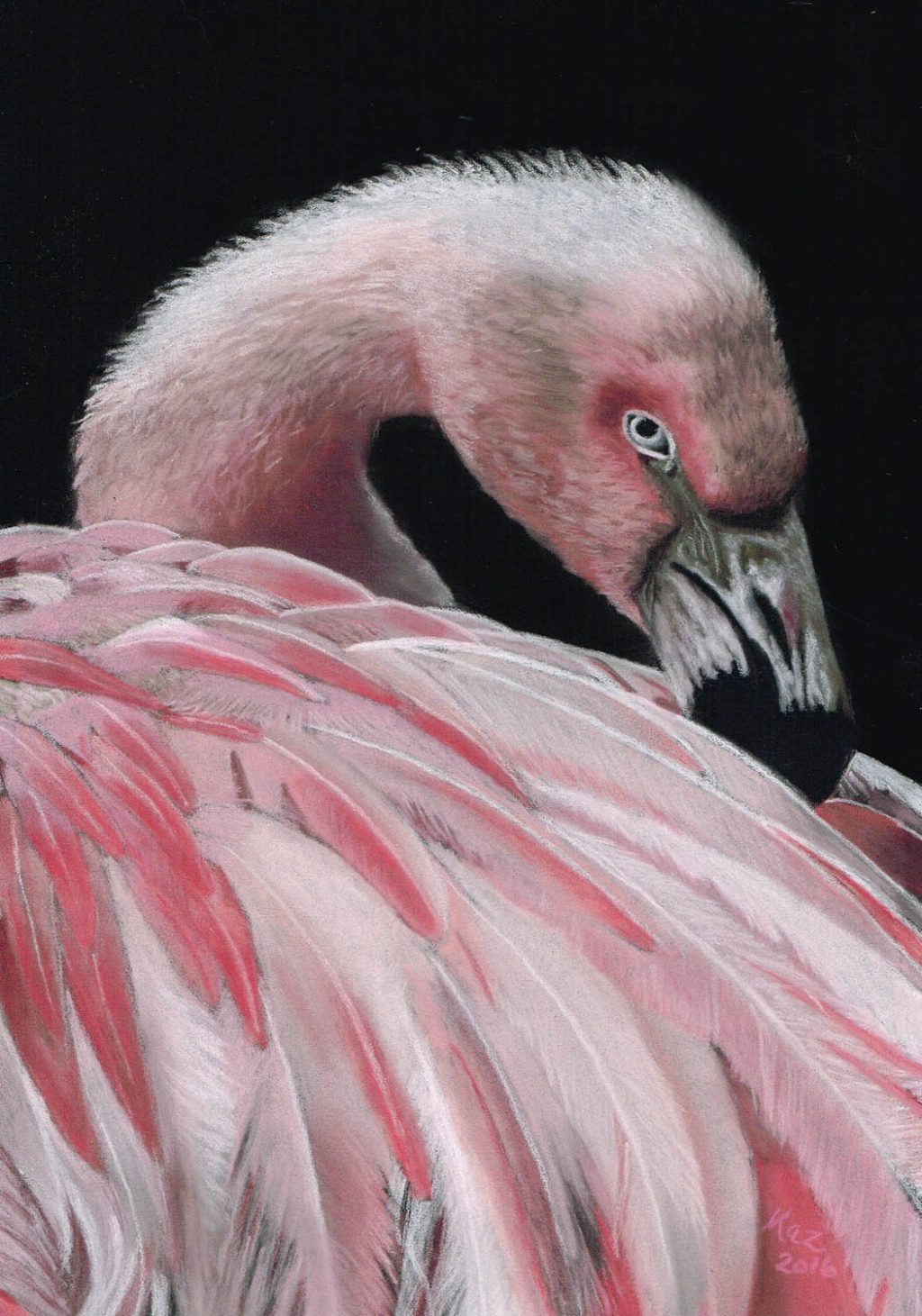 Image Courtesy of Artist – Kaz Turner
V: Is there someone you look up to as a mentor? How has that person helped you in your work and evolution?
K: I am a self-taught Wildlife Artist, and it hasn't been easy. It's been blood sweat and tears on so many occasions and I never thought I'd get this far, but I'm glad I stuck with it as my work has dramatically improved from when I first started. I worked alone for four years, practicing, endlessly till I reached a point where I was stuck in a rut, nearly there but not quite good enough. That's when I needed help. And who better than my great friend and international wildlife artist Eric Wilson. His work has always inspired me, and he does so much for animal conservation. The paintings of his big cats are truly stunning pieces of work. He taught me the techniques I required to achieve completion in my work.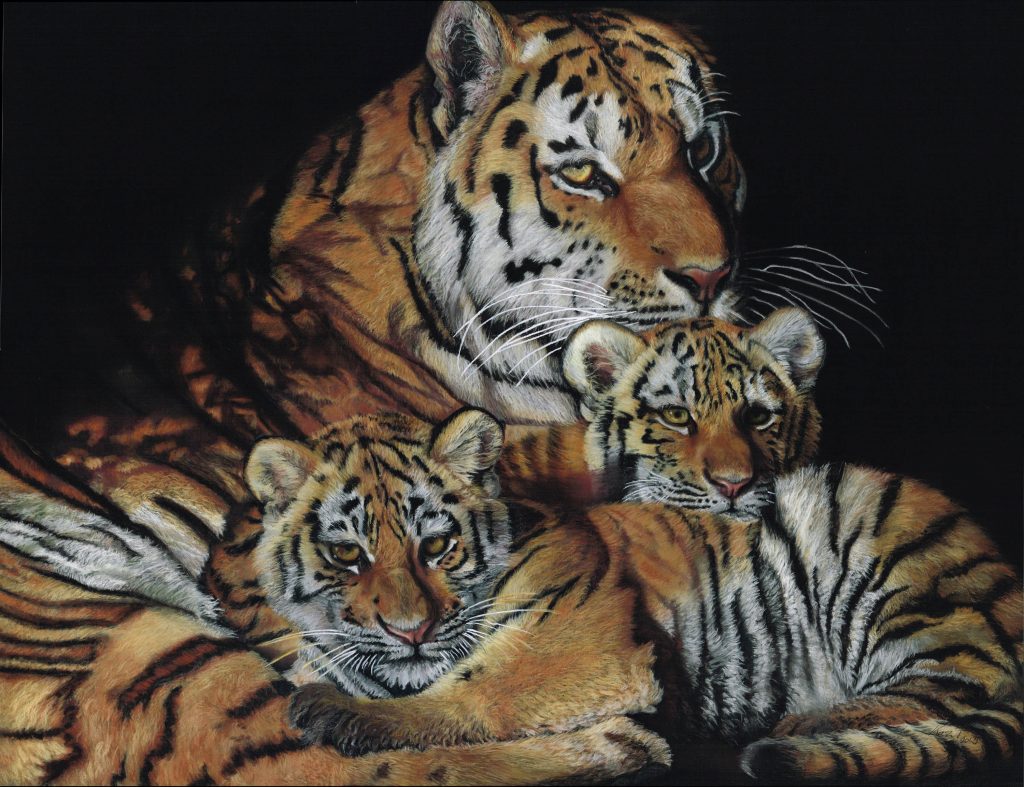 Image Courtesy of Artist – Kaz Turner
V: What made you realise your future was in this line of work? 
K: Since a very young age I have always had an avid interest in the concepts of visual art. I began to draw from the age of five, if you can call a few squiggles on a page art !! but I have always known I've wanted to be an artist. When I left school, I attended Art School but left as I didn't have the correct qualifications to do the course I wanted and the programme attended did not suit my abilities as a realistic painter. I pursued other avenues of my life and returned to art after a 20-year break; only to realize the world of art is where I should have always been all along. I gues Looking back, my one regret is leaving it for so long.
V: Tell us about  your favorite way to relax after a day's long work? 
K: After a long day's work, relax has to be the soaps; yep I'm an avid Corrie watcher. I also like Hollyoaks, but I record that on to watch later.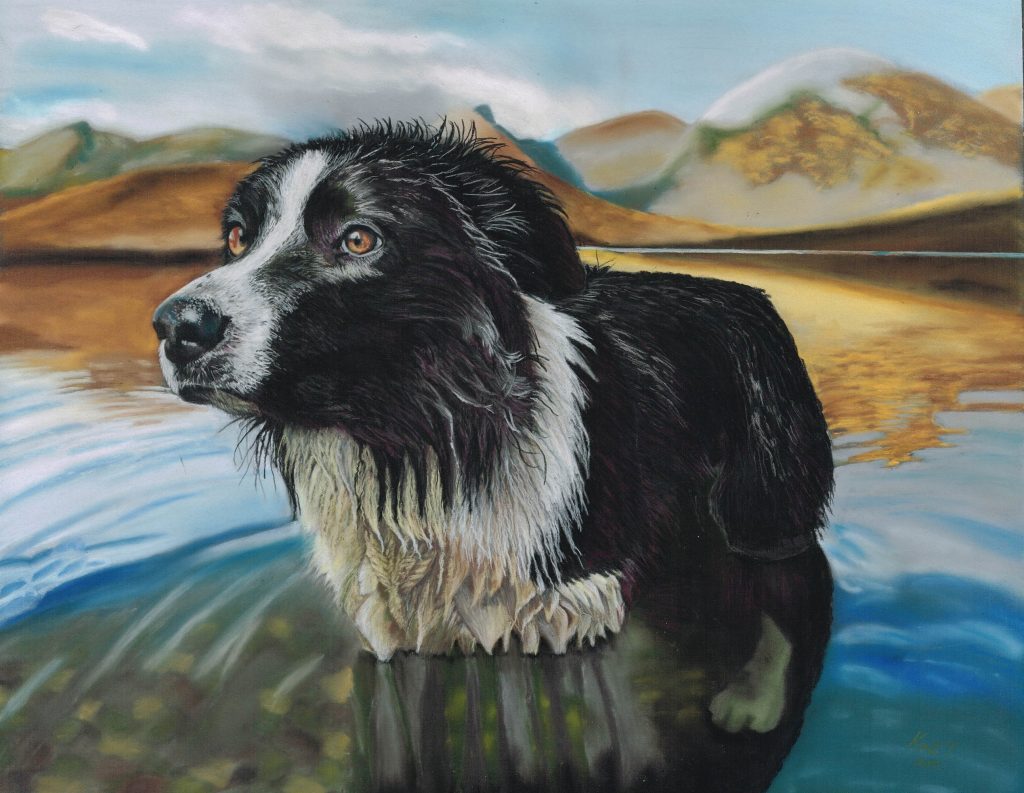 Image Courtesy of Artist – Kaz Turner
V: What would be your dream city to live in? 
K: I'm quite happy where I am in Wales :) I love it. It's a beautiful part of the UK, although the weather could be better. I do like to travel and would love to do a safari holiday one day but would always want to come home.
V: If anyone was thinking of going into your line of work, what advice would you give them?
K: Art is a learning curve for everyone, no matter what stage of a career; a great deal of it being very much self-directed. There is something new to learn about it, as mediums to choose from are endless. Never be afraid to ask for help, we all need it. Never compare yourself to another artist, we all work in our own way and at various stages from beginners to advanced. It's a long road to becoming recognized so above all stick with it, learn, grow and have fun.
V: Have you received funding for one of your projects?
K: No, but if it was wasn't for my father I also wouldn't be sending out my work professionally double mounted/framed; he builds them himself to gallery standards.  He also constructed my pastel box.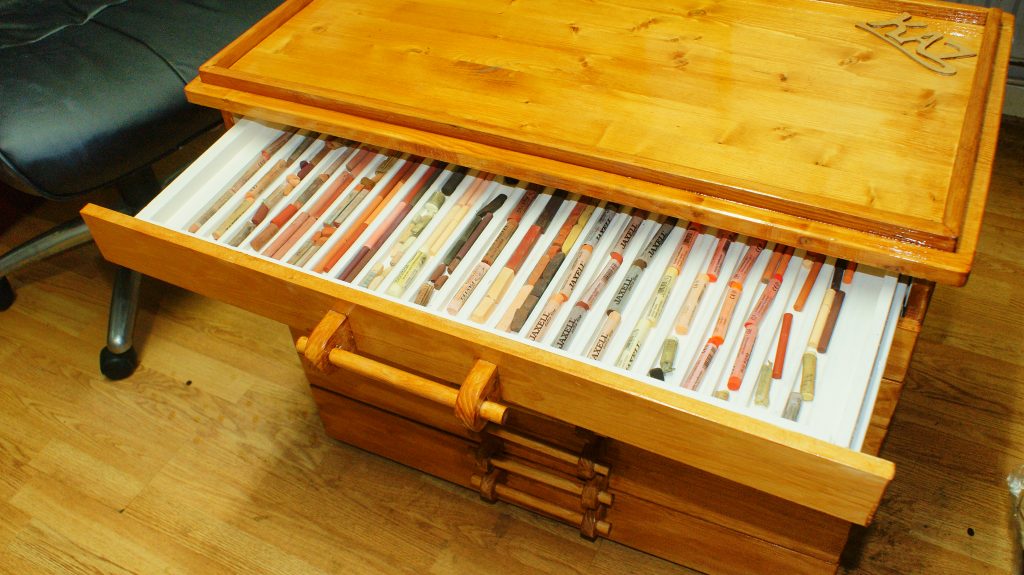 Image Courtesy of Artist – Kaz Turner
V: Do you have other projects planned in the near future?
K: I am currently working on my pieces for NEWA (National Exhibition of Wildlife Art) Wirral Peninsula UK
I will be one of the artists taking part in the demos this year.
I have four pieces of work currently exhibited at the Castle Park Arts Centre Frodsham UK with the AAA Association of Animal Artists which runs until the 15th of May. "Heart of India" was used to represent the AAA for their advertising campaign and appeared in the Cheshire life Magazine in March of this year.
There are six pieces of work at Pensychnant Conservation Centre & Nature Reserve in Conwy North Wales until September.
I will be having my own exhibition this year place and date still to be arranged.
And currently arranging workshops.
All my up and coming news are posted to my Blog, Facebook page, and Twitter.
You can find more of Kaz's absolutely stunning works on her website Sublime Designz. If you have any messages or questions for Kaz please write them down in the comment section below and I will make sure she gets them.
(Visited 819 time, 1 visit today)