"Scissors cuts paper, paper covers rock, rock crushes lizard, lizard poisons Spock, Spock smashes scissors, scissors decapitates lizard, lizard eats paper, paper disproves Spock, Spock vaporizes rock, and as it always has, rock crushes scissors."
– Sheldon
ADVERTISMENT:
The Best Deals For Digital Design Assets - InkyDeals.com. Learn More>>
I think we are all aware of the hit TV series The Big Bang Theory. But for those of you who have lived under a rock for the past 6 years let me enlighten you. The Big Bang Theory debuted on the 24th of September, in 2007 on CBS and now we are staring at 8 seasons, with season 9 and 10 already confirmed. It tells the story of two brilliant scientists Leonard Hofstadter and Sheldon Cooper who work as physicists at Caltech, in Pasadena, California.
They work together, they live together, and they are the bestest friends. They are also friends with Howard Wolowitz, a mechanical engineer, and Rajesh Koothrappali, an astrophysicist, who also work at Caltech. The foursome are the geekiest bunch you can find. They enjoy watching science-fiction movies together, playing video-games, and reading comic books, besides working on their individual projects and getting into humiliating and incredibly funny adventures.
But when Penny, an aspiring actress from Omaha, moves right next door to them, Leonard has another passion in his life – to get Penny to be his girlfriend. Well, you can see how it can go downhill from there. With such a huge fan base, it is no wonder that illustrations surface. Mordi Levi, a graphic designer, and illustrator, from Haifa, Israel created these low poly illustrations.
You can check his awesome work on his behance page, or like him on Facebook. Go check him out, he is an incredibly talented artist, that doesn't remain in the low poly genre and has a ton of other art works that you can gawk at.
1. Sheldon Cooper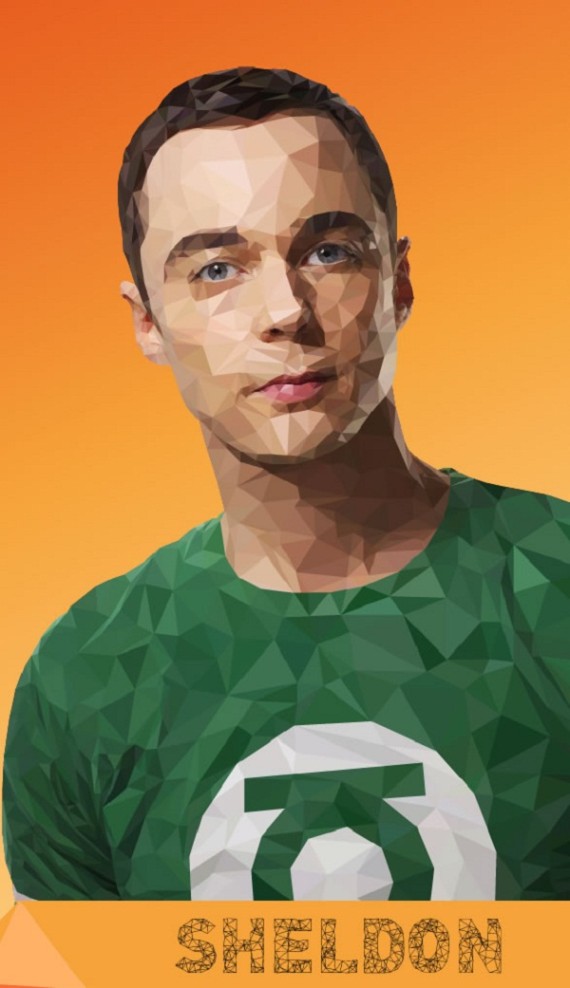 Sheldon is the most loved character in The Big Bang Theory. Don't get on his wrong side if you live with him. He has a strict set of rules – 500 or more pages; and he is ready to abide them all. He likes it when somebody sings him the Soft Kitty song, especially when he is sick. No, he isn't insane, his mother got him tested. Sheldon Cooper is played by actor James Joseph Parsons, born on 24th of March, 1973 in Houston, Texas, United States. He made his first stage appearance at the age of 6, and later in life, after he finished high school, went on to study theater at the University of Houston.
He won a two year Masters course in classical theater at the University of San Diego, practicing at The Old Globe Theater. He graduated in 2001. He appeared in a couple of TV commercials, starred in one episode of ED, and in 2004 Jim landed a recurring role in Judging Amy. In 2004 he also played the role of Tim, in Zach Braff's movie Garden State. In 2007 he landed the role as Sheldon, and since then his popularity grew more and more. He is an incredible actor and we wish him all the best things.
2. Leonard Hofstadter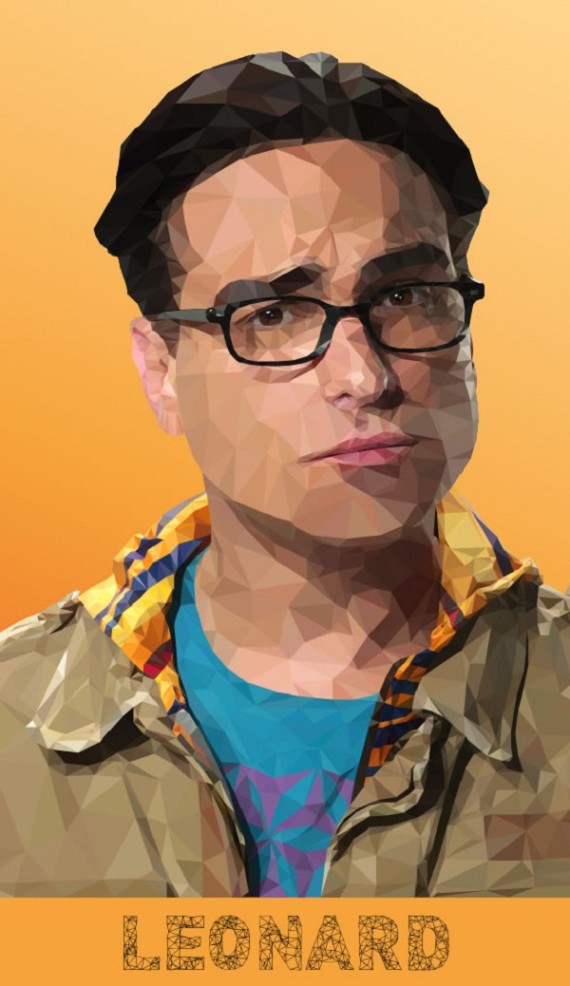 Leonard Hofstadter is being played by actor John Mark Galecki. He was born on the 30th of April, 1975 in Bree, Flanders, Belgium. At the fragile age of 3, he moved to the states, more exactly, he moved to Chicago, Illinois. He was artistic since he was just a little boy – at the age of 11 he was already known on the theater scene, and he received a Joseph Jefferson Citation nomination, for portraying John Henry in " The Member of the Wedding".
His first movie appearance was in 1989, in a holiday film called Prancer, but his break was when he starred in the movie Christmas Vacation. There he met actor Chevy Chase, who took a liking to him, and taught him some tips and tricks regarding comedy timing. He played in several movies before joining the crew of The Big Bang Theory where he found the role of Leonard just waiting for him. His portrayal of the geeky scientist that falls in love with the blond next door is impeccable.
One of my favorite scenes from TBBT is the Chicken Joke.  If you haven't seen it yet, or you don't remember it, you can take a look here and just accept the awkwardness.
3. Penny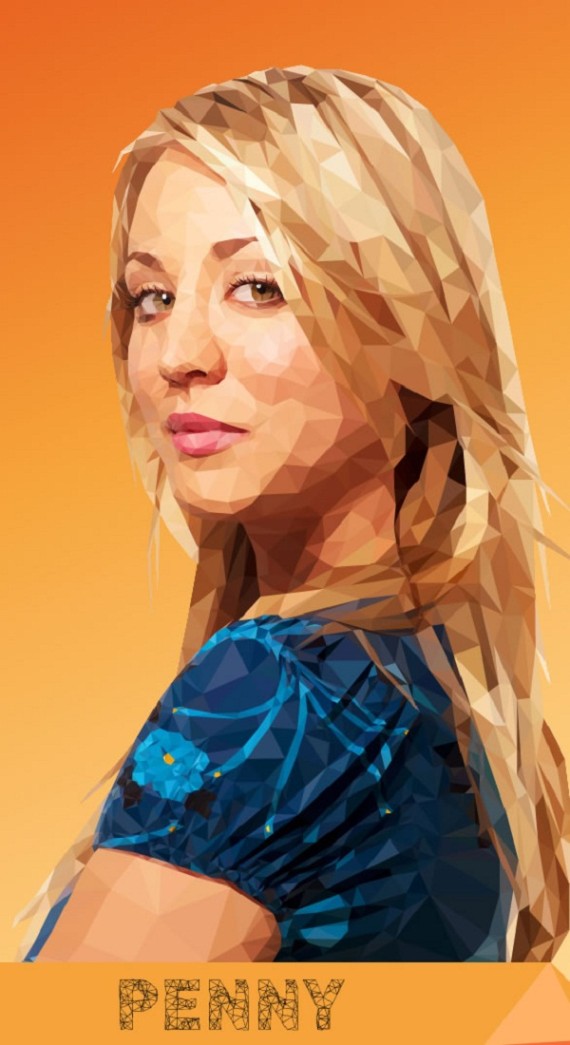 Penny, an aspiring actress that moved to the big city after breaking up with her muscle head of a boyfriend is played by actress Kaley Cuoco. She was born on the 30th of November 1985 in Camarillo, California, United States. She has been a model since the age of 6, when she landed her first big role in the TV movie Quick Sand: No Escape – 1992.
She played in several more movies but one of her best is Lucky 13, where is portrayed the character of Sarah Baker. In The Big Bang Theory she is playing this confused friend of the geeky bunch. She is an integral part of them, and with each season passes, you can see how she becomes the mother of the group, caring for them, especially Leonard and Sheldon. Spoiler alert, they both fall in love, Penny and Leonard. It is a fun ride to watch and I highly recommend searching Netflix or buying the DVD's.
4. Raj Koothrappali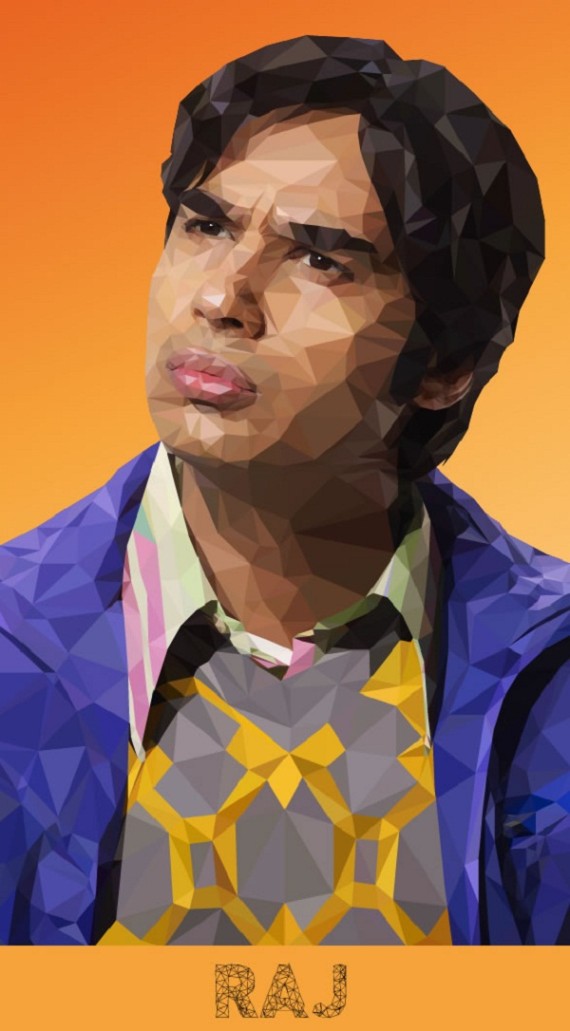 Or maybe he should rename himself now to Raj Koothrapoly! Ha, get it? Ah, I just love puns. Anyway, Raj is being played by actor Kunal Nayyar, who was born on the 30th of April, 1981 in London, England, United Kingdom. He plays an astrophysicist that is incredibly shy around women, unless he drinks alcohol.
Watch him miserably fail when he is put on the spotlight right here, or when he tries to take initiative and goes to talk to Sheldon's twin sister, but his infused alcohol state slowly wears off. Kunal has even played in Sacha Baron Cohen's Bruno, and he lent his voice to Gupta, a character in the animation Ice Age: Continental Drift.
Now it is time to ask you guys and gals which one is your favorite character? What about favorite episode? Or favorite season? Maybe you fancy one of these low poly illustrations and you wish to share your thoughts with us. Maybe even give it a try, this low poly art, and let us see what you have succeeded. The comment section is right below, and we are waiting for your answers.
(Visited 1,304 time, 1 visit today)