"We all have Tumblr, and we all have Instagram and everything. People care so much about it because, now, any random can be famous on the Internet if their world looks good on Tumblr. And so everyone at high school strives for this kind of aesthetic correctness."
– Lorde
ADVERTISMENT:
The Best Deals For Digital Design Assets - InkyDeals.com. Learn More>>
Tumblr is one of the biggest blogging platforms and social media networking websites there is, with over 188 million blogs hosted, as of June 2014.
Development for the website began in 2006, when Founder and CEO David Karp had a two-week gap between contracts. At the time, ran his own software consulting company, called Davidville, which was housed in the same place as his former boss' company.
Karp decided to start developing his own tumbleblogging platform, after seeing that none of the other major blogging platforms had any plans to expand into short-form blogging. He had been interested in this form of blogging for some time prior to this, and waited for a whole year before deciding to start development.
With the help of developer Marco Arment, Tumblr was ready and launched in February of 2007, and within two weeks, already had over 75, 000 users.
In June 2012, the company featured its first major brand advertising campaign, in the form of an official Adidas blog. The blog focused on Adidas' football branch, and they bought placements on the user dashboard.
One year later, in June 2013, Yahoo! acquired Tumblr, and that brings us to the Tumblr of 2014.
Like we said in the beginning of the article, Tumblr is one of the most popular blogging platforms there is, so chance are you also browse that site a couple of times a day. Why else would you have clicked on this article?
Since Tumblr is so popular, we have decided to take a look around the internet, and see what tips and tricks people might have for using the platform, and these are some of the best ones we could find, for both experienced and novice users.
1. Old-School Search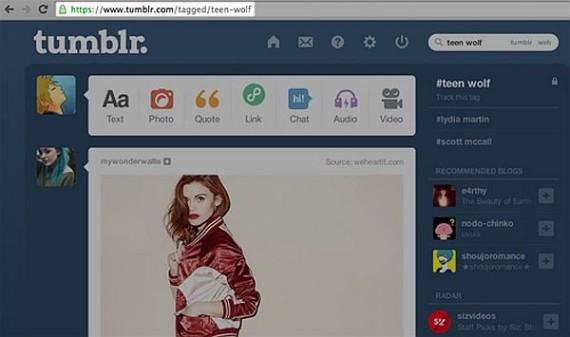 The multiple tag search system is great, but some might not like the new layout. Maybe you yourself are not such a big fan of it.
Change is scary, we know, and so does Tumblr, apparently. If you want to keep on searching like you are used to do, just replace "/search" in the URL with "/tagged". This will make the search results appear in the old layout.
2. No Truncating on My Tumblr!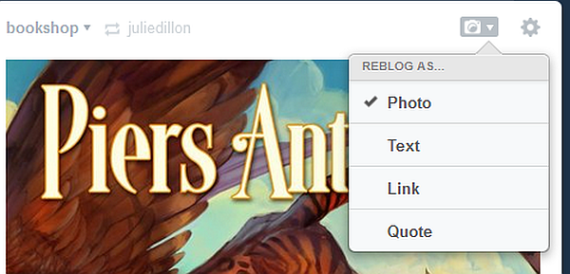 When reblogging long texts, Tumblr turns them into links, which can be annoying at times, since perhaps you want your followers to at least get a taste of what they are about to read. The fix to this is really simple. All you have to do is click on the icon next to the settings icon, in the upper right corner, and select "Text".
3. Edit in Bulk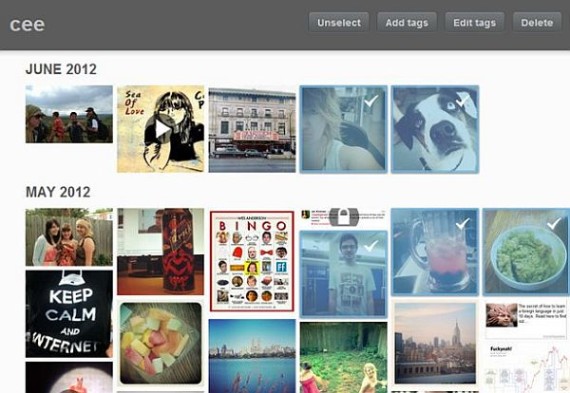 If you are responsible for content on lots of pages, than you need every possible tool to do what you need to do in a day. It does have only 24 hours, after all.
For Tumblr, there is a really cool thing called Mega-Editor, and it allows you to edit several posts at the same time. It is also really intuitive, as it looks and feels exactly like your Archive.
4. Share a Preview of a Draft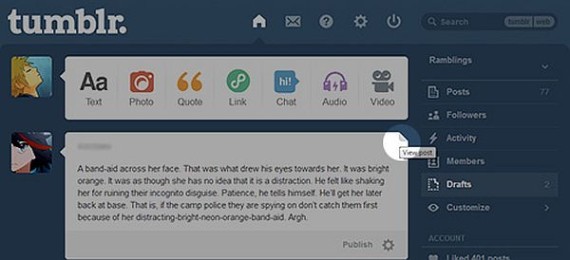 When working on a post, you might want to get someone else's opinion on it. Let's assume that that someone, who's opinion you want, can not drop by your place (or work), and see the post in question. How can you show him the draft? Easy! By sharing a preview.
This is what you have to do: first, you save the post as a draft. After that, you go to your drafts, and click the top right corner of the draft you want to share. A share URL will pop up, and it is that URL that you are going to copy, and paste to whomever you want to see it. The URL will disappear after you actually publish the post.
5. Hot Keys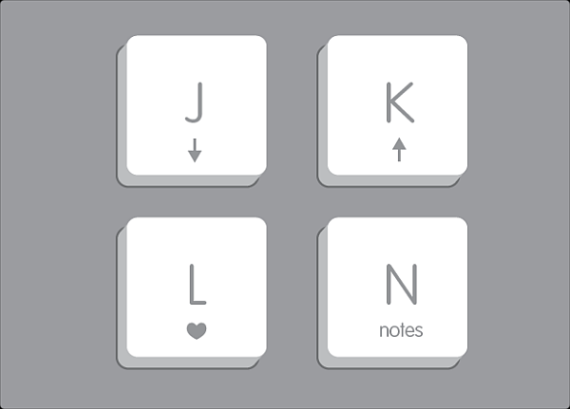 You know someone is a real professional at Starcraft, if he uses the hot keys.
Well, the same thing applies to Tumblr, now. To browse like real champ, and quickly do whatever it is you set out on Tumblr, you now have a pretty versatile set of hot keys you can use. Check them all out by clicking the image's source link, above.
6. Queue Posts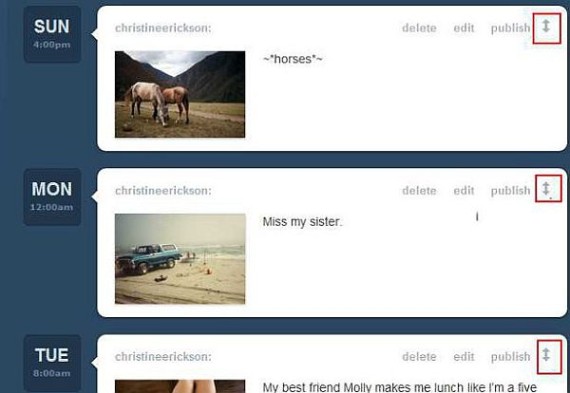 We hope you are not accessing Tumblr every time you have a post scheduled, are you? Well, if you are, we will let you in on a little something. You can queue all your posts, and save yourself a whole lot of time, during the day.
Oh, you knew about queuing posts? Ok, but did you know that by pressing the Alt key while clicking on the arrows used to move the post up or down, you can bump that particular post straight up to number one?
7. See All Your Tags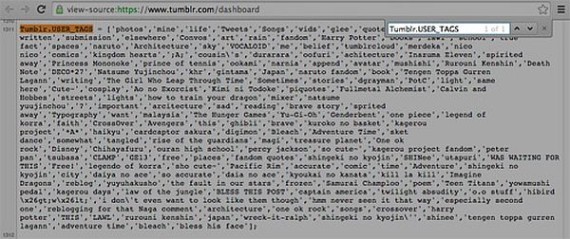 If you have ever wondered what tags you have used since being on Tumblr, you have probably noticed that it is missing a feature to help you answer that question. Actually, Tumblr is not missing that feature, it is just lacking in UI.
To see a full list of all the tags you've used, you are going to have to access your dashboard's source code. Once you've done that, all you have to do is open the in-text search bar (Ctrl + F on Windows, and Command + F on Mac), and type "Tumblr.USER_TAGS".
8. Simultaneous Sharing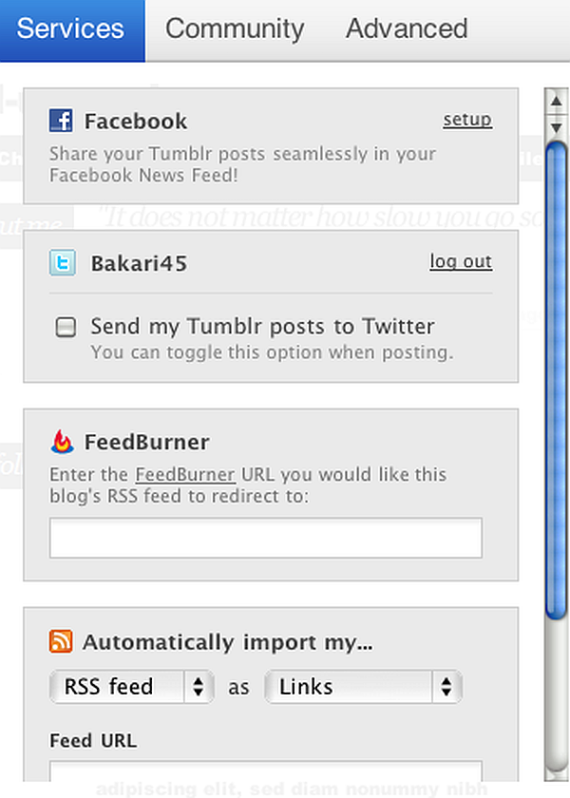 If you have your Tumblr account synced with Facebook and/or Twitter, then you should definitely check out your preference settings, and see whether or not your posts will be shared on your other profiles, as well. Its up to you if you want this or not, just make sure that the default settings suit you.
9. Have a Back Up of Your Blog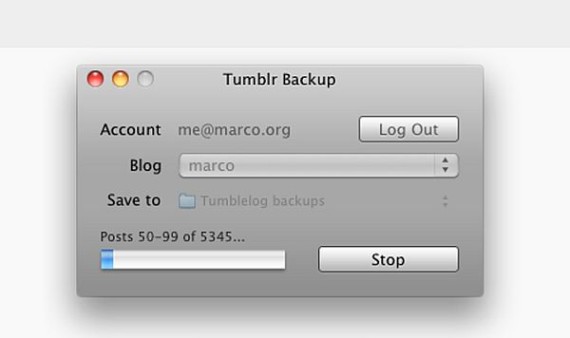 It's always good to have a backup of your blog, in case the unexpected happens. This, of course, is true for Tumblr, as well, and there's also a nifty little program you can use.
Tumblr Backup is still in its beta stages, and is available for the Mac OS -version 10.5 or higher- only. If you don't use a Mac, than you can still try Jammy.
10. Use Browser Extensions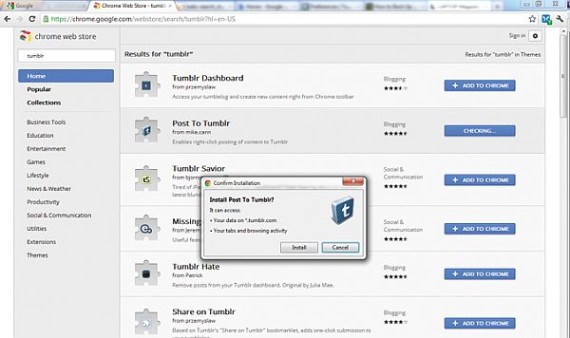 Whether you are using Chrome or Firefox, there are tones of extensions available that are aimed at Tumblr users. Since there's so many of them, it'd be a shame not try a few of them out, and see if one suits your fancy.
That about wraps up our article. We hope you found these tips useful, and that they'll help enhance your Tumblr user experience, and make you a more efficient blogger. If you want to see more tips, feel free to click on any of the tips' source links, and don't forget to leave us your thoughts, in the comment section below.
(Visited 716 time, 1 visit today)