Last week I reviewed 5 Project Management software based on the following criteria: Resources Management, Project Management and Ease of use. I will continue in this article with the other five applications I saw fit to easily manage your projects.
RationalPlan Multi Project
RationalPlan is a software management application from Stand By Soft Ltd. that puts accent on the project managers and their teams. It allows an estimation of the costs of a project, effectively manage budgets, keep track of the progress, allocate resources and analyze the workload for each resource. It covers any domain and it's a great tool to complete the projects in time.
ADVERTISMENT:
The Best Deals For Digital Design Assets - InkyDeals.com. Learn More>>
Standout features
Defines company-wide resources
It allows an in-depth analysis of the entire data with Project Portfolio view
Create inter-project dependencies
Resources Management
The strength in its resources management is the Check In/Check Out feature, a function that allows you to keep track of materials and objects, so you'll always know where something is located. It has less features than Microsoft Project and it cannot rise to the same expectations, but his unique feature can prove more useful than it looks at a glance.
Project Management
Surprisingly, RationalPlan has a very small set of features and only provide the essentials for a consistent management application. However, this is a very good thing, since you don't spend hours and days organizing and you can go out in the field and make things happen.
Ease of use
The lack of straining, tiresome features make the program very easy to use. Even someone who opens this application for the first time won't have a hard time learning it.
Overall
RationalPlan is a great tool to successfully manage your projects and will definitely make any project manager's life easier. Although it does not provide a large amount of features like Microsoft Project, it is capable to offer an effective management of projects.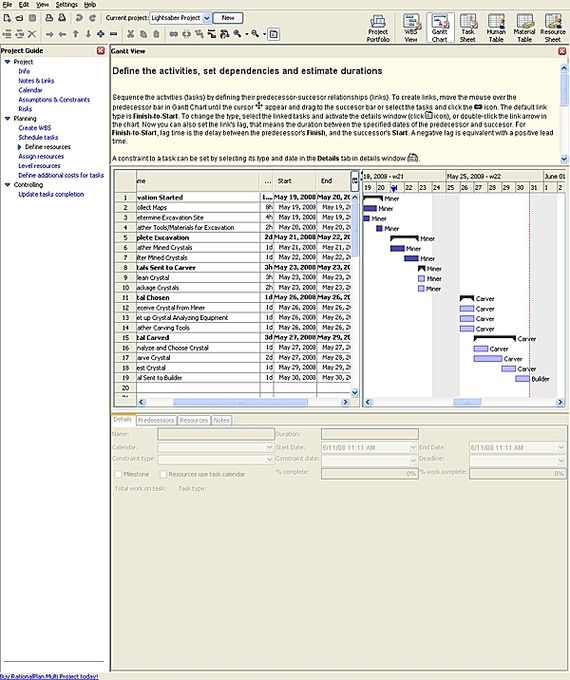 ProjectPlan
Method123 released ProjectPlan as an easy to use tool for project management that has a lot to offer. It proves down-right that you can go a long way with a simple, high-functioning application.
Standout features
Outstanding Project Planning
Can integrate in Microsoft Project
Allows planning of suit projects of any size
Advanced tools in scheduling
Resources Management
This part is pretty much basic and does not offer many features. However, you can easily assign resources to different projects and different tasks. What makes it different than other applications that do the same thing? Well, you do this as simple as organizing your folders. In short, it works well for starting project managers, who don't know yet the subtleties involved.
Project Management
ProjectPlan doesn't want its users to be encumbered with tons of straining features and it provides only the necessary tools to get the job done quickly and effectively.
Ease of use
Method123 achieved its goal: to offer to its customers an effective and very easy to use project management application. It also allows you to quickly move to action instead of spending hours and maybe days only organizing.
Overall
ProjectPlan is an excellent tool to have at hand in project management. Its simplicity allows you to do great things and it has a very low learning curve. Since it can integrate in Microsoft Project, it can be very versatile in using with other project management software.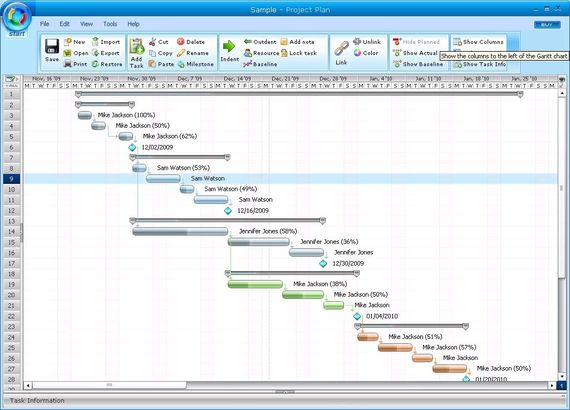 FastTrack Schedule
FastTrack is a project management software released by AEC Software that's very handy for both starting managers and experienced alike. Its strength lies in planning, project tracking and reporting goals.
Standout Features
Easy project planning
No scheduling conflicts
Advanced goal tracking
Performance tracking
Demonstration of the impact made by schedule changing
Resources Management
FastTrack offers a complete set of features that assures you of an effective project management. It only lacks two features: Timesheets and Check In/Check Out, but that doesn't affect its standing very much.
Project Management
Feats like recurring tasks and risk/benefits analyzer make this application simply amazing. Although if they would have included the automatic notifications, it would have been a complete set.
Ease of use
FastTrack is surprisingly easy to use, despite the large amount of features it has to offer. It is well structured and easy to comprehend. Its learning curve is pretty much low.
Overall
FastTrack Schedule provides a very solid set of features that will help you effectively plan any project. It does not offer many communication features. This however is strengthened in the resources and project management, so it makes up for it. In short, you'll have a wonderful experience and you won't get disappointed using this application.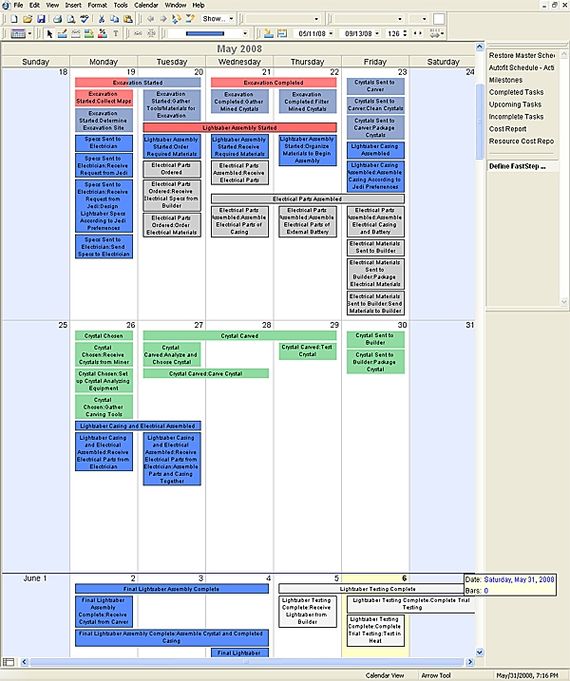 Service Desktop Pro 2
Service Desktop Pro, released by Webtech Software & Services Inc., is a project management software that can cover a large variety of business areas. Some relevant examples are leads, billing, expense, customer service management, documents. It provides much consistency in management while not being dedicated to a specific area of interest, it works more like a universal tool.
Standout features
Can manage Project Types and Categories for better access.
Planning and execution of multiple projects and tasks
Allocate tasks and projects to team members
Can generate Gantt charts
Search Projects and tasks based on multiple criteria
Resources Management
Service Desktop is basically divided into multiple sections that can be accessed by the specific managers in their areas of interest: contacts, time scheduling, leads, billing, documents, expenses, projects, service and passwords. Each section has its own set of features that lead to different results. This application is structured in such a way to dampen the unnecessary time spent with extraneous things by the project managers.
Project Management
As I stated earlier, the Project Management section offers a great set of features and for this section are: keeping track of the project's goal, dividing the project into tasks, allocate resources, set up deadlines and a comparison with the planned schedule versus the actual schedule.
Ease of use
If you want an application that quickly gets to the point with no eye-candy or pointless introduction, then get Service Desktop. It's straight-forward and its goal is to solve a project manager's problems. It could get more improvements in the future, but for now is a powerful tool for advanced and experienced managers.
Overall
Service Desktop Pro is a strong tool in the right hands and will prove itself as soon as you use it. Experienced users will find this application a pretty much complete tool in project management, although it does have a lot of room for more improvements. If you want a straight-forward application that does its job effectively over eye-candy and flashiness, then this tool is an excellent choice.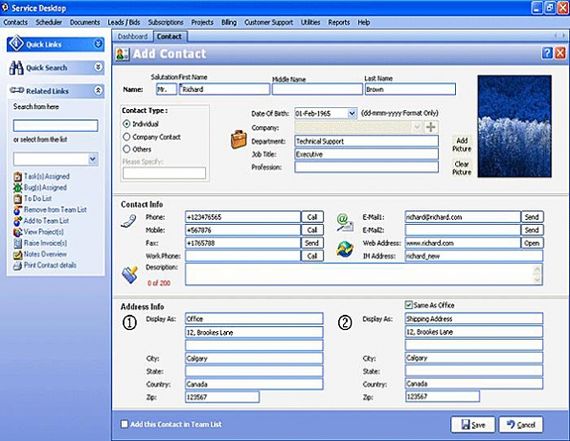 @Task
@Task is a web-based project management software that won the CODiE Award for the Best Project Management Software and joined the previous and current winners: Salesforce, Adobe, Novell and Sun Microsystems. An example of a successful company that makes use of @Task is Toyota, who manages their projects with this great application along the lines of Toyota standards.
Standout features
Portfolio management
Detailed reports and dashboards
Process improvement
Resource leveling
Auditing
Real-time projections
Document management
Automatic notifications
Works both offline and online
Real-time project status through reports
Integrates with Microsoft Project
Resources Management
@Task provides a strong and complete set of features that let you manage your resources effectively: organize resources into pools to get a better comprehension of the team capabilities in each area, check each of the member's task workload in the shape of a grid, assign tasks to individuals, check members' availability, visually analyze the jobs stack for each member and remotely establish the number of resources required.
You can determine conflicts and fix them automatically or manually with the Resource Leveling feature.
Project management
The welcome screen makes it easy to start for both starting and experienced project managers. A unique feature is the Favorites section, where you can simply "bookmark" the ones in your area of interest so you can quickly access them without browsing through the entire project; it allows quick searches for tasks, notes, status, approval and more.
The interactive Gantt chart and the real-time team task assignment are a strong feature ideal for large companies: check team members' tasks and their workloads in real-time; plan and manage visually using the Gantt chart: assign roles, tasks and milestones with just a drag and drop.
Quickly build teams accordingly to their skill set and experience and availability, keep track of your expenses on projects or task, then compare with the actual ones and decide which ones are billable.
A built-in powerful feature is Earned Value Management View (EVM), an auto-calculator that allows monitoring of schedules in a structured, comprehensive way.
Ease of use
@Task is an outstanding and complete tool that will successfully complete any project in any domain with a moderate learning curve. The large variety of features are well structured, easy for anyone to comprehend. The interface is nice also, very user-friendly and suggestive.
Overall
@Task is a great project management tool ideal for large companies, where keeping track of each step is a must, so you can control the project's direction at any given time. The real-time features are just perfect for everyone to be notified when tasks or directions changes arise and it allows a good communication between manager and his team or between managers and even real-time check of any member and his current task.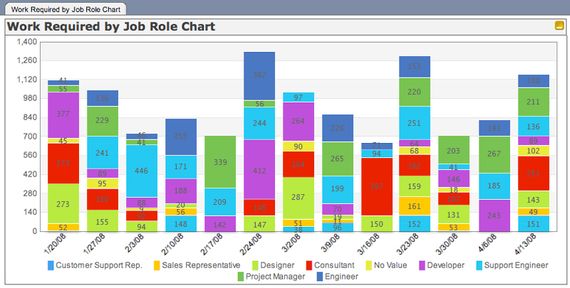 This is only a small list from the huge amount of applications on the market. Feel free to add your own software to the mix!
What project management software do YOU use? Share with us!
(Visited 573 time, 1 visit today)