As a Project Manager, you surely want do an effective management plan for your projects. To come to your aid, we made a presentation of the Top 10 most useful software you can use to schedule, assign tasks, keep track (and more) of your project's work-flow.
Tenrox Project Management Software
This application has a complete set of features unlike any other. You can go digging through its various interfaces and dashboards  without getting a headache, all thanks to its well-structured creation.
ADVERTISMENT:
The Best Deals For Digital Design Assets - InkyDeals.com. Learn More>>
Standout features:
easy-to-use project planning tool
the project plans are interchangeable with Microsoft Project files
excellent time tracking, cost accounting and billing features.
Resources management
Create a perfect team using the resource search function. Find the most appropriate, qualified and available individuals to complete different tasks. As soon as the project manager publishes the project plan, every member of your team can see their assigned tasks. In return, they can report an estimated time to complete their assigned tasks. This information will be used along with the plan to report on the cost and schedule variances. Tag your time entries as capitalized, charge-back, billable, R&D and other similar attributes. Also you can report n capitalized project time and billable versus non billable time and access profitability and productivity with various project cost/revenue analysis reports.
Project management
A great advantage is that you can manage your projects offline, so you can share your plan with your team once it's finished. Publish, check-in and check-out are some excellent features that help team members to collaborate on the plan.
Ease of use
You can't go wrong with this software! Although it has a very complex structure, anyone can handle it, even someone that doesn't know what project management is.
Overall
From all the software management applications, this one is probably one of the best. It's easy to use, brings a lot of features and it's at a reasonable price.

Microsoft Project
This application is the flagship for any other similar software, because most of the project management software can integrate files with it, either by importing or exporting them into your preferred application. This feature lessens the learning of different software, since there are many professionals who are already familiar with Microsoft Project.
Standout features
Import/export Feature
Effective management of project schedules
Enables you to quickly become productive
Able to build professional charts and diagrams
Resources Management
Microsoft Project enables an easy management of both adding and managing your resources, essential for any effective project management. Easily create slots and assign them tasks as you would fill some data in a spreadsheet. Optimize efficiency by assigning tasks to the right resource: Microsoft Project allows you to keep info about your employees (such as skill sets and resumes).
Project Management
Microsoft Project doesn't provide many features, but it holds the necessary tools to effectively manage any project. A practical tool is the expand-and-contract feature, that allows you to easily browse through your project and get a better overall view without scrolling through hundreds of tasks and milestones.
The scheduling feature includes calendars for a day-by-day breakdown of tasks, timelines for an overall view of the project, and events for specific milestones within the calendar.
But the interactive Gantt chart makes it easy to comprehend. You can update your project and easily adjust it right on the graph!
Up-to-date reports are available in Microsoft Project, so you can keep track of statistics, financial status and employees work loads.
Ease of use
Microsoft Project focuses on four points in project management: Task, resource, Track and Report. You can easily navigate through them and you can find any info you need with just a click.
The spreadsheet-like interface allows you to input data using your keyboard. Add  tasks, milestones, dates and resource assignments quickly without having to click into every field.
The interactive Gantt chart is really handy to easily update the progress of your tasks, changing their dates or their completing order.
Overall
Microsoft Project provides the necessary tools needed to assign tasks, manage resources and complete the project on schedule within the budget limits. Also you can integrate your work into mostly any project management  software.

Project KickStart
Project KickStart is a project management software that can easily integrate with other software like Outlook, PowerPoint, Excel, MS Word, Microsoft Prokect, WBS Cart and MindManager. It is very useful for basic project planning, but does not provide many features like resources management.
Standout Features
Six-step plan creation wizard
QA process
Free sample projects
Resources Management
KickStart has a user-friendly interface with tabs for every aspect of a project,  except the resources tab. A "People" tab is included, but it's not even close to an effective management tool.
Project Management
KickStart offers a very simple UI, organized in tabs. The wizard just walks you through the project plan: picking goals, assign tasks and dates and show obstacles that could prevent the project's smooth flow.
After running through all the tabs, you can keep track and edit your project in the resulting Gantt chart.
Ease of use
Very easy to install, easy to navigate and visually pleasing, KickStart is a very good tool. It simply runs your through the entire management plan and it provides an excellent comprehension and overall view.
Overall
Project KickStart is a great tool for smaller projects that probably have a single project manager, and does not require much collaboration with other managers or with a CEO.

MindView 3 Business
MindView has a spreadsheet-like layout, so you can easily add, edit or delete tasks without clicking each cell. A very useful feature that sets it apart from other software is the MindMap option: you can see your project in brainstorming bubbles and see how tasks are related to milestones.
Standout Features
Brainstorming
Multimedia
Calculation
Resources Management
It's easy to add or remove human resources with just a click. Easily import resources directly from Microsoft Outlook or add them from your tasks list. Just be careful when you add resources, MindView does not allow you to make groups or sort them by skills or departments.
Project Management
MindView includes the standard project management elements: Tasks, Calendars and Budgeting, but it lacks recurring tasks and auto notifications to check the project progress.
The strength of this application lies in its different views of the project: tasks list, Gantt chart, mind map, timeline and outline. This allows a better overall view and the interactive map allows manual data input without opening the task list.
Ease of use
MindView has a very low learning curve. It simply leads you directly to a new project or existing ones. The spreadsheet-like task list and interactive Gantt charts allow you to easily update your project info.
Overall
Easy to learn, MindView offers a view through its different visual options that allows any user to comprehend rapidly his project's work-flow. Although it does not provide many features, you can easily and effectively complete any management plan.

Genius project for Domino
Genius project is a high-functioning project management software that can be use by both experienced computer users and beginners alike.
Standout features
User-friendly user interface
Complex charts
Budget planning dashboard
Auto E-mail notification
Resources Management
The complex and detailed dashboards, charts and sets of views allow you to have a good idea of resource assignments. Easily make adjustments or substitutions as you see fit. Properly assign staff for your tasks using the matrix planning. Assigning tasks to the right person is no longer a laborious issue with the resource search function. With this tool, you can perform a quick search for potential members and you can diminish their number by sets of skills or availability. You can gather up the perfect team in a very short amount of time!
Project Management
This application provides extensive offerings in dashboards and reporting, risk and change management, document management, demand management, invoicing, cost and budget managing, project tracking, time and expense tracking, planning and project portfolio management.
Ease of use
Although it has a lot of functions explained in hundreds of pages, it's easy to comprehend. There are no confusing or disorienting features at all.
Overall
Genius project offers a complete set of features needed for a thorough, in-depth management planning.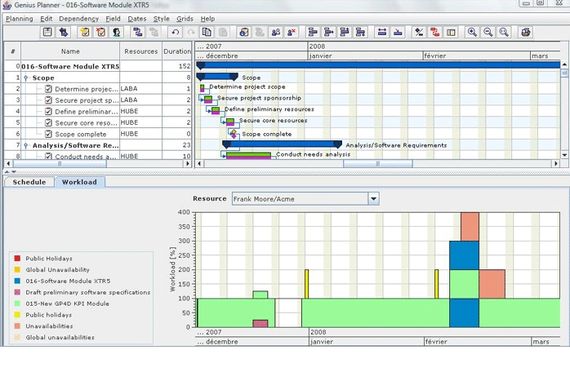 (Visited 951 time, 1 visit today)