"I guess Twitter is the first thing that has been attractive to me as social media. I never felt the least draw to Facebook or MySpace. I've been involved anonymously in some tiny listservs, mainly in my ceaseless quest for random novelty, and sometimes while doing something that more closely resembles research." – William Gibson
Needless to say, Twitter is a behemoth of a website, with over 500 million registered users, generating a huge amount of new content each day (over 340 million new tweets daily). Anyone who is anyone has a Twitter profile, and that makes it a great way to get information directly from the people you are interested in.
ADVERTISMENT:
The Best Deals For Digital Design Assets - InkyDeals.com. Learn More>>
As a designer, social networking is something you can really benefit from, as you have no doubt noticed. Seeing what big names in your domain do can give you design inspiration, and help you out in your work process. That is why we have compiled a list of 20 great designers for you to follow on Twitter, so you don't have to search them out all by yourself.
1. Jeffrey Zeldman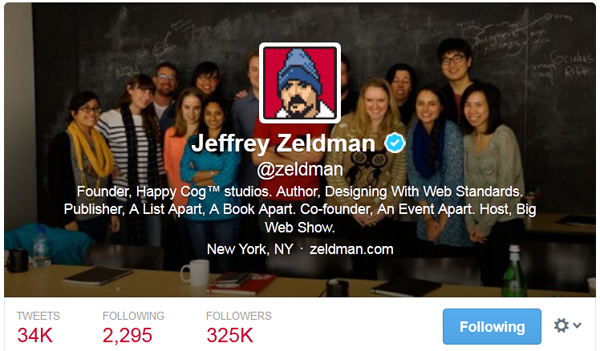 Founder of Happy Cog, author of "Designing with Web Standards", host of "The Web Show" podcast, and the only human inducted in the "SXSW Interactive Hall of Fame", Jeffrey Zeldman is a successful graphic designer that has over 320 thousand followers on Twitter. He's also quite active on the website, answering his followers' questions and even giving advice.
2. Chuck Anderson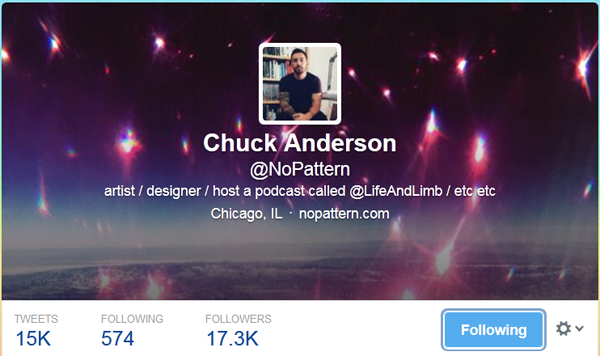 Chuck Anderson lives and breathes design. He has his own design studio, called No Pattern, like his Twitter, and since 2003 he has collaborated with plenty of big companies, like Microsoft, Nike, Vans and ESPN, as well as artists, such as Lupe Fiasco and Kaskade.
He tweets frequently, giving examples of his work and work process, and also interacts with his over 17 thousand followers on Twitter.
3. Dainis Grāveris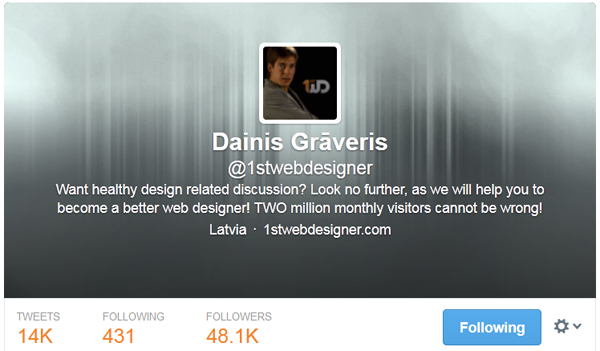 Dainis is the founder of 1stWebDesigner, who's goal is helping designers live the "rockstar freelancer lifestyle". His Twitter is pretty popular, having just over 48 thousand followers, and it's easy to see why. He announces his company's webinars (some of which are free) via Twitter, and he also posts design tutorials, so following him on Twitter can be a really educational experience.
4. Jonathan Snook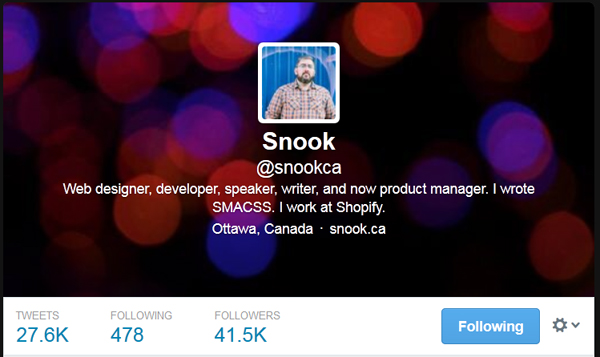 If you like Yahoo!'s interface, then this is one of the people you have to thank for it. Currently a product manager at Shopify, Jonathan Snook is a web designer and developer who does both front and back-end development. He's pretty friendly on Twitter, posting general web design and development advice, and sometimes even gives his impression on other people's designs, when asked.
5. Julia Hoffmann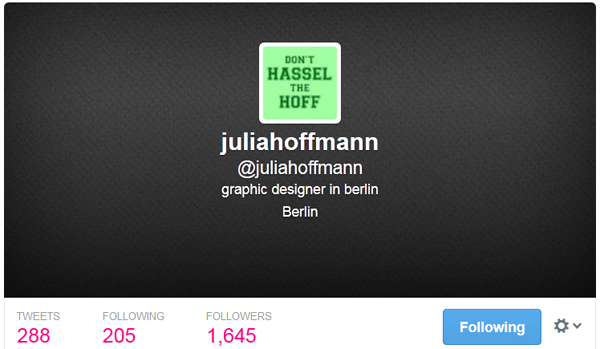 Currently working as the global creative director of Etsy, Julia Hoffman is a renowned graphic designer from Berlin, Germany. She has previously worked as the creative director of the Museum of Modern Art in New York.
Although not very active on Twitter, recently, she still tweets interesting projects and internship openings for Etsy in Berlin, so there's some definite opportunities to be had by following her on Twitter.
6. Stephanie Malone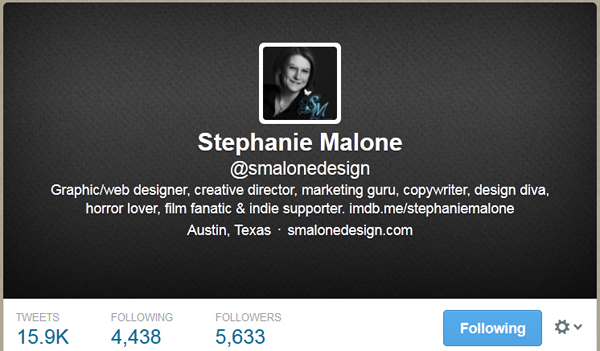 Copywriter and graphic designer. Now there's something you don't see everyday. All the more impressive when you take into account the fact that Stephanie Malone has been at it for 16 years, and is still going strong, while also staying active on Twitter. Recent tweets seem to focus on how bad the movie "The Bachelor" is, but she also posts some cool design articles.
7. Jacob Cass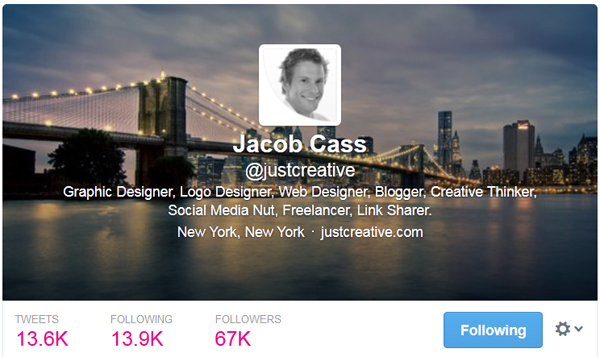 Jacob's list of clients is rather impressive. Since his move to New York in 2010, to work for Carrot Creative, he has lent his talents to such companies as Nike, Disney, Red Bull and Capcom, to name only a few. His Twitter seems to prove that he achieves his success by being a human dynamo.
He tweets regularly, and engages in conversations with his followers, answering questions and handing out advice.
8. Josh Smith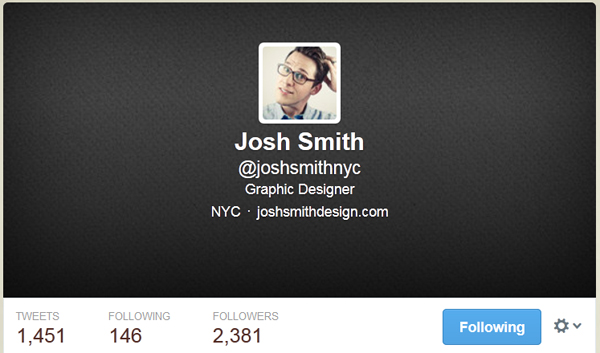 Graphic designer Josh Smith works for Hyperakt, while also being the founder & designer of Idsgn, and curator & designer of Newswordy. He also maintains a very active Twitter account that you can follow and find out tidbits of information about Josh's life and work.
9. Veronica Domeier
Also very active on Instagram, Veronica Domeier keeps herself busy by being the founder & designer of Fresh&Daily and, of course, by constantly tweeting. Whether it's posting articles or just chit-chatting with her followers, Veronica really uses her Twitter to inform people and, from time to time, help them out.
10. David Shea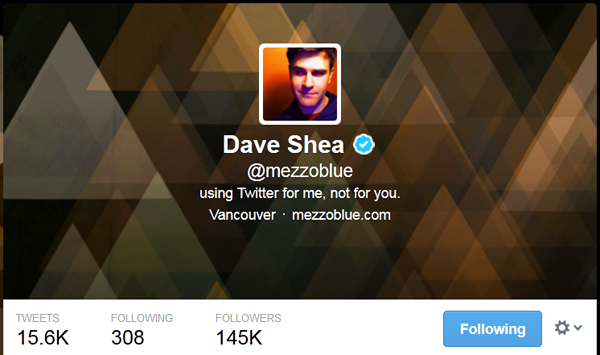 Although his Twitter kicks off with the message "using Twitter for me, not for you", David still has managed to get more than 145 thousand followers, and there's a good reason for that. He does tweet, on occasion, tips and tricks you can use in your designs, and he also posts pictures of what he's cooking, in case you're thinking of preparing something other than a sandwich.
11. Max Holyoke-Hirsch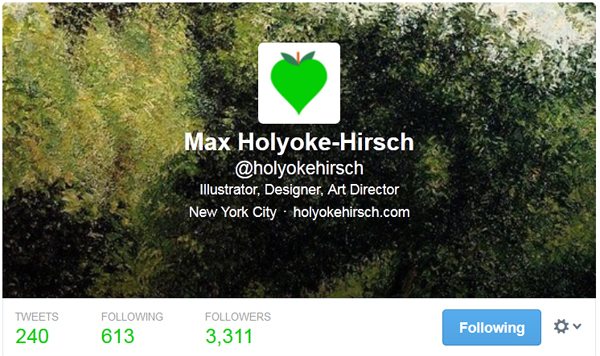 New York City based Maxwell Holyoke-Hirsch is an illustrator and designer that has worked with the likes of GQ, The Washington Post, and The New York Times. He's really passionate about creating images, and that shows on his Twitter, where he tweets really cool illustrations.
12. Rajesh Pancholi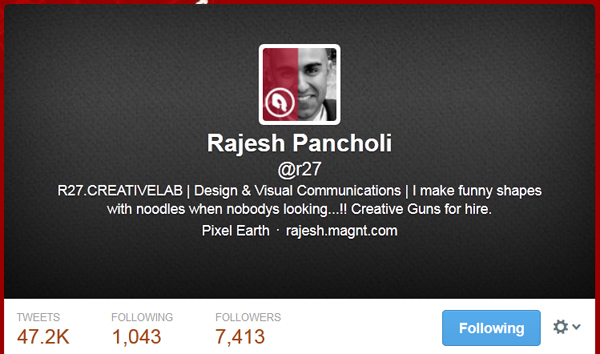 Rajesh is the founder of R27 aka The Lab. He's been in the design industry for 20 years now, so he really knows his stuff. On his Twitter you can see projects and designs he likes, which he posts with the intention of getting his followers inspired to make great designs of their own.
13. Veerle Pieters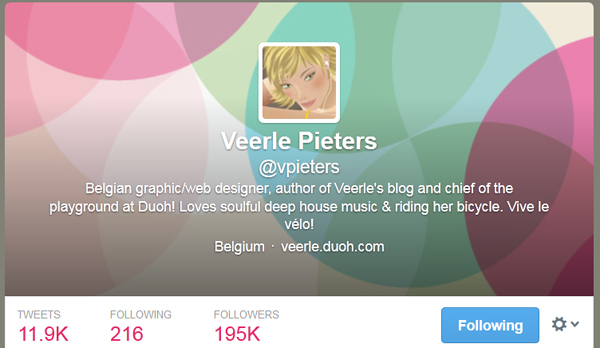 Veerle is a Belgian graphic and web designer, founder of Duoh!, house music and CSS fan. She's been working in web design since 1995, having worked on lots of websites, for a wide variety of customers. Her Twitter is a nice insight into what gets her inspired, and perhaps it'll give you a couple of cool ideas, too.
14. Magnus Voll Mathiassen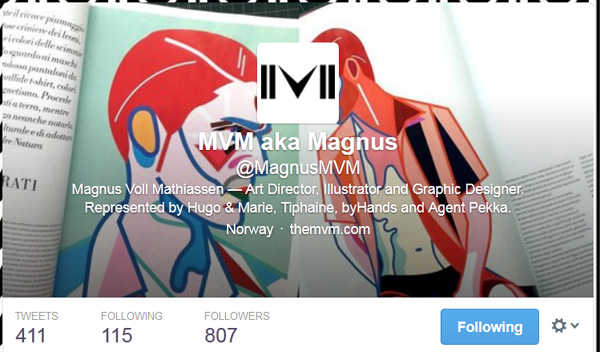 Co-founder of the design studio Grandpeople and runner of his own practice, MVM, Magnus is a Norwegian graphic designer and illustrator, that has worked with Nike, Sony PlayStation, and ESPN magazine. Although not a frequent tweet-er, you can rest assured that his tweets are a great source for inspiration.
15. Cameron Moll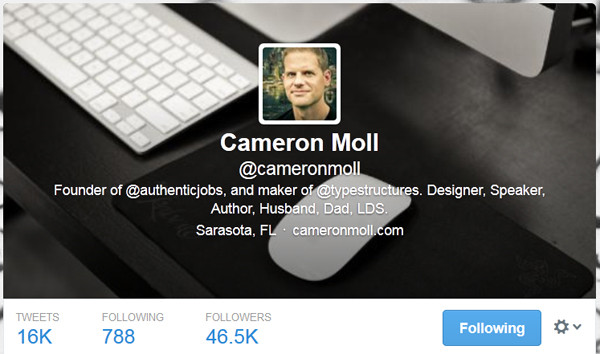 Founder of Authentic Jobs Inc. and designer, Cameron Moll is a truly successful individual, made all the more impressive by the fact that his success comes not only from talent, but also from helping others use their talent. Cameron is very active on Twitter, so he's almost always willing to lend a helping hand by answering questions, giving advice, and sharing his opinion on anything design related.
16. Sara Cwynar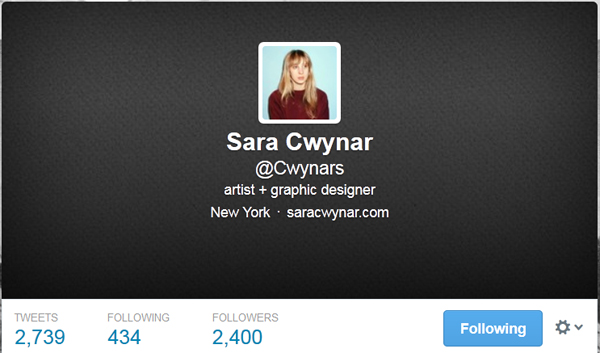 New York-based artist and designer Sara Cwynar has been on the scene since 2009. With 5 solo exhibitions already under her belt, Sara is poised to take the art world by storm, and her Twitter account is an excellent way of seeing a few of things that go in to her art.
17. Erik Peterson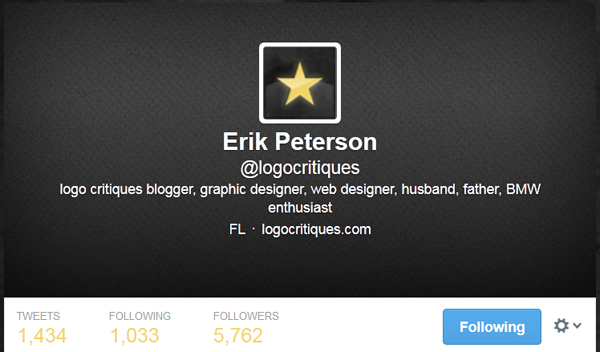 If you had to follow just one Twitter account, than this would surely be the one. Erik Peterson is a design professional that offers free logo critiques, effectively telling what you're doing wrong or right in you logo design. Aside from doing that, he also posts little freebies on his Twitter, so this truly is an invaluable design resource for you to have.
18. Jake Frey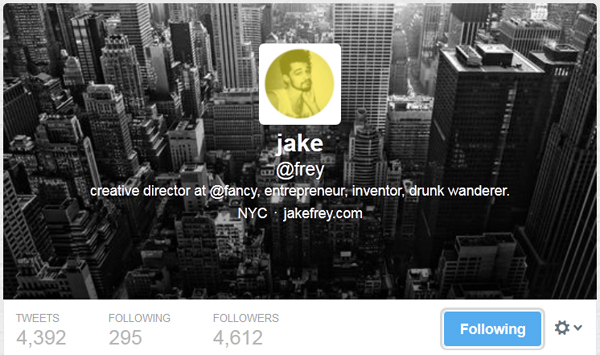 Jake Frey is the creative director at The Fancy and, judging by his website, a playful, laid-back kind of guy. His Twitter feed is great fun to follow, and also has the occasional Instagram photo or interesting design pop up.
19. Jason Santa Maria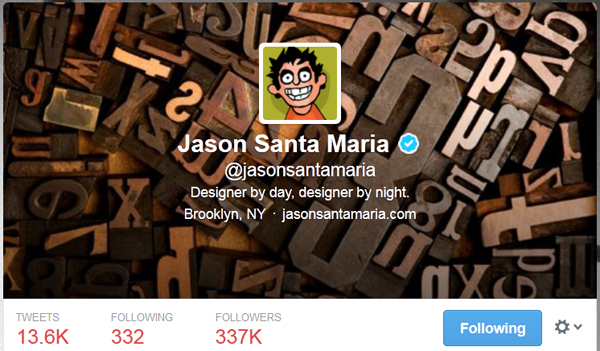 Jason lives in New York, in Brooklyn to be precise, and is the co-founder of A Book Apart. He's worked for such clients as WordPress, The United Nations, and Miramax Films, making great websites. You can check out his Twitter if you want some great little inspirations, in the form of articles and WIP's.
20. Maayan Pearl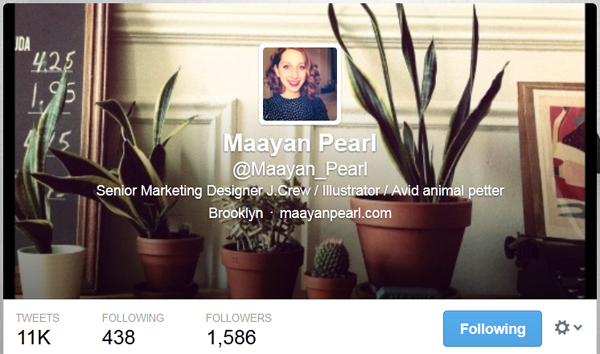 By far the coolest name on our list, Maayan Pearl is a designer living and working in The Big Apple. Her feed is mostly funny little happenings, but she also posts interesting design articles, and posts from her totally awesome animal petting blog.
That wraps up our list of 20 designers for you to follow on Twitter. We hope this list will help you make your social network experience a little better and more informative.
Be sure to tell us what designers you're already following on Twitter in the comment section below.
(Visited 544 time, 1 visit today)