[pixel77_quote type="2″ quote='"Clothes and jewelry should be startling, individual. When you see a woman in my clothes, you want to know more about them. To me, that is what distinguishes good designers from bad designers."' author="Alexander McQueen"]
No, business cards aren't going extinct, at least not in the future. They are an excellent way to make a first impression on possible clients. Neat business cards can attract customers that you didn't even think about. Some designers out there decided to think out of the box and create some exquisite ones, innovating how we see that little square, triangle, the pyramid of a card.
From cosmetic surgeons, yoga trainers, and Lego lovers, we bring you 11 unconventional business card designs that will make you giggle and want one for yourself. Scroll down and see for yourselves. And don't forget to post in the comment section below, your favorite card design. We would love to hear them.
ADVERTISMENT:
The Best Deals For Digital Design Assets - InkyDeals.com. Learn More>>
1. Cosmetic Surgeon Business Card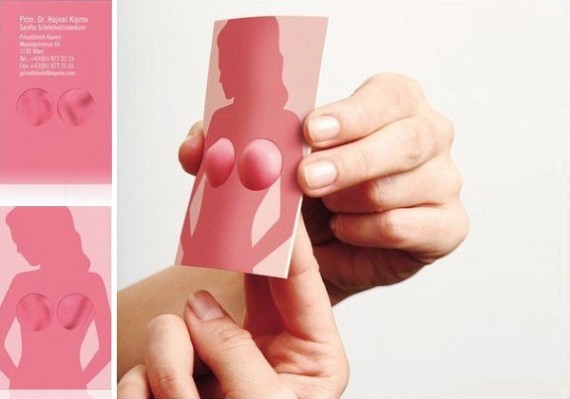 From the advertising agency " Demner, Merlicek & Bergmann", located in Vienna, Austria, they bring us this new way of promoting your cosmetic surgeon business. What can depict the best way of having your body parts enlarged? Well, we can't think of a better way rather than putting two fingers in the card and having a chuckle. You know they will be remembered. Almost all business cards that require the person interacting with it, more than just holding it and reading the words that are written, are going to get viral.
2. Yoga Trainer Business Cards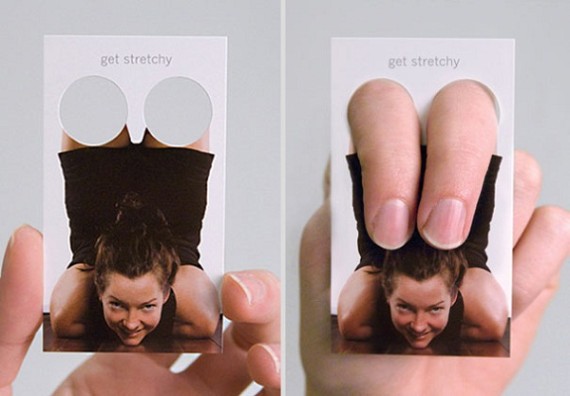 The same strategy, like the one above, was used here. Make the person holding the card interact with it, so he can share it with his friends and colleagues, making it go viral. " Get Stretchy" comes from the ad agency " Marked for Trade". I for one, wouldn't be that comfortable forcing my legs to touch my head in that position. I know, if you practice enough and get in the zone, you will get there, eventually. But that looks painful, and I'm going to go with the alternative here – slouching on the couch with a beer in my hand.
3. Cheese Grater Business Card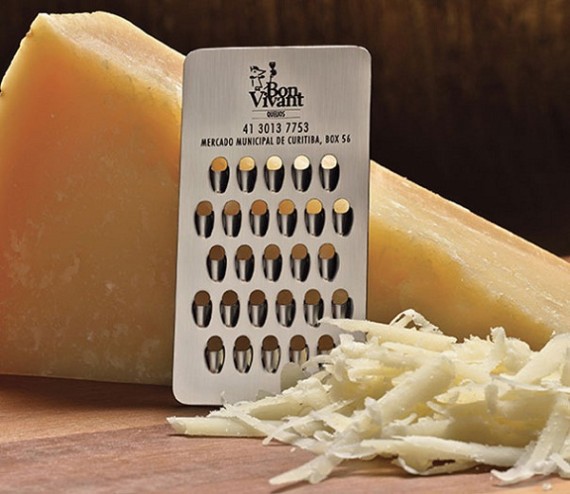 Ow, a business card that is indeed useful. The ad agency JWT, located in Brazil, brought us this helpful little tool to brighten our days. You don't know when a cheese grater is going to come in handy. Maybe you are at a barbecue, and the task of grating cheese arrives, but nobody can stand up to the challenge. You feel your pockets and realize that you are the hero of the barbecue, you saved the day.
4. Tearable Divorce Lawyer Business Card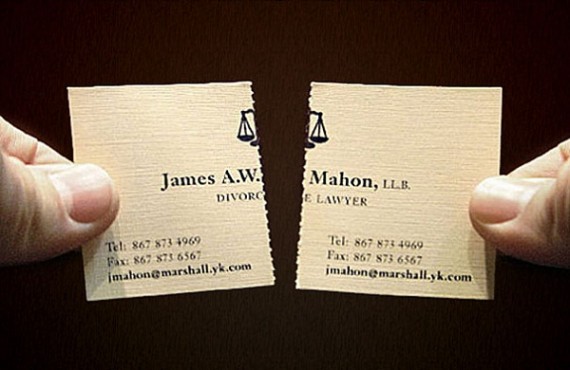 Divorce is a horrible thing, but that doesn't mean we can't laugh about it. The card has contact information on both sides. So why not choose the same firm for your divorce? I mean, you shared everything till that point in time, it is just logical to go this way also. Honestly, it is the best way to describe separating.
5. Yoga Mat Business Card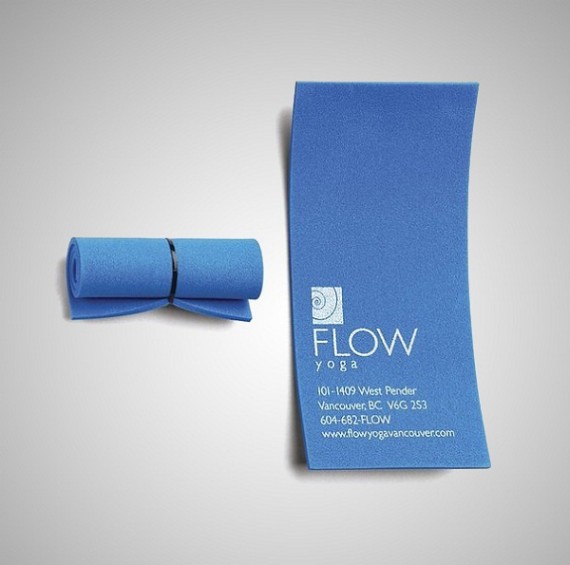 A simple and creative way to enthuse your yoga practitioners. This business card just rolls up like a yoga mat. This Vancouver yoga center knows what goes down your street. No, before you start asking yourself, the answer is no. You can't do yoga on that thing, it's minuscule, don't even try to think about it.
6. Fitness Trainer's Tearable Business Card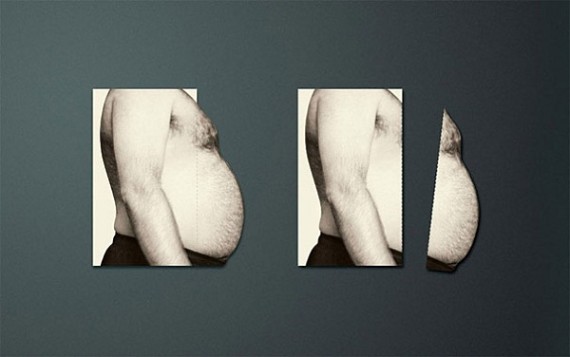 We all have to face the reality that we are slobs, and we will get fat. If you are aware of this, don't despair, it is still time to fix it; with the help of Zohra Mouhetta you will tear that belly of yours in no time. Leo Burnett ad agency, from Dubai, United Arab Emirates created this funny business card with the goal of motivating you slim down. Are you starting to remember your New Year's resolutions?
7. Designer's Seed Packet Business Card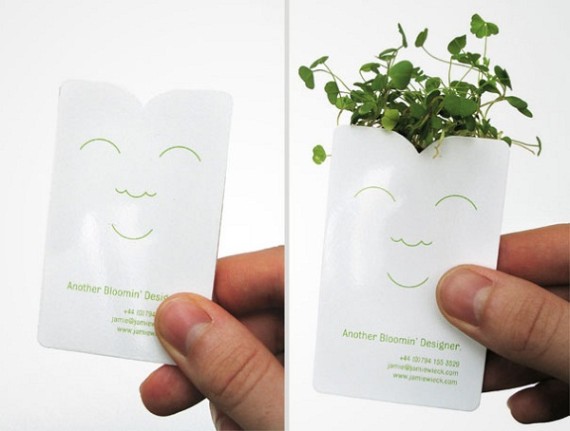 From design artist, Jamie Wieck comes with this innovative idea of a seed packet business card. It got me sold alright; " Another Bloomin' Designer" is an incredibly beautiful trick. Kudos to you sir. If you want to see more of his art, you can check his website right here, where you can also request his portfolio.
8. Event Photographer's ViewFinder Business Card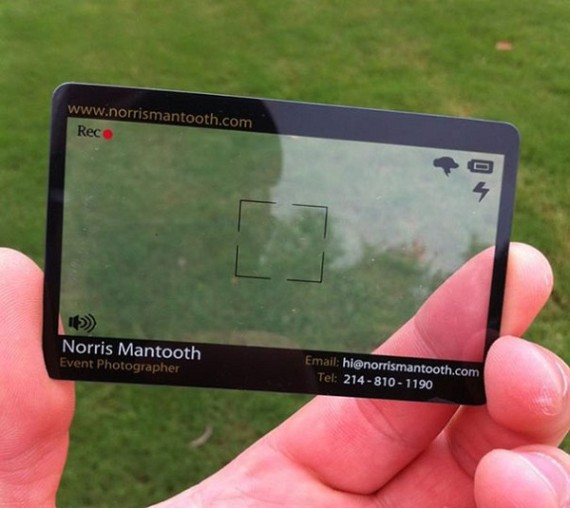 Norris Mantooth knows how to attract clientele; that's for sure. Quite a unique way to put a spotlight on you in that huge crowd of photographers. If he has a creative business card like that, I can only imagine how incredibly mesmerizing his photos must be. But wait, we don't need imagination, we have the internet. If you are curious about his work, you can check it out here. " I am available for weddings, graduations, religious events, childbirths, and concerts. If you have an event not listed, I will gladly consider it." Childbirths? Really? Hey, if it brings food to the table, why not.
9. Dentist's Cavity Business Card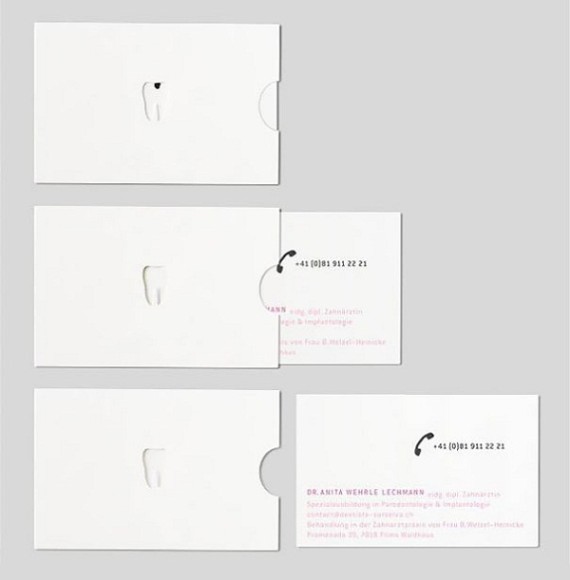 Cavities aren't only bad looking, but they hurt so terribly, that you might prefer a Justin Bieber concert over them – anytime! With a business card like that, this dentist will surely do wonders to your denture.
 10. Cigarette Filter Business Card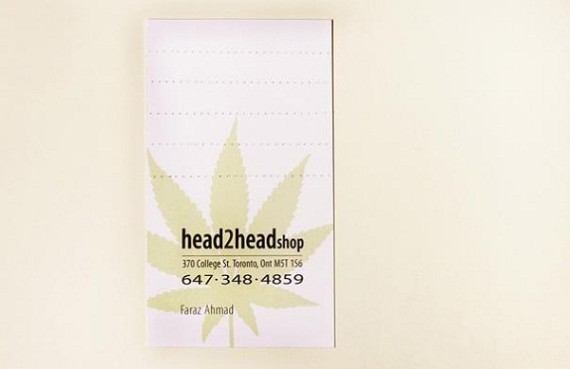 It comes quite in handy when you are about to roll a big old cigar. Hey, filters can be made out of anything, even business cards, so why not profit off of them and do a little marketing campaign? Faraz Ahmad knows what people are looking for – easy access. Advertising Agency Bos, from Toronto, Canada handles this neat business card.
11. Your Own Personal Lego Agent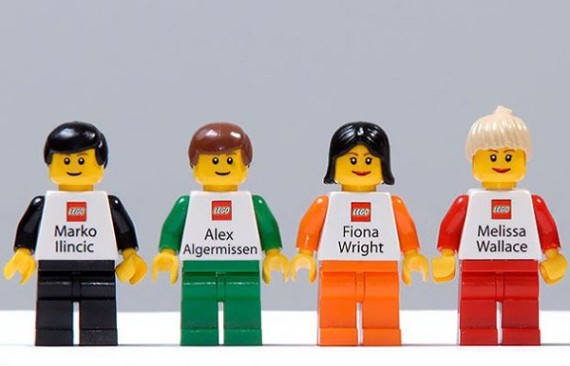 This has to be one of the best business cards I have even seen. I think I'm going to have one made for me also, it is just incredibly fun to give a Lego agent with your name and contact information to your clients. You will spark a good chuckle.
Editor's Note: This post was originally published in September 2014 and has been completely revamped and updated for accuracy and comprehensiveness.
(Visited 2,385 time, 1 visit today)