Giveaway: 3 Lifetime Subscriptions from Webydo.com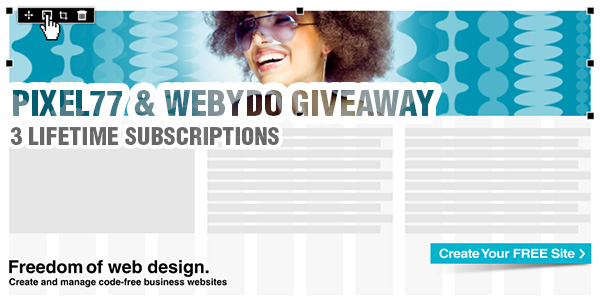 When your business flourishes, your audience is constantly growing, and your team is dynamically improving the service – you want to share the happiness with others. Webydo, an extremely popular online site builder is giving you the opportunity to win one of 3 lifetime subscriptions to their platform.
Webydo Quick Facts

Interested yet? Learn the basic characteristics of this platform and you will be even more motivated to get their free lifetime plan:
What is Webydo? – This is a cloud hosting web service that allows customers to design a website for free without writing a single line of code. Its target users who are designers and don't want to be enslaved to coding technicalities.
How does it work? – Webydo liberates users from their dependency on writing never-ending codes with its well-thought-out patent-pending DMS (Design Management System). This is to say that every Webydo-powered website is a unique product. Gone are the days of boring default templates – meet fully customizable design management systems (where you can crop, resize and drag-and-drop any visual objects you like)!
What about management? – Webydo's CMS is as simple and straightforward as their DMS. It enables you to add, edit, and remove any kind of content without interfering website design.
Can I publish my Webydo-powered website? – Yes, of course! Simply press 'Publish' and enjoy the benefits of the cloud hosting infrastructure of this platform.
By Designers, For Designers

Not only does Webydo offer a wide selection of web design tools, it also helps you create your personal web design studio with a unique atmosphere. Once you've registered on this platform, you'll become a part of their friendly Webydo Community. This means you'll be able to suggest new features, vote for other designers' suggestions, report bugs, and take part in topical discussions.
How to Get a Webydo Account for Free
Actually, you don't need to pay in order to create a website on Webydo – you can use their web design suite for free limitlessly. However, if you want to publish your client's website using a top-level domain, you'll need to upgrade your subscription. This will cost you only $9.90 per month or $7.90 if billed annually.
How to Enter the Contest
All you have to do is leave a comment below and tell us why you like Webydo and what website you'd like to create first. The contest ends Monday, July 15th. The winners will be chosen through random.org and announced here on the blog on Tuesday, July 16. Good luck!