[pixel77_quote type="1″ quote="What is design? It's where you stand with a foot in two worlds – the world of technology and the world of people and human purposes – and you try to bring the two together." author="Mitchell Kapor"]
Everyone wants their e-mail to open quickly and elegantly. Some want it simple, others want it cluttered with items – but every one of us wants it to be fully responsive, so we don't get frustrated when we try to open an urgent e-mail, and it fails to do so. You are probably getting tired of the same old template that you use, and e-mail marketing campaigns desire ingenuity, they thrive off of innovation. Innovation that brings in clients and keeps them.
But how do you do so? Well, we are lucky that there are developers on the interwebs that decide to put out their responsive email templates out there – for free! You don't need coding skills, you just need an e-mail account (preferably not Outlook – it is outdated, and a hassle sometimes), and you are set. Don't believe me? Well, take a look at these eight free new responsive email templates that will help you out with your project.
ADVERTISMENT:
The Best Deals For Digital Design Assets - InkyDeals.com. Learn More>>
1. Green Village HTML Template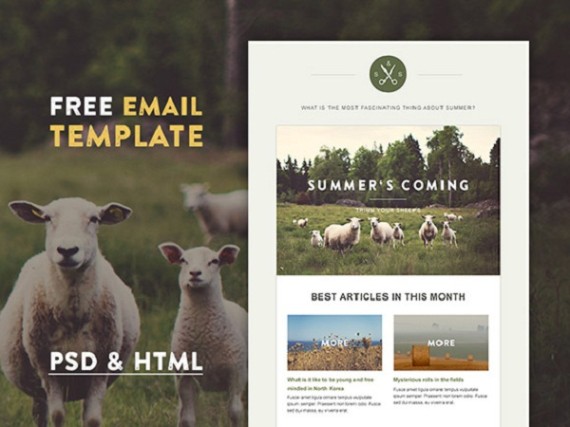 Green Village HTML template is a new responsive email template focused on bringing a clean and minimal design; it is simple in every best way you can think of. It will surely work perfectly for any project that you have in mind. You can get it right here. This downloadable comes in zipped with the .PSD and HTML source for you to use.
2. Salted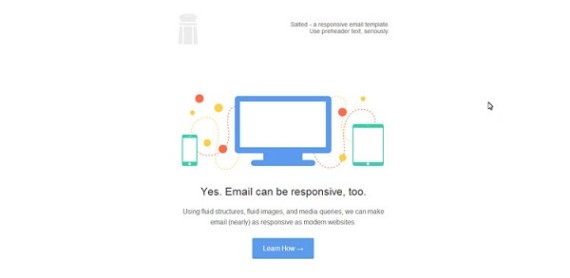 From designer and programmer Jason Rodriguez, this responsive email template is available for free, and it is best used for your projects that include in their focus the mobile medium. " Salted" is based on the original code from Kevin Mandeville, that was used by the Litmus team for their email newsletters.
They seem to be in love with modularity, so stacking tables was a must for " Salted". You will be able to play with single-column copy sections,  a two column grid section, and an article listing section – with a customizable header and footer. You will be able to add robust images, a pretty well-coded feature that allows images to be displayed in the stacked tables. Bulletproof Buttons "To ensure that your calls-to-action display even when images are disabled".
It is fully responsive with fluid tables, fluid images, and media queries to adjust content as your heart desires.
3. BoilerPlate Template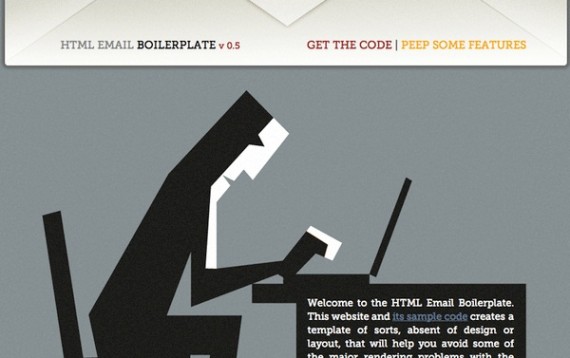 This free and fully responsive email template will need some tweaking on your part, but it is not that difficult, and you will get the jest of it in no time. Its sample code creates a template that is absent from design and layout, getting rid of any problems that you may encounter with rendering on the most popular email clients – Gmail, Outlook, Yahoo Mail and others.
This template is available under the MIT license – so you can use it without the fear of copyright infringement breathing down your neck. It also uses the new cool technology of HTML5 – you will be apart of the few, but the courageous bunch, that will help build the community.
4. Respmail Template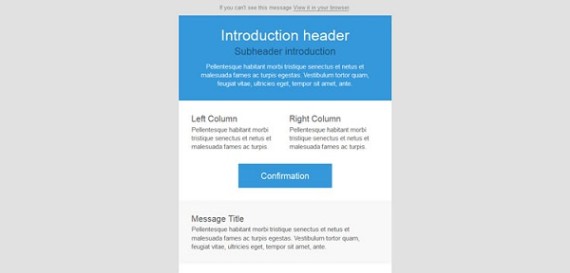 This nicely done template is offered for free by Shina Charles Memud, a programmer based in Prague, Czech Republic. " Respmail" is an entirely responsive email template that will work for all the major email clients out there. It is built with a media query, so it makes it responsive for smartphones also. You can check it out here. Its foundations lay with the Mail Chimp's HTML email template.
5. RWD Template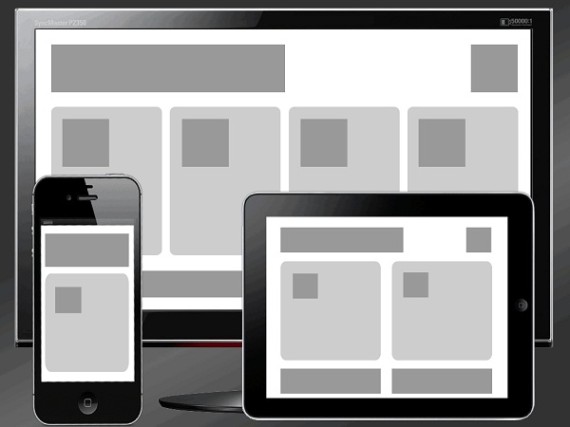 This template that is available for free right here is quite innovative. It has SASS precompiling, CSS Inlining, CSS/HTML and Image Minification and S3 Image Hosting. " With the help of INK templates and its CSS boilerplate, designing emails of any kind is a breeze." – making your life easier.
Some features that it includes are image optimization with jpegtran and OptiPNG, HTML templating with EJS, SCSS style sheets, local test server with Connect and automated Litmus Email Tests with Email-Builder. The thing that may be a little bit of hassle is that it requires basic knowledge of Node or Grunt. But you can read the documentation for them N-here and G-here. The supported client list can be found here.
6. Litmus Responsive Email Templates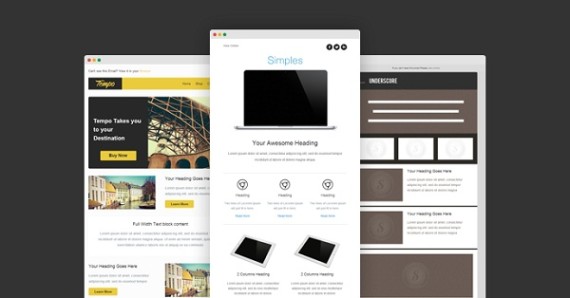 These pre-tested, pre-designed templates are available from the team at Stamplia. Over 50% of the emails opened come from using smartphones, and these templates are focused on being fully compatible with the new era. You can download them by going to their official website. Yes, I said them, as in more than one.
You can grab the HTML for all seven templates – with their associated PSD files included. All for free. Isn't that amazing or what?
7. Basic Responsive Email Template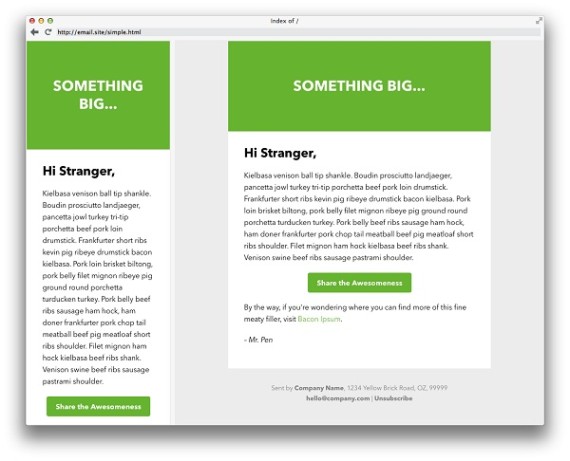 One of the simplest looking email templates you can find on the internet. Derek Punsalan, from Seattle, United States, offers this nice template for free. You have three steps that you need to follow. The first one is to copy the contents of simple.css; After you have done this, you need to paste the line inside the <style> tag. The last step is to pass through the inline utility like Inliner by Zurb. That is it.
8. Responsive Email Template from Email on Acid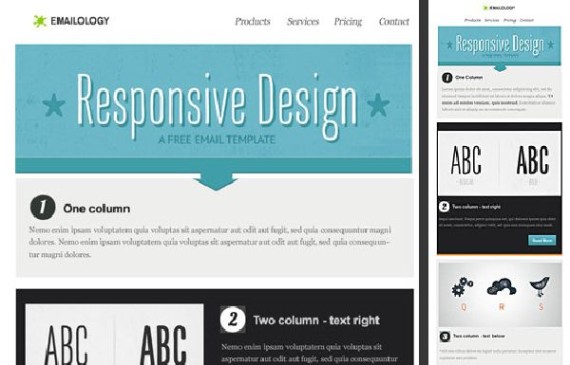 The guys and girls at emailonacid.com are giving away a series of free email templates to tackle the mobile rise. You can download them right here. They have used the most common dimensions that are being used by traditional devices – you will be able to choose from templates that have a width less than 480px for the iPhone or smaller smartphones; a width between 481px and 640px for medium size Android devices; and a default dimension of 580px for tablets, web and desktop email clients.
Of course, you will be needed to customize the layouts for your needs, but it can be down with necessary knowledge.
So here it is, the end of the list. We are hoping this helped you out with your current projects. Have you decided on what to use? Tell us in the comment section below. We would love to hear what responsive email template you have used, and you can also link us to your project.
Editor's Note: This post was originally published in September 2014 and has been completely revamped and updated for accuracy and comprehensiveness.
(Visited 23,133 time, 1 visit today)