Design Cocktail has launched with even more valuable resources than before!
The holiday season is here and Santa is earlier this year! He teamed up with us to give you the third Design Cocktail Bundle. This new and premium bundle by Designious.com includes an amazing collection of high-quality resources for creative people. The best part is that the price remains the same, only $29 for $904 worth of design resources. You save $875 from the start!
The amazing goodies in Santa's  Design Cocktail bag are offered by designious.com,  wpwizz.com and tshirt-designs.com, meaning you will get only the best quality products.
ADVERTISMENT:
The Best Deals For Digital Design Assets - InkyDeals.com. Learn More>>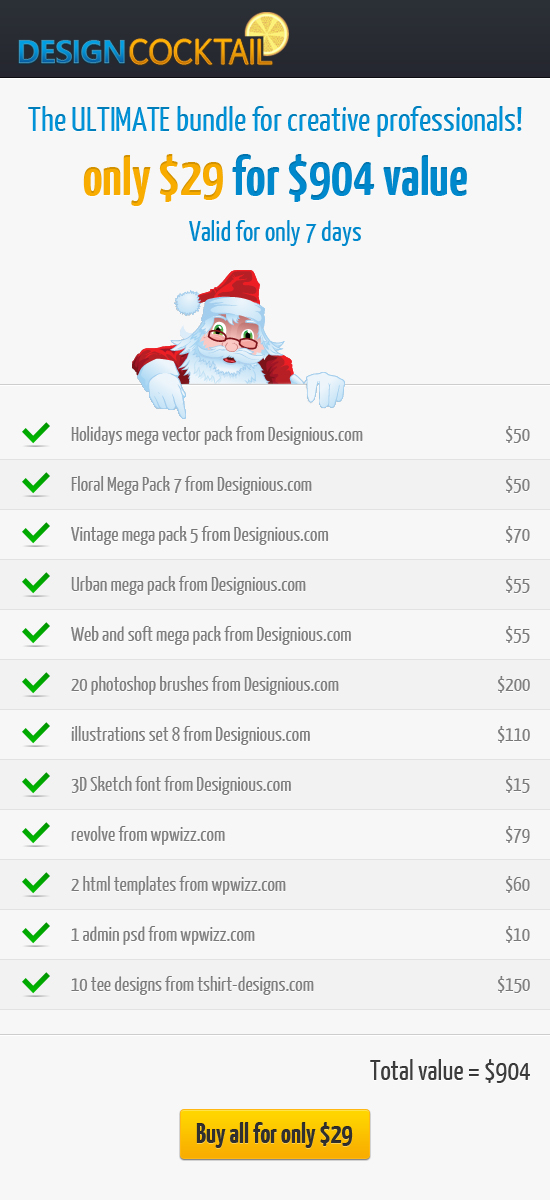 This is an amazing opportunity for designers, creatives and artists of all types to grab some really awesome resources at a bargain price.
The bundle will only be available for 7 days, from December 8th until October 15th and you can be sure that it includes only high-quality products.
GIVEAWAY – WIN AN AMAZON KINDLE 3g + $50 gift card
To get a chance of winning this awesome Amazon Kindle 3G and a $50 gift card for books you have to tweet about the Design Cocktail 3 or share it on Facebook.
Don't waste any time, visit the Design Cocktail page and purchase this mind blowing bundle now!
(Visited 122 time, 1 visit today)