Vectorious.net has teamed up with mightydeals.com to bring you the best deal for creative professionals! 3 Months of Vectorious Pro Membership (1800 vector graphics) for only $39! You save 51% on this amazing deal!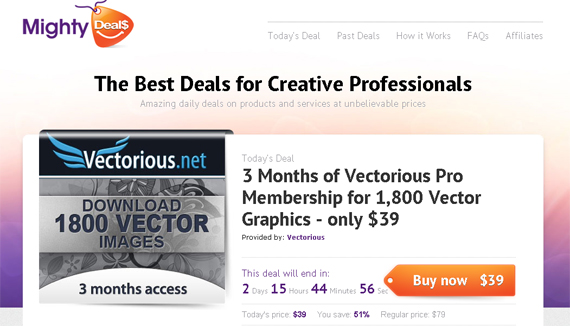 ADVERTISMENT:
The Best Deals For Digital Design Assets - InkyDeals.com. Learn More>>
Vectorious.net is the most awesome destination for quality stock vector images at an affordable price. Here you will find a wide range of vector illustrations, from backgrounds, abstract, buildings and business to people, vintage, music and seasonal.
Vectorious currently has an amazing collection of over 14,000 royalty free vector images and new vector goodies are added each month to help keep your designs fresh and current.
In this week's deal, you get access to the Vectorious library and you get to download up to 20 vector illustrations per day during 3 months. In other words, you'll get access to 1,800 vector images during a period of 3 months for half of the regular price of $79 – all this for only $39! Imagine you'll get the incredible price of $0,02 per vector! Moreover, you will receive Extended License for all the vector images you download.
Hurry up though, this offer ends in 2 days and 15 hours! Visit mightydeals.com now and get your hands on this great deal from Vectorious!
(Visited 403 time, 1 visit today)