"Intuition is the key to everything, in painting, filmmaking, business – everything. I think you could have an intellectual ability, but if you can sharpen your intuition, which they say is emotion and intellect joining together, then a knowingness occurs."
– David Lynch
ADVERTISMENT:
The Best Deals For Digital Design Assets - InkyDeals.com. Learn More>>
Since recording devices are barely a century and a half old, all available data leads us to believe that painting is the first and therefore the oldest art form us humans have made.
We started off shyly enough, "spray-painting" impressions of our hands and drawing anything from hunting to "domestic" scenes on the walls of caves, but as the millennia rolled on, and as we as a species evolved, so did painting right beside us.
Regions developed individual styles of painting, and as commerce and travel blossomed, styles began influencing each other. African art, Jewish art, Islamic art, Indian art, Chinese art, and Japanese art all influenced Western art, which in turn influenced them.
Art's initial purpose was utilitarian, followed by imperial, private, civic, and religious, and both Eastern and Western audiences found audiences in the aristocracy and middle classes.
The golden age of painting is widely considered to be the Renaissance. From the 14th to the 17th century, Italian artists like Filippo Lippi, Sandro Boticelli, Leonardo da Vinci, Michelangelo Bunoarroti, Raphael, Giovanni Belinni, and Pierro della Francesca pioneered the use of perspective, and the study of human anatomy and proportion in painting, bringing painting to a whole new level through their development of an unprecedented refinement in drawing and painting techniques.
Whereas Renaissance art in Italy was marked by idealization, drawing inspiration from the ancient Greeks and Romans, art in what know today as being the Netherlands, Belgium and Germany took its queues from sculptures and illuminated manuscripts from the Middle Ages, using them as a foundation on which to build.
The works of Northern artists, such as Jan Van Eyck, Lucas Cranach, Hieronymous Bosch, and Pieter Brueghel were marked more by realism. A new verisimilitude in depicting reality was made possible thanks to the adoption of oil painting, and Genre painting became the most popular form of painting in those regions.
It is also during this period that painters became more than just mere artisans, but thinkers as well. This marked a return to secular subject matters in Western painting, with artists beginning to paint the world around them, or products of their own imagination, rather than religious imagery. Commissioned portraits also became very popular among the wealthy classes, which gave lucrative work to painters.
Personally, I think of the golden age of painting as being the 19th century, as it is during this time that Impressionism and Realism made their way on the scene, and the idea of art for art's sake finally began to not only take root, but flourish as well.
It is during this time that some of my all-time favorite artists began creating their amazing works.
With the risk of sounding like a hopeless nostalgic, just think how it must have been to be alive back then. Being contemporary with great figures like Vincent Van Gogh, Pierre-Auguste Renoir, Edgar Degas, Ilya Repin, Paul Gaugain, Georges Seurat, and Gustave Courbet, and assuming you would be lucky enough, see their paintings fresh, or maybe even catch them on the street as they were painting them. But I digress.
Let us fast-forward about a century to 1963, and the first ever tablet, the Sketchpad. It was made by Ivan Sutherland who, at the time, was an MIT student. It allowed users to manipulate objects on a CRT, and it opened the floodgates for digital painting.
Throughout the 70's and 80's digitizers became more and more popular, thanks to their applications with CAD programs, and the MacPaint, which was released in 1984.
In 1987, Display, which would go on to be known as Adobe Photoshop, was released, and it is this program that really made digital art the popular medium that it is today, with lots of artists creating lots of great works.
One such artist is Gediminas Pranckevicius, who creates absolutely amazing digital paintings, depicting everything from funny cartoon characters, to surreal landscapes and scenes that yell "SALVADOR!" at you.
Gediminas is a Lithuanian artist and freelancer, currently based in the Lithuanian capital of Vilnius, and he holds a Masters Degree in Fresco and Mosaic from the Vilnius Academy of Fine Art.
He has worked as a graphic designer and concept artist at Finnkino and Osmo Production Oy, respectively, until 2012, when he started his freelancing career. You probably know him best for his work with Owl City, for whom he designed the cover artwork to their album, titled The Midsummer Station.
His awesome works have been posted all over the internet, but I think any excuse to take a brake and watch them is good, so here are some of my favorite digital paintings by Gediminas Pranckevicius.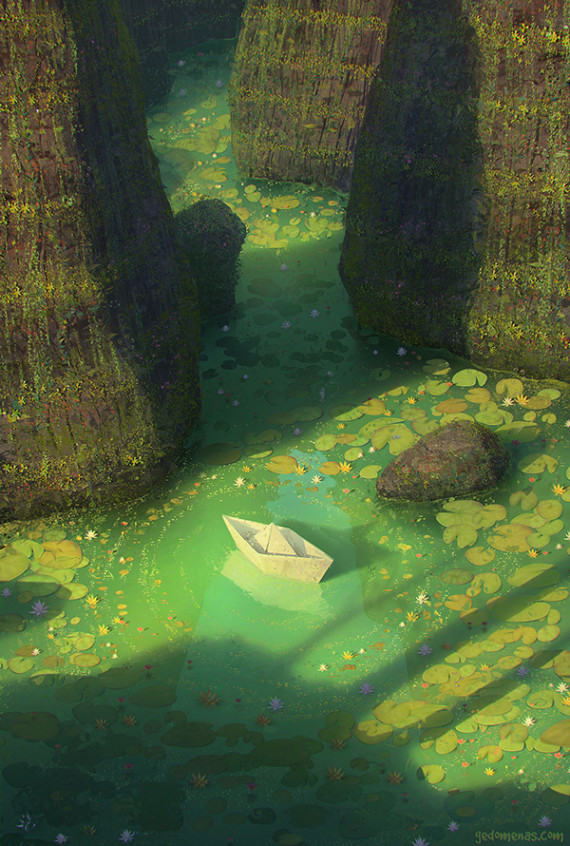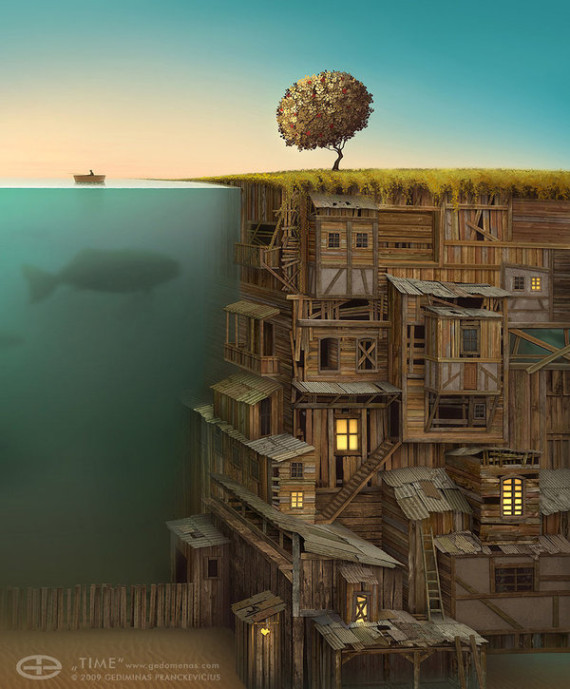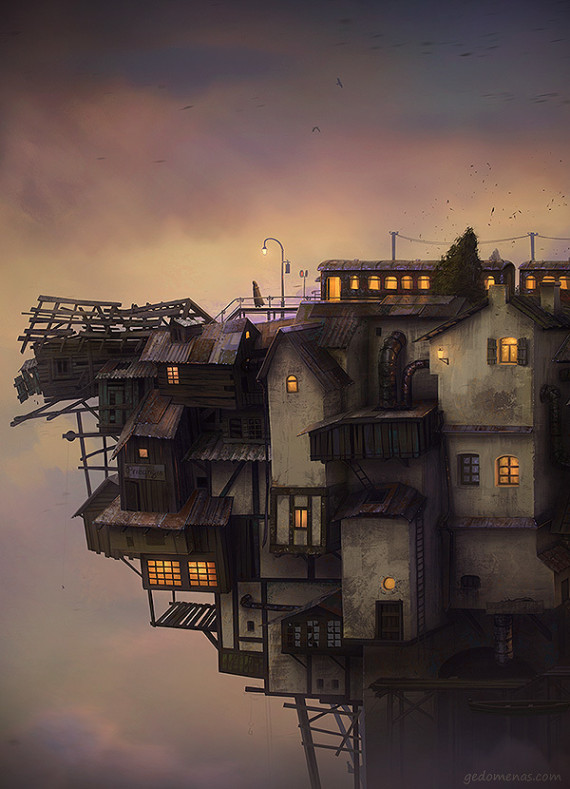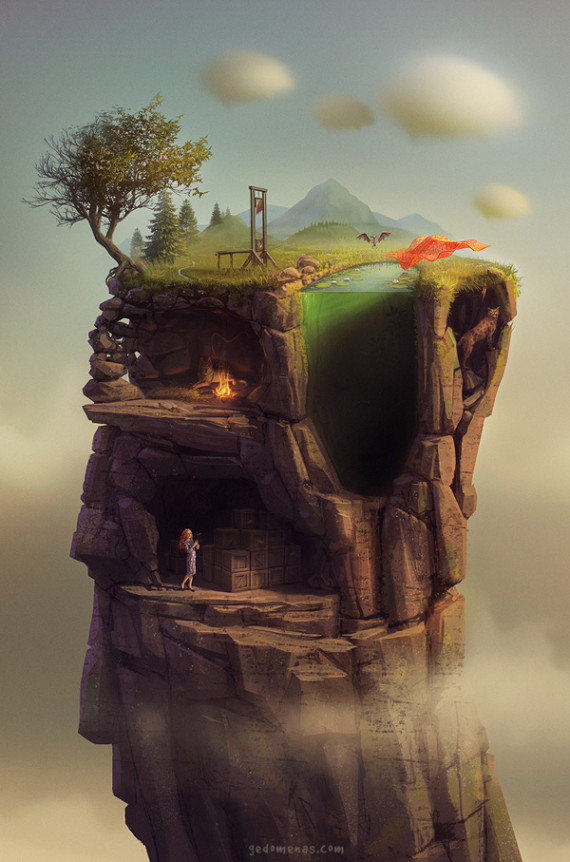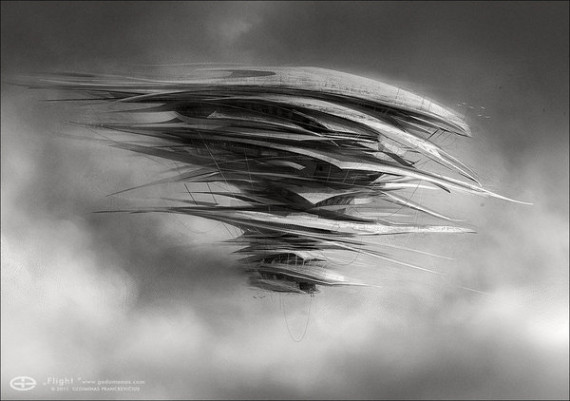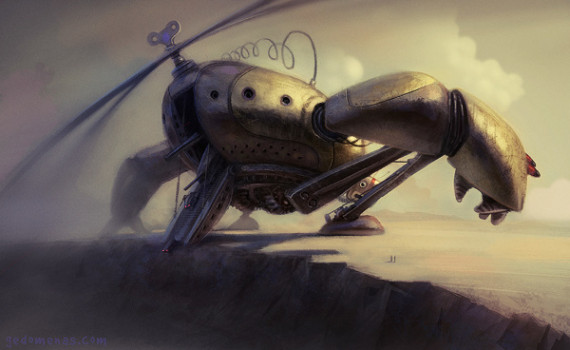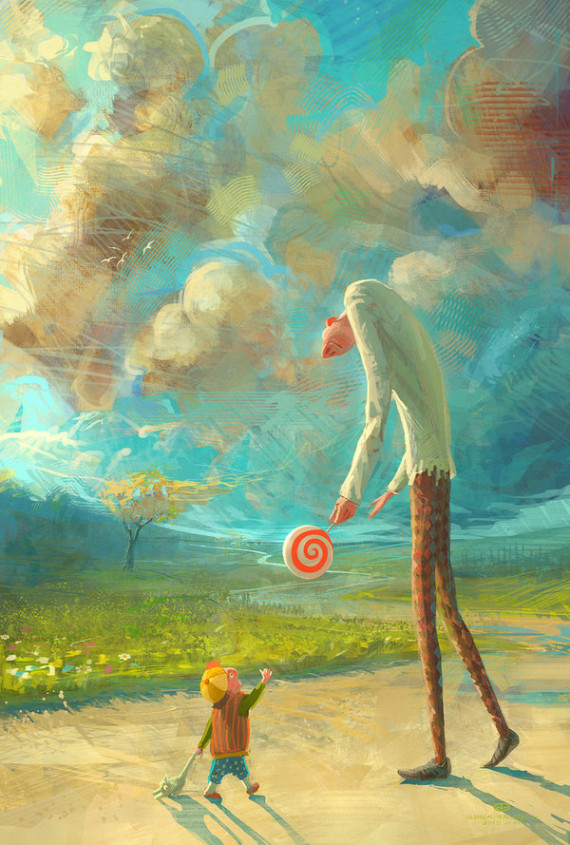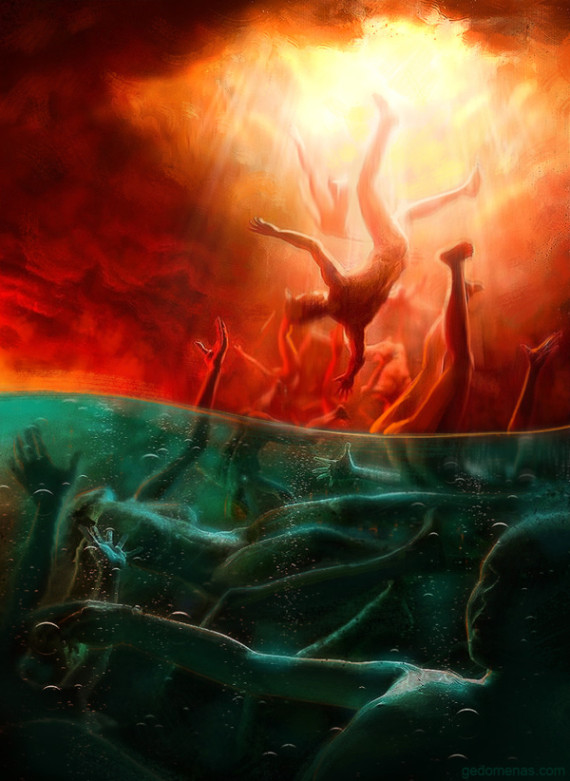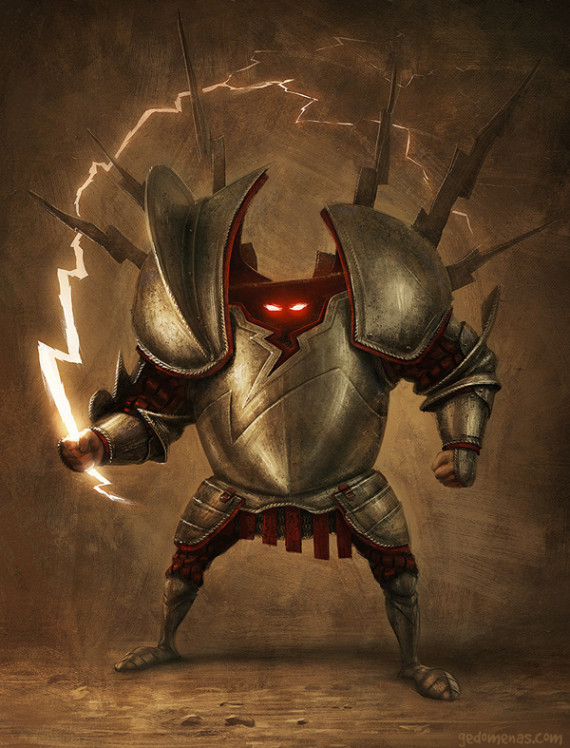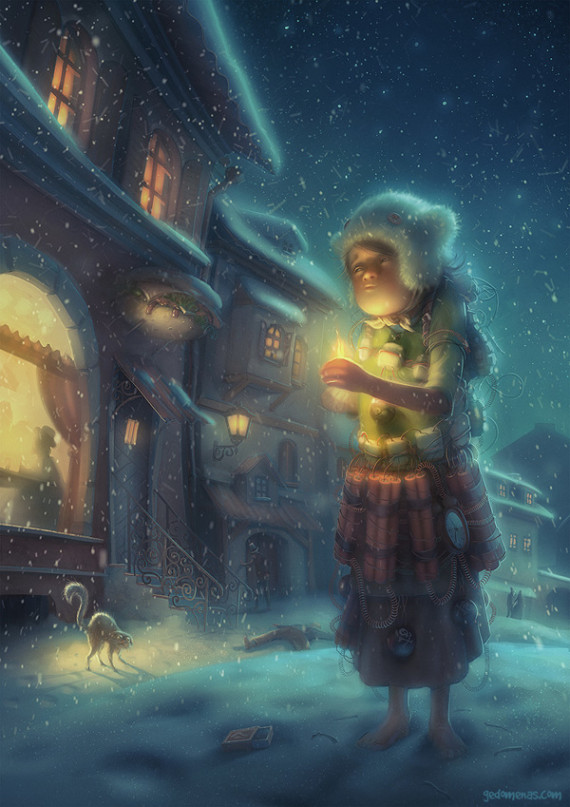 These are a few miscellaneous works of his, each showing that even though Gediminas definitely has a distinctive style, it is certainly not limiting (like Linkin Park's "sound"). His trademark fantasy juxtaposition works are here on display, but you also get some very different works, like the giant helicopter robot, or the tall man offering a lollipop to the small child. Each distinctly his, but drastically different from one another.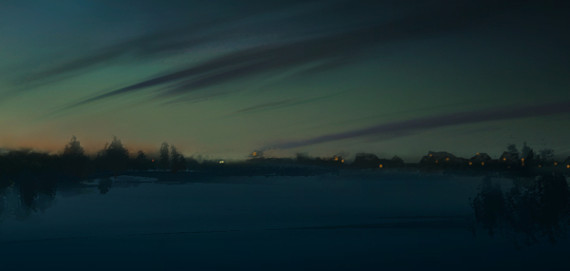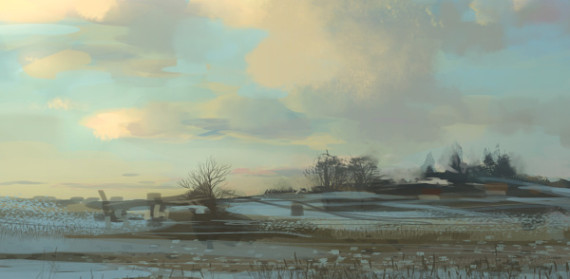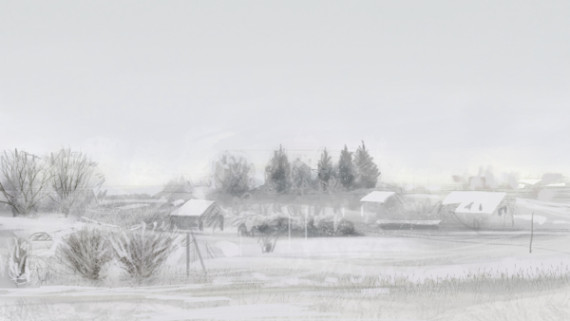 These three images are speed paintings he has of the view outside whatever "the window" is. The landscapes each seem quite different, so I do not think it is the same view in each of them. They do look marvellous, though.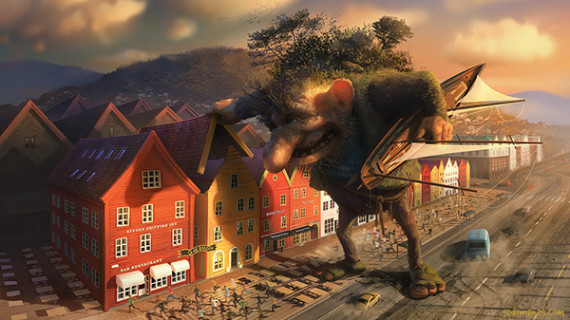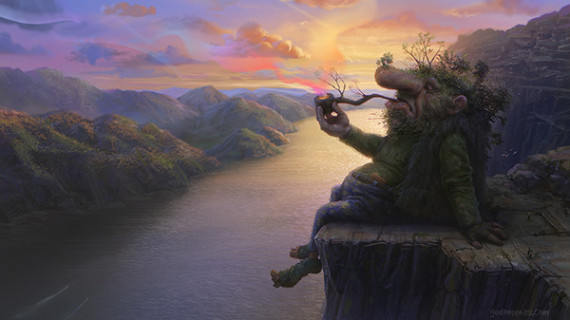 These three images are a set of lenticular postcards the artist has done, and I most certainly want them all. I saw the movie Troll Hunter a while back, and I am still completely in love with it, and the postcards pictured here make want to see it again, which I think I will, actually.
With that, this article on the amazing digital paintings of Gediminas Pranckevicius is wrapped up. I hope you enjoyed taking a brake and looking at these superb works, and that you enjoyed my short history of painting.
You can check out more of Gediminas' works by visiting his Behance profile, or visiting his (under construction at the time of writing) website here. And you can also drop me a couple of lines by scrolling down to the comment section, as I love getting feedback.
(Visited 2,963 time, 1 visit today)