"WordPress.com is the only service of its kind that not only lets you export your data, but gives you an open source package you can run on pretty much any web host out there to run your own instance of the software. So the freedom is really in your hands." – Matt Mullenweg
WordPress is like the gift that keeps on giving. Currently the 18th largest website in the world, housing a staggering 60 million websites, WordPress is showing no signs of slowing down whatsoever.
ADVERTISMENT:
The Best Deals For Digital Design Assets - InkyDeals.com. Learn More>>
As of August 2013, 18.9% of the top 10 million websites use WordPress, cementing it as the number one blogging system in use, and it really is plain to see for anyone why this is the case.
WordPress is insanely customizable and very user-friendly, and that is why, whether you are a professional web designer, someone who is just learning the basics, or even someone who has not the faintest idea about what web design is, you can still use WordPress to create your own, unique website.
An important part of building a website fast is using the right template for the job, which can be pretty hard, seeing as you can't drop a pin for how many WordPress templates there are out there. To give you a helping hand, we have made yet another list of gorgeous WordPress themes for you tuse use in your projects.
1. DW Timeline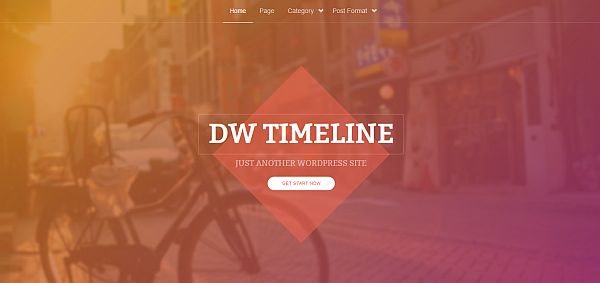 Facebook is the most recognizable and familiar interface on the internet. Millions upon millions of people use Facebook daily to communicate, find and share information. This theme is inspired by Facebook's own Timeline. It displays your content in similar style to Timeline, and supports six formats of post, namely Gallery, Image, Video, Standard, Quote and Status.
2. Alpha Forte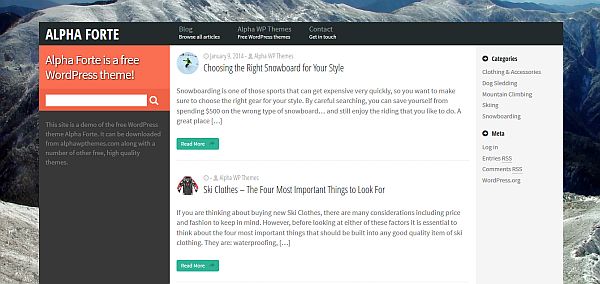 As user, the way a website runs really affects your opinion of the company or person who is running the website. By the looks of the demo, Alpha Forte runs really smoothly, and it is also a really well thought theme. The search bar is clearly visible on the left, the header area is very discreet, leaving plenty of room for the content to really catch the eye of the user.
3. Flat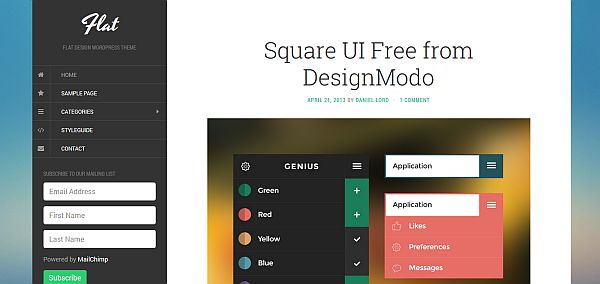 We get to see flat design at its very best in this theme. The design is simple, intuitive and minimalistic, with aesthetic being dictated by functionality and practicality. We are not entirely sure what the theme's name is, though. It could either be Flat, or FREE Flat WordPress Theme for Personal Blog, you decide.
4. Hemingway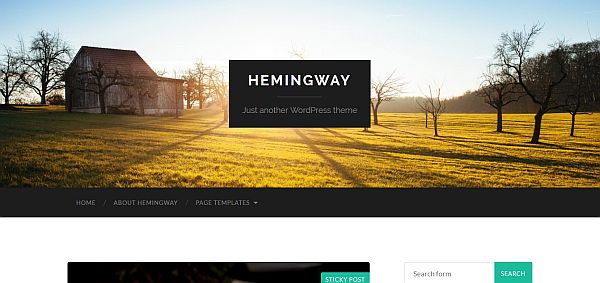 This is a theme that really looks smart, and in touch with the present, but in a very old-school kind of way. It might just be because it's called Hemingway, but this theme really has personality to it, with its brilliant header section, great logo and beautiful typography. This is definitely the template to use when making a no none-sense literary blog.
5. Typal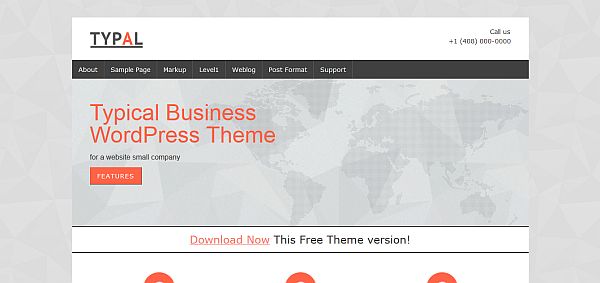 Business sites are a different beast to personal blogs or portfolios. Business sites have to look really corporate and serious, but not boring, 'cause boring is bad, even for business. Typal does a great job, keeping things serious, without making them stuck up. The home is the real star attraction, with a great header area and recent posts section.
6. Dapple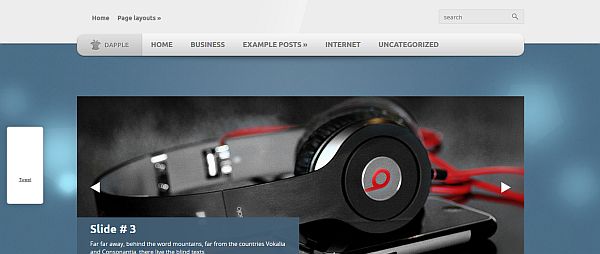 Self-styled as a great base from which to build on, Dapple offers a simple and intuitive administrative panel, and several configurations, allowing you to mold this theme any which way you want.
7. Wilson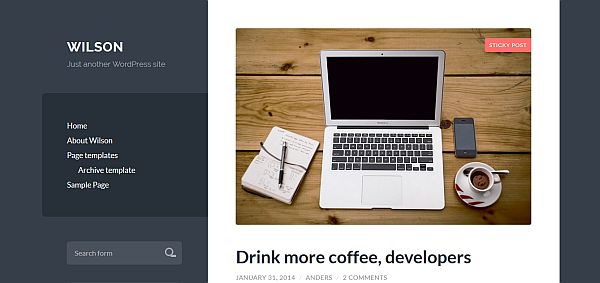 Right, enough business themes for now. Wilson is a theme for creative people, that does not sacrifice functionality. It has custom widgets for video, Flickr and Dribble, as well as supporting four different formats of post, styling them differently.
8. Mega Responsive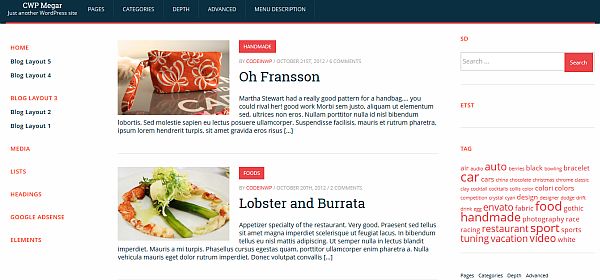 Usually, when something is named so bluntly, you would probably be inclined to avoid it. This theme, however, really does as advertised. It boasts a clan and minimalistic style, is SEO ready and, overall, just looks plain gorgeous.
9. GreatDesign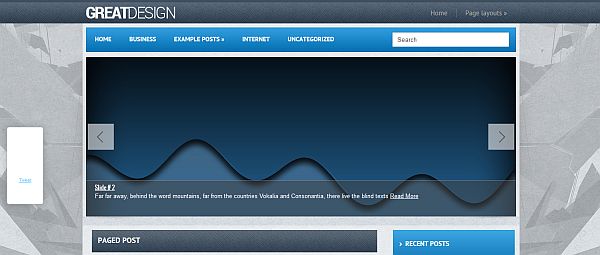 Apparently from the same naming school as the previous entry, GreatDesign is a simple, responsive theme, made with personal blogs in mind. The header section has a great slide feature, and the adding of some small additional features at the bottom (calendar, tags, social profiles and info) makes this a lovely little theme to have.
10. Nova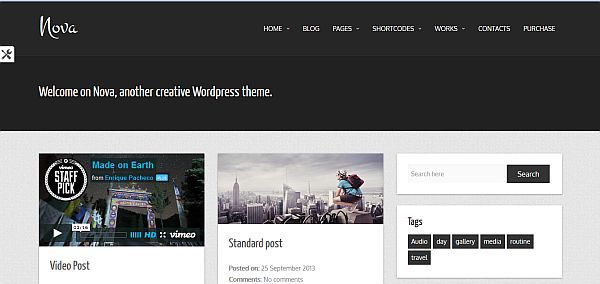 Clean and responsive, Nova is built using the Bootstrap framework, and works on all the modern Browsers, even Internet Explorer (about as good as any site can run in Internet Explorer). The posts are all nicely displayed in a grid format, with and additional grid on the side of the page for things like Archive, Calendar and a search bar.
11. Obscura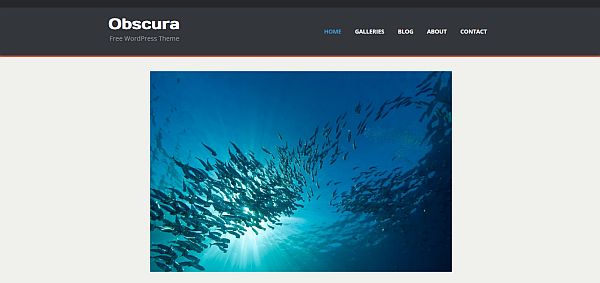 The name is drawn from "Camera Obscura", which some of you may already know is a device that projects images of its surroundings on a screen. This device eventually lead to the invention of the camera and photography, so you can probably deduce that this theme was made for photography blogs. It even supports the NextGEN Gallery plugin.
12. Emptilium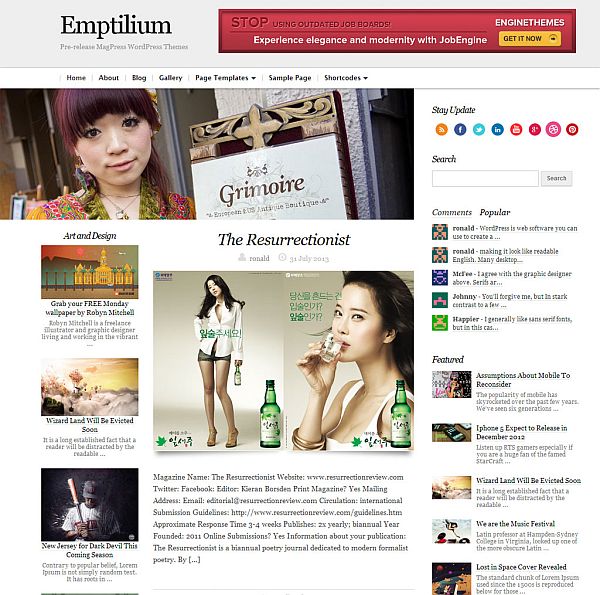 Emptilium is a fully customizable HTML5 WordPress theme, and as such is a fantastic theme to have if you want to really put your own mark on the theme, but just don't have the patience or time required to do all the coding.
13. Fullby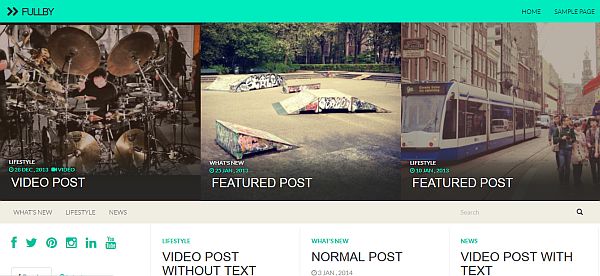 Now for another fully customizable theme. Fullby is a great grid theme, built in Bootstrap, that has a few really awesome features: it has a popular and latest post widget, featured content can be displayed in the header, and you can organize your contents in two menus and two sidebars.
14. Zippy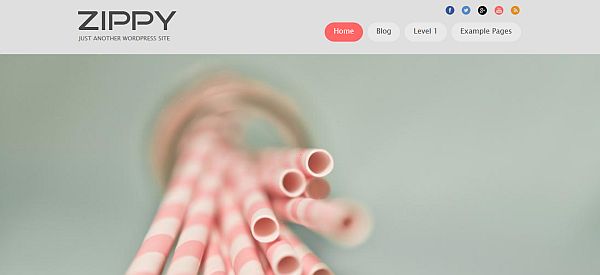 One type of business that isn't nearly as catered to as it should be is small business. Zippy aims to change all that by offering a totally competent small business website theme. It has a simple, clean design, and its perfect if you don't want to work with code.
15. Tempera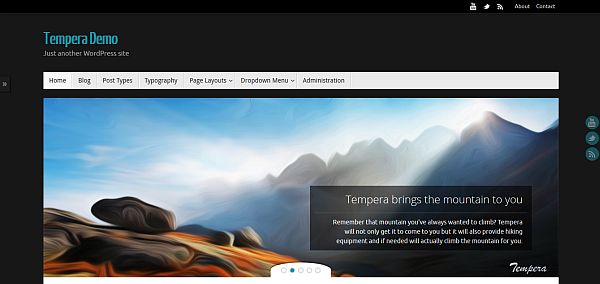 The makers of Tempera went all out with their theme. The theme has 14 color schemes, all the Google fonts, 8 layouts, more than 40 social icons, 12 widget areas, and the list can go on and on, making sure that you don't have to put in a lot of effort to make the page unique.
16. SplitMe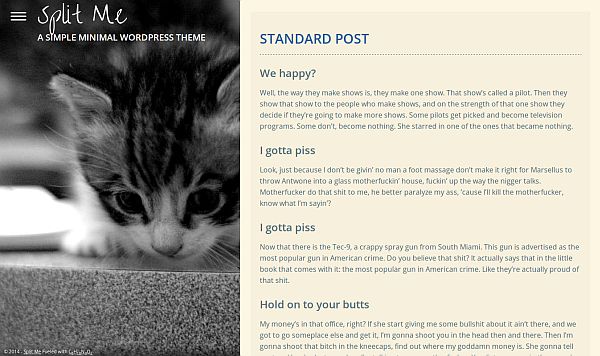 Sometimes, simplicity is the key. SplitMe is an absolutely fantastic, unpretentious template, that offers no sidebars or sliders, only a pretty little menu, and a large area for thumbnails, letting the pictures and the posts do the talking.
17. Bizznis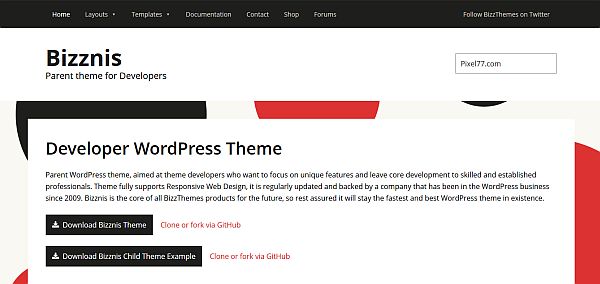 If you are on a tight deadline, than Bizznis is definitely the theme for you. It's made especially for people who don't want to dwell on the coding and development aspects of making a website, making it easy to apply on any WordPress website.
18. Stargazer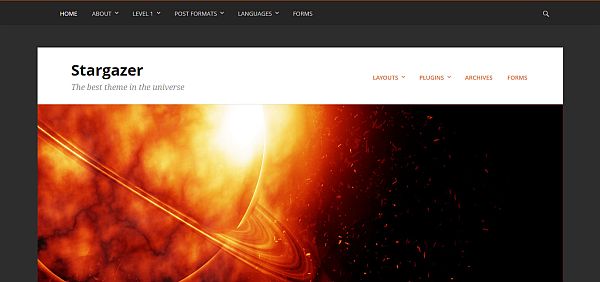 Using the Hybrid Core Framework, Justin Tadlock made a solid WordPress theme that is also SEO ready. It is extremely readable, with its large and stylish font, and the lovely pop-up effects in the header section are also a nice little bonus.
19. Lingonberry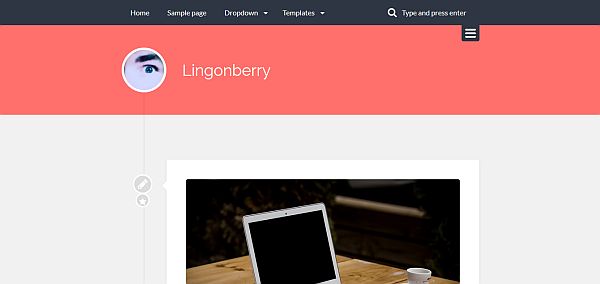 Lingoneberry is our 2nd entry from Anders Noren, and there is good reason for that. It draws its inspiration from flat design, making it a fantastic personal blog theme that doesn't distract you or the user from the page's content.
20. Undiscovered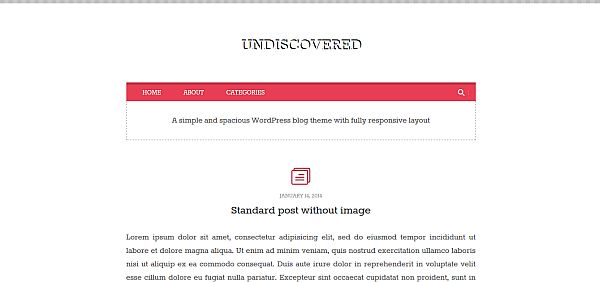 Elegant and clean, Undiscovered offers a simply stunning theme, that can be used for almost any type of website you might be wanting to make. We can definitely see at as a portfolio-type website, boasting a truly lovely gallery-type post function.
21. Boldly Go Blue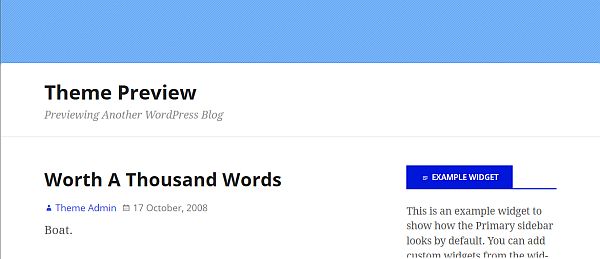 Boldly Go Blue can be a terrific starting point for a professional or business website. It is widget ready, and also has custom menus and backgrounds, making it very customizable, indeed, and an invaluable asset to have.
22. Asteria Lite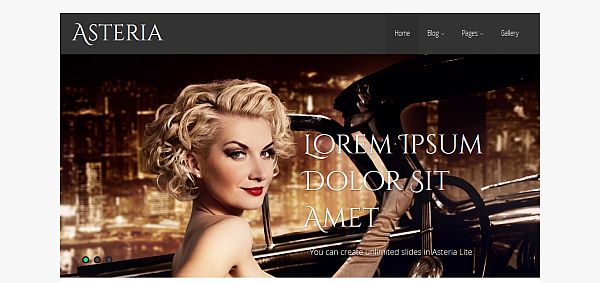 This just looks so, so good. It is such a brilliantly smooth theme, that also offers a ton of customizations options. You can even create your own logo, using the over 600 fonts available in the themes font library.
23. X2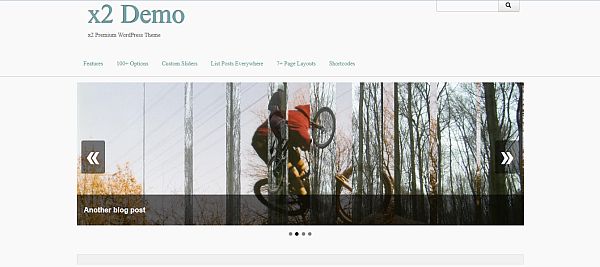 Animations can give your website real standout quality, especially if your website is suppose to be promoting something from the physical realm. X2, aside from being fully customizable, also offers several great custom sliders, as well as lots of really fantastic layout for your page. If you had to pick just one template, we would highly recommend this be the one you pick.
24. Tblog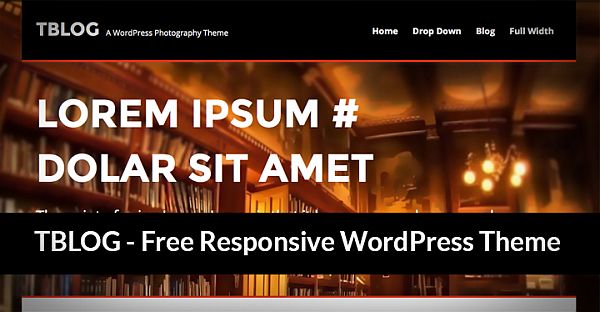 Being both responsive and retina-ready, Tblog is a double whammy of awesome. It's made primarily for online portfolios, but can be adapted to suit other needs, such as personal blogs or furniture showcase websites (oddly specific, right?). Another great thing about this template is that it's SEO optimized, so there shouldn't be a lot of effort on your side to make a brilliant website using this theme.
25. Lefty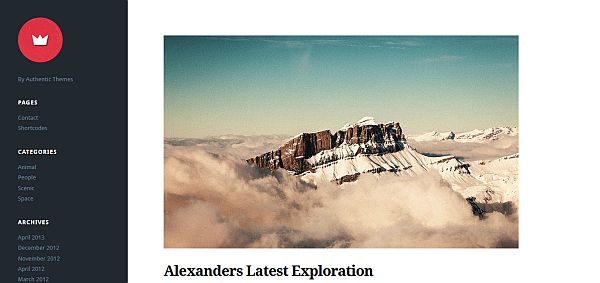 Called so because of its left-aligned sidebar, Lefty is a real classy theme, made especially for personal blogs. It has a gorgeous built-in font library, thanks to Google Font, and it is tested with Google Page Speed to make sure that loading time will be no problem. What more can we say? It just is a great looking theme, that kind of makes us want to start another blog.
And with that we conclude our list of 25 new & responsive WordPress themes. We hope you'll find the items on this list useful, and that we will soon be seeing awesome websites made by you, using these templates. Be sure to let us know which theme you thought was coolest, in the comment section below.
(Visited 1,005 time, 1 visit today)